7 Unique
Alternatives to Standard
Conference Swag
One of the most important things at a conference or trade show is your brand's ability to stand out. So don't default to the same old conference swag! Trade shows, conferences and all kinds of corporate events are making their comeback in 2023 — but does that mean boring conference swag has to come back with it?! We think not.
If you're looking for ways to stand out against competitors, effectively connect with conference attendees, and represent your brand in a meaningful way, you're in the right place! We're sharing some awesome gift ideas and alternatives to traditional conference gifts that will help you level up at your next event!
1. Support Local Businesses
Company swag and conference gifts that have no meaning behind them are soooo 2010. So instead of a gift bag full of cheap products, impress your conference attendees with a gift box filled with locally-sourced products from small businesses in the city where the conference or event is taking place. Not only will this make a big impression with recipients, but you'll impact the local small business community in a meaningful way.
Sweet & Spicy Gifts for a Conference in New Orleans
Skip the swag and instead, celebrate the host city in style! No matter where your event is taking place, there's an opportunity to give a gift inspired by the local culture and energy. These French Quarter-inspired gift boxes were designed for the team at Paycor to hand out at the 2022 SHRM Conference that took place in New Orleans this year. We included items from local businesses like Mardi Gras king cake praline cookies by the New Orleans Famous Praline Company, Beignet-flavored popcorn by Cajun Pop, a Cajun spice blend from Nourished Roots Spice Co, a bottle of TABASCO original hot sauce, and a New Orleans beignet-scented candle. You can bet folks were ready to hit Bourbon Street after receiving this gift!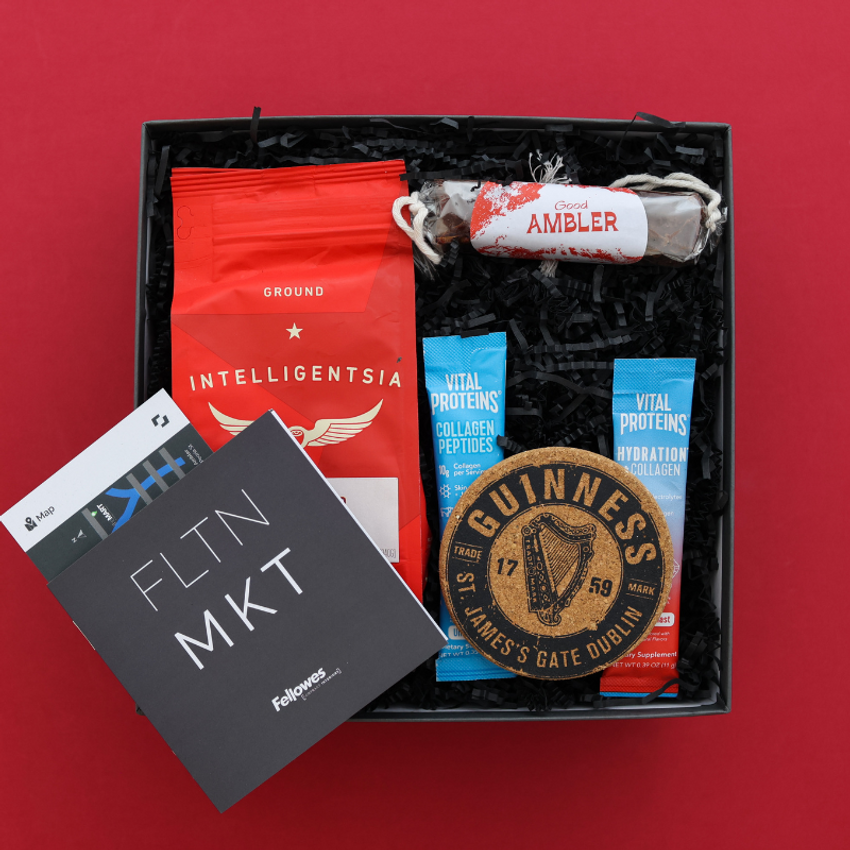 Chicago-Themed Gifts for a Big Corporate Event
Opening a new location? Launching a new product? Lift up your neighbors and local biz community when you make the big announcement! When Fellowes Brands, a family-owned company serving workplaces for over 100 years, came to us for custom gifts to announce their new experiential office in the Fulton Market district of Chicago, we couldn't wait to bring their vision to life! We created these fully custom gifts filled with items from the surrounding businesses: Intelligentsia coffee, treats from Good Ambler cafe, packets of Vital Proteins hydration supplements, and a coaster from the neighboring Guinness Factory. Complete with a guide to Fulton Market, this gift was a true celebration of the neighborhood!
2. Swag that doesn't feel like Swag
BACK AWAY FROM THE LANYARDS AND BRANDED PENS! So, you want to give some swag-like gifts? We get it. But when it comes to conference gifts, it's all about the look and feel — so the best thing you can do is give swag that doesn't feel like swag. This means meeting your customer where they're at, and giving them something they'll actually use - and even hang onto long after the event concludes.
Conference Gifts that will actually "Create a Buzz"
Look at these gifts for Lessonly — they understood the assignment! For their annual "Yellowship" conference, they wanted to "create a buzz" that would help boost attendance at their virtual conference. So they treated attendees to a gift that they could enjoy during the event: coffee from Tinker Coffee Co., an Indianapolis-based coffee roaster, a uniquely branded camper mug, plus fun llama stickers. Sure, you might see these things in a typical swag gift, but notice a key difference: they didn't just slap their logo on the mug — rather, they included the event's minimalist symbol, plus their company mantra to "Do Better Work," and then added "But First, Coffee." This is what we call ~understanding your customer~!
Conference Speaker Gift Idea
Having a guest speaker at your next conference? A curated gift is a great way to get your attendees excited about the event! Check out these custom conference gifts for Zendesk's Women's Leadership Conference. In addition to featuring their guest speaker's book, The High 5 Habit by Mel Robbins, they also included some other useful items and treats: an insulated water bottle by Que, a leather embossed black notebook, a deck of affirmation cards by mal paper, plus cookies and a candle! While these are familiar swag items, its all about the little details and packaging elements that help make this gift feel so much more than standard swag!
3. The Modern (and Budget-Friendly) Swag Bag
So, you've got a small budget — we get it. But, you can still give gifts that have a BIG impact! If there's anything we've learned from building thousands of corporate gifts over the years, it's that presentation is key. So instead of the standard conference swag bag, consider presenting conference-goers or event attendees with a gift box of items that goes with the overall theme of your event. Here are some examples:
Affordable (and Fun!) Swag for a Conference in Miami
This beachy gift box was inspired by Drift's 2022 FLASH Conference in Miami. Wouldn't this be such a fun way to welcome conference-goers upon arrival to the event?! With a floating flamingo to hold a beverage at the hotel pool, 1990s music trivia for a fun beachside game, a disposable camera to capture selfies with the team, bright bracelets to glow on the dance floor all night long, Liquid IV packets for the morning after lots of "networking." This gift is so fun and on-theme, while also being low-cost.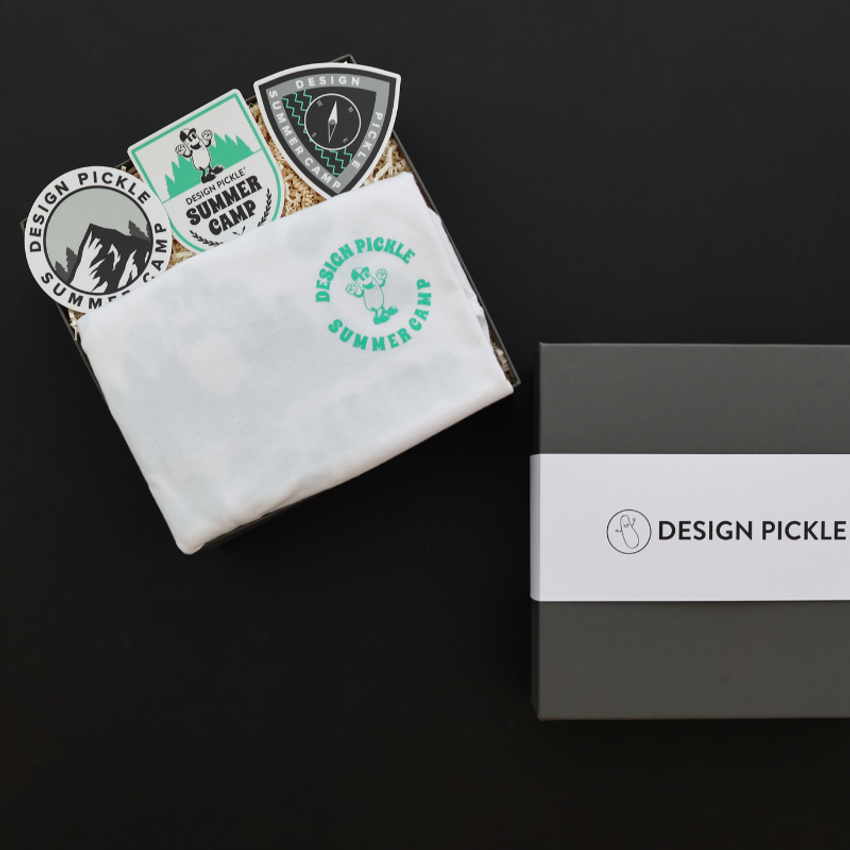 A Better Way to Gift a T-Shirt
For another great budget-friendly conference gift idea, check out these gifts we made for Design Pickle's annual "Spirit Week" company retreat! This summer camp-themed event was the perfect opportunity for matching tees and canteen stickers to get folks in the summer camp spirit. By presenting the tees and stickers in a box with custom packaging, this swag gift has a whole new look and feel to it. The team at Design Pickle told us everyone LOVED the gifts — just as much as we loved seeing photos on LinkedIn of everyone rocking their camp tees at their Spirit Week kickoff event!
4. Snacks Instead of Conference Swag
There's a lot of talk about waste when it comes to conference and trade show gifting. So give something practical and useful — like snacks! We found that 37% of people would prefer to receive snacks over other types of conference swag. It makes sense — with long days of events and networking, people need sustenance! So, how do you give a bunch of snacks but make it feel like an actual gift?
On-Brand Snack Gift Box
Take a note from the folks at Mirati Therapeutics — they supplied snacks for their company-wide conference with cohesive, on-brand gifts. Complete with coffee packets by Kuju Coffee, salted pretzels from On Tap Kitchen, an almond butter IQ Bar, and superfood granola by Gr8nola, these gifts are guaranteed to fuel team members all day long! What's really unique here is that the snacks themselves feel on-brand without having to try — just by following their company color scheme and adding branded packaging, they took this snack gift box to the next level!
Stories Behind the Snacks
Another great example of a snack gift box is this one we made for Deacon Construction. This gift featured treats and snacks from tons of awesome small businesses, and the team at Deacon wanted to amplify the stories behind each of these incredible products. By sharing these stories with their recipients, there was a true element of thoughtfulness to these gifts.
5. Sustainable Swag
Speaking of being more thoughtful when it comes to swag and wastefulness… consider going green with more sustainable swag options. This means making sure what you're gifting is from environmentally-conscious businesses that create sustainable products. Not only is sustainability one of the most popular gift box trends, but it's REALLY important to the future of our planet! And it's becoming more and more apparent that people expect the companies they work with to do their part in protecting the environment. Here's how one company decided to go green with their swag this year:
Eco-Friendly Swag Gift Box
One of our favorite green gift designs, these custom gift boxes for When I Work included amazing products from small businesses that are committed to sustainable practices. Featuring sustainably sourced and ethically made socks by Conscious Step (who donates a portion of every purchase to non-profits), a Rooted Candle by Modern Sprout, which has a ceramic candle vessel that transforms into a planter after the flame has burned down (they even provide seeds so you can re-use the planter to grow herbs and flowers!), as well as two seed-bearing lollipops from Amborella Organics — after you finish the lollipop, you can plant the biodegradable stick in soil horizontally, cover with a layer of top soil, water daily, and grow an herb or flower.
6. Give New Life to Old Swag with Kitting/Fulfillment
Are you afraid to open your company swag closet because you fear an avalanche? You're not alone! This means it miiiight be time to consider kitting and fulfillment services. There are tons of different ways to give a new life to your old swag — whether its with custom packaging, or combining your swag with products from our portfolio of incredible vendors. No matter which way you want to go about it, we're here to help!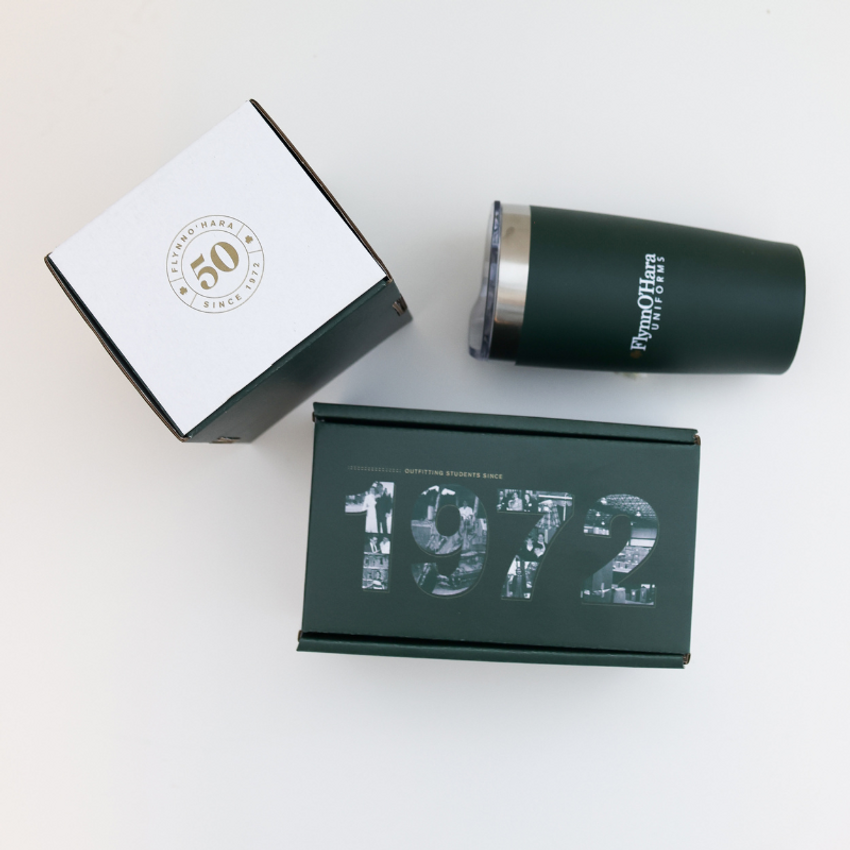 Your Products + Our Packaging and Fulfillment Services
Have 2,000 branded mugs sitting in your office, but don't know how to get them packaged, shipped and in the hands of recipients? It wouldn't be the first time we heard a story like that! When FlynnO'Hara Uniforms came to us, they needed help sending out 2,000 gifts to their partners in celebration of the company's 50th anniversary. They had already purchased the branded mugs they wanted to send — but then felt stuck on how to send them to their recipients. That's where we swooped in! We designed a custom mailer to help them elevate the mug to feel so much more special, plus handled allll the packaging and shipping logistics for them.
7. Reduce Conference Swag Waste with Portal Gifts
Want to treat trade show attendees or conference-goers to a gift, but don't want to contribute to swag waste? We hear ya! Our corporate gifting platform called Portals is a great solution.
Here's how it works: at your trade show booth, attendees can simply scan a QR code that will lead them to your company-branded Portal featuring a selection of gifts to choose from. They can choose their preferred gift and get it sent right to their door - all they have to do is enter their shipping address. We handle the rest!
This is really a win-win for everyone involved: your company can avoid over-purchasing a bunch of swag, your recipient can enjoy having free hands during the trade show as opposed to carrying around a gift, we handle all the gifting logistics for you, your recipient still gets to enjoy a great gift, AND there's a significant decrease in swag waste.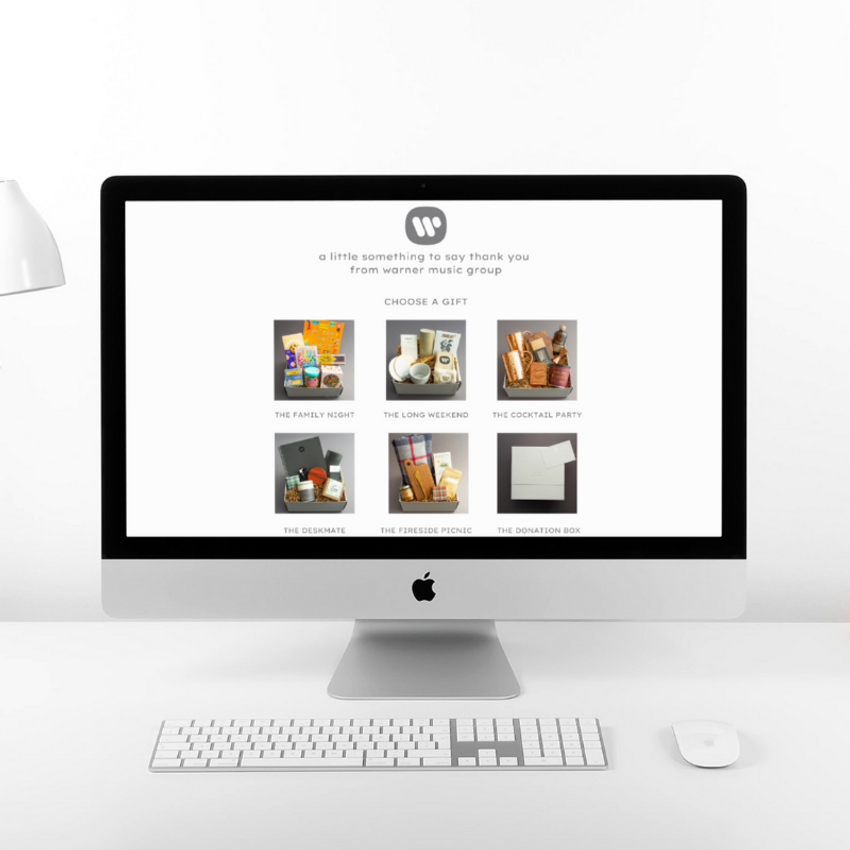 Gifts in a Click!
Give recipients the power to choose a gift that they'll actually like. Whether they scan a QR code or you send them a link, users can access your branded Portal to select a gift and get it sent straight to their door. That's exactly how we helped Warner Music Group offer a selection of gifts to their 2,000 employees nationwide! We designed 5 different gift options for their Portal (plus an option to donate to a charity in lieu of a gift box!) This not only allowed their employees to choose a gift that they actually liked, but it also helped reduce swag waste. Learn more about Warner Music Group's experience with Portal gifts.
You May Also Be Interested In...
9 Gift Ideas for Corporate Events
Looking for gift ideas and inspiration for your next event? Check out these creative conference gifts, business retreat gifts, company party gifts and more!
EVENT GIFT IDEAS
25 Unique Corporate Gift Ideas
Who knew corporate gifts could be so FUN?! Check out our round-up of 25 unique gift ideas that are ANYTHING but boring.
CORPORATE GIFT IDEAS
What Makes a GOOD Corporate Gift?
We're sharing our top tips to get corporate gifting right and the most common corporate gifting mistakes and how to avoid them!
WHAT MAKES A GOOD CORPORATE GIFT