Blog | Company Culture
Using Gifts to Share Company Culture and Core Values
Gifts are a great way to show off company culture and share company core values! But if you've ever received a corporate gift box that felt totally pointless, you're not alone.
At Teak & Twine, we help companies give better gifts by designing custom corporate gift boxes that are true to their values and reflect their company culture, making them more meaningful and memorable to recipients.
In this post, we're discussing why gifts are so effective and ways they can encourage team bonding, amplify company core values, build community, and inspire fun! You might even find gift ideas to show employees appreciation!
Why Gifts Work for Building Company Culture
There's nothing quite like the sense of child-like joy you feel when you receive an unexpected gift. The element of surprise when it arrives, the excitement while tearing it open, the delight of discovering the contents inside, and last but not least, the realization that someone went out of their way to give you a thoughtful gift.
That is exactly why gifts are so powerful — they create an emotional connection with recipients.
Although often overlooked, corporate gift boxes are a great opportunity for companies to connect with their clients and employees. Unlike most interactions that now take place through a screen, employee gift boxes, custom client gifts, or custom event gift baskets are all tangible ways to build a meaningful connection and make a lasting impression.
This is especially true when the gift embodies the company culture and reflects the company's core values. At Teak & Twine, this is a natural part of our design process — we have a team of corporate gifting pros dedicated to creating thoughtful, on-brand gifts by sourcing the best products that represent the message your company wants to convey.
After sending thousands of corporate gift boxes over the years, it's safe to say we've learned a thing or two about making meaningful gifts your recipients will never forget. Discover some of our past gifts for SaaS employees below that were designed to inspire company culture and share core values.
Unique Ways to Encourage Team Bonding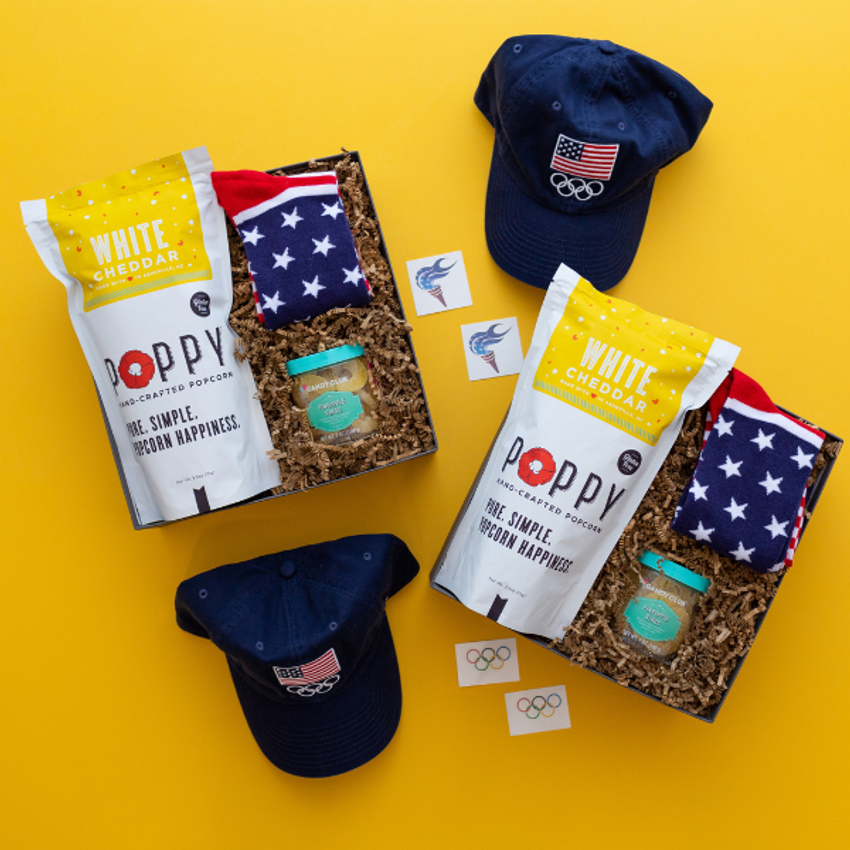 Olympics Watch Party Gifts
Divvy, a financial software company headquartered in Utah, provides cloud-based accounting and expense management solutions for businesses. Recently becoming a billion-dollar company, Divvy has a lot to celebrate! Citing the heart of their success as "a team that's collaborative, cross-functional, and aligned with shared goals," the company places huge importance on creating a fun, team-oriented workplace.
Divvy discovered our gifts on Reachdesk, one of our corporate gifting partners that is integrated with their CRM. Because they were looking for something a little more tailored to their specific needs, they reached out to us directly for a special, custom gifting request: a "2020 Olympics Viewing Party" gift box. We brought their vision to life, creating a gold medal-worthy employee gift box, filled with goodies like custom socks and branded hats, designed to inspire team bonding and camaraderie by bringing their employees together to cheer on Team USA at the Tokyo Olympic Games. Plus, through Teak & Twine's partnership with Reachdesk, we were able to make the gifts readily available to their team through their existing integration - simple as that!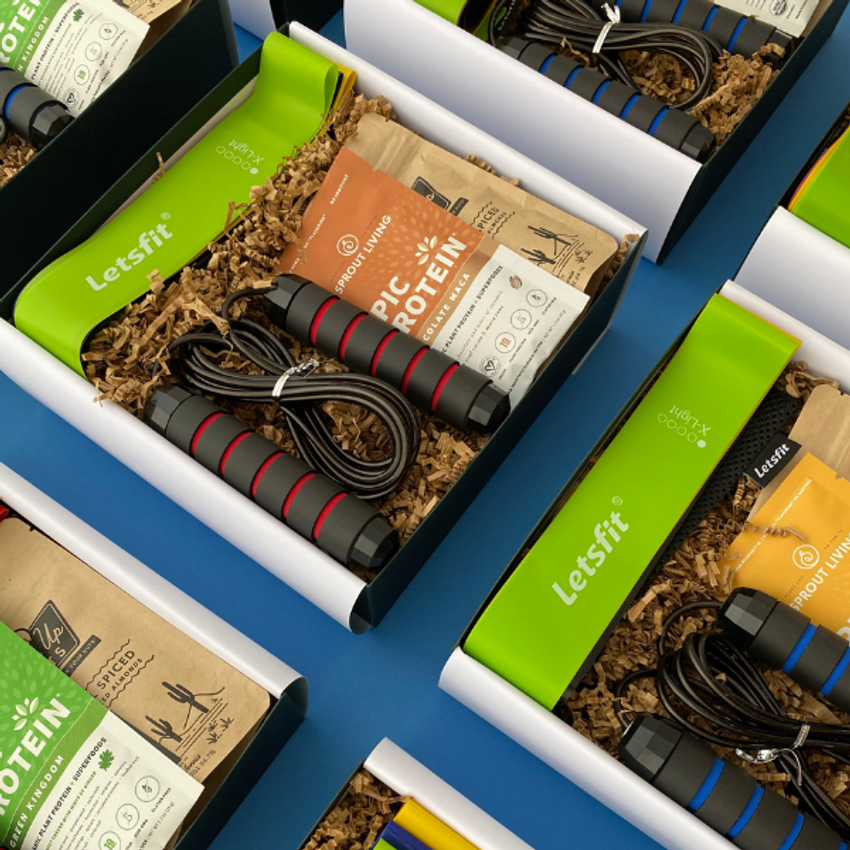 Group Fitness Gifts
Zendesk believes in making other people's lives better—both through its products and in its everyday interactions. One way we've helped Zendesk live this out and ultimately strengthen relationships with its employees is through corporate gifting: to celebrate birthdays, to say thank you for a job well done, and perhaps most fun of all, to add an element of surprise to team-building events.
Some of the most impactful projects we've worked on include employee gift boxes for occasions just like these, outside of the traditional holiday gifting season. When team members aren't expecting to receive a gift, they're more likely to be surprised and delighted by the gesture!
With that in mind, we especially loved putting our creative muscles to work when Zendesk came to us to create a custom event gift basket for one of their teams that was planning a group workout event. The goal: create an experience employees would enjoy and that would stand out as a memorable team-building event.
No sweat! We designed a gift that this team could use during and after their heart-pumping activity. We didn't receive photo evidence, but we heard our Zendesk friends had a blast working out together, staying hydrated with their branded water bottles, and then refueling with some tasty protein-packed snacks!
Pro tip: Custom t-shirts and branded headphones also make a great addition to any wellness-themed gift box!
How To Amplify Core Values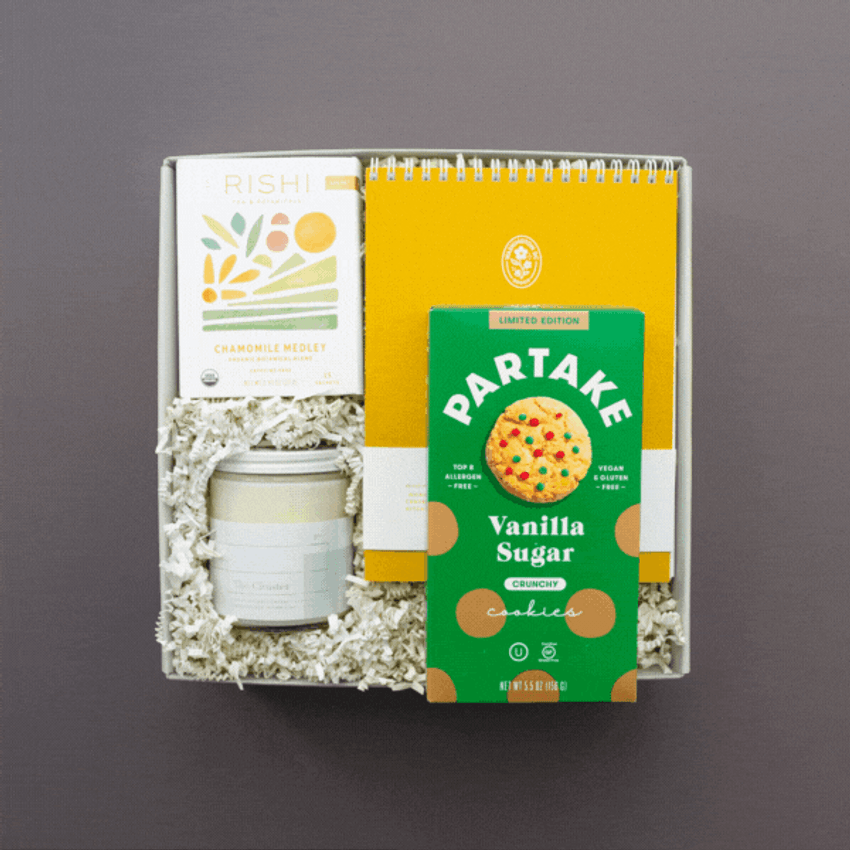 Gifts that Give Back
Cresset Capital is a wealth management firm based in Chicago, IL. The "secret sauce" to Cresset's exploding success? A well-developed client nurture strategy. Get this: they offer birthday gifts to ALL of their clients. But these aren't your average gift boxes - in fact, Cresset's gift options are a direct reflection of their company's commitment to giving back to the community, particularly small business owners.
We created two custom client gifts for Cresset, both of which are designed as "gifts that give back." The gifts feature items like custom logo candles and branded notebooks from several small, female-owned, BIPOC-owned, or sustainable businesses. The cherry on top? With our advanced tech solutions, we created a custom branded landing page for Cresset clients to claim their gifts. All Cresset has to do is simply send the link to their clients, and we take care of the rest!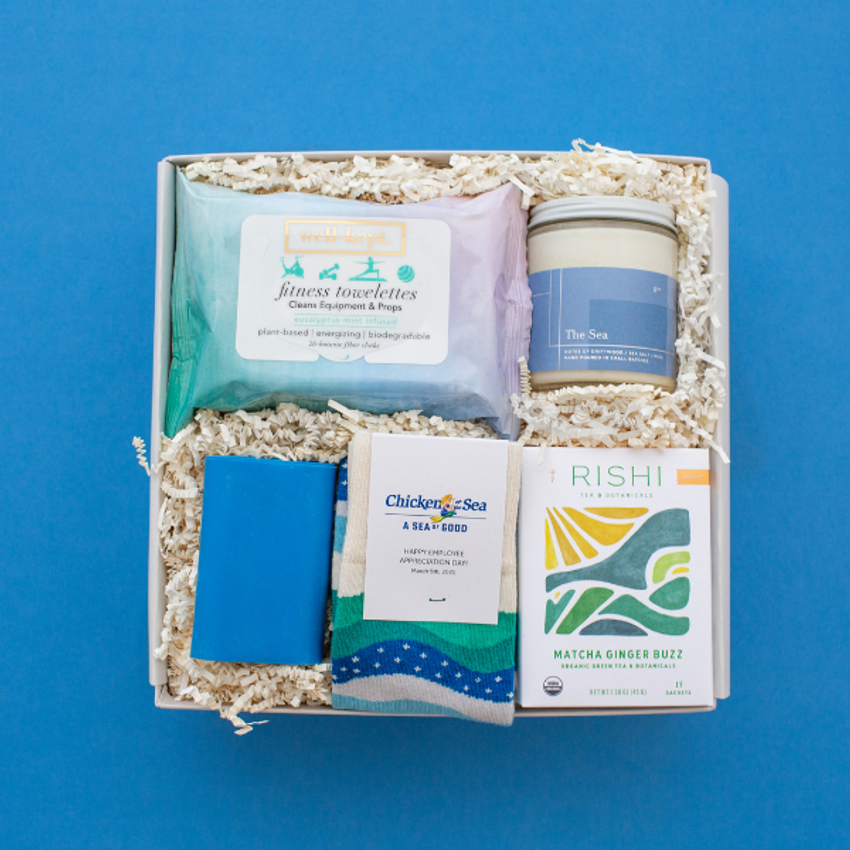 Employee Self-Care Gifts
Chicken of the Sea, the iconic seafood packaging company, has been operating for over 100 years. Their mantra? "We are more than a seafood company. We are a Sea of Good." That "good" is what guides their company - permeating everything they do, from their commitment to preserving seafood sustainability and protecting the Ocean, to their role as trusted seafood leaders in a quest to inspire "healthy living, healthy oceans."
When they reached out in preparation for Employee Appreciation Day 2021, we were SUPER excited to help them make something really GOOD their "crew". A good corporate gift tells a cohesive story, siven that 2020 had been a particularly challenging year due to the pandemic, they wanted to send a wellness-themed employee gift box (with fun items like custom socks and candles) that would reinforce their company culture by letting their 250 employees know how much they value them and their wellbeing.
Looking for luxe gifts for SaaS employees to send today? Check out The Wellness gift and The Self Care Gift.
Creative Ways to Build Community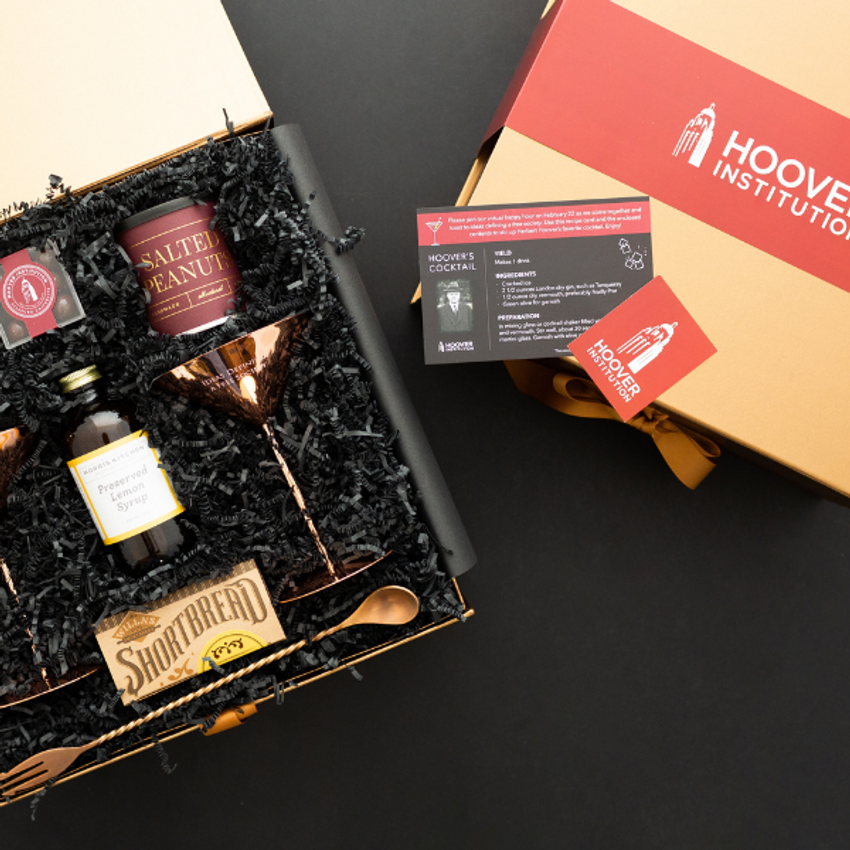 Gifts for Donor Events
The Hoover Institution at Stanford University is a public policy think tank funded by donors who are dedicated to advancing policy ideas that promote economic opportunity and prosperity. We've had the opportunity to work with the Hoover Institution on several occasions, sending corporate gift boxes and custom event gift baskets for special events to reinforce a strong sense of community to their large society of donors.
From happy hour events to fireside chats, The Hoover Institution is always hosting special events for the donors to connect, catch up, and celebrate the advancements of the Institution's mission - which without their donations, would not be possible.
Want to shop something similar? Check out the Cocktail Gift Box, filled with cocktail hour essentials like custom coasters, Dried blood orange crisps by Dardimans, and a rose gold shaker.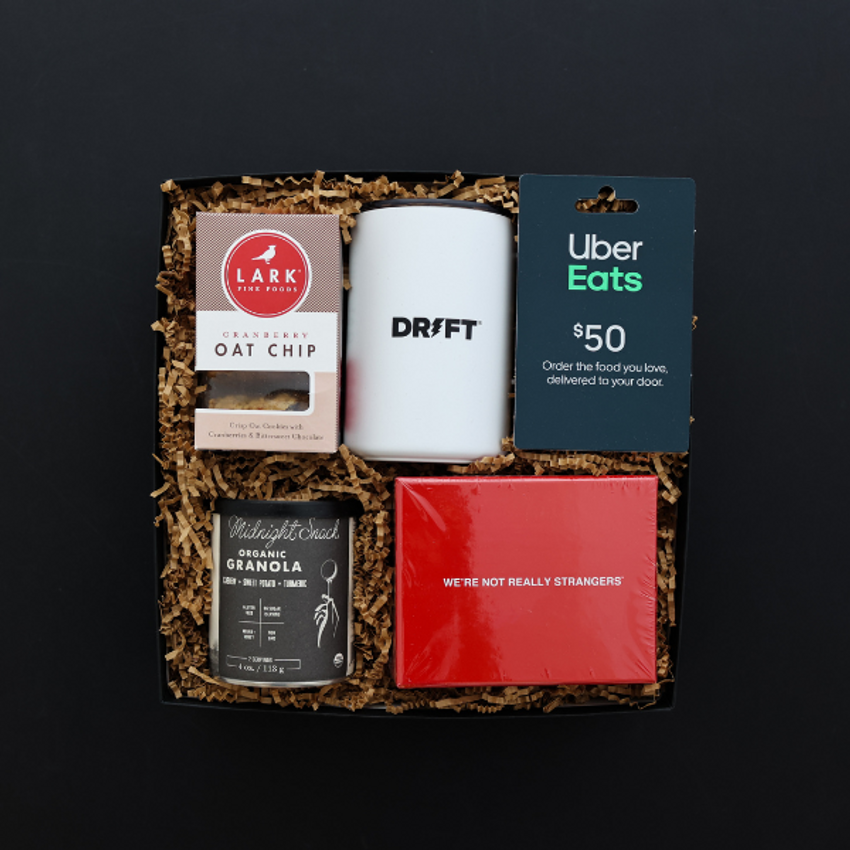 Conversation Corner Gifts
Drift is a tech company that uses conversational marketing and sales to help companies drive revenue. But, they'll be the first to tell you that " Drift is more than just a technology company. Drift is a connection company." Naturally, they understand the importance of using client gift baskets to build connections with their customers!
Check out these gifts for a "Conversation Corner" event Drift held for their customers. A branded mug, conversation cards, AND an Uber Eats gift card!? These custom client gifts were designed for the perfect mid-morning or afternoon meet-up so their customers could enjoy lunch, thanks to Drift. That's definitely a good way to get the conversation started!
How to Inspire FUN at Work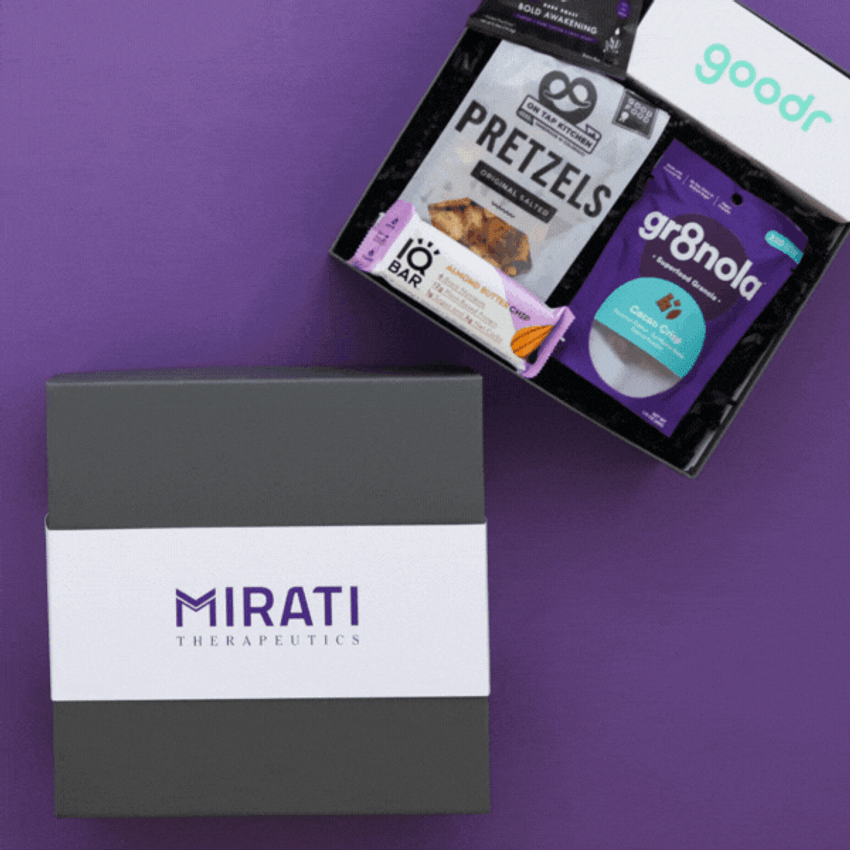 Surprise Gifts for Meeting Day
Sometimes, it's the smallest things that can make the biggest difference in the day. That's exactly why Mirati Therapeutics decided to surprise their employees with gifts for their all-day meeting! This employee gift box was packed with delightful treats that their team could enjoy throughout the course of the day. Want to create something similar? Don't forget to add a branded water bottle to keep your team hydrated and branded headphones so your team can join the meeting in style.
This small but simple gesture is a great way to inspire fun and lighten the mood during important meeting days.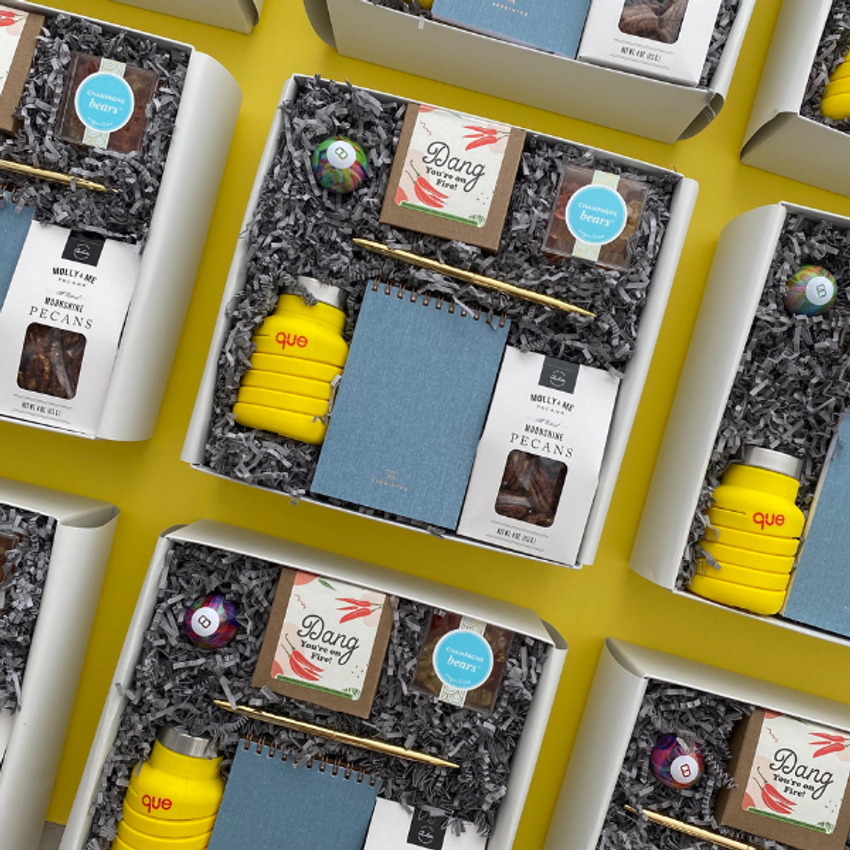 Employee Appreciation Day Gifts
One of our favorite projects was with JibJab, a digital entertainment company based in Los Angeles, CA. They use technology to make things that make people laugh - namely with funny e-cards. Their mission? "Billions of happy people."
So when they approached us for employee appreciation gifts, they were dreaming of a creative gift that would remind their employees to not take themselves too seriously. So we threw on our party hats - in JibJab fashion - and got to work! These employee gift boxes were designed to exude that company culture of fun, featuring a magic 8 ball, branded water bottle, a growable praise plant kit, a branded notebook, and more! Fun and creative kits like this one make great gifts for product managers, gifts for media professionals, and really, everyone on the team!
Need a premium gift for SaaS employees to send out today?
There are tons of ways to use corporate gift boxes to show off your company culture and communicate your core values with clients and employees!
Whether you're highlighting what matters most to you or just trying to inspire a little team bonding, a meaningful gift can leave a lasting impression. Don't just TELL people what matters to your company — show them!
Written by Molly Ledwith. Updated Nov 2022.