BLOG | GIFTING INSPIRATION
Fall Corporate Gift Ideas Everyone Will Love!
Looking for fall corporate gift ideas this year? Get inspired for the season with cozy fall gifts everyone will love!
Perhaps you're thinking about sending client gifts but just haven't landed on the perfect thing. Or maybe you've been wanting to treat your employees to a fun surprise but time has gotten away from you. Don't worry! Fall is the PERFECT time to surprise and delight your clients or employees with thoughtful gifts before the rush of the holiday season.
If you need a little gifting inspiration, you've come to the right place. So get ready to bust out the plaid, grab an apple cider donut, and turn up the cozy! Here's a list of some of best fall gift ideas that will have your recipients ooh-ing and ahh-ing.
Fall Gift Ideas for Clients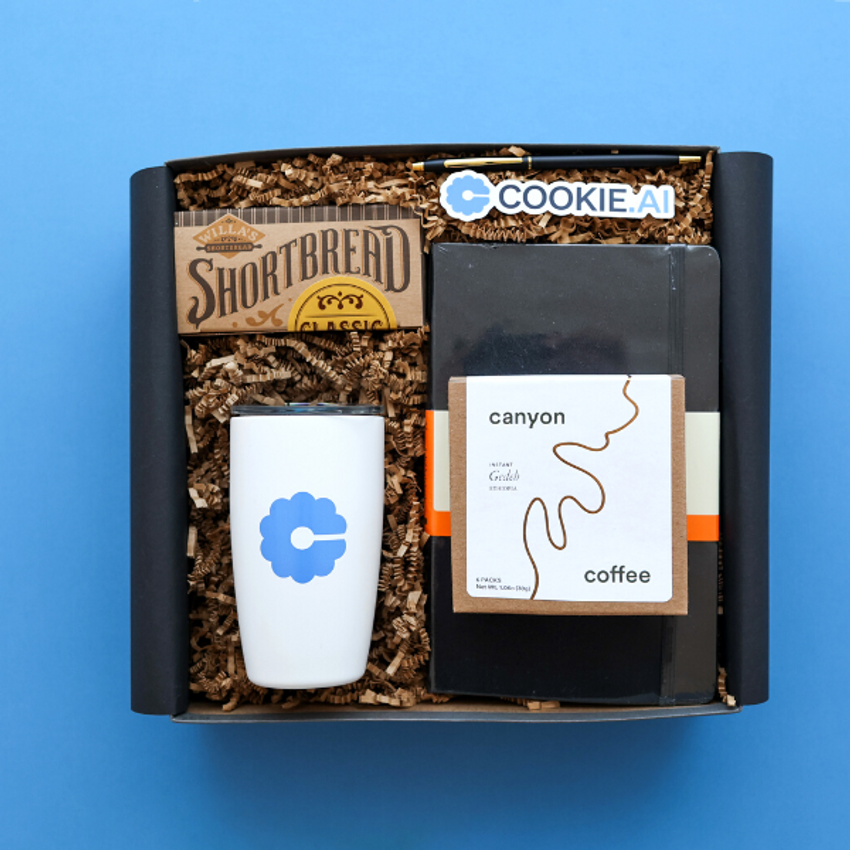 Coffee Themed Gifts
Looking for a natural way to stay top of mind with your clients before a crazy Q4? Or maybe you're looking for a way to gently nudge that hard-to-get prospect?
Well, guess what! International Coffee Day is coming up on October 1st. Get your clients brewing with excitement with custom gifts for the occasion!
Give your clients a little [caffeine] boost in honor of this beloved holiday with custom coffee-themed gifts. Take these gift boxes we designed for Cookie.ai as an example!
First up: coffee, of course! Whole bean or ground; light roast or dark; instant or pour over — you tell us! Here, we included pour over coffee packets by Canyon Coffee. Then, we added in a leather Moleskin notebook, a branded laptop sticker, a sleek black pen, a custom coffee mug (we can always help with branding, if that's your cup of tea coffee!), and, last but not least, Willa's shortbread cookies – because the only thing better than a hot cup of coffee is a cup of coffee and a delicious snack!
Looking for something similar?
Home Office Gift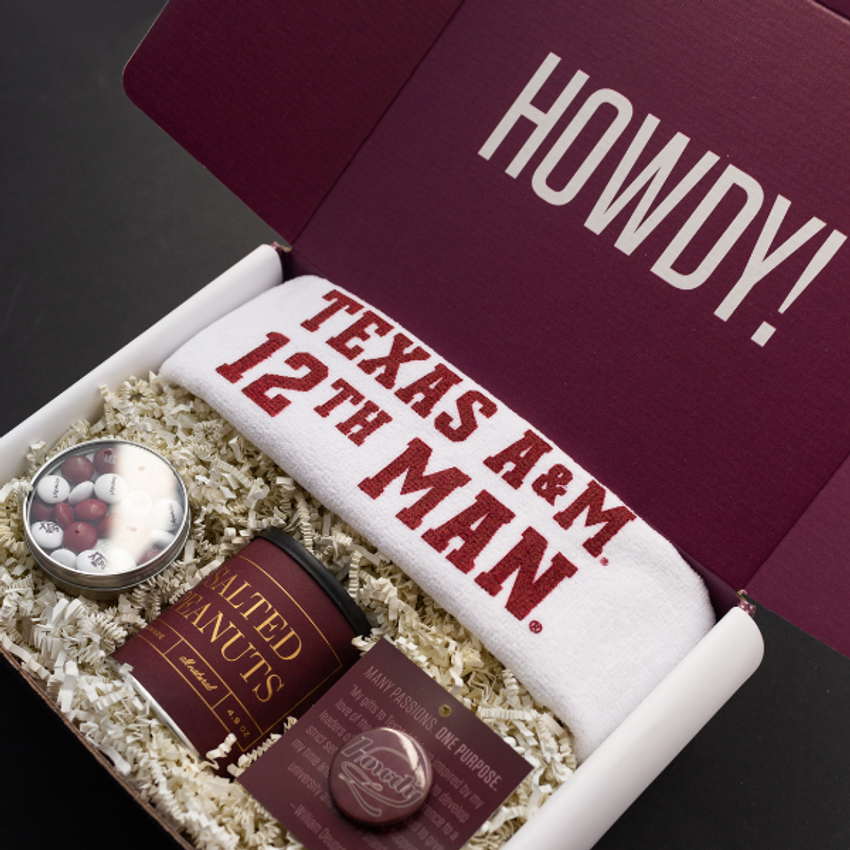 Football Themed Gifts
As summer winds down, the countdown to kickoff is on. And if you've got a lot of clients who are football fans, it may just be the most wonderful time of the year!
If the arrival of football season finds you under the Friday night lights, planning a donor event, or hosting a tailgate party for your customers, consider this your sign to say YES to football-themed gifts!
That's right, we've even made football-themed corporate gifts. Like these custom gift boxes we created for the Texas A&M Foundation! Sent as a thank you gift to their donors, this gift box was designed to bring the spirit of Aggieland to every recipient's door! Complete with a Texas A&M 12th Man rally towel, branded snacks (both sweet and salty, of course!), and a sentimental "Howdy" button accessory, this gift was perfect for tailgate time!
No matter who you root for, our team of gifting pros will meet you on the gridiron to brainstorm the perfect football-themed gift for your clients — no up-downs or wind sprints required!
Fall Themed Gifts
You know those blissful crisp days that mark the changing of the seasons, after the scorching days of summer have passed and before you need a coat to leave the house? We'd love to bottle up that perfect, fleeting weather to enjoy all year long.
But since gifting is our specialty, instead we challenge ourselves every year to design the coziest gifts we can dream up that encapsulates everything we love most about fall
For a cozy breakfast morning, check out The Maple fall gift box. It's full of our favorite morning treats like coffee, crepe mix and maple syrup, yum!!
Or meet The Sweater Weather! This staple of our fall collection is always a popular choice for client thank you gifts, fall promotions and other seasonal celebrations. Pro tip: Turn the cozy up to level 10 by including a QR code that links to a burning fireplace video or a sweater-weather-inspired Spotify playlist for a gifting experience your lucky clients won't soon forget!
Need a fall gift in a pinch? Shop this gift now!
SHOP THE SWEATER WEATHER
Need to Order Corporate Gifts?
Learn about our corporate gifting options. We have 8+ years of experience sending corporate gifts, working with companies like Google, The New York Times, and Zillow and are able to send from 1 -10,000 gifts per corporate order. Learn more and find the right solutions for your gifting needs!
Gift Ideas for Employees this Fall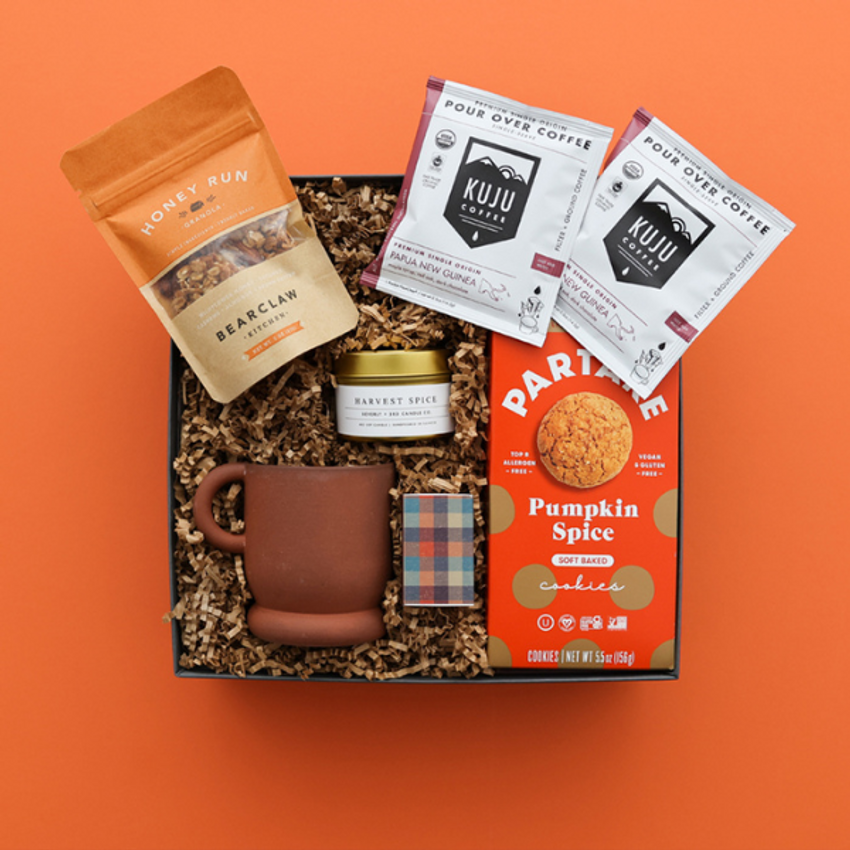 Pumpkin Spice Themed Gifts
Is a pumpkin spice latte your go-to drink order during the fall? Will you be spending your weekends at the pumpkin patch? Are you perfecting your pumpkin pie recipe just in time for Thanksgiving? If you asked us, our answers would be yes, yes, and yes!
We know we're not alone: pumpkin-themed gift boxes are one of our most popular gift requests for employees in the fall! In fact, this theme has gotten so popular that we went ahead and added the perfect pumpkin gift to our Corporate Gifting Catalog! Bright and cheery, this gift is a surefire way to make your employees happy as summer winds down.
Appropriately named The Pumpkin Spice, this gift has pumpkin cookies, a harvest spice candle, warm fall tones, and alllll the ingredients of a thoughtful, seasonal fall gift!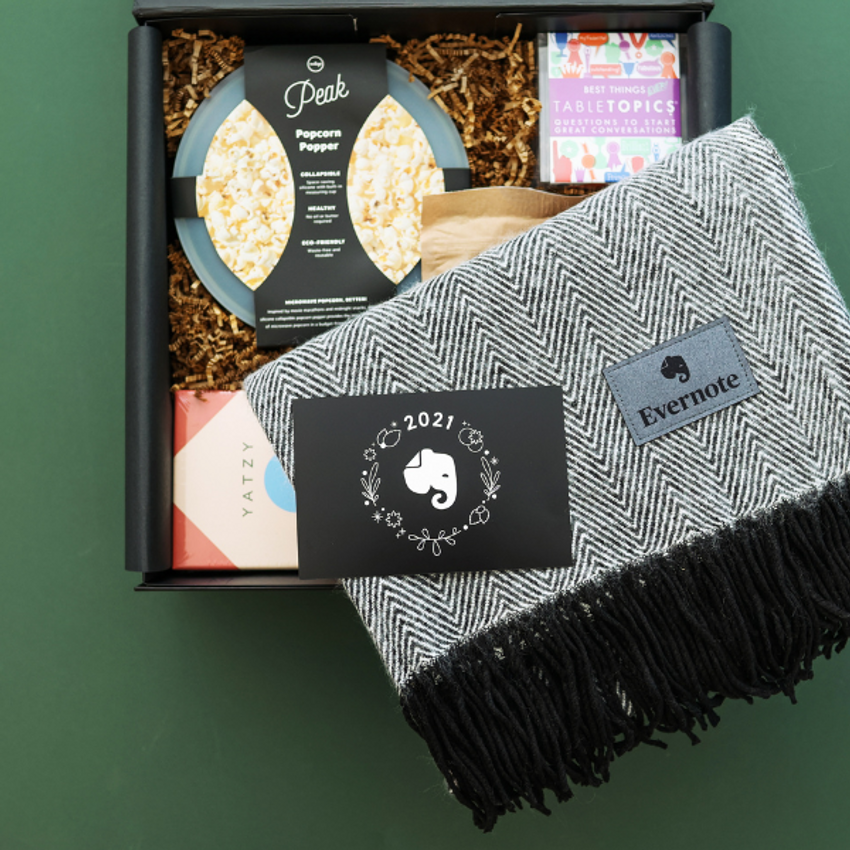 Movie Night Gifts
No matter the season, we're all for gifts that are about more than just "stuff." Creating gifting ~experiences~ is our jam, and we hear from clients time and time again that the more fun, interactive and useful a gift is, the more impactful it is!
Take a note from the folks over at Evernote — they surprised their employees with one of the best corporate holiday gift ideas: a movie-night themed gift! Filled fun games, popcorn and a personal popcorn popper, plus a cozy herringbone blanket with a subtle branded touch, this is a gift designed for making memories for families and friends with items they can use for years to come!
When the days get shorter and the weather gets cooler, what better way to enjoy a chilly fall evening than with a movie night? It doesn't hurt that cultivating joy for your employees increases productivity up to 12%. So you're looking to spark a little joy with your team this fall, a thoughtful, well-timed gift may be just the solution!
Fall Gift Ideas for Co-Workers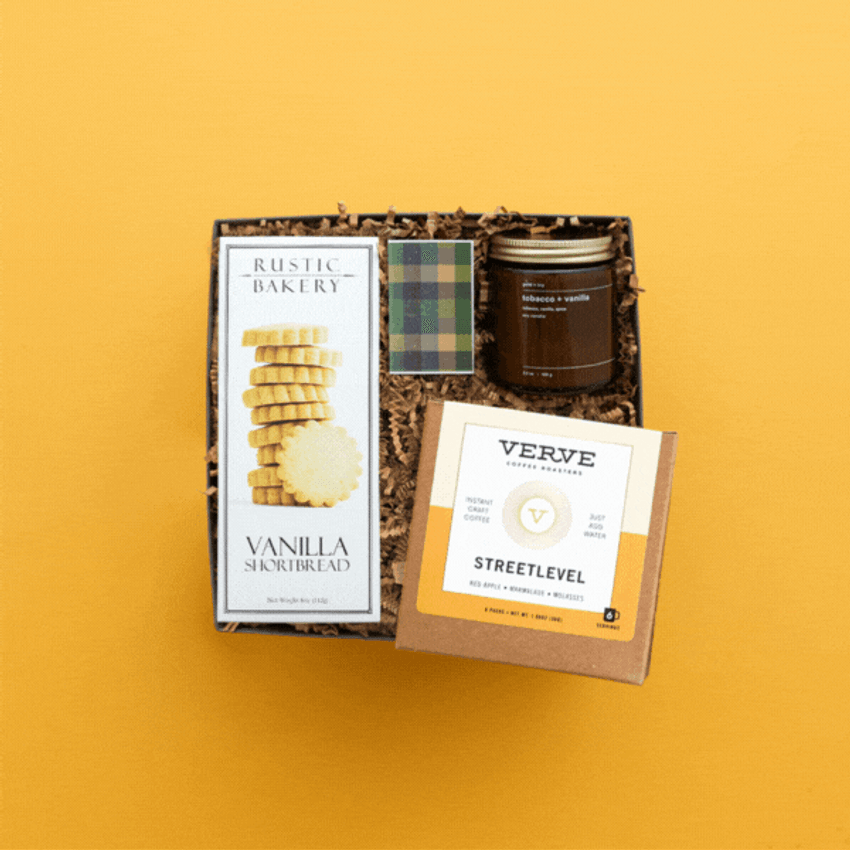 Corporate Coffee Gifts
It's safe to say we're coffee addicts around here. And we're not the only ones! Coffee is one of our most-requested items for custom corporate gifts, and for good reason: there's nothing like a fresh cup of coffee to help you ease into the morning, especially on a crisp fall day.
If you're looking for fall gift ideas for coworkers, coffee gifts are a great way to give your colleagues a little boost! Discover our ready-to-ship collection that has great coffee gifts for your work besties, like The Cup of Joe, The Take Five, The Energize, the new hire gift, and more!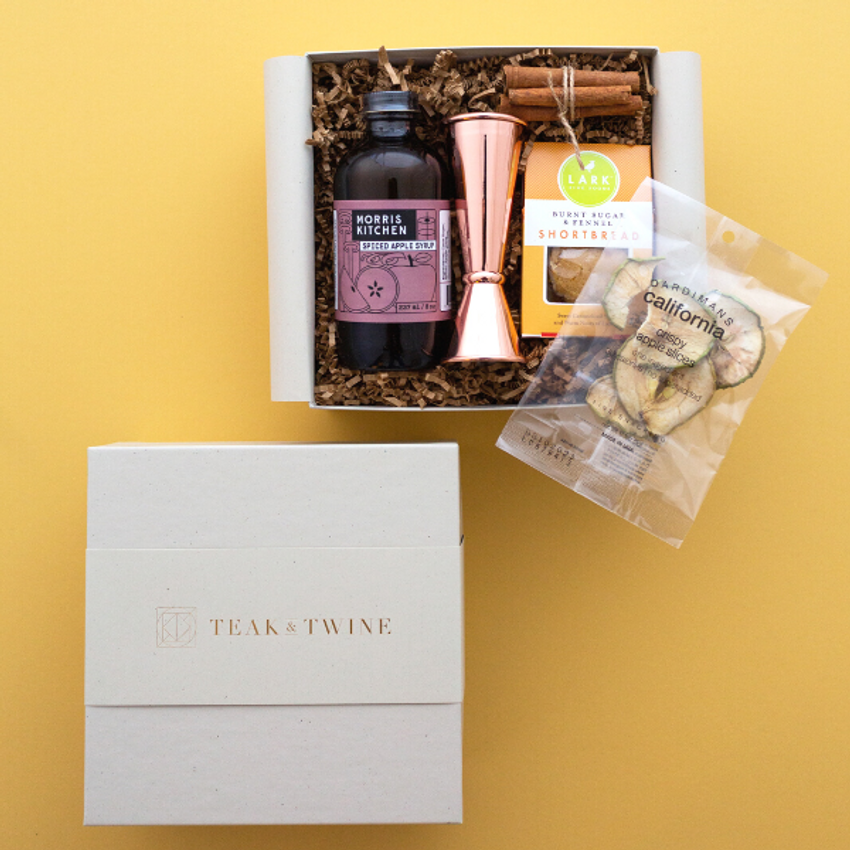 Fall Cocktail Gifts
Are you and your co-workers heading to a team-building event this fall? Now you are! Get ready to go apple-picking at the orchard — or simply treat your work besties to a Warm Apple Spice Gift for a fall-themed happy hour!
We spiced things up for the team over at Goldman Sachs with these spiced apple cocktail gifts for their company happy hour!
In addition to the spiced apple syrup by Morris Kitchen, a copper cocktail jigger, cookies and accompaniments, each gift included a recipe card with a QR code linking to a video of their cocktail-connoisseur colleague so that the team could learn how to make the signature cocktail from the event at home!
Shop something similar!
Cocktail Gift Box
LET'S WRAP IT UP
Sending Corporate Gifts in the Fall
We love helping our clients kick butt all year long! That's why we're always down for a nice autumn gifting campaign. Remember, sending gifts outside of the traditional holiday season is a great way to surprise and delight your clients and employees.
Whether you're a pumpkin spice latte fanatic or more of the "football is life" type, the fall season is brimming with reasons to celebrate!
You Might Also Like
25 Unique Corporate Gift Ideas
---
Looking for other gift ideas? There's plenty more where that came from! Check out these 25 unique corporate gift ideas that are anything but boring!
25 CORPORATE GIFT IDEAS
Learn About Corporate Gifting with Teak & Twine
---
At Teak & Twine, we help brands look their best with custom corporate gifts that WOW clients and employees. Learn more about our services and what it's like to work with us!
Custom Corporate Gift Boxes
Get Fun Gift Ideas Sent to Your Inbox
---
Sparking creative ideas is totally our thing! Sign up for our newsletter to receive creative gift ideas, corporate gifting tips, and exclusive offers sent straight to you!
SIGN ME UP!