Customer Story | Holiday Gifts
How Titan Electric Uses Teak & Twine for Client Holiday Gifting
Custom corporate gift boxes for the holiday season made simple!
In this customer story, you'll learn all about Titan Electric's gifting experience using Teak & Twine for custom corporate gift boxes for their 650 clients and partners.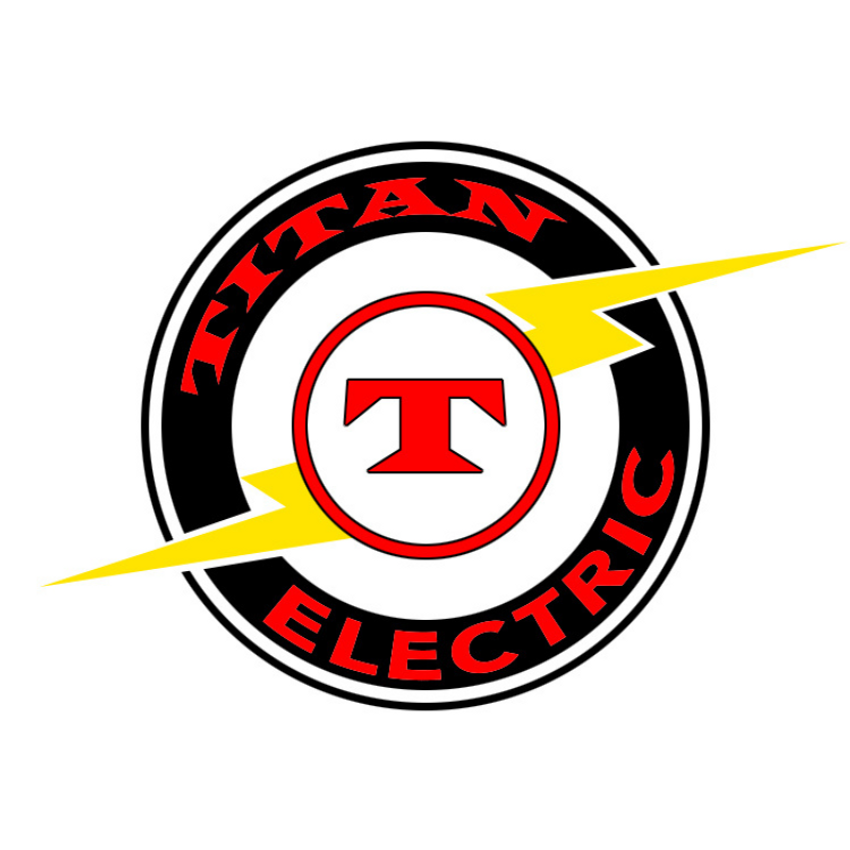 The Details
CLIENT
Titan Electric
OCCASION
End-of-Year, Holidays
RECIPIENTS
Clients
GIFT BOX QUANTITY
650
KEY FEATURES
Client gifts, Corporate holiday gifts, End-of-year gifts, Bulk Shipping, Portal client
OVERVIEW
Titan Electric is a full-service electrical contractor specializing in commercial, industrial, and residential electrical services based in Bellevue, Washington. Their marketing team contacted us last October in hopes of finding the perfect corporate gifting partner to help with end-of-year corporate gift boxes for about 650 clients.
Looking for something high-end and on-brand to send to their clients as an end-of-year gift, they were super excited when they discovered our custom branded packaging and decided to get in touch. Our team was so excited to design the perfect gift for Titan Electric's clients!
Their biggest concern? They didn't have all their clients' home addresses. But with our advanced tech solutions, we make gifting at-scale a breeze — that means no more worrying about collecting addresses and organizing spreadsheets!
Having served the Pacific Northwest's largest companies for over 20 years, it's safe to say that Titan Electric knows a thing or two about how to keep their clients happy! We were honored to help them further their excellent customer service by spreading holiday cheer with custom client gifts!
Client Gifting with Titan Electric
Custom Holiday Gifts
The team at Titan Electric were looking for corporate gift boxes for the holidays that went beyond the basics. They wanted something high-end that felt truly representative of both their company and their hardworking clients and partners. They also needed a solution for sending all 650 gifts to their clients' doors — without tracking down all of their addresses.
Here's how we made it happen: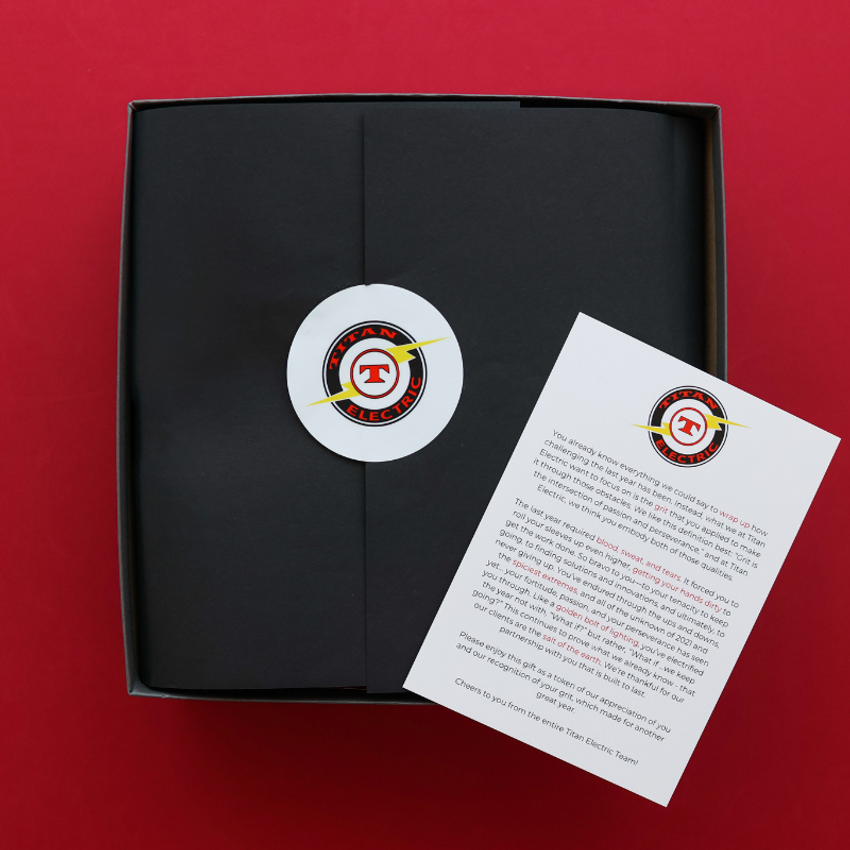 On-Brand Products and Packaging
With over 20 years of experience, Titan Electric understands the importance of brand recognition and presentation. Our design team made sure to take this into consideration when choosing both the exterior packaging as well as the branded products inside the gift.
We designed a custom packaging suite for their corporate holiday gift ideas, which included a branded gift box sleeve, black closure paper, a branded closure sticker, and a custom insert with a fun, kind and thoughtful sentiment. Packaged in our signature dark gray gift box with black crinkle paper, this gift was packed to perfection.
Our team carefully selected products that followed the specific color story of the Titan Electric brand (and with their message, but we'll get to that a bit later). With blacks and reds and a hint of gold, this is the perfect luxury corporate gift. It has a distinct holiday vibe without being too overtly Christmas-y, which was something the Titan Electric team wanted to be cognizant of. We sourced each of the products (listed below) from small businesses all over the country.
The Businesses Behind the Gift
---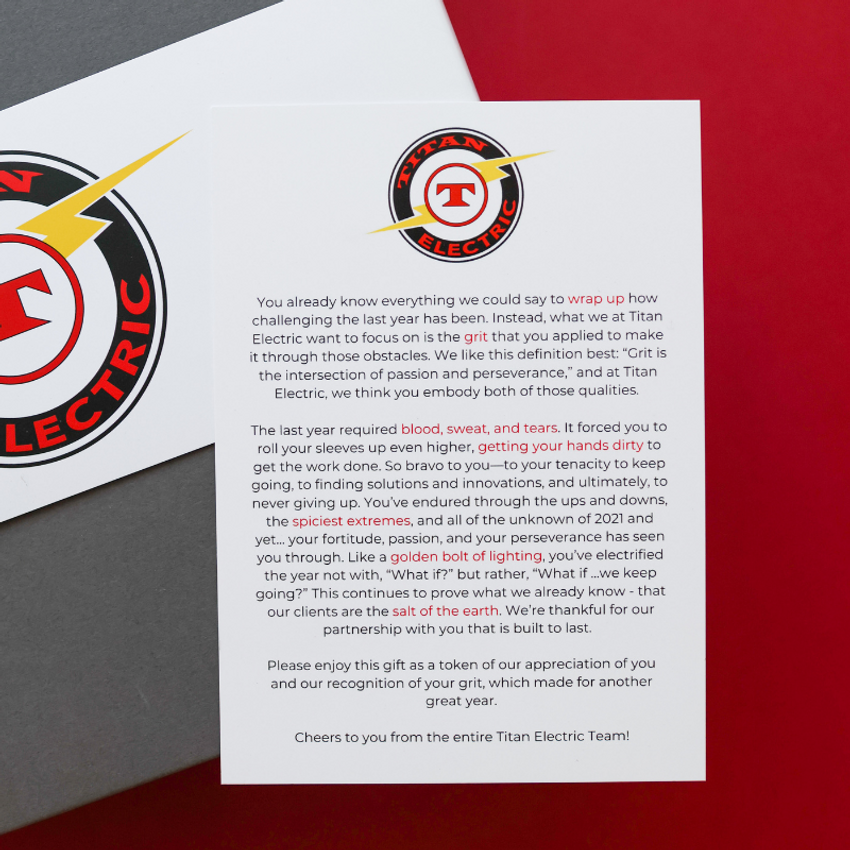 A Personal Touch
Titan Electric wanted to emphasize the "grit" that their clients embody, especially during challenging times. So they included a thoughtful, all-puns-intended message to recognize all the ways their clients have applied their grit over the course of the year — from "getting their hands dirty" (hence the True Grit Soap), to surviving the "spiciest extremes" (a nod to the Truff Hot Sauce). They "wrap up" (peep the leather tech wrap) by referring to their clients as the "salt of the earth" (are you picking up what we're putting down?)
This sentimental yet playful message was the cherry on top of this custom client gift, as they really committed to the theme and were able to get their point across to their clients. They explain grit as "the intersection of passion and perseverance" and we couldn't agree more!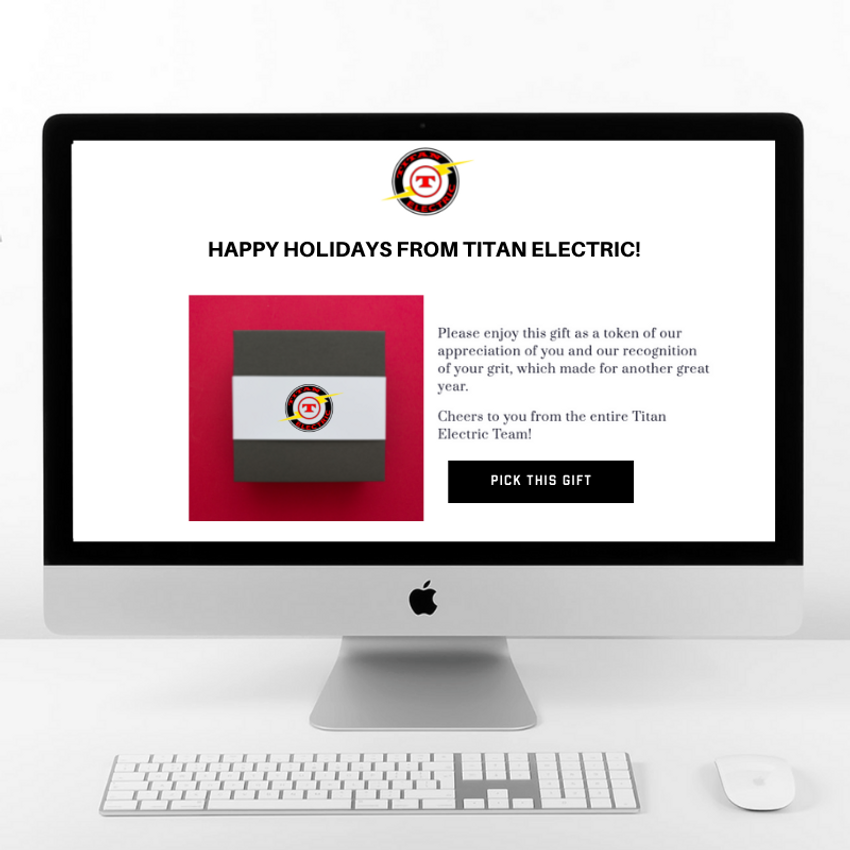 No addresses? No problem!
The most common concern we hear from our corporate clients? Tracking down addresses. Luckily, we make gifting at-scale simple and easy with our corporate gifting platform, Portals. Portals are password-protected landing pages that feature your logo and are personalized for your company or event, featuring your selection of custom gifts for your recipients to choose from.
All the Titan Electric team had to do was send clients a link and password to their branded Portal. From there, each client could log in (where they were greeted with the Titan Electric logo and a holiday message), select the gift (which showed only the exterior, because Titan wanted the inside to be a surprise!), and enter their preferred mailing address. Then, our team here at Teak & Twine handles the rest! We fulfill and ship all of the corporate gift boxes in our warehouse, ensuring they arrived at each recipient's door within 3-4 business days. Yep, it's really that simple!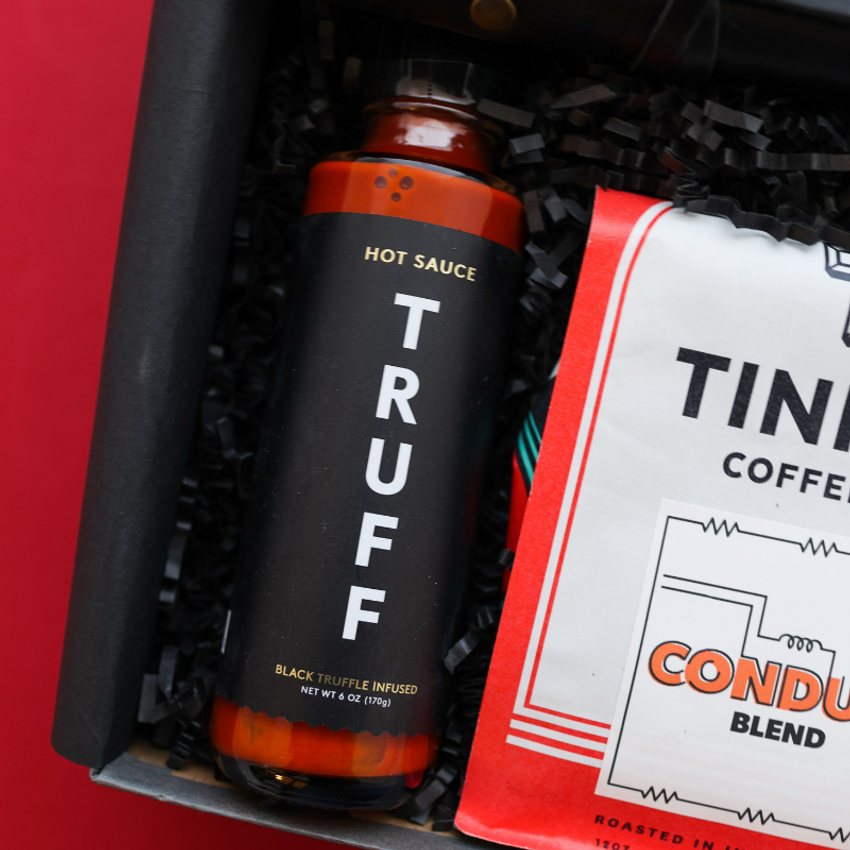 We are thrilled with how the gift boxes turned out — they look AMAZING and they're a huge hit with our clients!
It was an absolute blast working with the Teak & Twine team on this! We can't wait to work together again for next year's holiday gifts.
Thank you so much for all of your help!
Britney, Brand Manager @ Titan Electric
Our team at Teak & Twine had a blast working with Titan Electric! We "rolled up our sleeves" and brought the grit to make the perfect custom client gifts.
We love creating gifts that are representative our clients' company culture and values and that was exactly what we got to do for Titan Electric. Best of all, their clients loved them! And we LOVE to hear it.
Written by Torrance Hart. Updated Aug. 2022.
Who Made these Awesome Gifts?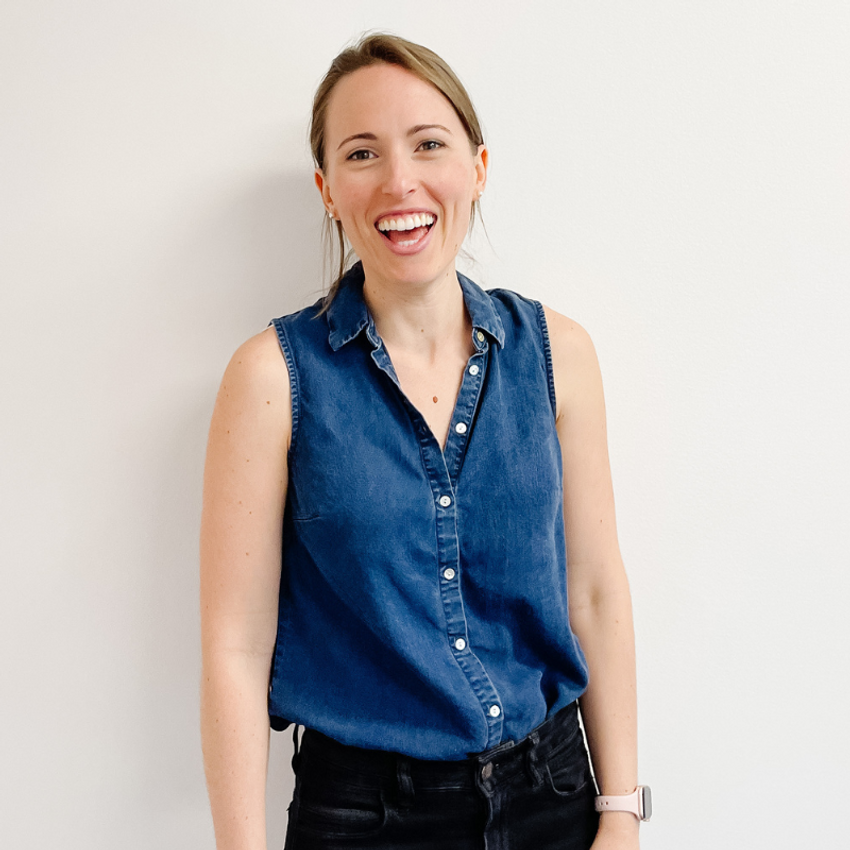 Meet Kris! She's one of our Account Managers here at Teak & Twine. Kris worked one-on-one with the team at Titan Electric to help bring their vision to life. If you have a gifting project in mind, contact us and we'll connect you with your own dedicated Account Manager!
Using Gifts to Share Core Values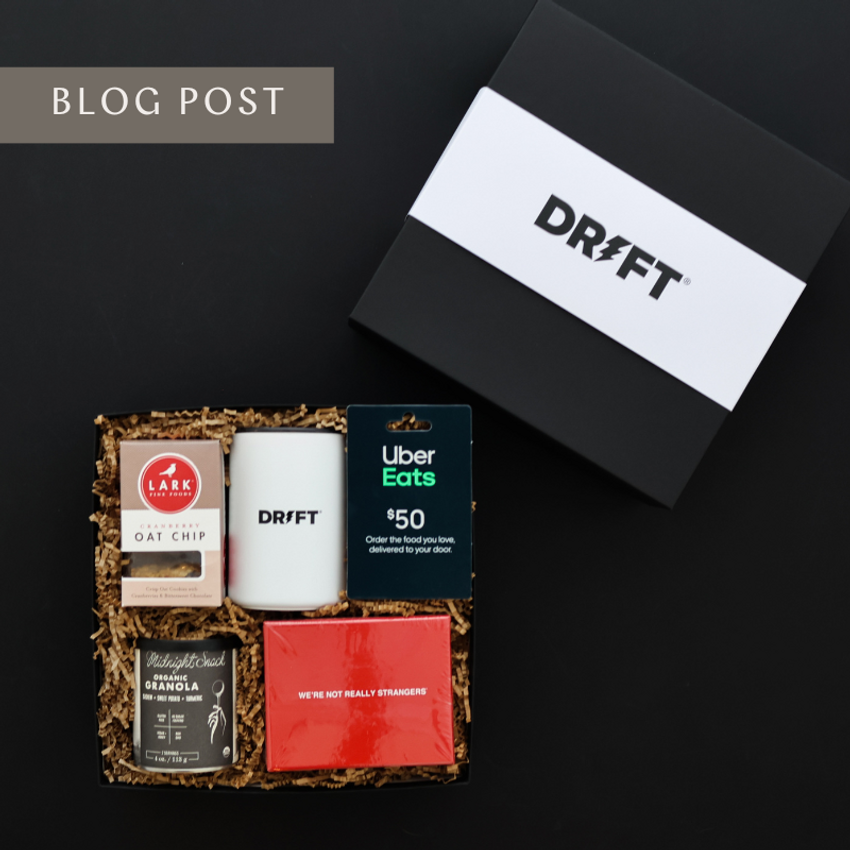 Gifts are a great way to show off your company culture and share your core values, just like Titan Electric did with these custom client holiday gifts. Check out other examples of how companies use corporate gifts to showcase their company values.