5 WAYS TO NAIL THE GIFTING GAME
Employee gifting done right
Gifts are an age-old way to express care and gratitude. But for many workplaces, the opportunity to express appreciation through gift-giving is often overlooked and underestimated. After all, simply finding employee appreciation gift ideas can be challenging. When done right, gift boxes for employees can have a meaningful impact on engagement and loyalty. The outcome? Higher rates of productivity and overall job satisfaction - and ultimately, stronger business results.
However, the sacred art of gift-giving is frequently misused in the corporate world. You know what we're talking about: companies that give their hardworking employees impersonal gifts filled with useless swag that, let's be honest, end up in the trash and are forgotten.
To help you avoid wasting your time and money, we compiled a few tips that will have you nailing the corporate gifting game and leave your employees feeling recognized, valued, and totally obsessed with you. Just ask our friends over at Warner Music Group -- we helped create unique, thoughtful holiday gifts that their 2,000+ employees ACTUALLY liked.
Check out the 5 things Warner Music Group got right when it comes to employee gifting!
No. 1
Multiple gift options
Your team is made up of folks who are diverse, interesting, and thoughtful - so make sure you offer them gifts that are diverse, interesting, and thoughtful!
But, if you've got a big team this can feel like a challenging task - that's where we come in. With Teak & Twine, we make it easy (and fun!) to offer a variety of options no matter how big your team is (2,000? Easy. 15,000? Done. 30,000+? You got it!) That way, employees can choose a gift that speaks to their personality and interests.
For example, Warner Music Group offered a variety of unique gift boxes to their 2,000+ nationwide employees so that everyone could find something that appeals to them - regardless of gender, personality type, stage in life. On top of that, they offered a donation option where employees could opt out of getting a gift of their own and instead the cost would be donated to the Opportunity Fund, a charity organization that was supporting small businesses impacted by COVID-19. No matter what, Warner Music Group's employees were able to find something they would enjoy for the holidays. Check out their gifts below:
No. 2
Thoughtful branding
Say it with us: "I will not give another boring swag gift!"
You know what we're talking about: a pair of logo-covered sunglasses, a branded mouse pad, another company t-shirt… let's face it, these "gifts" aren't really gifts at all. Don't waste your time and money on items that your employees won't actually enjoy.
So definitely brand items, but do so thoughtfully. We suggest incorporating your brand on the exterior of the gift, such as the shipping tape, the belly band, and any inserts you wish to include.
If you're looking to customize items inside the gift as well, choose one or two items that make sense from your employee's perspective.
Warner Music Group was extremely thoughtful when it came to branding and packaging for these gifts. They took an approach where the branding was heavy on the packaging and off the actual products. Each gift was packaged in a luxe gray box with a silver foil logo, in alignment with their brand's color palette. Each box also featured a matching gray belly band with a simple holiday greeting. As they opened the box, they were greeted with a thoughtful card thanking them for their hard work and wishing them a joyous holiday season.
Warner Music Group did include their logo on select items in two of their six gift options. For example, The Deskmate featured a high-quality notebook with a subtle Warner Music Group logo on the cover. As well, The Long Weekend included a cozy pair of branded socks that worked perfectly with the gift's self-care theme.
The key takeaway: tasteful branding can be done! Our account managers can work one-on-one with your team to create custom gifts that show your brand voice AND include awesome products from small businesses that people actually want to keep.
No. 3
Extended send window for gifts
One of the biggest advantages you can have for your gifting campaign is an extended send window. This means allowing employees enough time to claim their well-deserved gift! This is especially important during the holiday season: not only are employees EXTRA busy with all the tasks they need to complete by the end of the year, but there are other factors to consider like hectic holiday schedules, vacation time, as well as all the different holidays your employees may be celebrating during this season. Therefore, be sure to allow enough time before AND after the holidays to be as considerate as possible to your employees diverse schedules.
With our advanced tech solutions, we offer simple ways for you to showcase your gift offerings to your entire team and to monitor the status of your gift campaign. For example, Warner Music Group sent out an email to their employees that included a link to their company-branded landing page where their employees could browse and choose a gift. Our team can monitor who has and who hasn't claimed their gift, providing your team with a real-time CSV so you know who to target next time you send a reminder email.
HOLD UP. YOU DON'T GET OUR NEWSLETTER?
We share insights on gifting strategies, "out-of-the-box" marketing solutions, exclusive offers and some all-around fun content (we may have a little TOO much fun with memes). We only send them occasionally - we promise, no spam!
COME ON. JOIN THE LIST.
No. 4
Gifts that show off their core values
Any company can talk about making a meaningful impact on the world around them. But how many actually do? We love helping our clients incorporate their company's values in a real way through their gifting campaigns.
For example, Warner Music Group is passionate about supporting small businesses, especially during the COVID-19 pandemic. In order to show their employees that they were serious about the cause, they were sure to include products from small, BIPOC-owned businesses in each of their gifts. Not only did they include them, but they also clearly communicated the stories behind each of these businesses. This way, their team members could choose a gift based not only on the curation of the contents but also by what businesses they would be supporting when they selected a particular gift.
Cookies by Partake Foods
---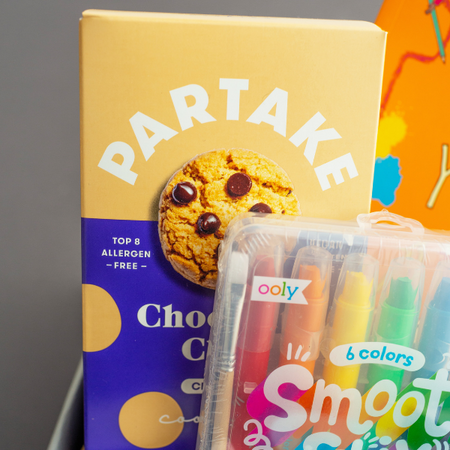 Cookies by Partake Foods
---
Partake Foods is a New Jersey-based black-owned business whose CEO, Denise, partners with the Food Equality Initiative to ensure families in need have access to the food, education, and advocacy they deserve.
Candle by Bright Endeavors
---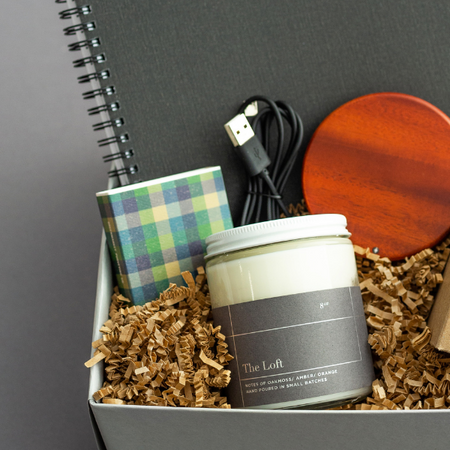 Candle by Bright Endeavors
---
Bright Endeavors is a Chicago-based non-profit that provides meaningful employment and job training to at-risk single mothers in Chicago.
Chocolate by Mast Brothers
---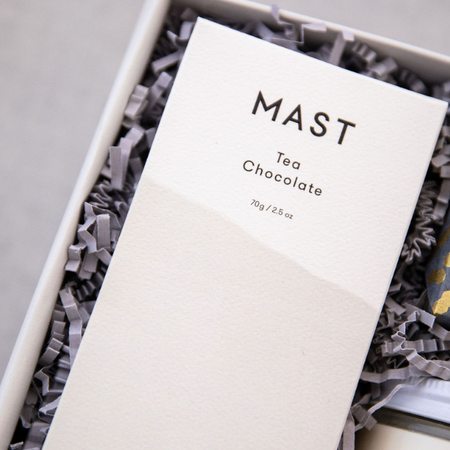 Chocolate by Mast Brothers
---
Mast Brothers chocolate is a bean-to-bar chocolatier out of NYC that sources organic ingredients and supports Kokoa Kamili, an organization based in East Africa that pays above fair-trade pricing.
Are you on track for your Q4 strategy? Great leaders know that planning ahead is one of the most crucial steps you can take to really set yourself apart from competitors. One of Warner Music Group's greatest advantages with this gifting project was simple: they planned ahead. By connecting with us in early October, our teams had plenty of runway to get creative, source new and different products, customize their packaging, stress-test the company landing page, and send it out to employees well ahead of the holiday crunch.
Warner Music Group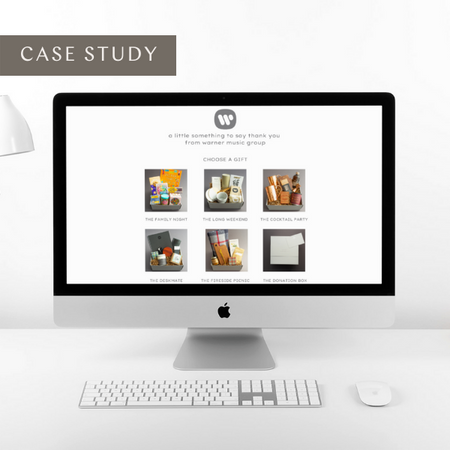 Want to see the full project? Check out our case study about Warner Music Group and how they used our tech solutions so their employees could choose their favorite holiday gift.
READ MORE
Connect with our team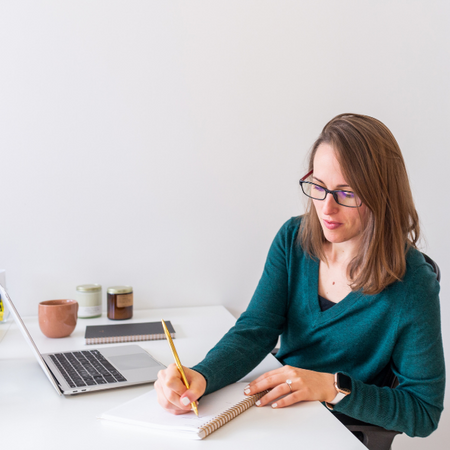 Whether you have an idea in mind or don't know where to start, we've got you! We'll connect you with a dedicated Account Manager to help with all your gifting questions.
GET IN TOUCH