The Executive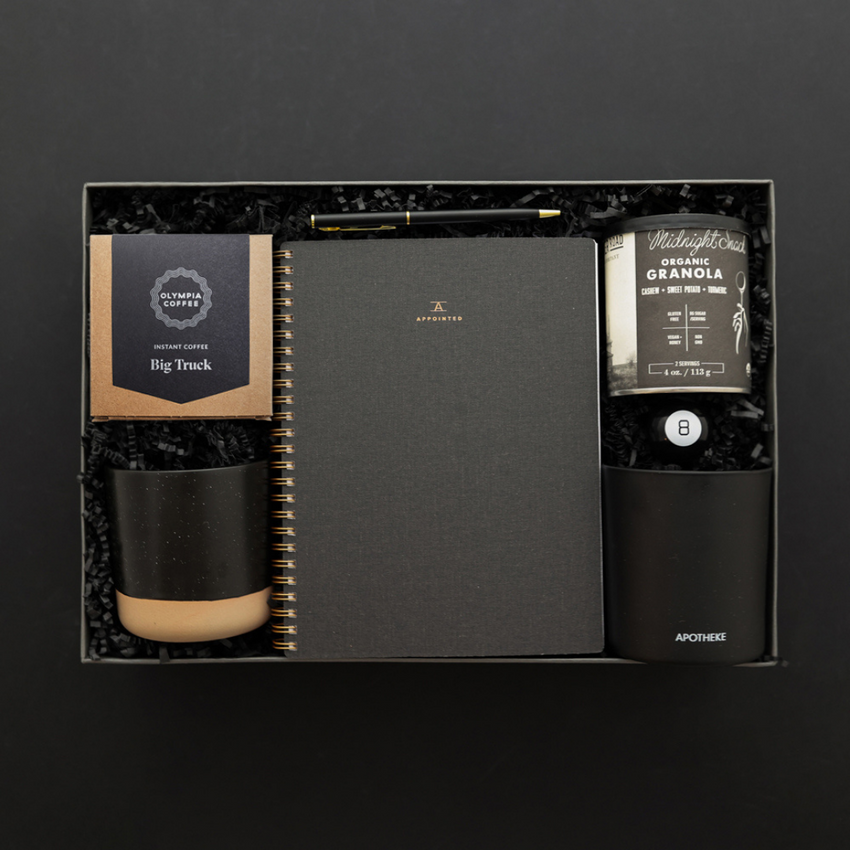 CONTENTS
Black Ceramic Mug
Instant Coffee by Olympia Coffee
Granola by Banner Road Baking Company
Mini 8-ball
Charcoal candle by Apotheke
Charcoal Grey notebook by Appointed
Black and gold pen
INSPIRATION
This sophisticated gift is full of elevated edibles and homewares-- so full that we packaged it in a new, larger version of our signature gift box, to make sure there was enough room for every product to shine! This refined gift features some of our most-requested products, sleek notebook and pen, a favorite scented candle, and a personal mug. The Executive is a popular gift for employees and clients, as well as retirement celebrations and the holidays!
This gift contents products from BIPOC owned businesses!
DETAILS
Packaged in our signature grey gift box with a custom black embossed grey band. This gift ships within 2-4 business days of ordering.
01 Charcoal Gray Notebook by Appointed
02 Charcoal Scented Candle by Apotheke
06 Organic Granola Midnight Snack Mix by Banner Road Bakery
07 Instant Coffee by Olympia Coffee
Take me home!
Bulk and Corporate Gifting Options
Looking for an unforgettable corporate gift? We offer a wide variety of corporate gifting support capabilities! Our gifting pros are full of ideas and ready to deliver a one-of-a-kind experience for your clients or employees.
Your dedicated Account Manager can start from scratch to create a custom gift or take an existing gift like this one and make swaps like adding a branded product. Have your own swag or products to include in the gift—no problem! We have an entire logistics team specialized in our kitting and fulfillment services that can assemble and ship all gifts to your recipients.