The Gift of Good
$156.00
QTY:
1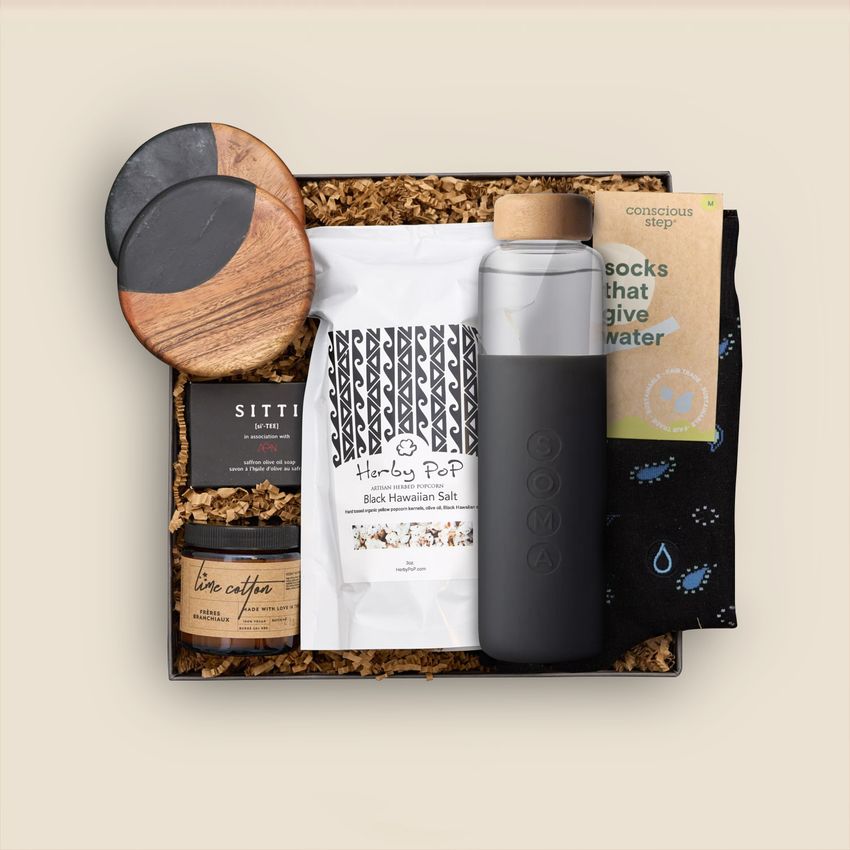 Description
As part of our Gifts that Give Back collection, The Gift of Good supports small businesses that are committed to giving back to their communities in meaningful ways.
This gift box includes a candle by Freres Branchiaux, a Black-owned candle company that donates 10% of its profits to homeless shelters nationwide, socks by Conscious Step, who donate at least 1% of annual sales to environmental solutions for a healthy planet, and so much more! Gift meaningfully with The Gift of Good!
This gift is packaged in our signature gift box (10") with an embossed Teak & Twine band.
Gift Box Contents
Lime cotton scented candle by Freres Branchiaux
Glass water bottle by W&P
Saffron water bottle soap by Sitti
Black Hawaiian salt popcorn by Herby Pop
Set of two wooden coasters by Be Home
Socks that give water by Conscious Steps

Shipping
Gifts ship within 1-3 business days, with expedited options available at checkout. All costs will be calculated during the checkout process. Read full shipping and returns details here.
Not Quite the Right Fit?
Make your vision come true with our kitting and fulfillment services. We can add this to a customized gift box or combine it your own custom swag. Then, use any or all of our kitting and fulfillment offerings.
Ship your kits anytime, anywhere
Contact one of our gift specialists, and we'll get you gifting the way you need to!
01 Saffron Olive Oil Soap by Sitti
02 Lime Cotton Scented Candle by Frères Branchiaux Candle Co.
03 Black Hawaiian Salt Popcorn by Herby Pop
04 Socks That Give Water by Conscious Step
05 W&P Porter Water Bottle 20oz - Charcoal
06 Black + Gold Foil Resin Coasters Set by Esselle
Take me home!