Limited Edition: The Alyson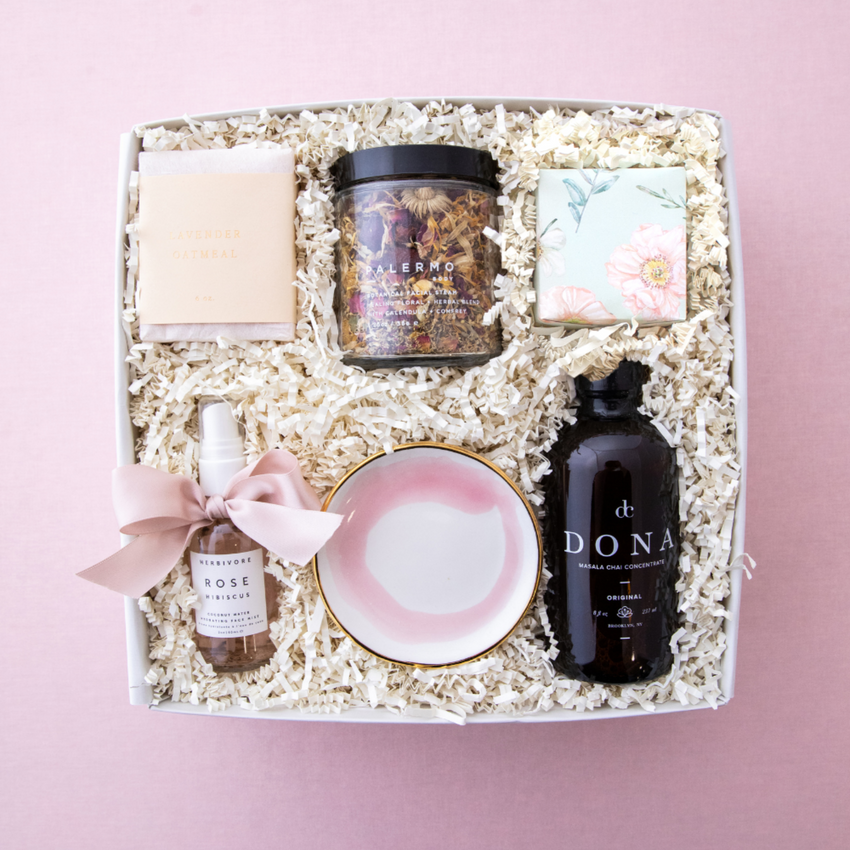 CONTENTS
Lavender Oatmeal soap by Saipua
Facial steam by Palermo
Champagne gummies by Sugarfina with floral wrap
Hibiscus and Rose facial spray by Herbivore Botanicals
Pink swirl and gold edge ring dish by Suite One Studio
The best chai latte blend we've ever tried by Dona Chai
INSPIRATION
From the delicate ceramic dish by Suite One Studio to the Palermo Body Botanical Facial Steam, The Alyson offers a delightful selection of products making it a perfect gift for all occasions! This pretty-in-pink gift is part of our Limited Edition collection - so once it's gone, it's gone!
DETAILS
Packaged in our signature grey gift box with a silver embossed band. This gift will ship within 1-3 business days of your order. This gift is very limited edition (we only created three!) and when they are gone, they're gone!
01 Botanical Facial Steam - Calendula + Comfrey
02 Rose Hibiscus Face Mist by Herbivore
03 Masala Chai Concentrate
04 Ring Dish in Rose Swirl and Gold Rim
05 Lavender Oatmeal Soap by Saipua
06 Sugarfina candies with Fresh Poppies Wrap
Take me home!