The Adventure Awaits
$0.00
QTY:
1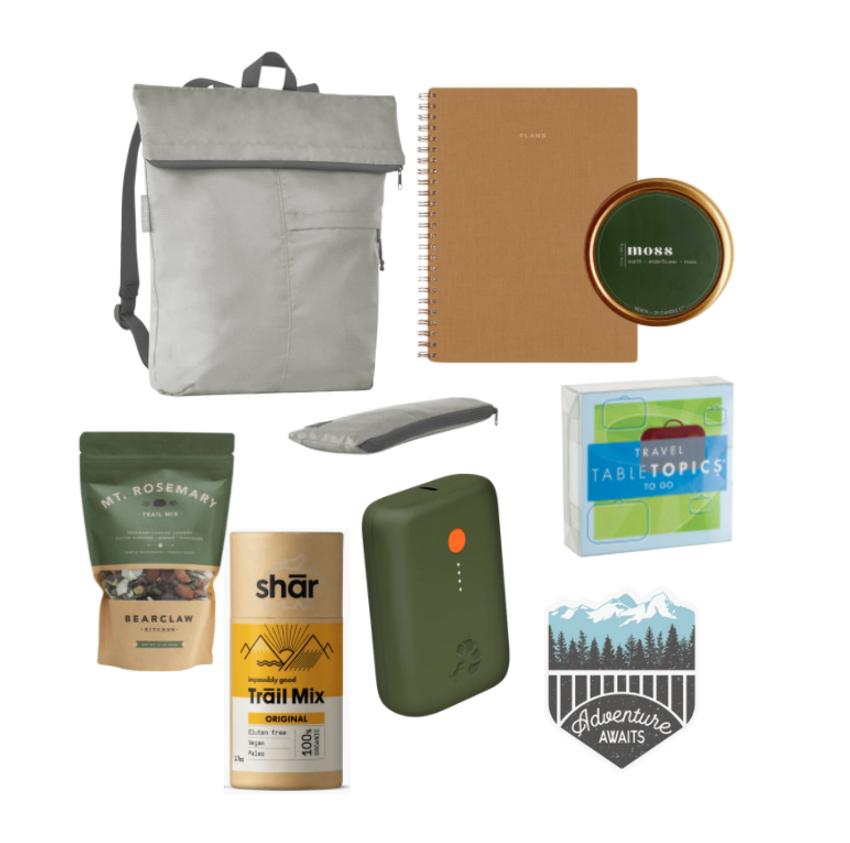 Whether it's exploring a local park, taking a road trip or hiking in the Alps, we hope this gift will help you explore and celebrate life's adventures. Exciting things are ahead!
Contents include:
Backpack by Flip & Tumble. With a nod to retro style, this lightweight, packable backpack keeps your hands free to explore, trek, and travel. Once you're done, roll it up into its built-in pouch for easy portability.
The Vision Journal by Appointed. Created to help you dream big and break out of everyday repetition, The Vision Journal is the ideal home for documentation of travels, hopes, and goals for the future.
CHAMP portable charger by Nimble. This small but mighty portable charger has a 10,000 mAh battery for up to 3 days of power. It can charge two devices simultaneously and works with Apple and Android devices and more.
Moss travel candle by North + 29 Candle Co. Perfect for traveling or evoking feelings of being on an adventure, with its scents of leafy greens and citrus.
Impossibly Good Trail mix by Shar. The perfect fuel for an adventure of any type: 100% organic ingredients responsibly sourced from small family farms. Vegan, Paleo, and Gluten-Free.
Travel Table Topics. Set of 40 question cards to spark conversations while you travel.
Bearclaw trail mix. Inspired by a favorite evergreen path. Fragrant rosemary from a local herb garden pairs with other bold flavors to brighten up an assortment nuts and pumpkin seeds.
Adventure Awaits sticker
Bulk and Corporate Gifting Options
Are you looking for an unforgettable corporate gift? Learn more about our corporate gifting capabilities! Our gifting pros are full of ideas and ready to deliver a one-of-a-kind experience for your clients or employees. Your dedicated Account Manager can create a custom gift, make swaps to an existing gift like this one, or curate swag boxes full of branded swag and fun products. Have your own swag or products to include in the gift - no problem! We have an entire team specializing in kitting and fulfillment services that can assemble and ship all gifts to your recipients.