The Cheers
$0.00
QTY:
1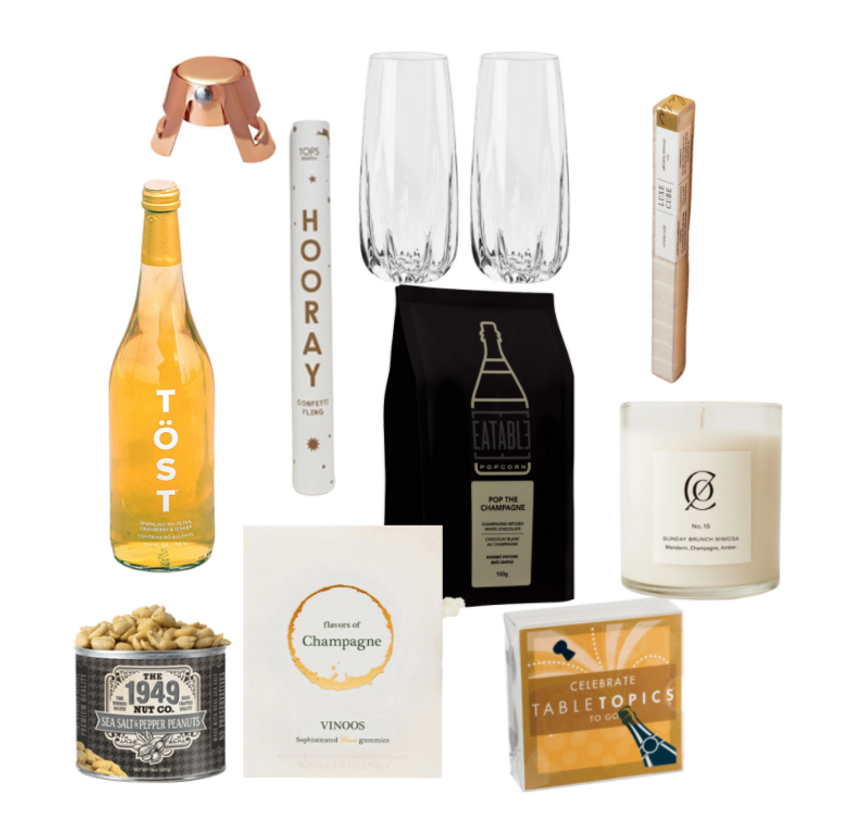 Pop the bubbly and raise a toast to yourself, with this black-tie-party in a box! No matter what you're celebrating in your life, we hope this gift will help you do it in style.
Contents include:
Bottle of sparkling white tea, cranberry, and ginger beverage by Tost (non-alcoholic). Made from all-natural ingredients and meant for toasting!
Pair of crystal champagne flutes by Viski
Champagne bottle stopper
"Hooray" confetti popper by Tops Malibu
Pop the Champagne gourmet popcorn by Eatable. Kettle-popped white kernels of popcorn, coated in a premium Belgian white chocolate infused with natural champagne extract. They're then sprinkled with sugar crystals that literally "pop" in your mouth for a sensory-filled snacking experience like no other!
Champagne gummies by Vinoos. A delicious indulgence for every celebratory occasion!
Celebrate Table Topics. These light and lively conversation topics will spur great conversation and loads of laughs!
Sea salt and pepper peanuts by The 1949 Nut Co.
Sunday brunch mimosa candle with notes of mandarin, champagne and amber by Charleston Candle Co.
Arcadia orange luxe sugar cubes by Teaspressa. Great in champagne or a cup of hot or iced black tea, or even as an add on to a coffee.