The Fiesta
$96.00
QTY:
1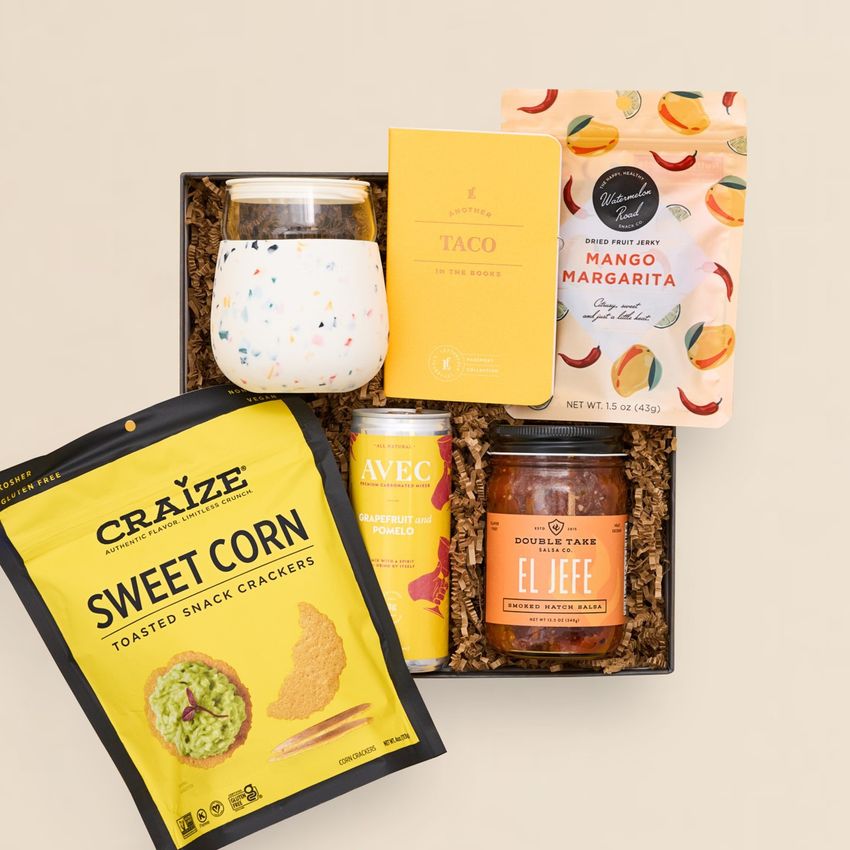 Description
The Fiesta gift box includes all of our favorite party essentials! With products like small batch salsa by Double Take Salsa Co., a grapefruit carbonated mixer and insulated glass, and a taco passport to take notes on your favorites, this fiesta themed gift will have you ready to celebrate the season!
This gift is packaged in our signature gift box (10") with an embossed Teak & Twine band.
Gift Box Contents
Portable insulated glass by W&P
Grapefruit carbonated mixer by Avec
Mango margarita dried fruit jerky by Watermelon Road Snack Co.
Smoked hatch salsa by Double Take Salsa Co.
Sweet corn crackers by Craize
Taco Passport by Letterfolk
Shipping
Gifts ship within 1-3 business days, with expedited options available at checkout. All costs will be calculated during the checkout process. Read full shipping and returns details here.
Not Quite the Right Fit?
Make your vision come true with our kitting and fulfillment services. We can add this to a customized gift box or combine it your own custom swag. Then, use any or all of our kitting and fulfillment offerings.
Ship your kits anytime, anywhere
Contact one of our gift specialists, and we'll get you gifting the way you need to!
01 Mango Margarita Dried Fruit by Watermelon Road
02 Grapefruit and Pomelo Premium Carbonated Water by Avec
03 Cocktail Glass in Terrazzo Cream by W&P
04 Taco Passport by Letterfolk
05 Sweet Corn Toast Corn Crackers by Craize
06 El Jefe Smoked Hatch Salsa by Double Take Salsa
Take me home!