The Gift of Good
$0.00
QTY:
1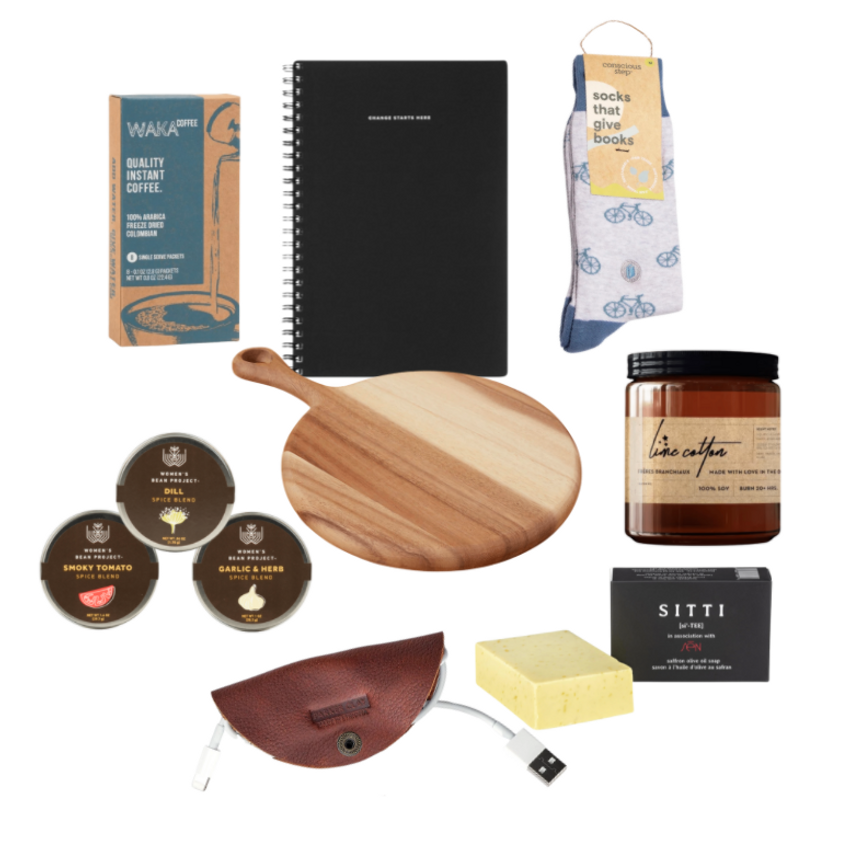 There's so much good happening in the world! Every item in this gift comes from an organization making a positive social impact and/or whose products give back in various ways. We hope the stories behind the contents in this gift will inspire you to find the good all around you... and celebrate it!
Contents include:
Journal for Change by Appointed. Made in the D.C. area, 100% of the proceeds from this journal support BEAM, The Loveland Foundation and Conscious Kid.
Soap by Sitti. Sitti is a conscious lifestyle brand committed to the self-reliance of refugee and displaced communities through long-term employment opportunities and skill development training.
4 oz candle by Frères Branchiaux Candle Co. The company, created and managed by three brothers (ages 11, 13, 16) donates 10% of its profits to homeless shelters nationwide.
Spice blend variety pack by Women's Bean Project. This non-profit, social enterprise hires women who are chronically unemployed and teaches them to work by making nourishing products. They learn to stand tall, find their purpose and break the cycle of poverty.
Socks that give back by Conscious Step. Conscious Step is committed to lasting social and environmental change in their production processes. Further, every purchase supports partners' commitment to their communities and helps them change the world for the better.
Cord taco by Parker Clay (colors will vary; cord not included). Parker Clay, hires at-risk women, pays living wages and benefits, and provide skills training, career advancement, and financial literacy opportunities. Each purchase of the cord taco provides 1 hour of employment to the company's team in Ethiopia.
Instant coffee by Waka Coffee, which is committed to producing less waste and supporting clean water projects. The packaging is recyclable, and they donate 4% of profits to sponsor clean water projects around the globe. Flavors may vary.
Round acacia wood serving board with handle by Be Home, which designs beautiful, ethically sourced home goods from around the world.
Bulk and Corporate Gifting Options
Looking for an unforgettable corporate gift? We offer a wide variety of corporate gifting support capabilities! Our gifting pros are full of ideas and ready to deliver a one-of-a-kind experience for your clients or employees.
Your dedicated Account Manager can start from scratch to create a custom gift or take an existing gift like this one and make swaps like adding a branded product. Have your own swag or products to include in the gift—no problem! We have an entire logistics team specialized in our kitting and fulfillment services that can assemble and ship all gifts to your recipients.