The Gourmet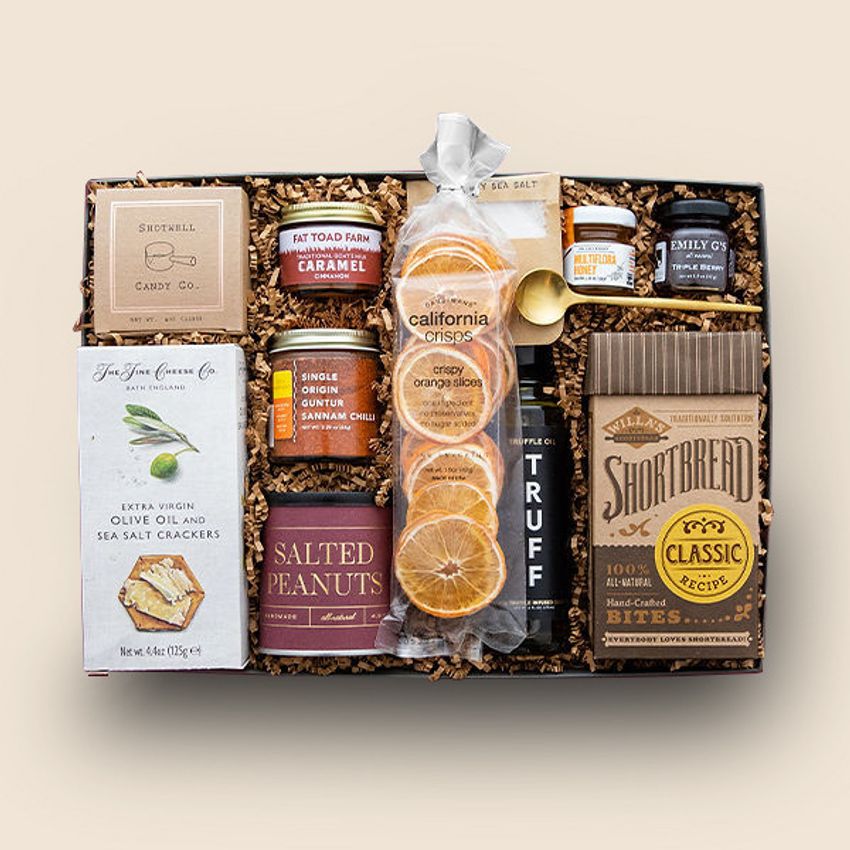 CONTENTS
Olive oil by Truff
Triple Berry Jam by Emily G's
Caramel by Fat Toad Farms
Salted peanuts by Hope and Harmony Farms
Extra virgin olive oil & sea salt crackers by The Fine Cheese Co.
Gold spoon
Orange crisps by Dardiman's
Chilli spice by Diaspora Co.
Small batch honey
Artisanal sea salt
INSPIRATION
The Gourmet is one of our most delicious, best-selling gifts! Full of tasty treats, cooking supplies and fine food items, this gift is super luxurious. This makes for the perfect corporate gift, but it's also wonderful as a door prize for fundraisers, birthdays, a housewarming gift, or any foodie in your life! Bon appétit!
This gift is packaged in our signature gift box (14") with an embossed Teak & Twine band.
Shipping
Gifts ship within 1-3 business days, with expedited options available at checkout. All costs will be calculated during the checkout process. Read full shipping and returns details here.
01 Extra Virgin Olive Oil & Sea Salt Crackers by The Fine Cheese Co
02 Guntur Sannam Chilli by Diaspora Co.
03 Original Caramel by Fat Toad Farm
04 Salted Peanuts - Burgundy
05 Crispy Orange Slices by Dardimans California
06 Classic Shortbread Bites by Willa's
08 Triple Berry Jam by Emily G's
09 Bulls Bay Sea Salt 14G
10 Salted Caramels by Shotwell Candy Co.
12 Multiflora Honey by The Casa Market
Take me home!
Bulk and Corporate Gifting Options
Are you looking for an unforgettable corporate gift? Learn more about our corporate gifting capabilities! Our gifting pros are full of ideas and ready to deliver a one-of-a-kind experience for your clients or employees. Your dedicated Account Manager can start from scratch to create a custom gift or take an existing gift like this one and make swaps like adding a branded product. Have your own swag or products to include in the gift - no problem! We have an entire team specializing in kitting and fulfillment services that can assemble and ship all gifts to your recipients.