The Home Run
$94.00
QTY:
1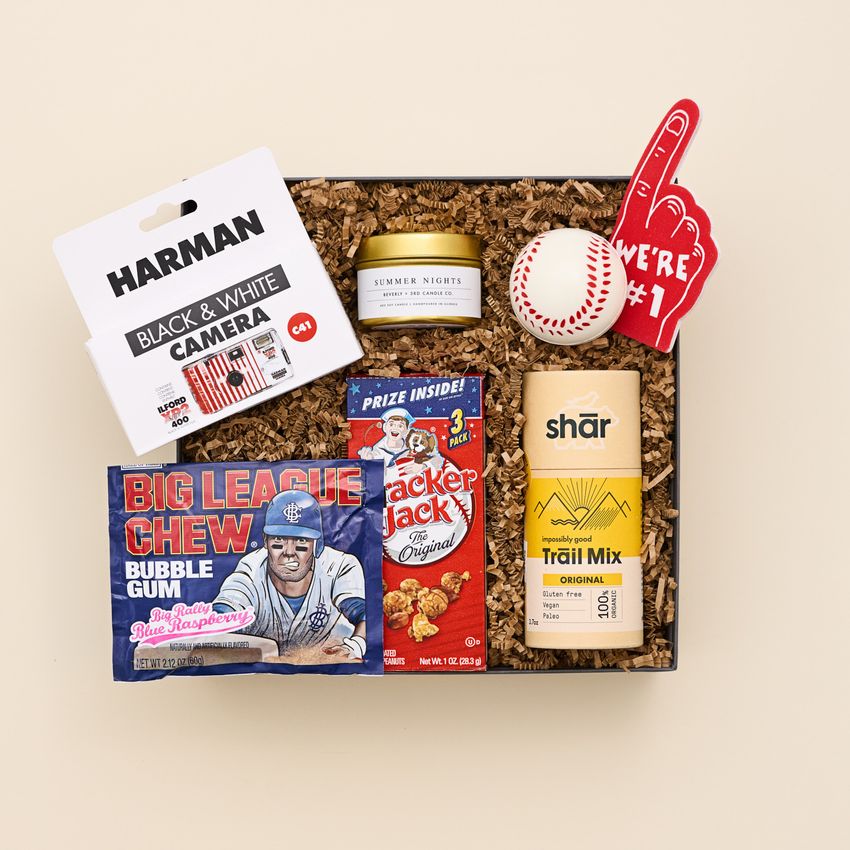 Description
Are you searching for the perfect gift for the baseball lover in your life? Look no further than The Home Run gift box! Packed with all the essentials for a fun day at the ballpark, this baseball gift is sure to be a home run. This gift includes everything you need for a day of baseball fun, like a nostalgic box of Cracker Jacks, Big League Chew Gum, and a fun disposable camera to capture the best moments! So why not surprise your favorite baseball fan with The Home Run?!
Gift Box Contents
Black and white disposable camera by Harman
Summer nights scented travel candle by Beverly + 3rd Candle Co.
Mini baseball
Mini foam finger
Bubble gum by Big League Chew
Cracker Jacks
Impossibly good trail mix by Shar
This gift is packaged in our signature gift box (10") with an embossed Teak & Twine band.
Shipping
Gifts ship within 1-3 business days, with expedited options available at checkout. All costs will be calculated during the checkout process. Read full shipping and returns details here.
Not Quite the Right Fit?
Make your vision come true with our kitting and fulfillment services. We can add this to a customized gift box or combine it your own custom swag. Then, use any or all of our kitting and fulfillment offerings.
Ship your kits anytime, anywhere
Contact one of our gift specialists, and we'll get you gifting the way you need to!
01 Black & White Camera by Harman
02 "Summer Nights" Soy Candle Travel Tin by Beverly & 3rd
04 Mini "We're #1" Foam Finger
05 Big League Chew Bubble Gum (assorted flavors)
06 Caramel Coated Popcorn & Peanuts by Cracker Jack
07 Original Trail Mix by Shār
Take me home!