The Inspire Creativity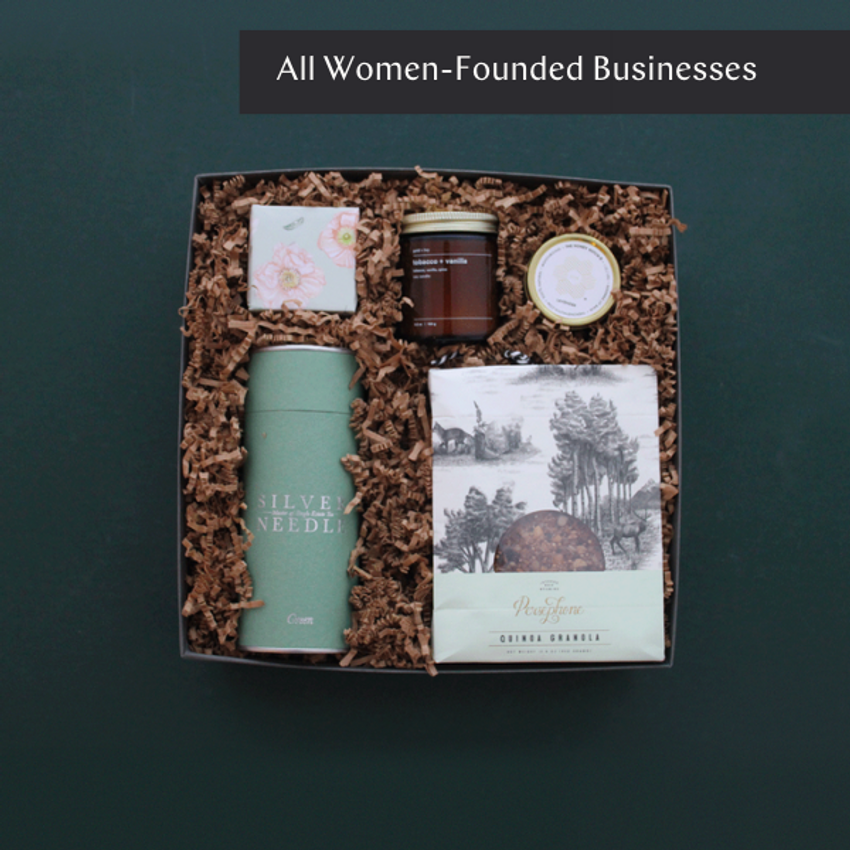 CONTENTS
Champagne bear candies by Sugarfina in floral wrap in floral wrap designed by Lana Effron of Lana's Shop
Mini vanilla & tobacco candle by Gold + Ivy
Honey bee lip balm by Pantry Products
Green tea by Silver Needle
Quinoa granola by Persephone Bakery
INSPIRATION
Inspire creativity with a gift that promotes self care. This gift full of 100% women owned products includes a few of our favorites, like green tea by Silver Needle, a mini hand poured candle by Gold + Ivy, and beautiful floral wrap designed by Lana Effron of Lana's Shop.
DETAILS
Packaged in our signature gift box (10") with an embossed Teak & Twine band.
01 Tobacco + Vanilla Soy Candle by Gold + Ivy
02 Green Loose Leaf Tea by Silver Needle
03 Quinoa Granola by Persephone Bakery
04 Champagne Gummy Bears by Sugarfina
05 Honey Bee Lip Balm by Pantry Products
Take me home!
Bulk and Corporate Gifting Options
Looking for an unforgettable corporate gift? We offer a wide variety of corporate gifting support capabilities! Our gifting pros are full of ideas and ready to deliver a one-of-a-kind experience for your clients or employees.
Your dedicated Account Manager can start from scratch to create a custom gift or take an existing gift like this one and make swaps like adding a branded product. Have your own swag or products to include in the gift—no problem! We have an entire logistics team specialized in our kitting and fulfillment services that can assemble and ship all gifts to your recipients.