The Silent Night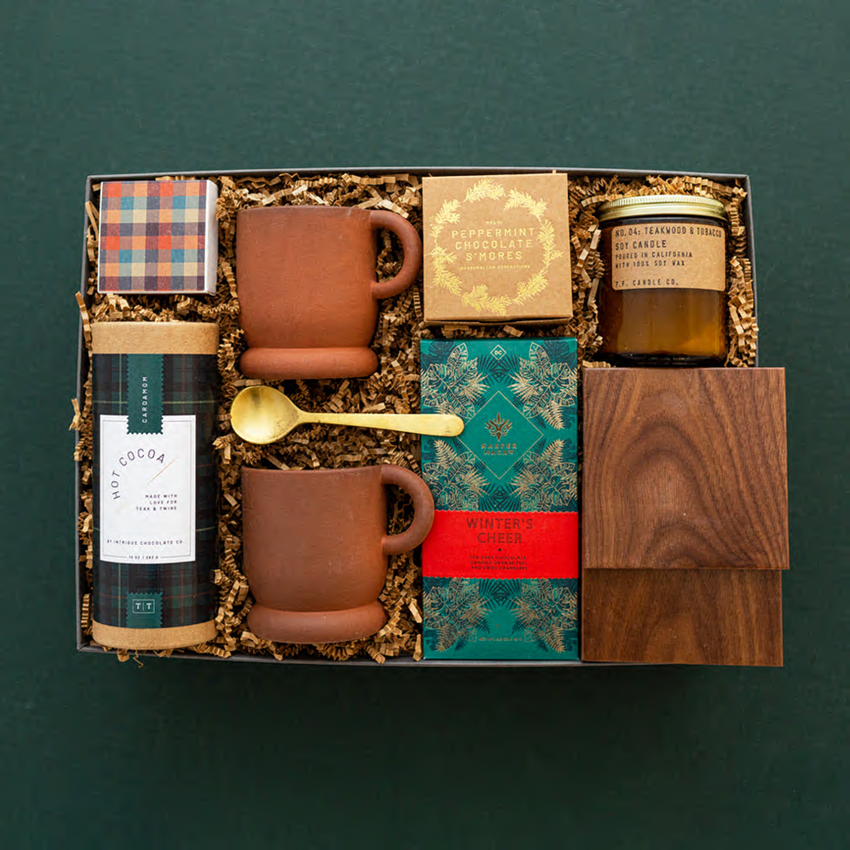 CONTENTS
Plaid matches
Teakwood & Tobacco candle by P.F. Candle Co
Peppermint s'mores by Malvi
Cardamom hot cocoa by Intrigue Chocolate Co.
Terracotta mugs by Hawkins New York
Gold spoon
Wooden coasters
Winter's Cheer dark chocolate bar by Harper Macaw
INSPIRATION
The Silent Night is full of some of our most popular holiday treats and homewares! We can't get enough of the cardamom hot cocoa made by Intrigue Chocolate Co., served piping hot in the matching ceramic mugs. Add in a box of peppermint chocolate s'mores and a raspberry chocolate bar then light the fan-favorite vanilla-and-tobacco-scented candle, and you have all the ingredients for a cozy holiday evening! With something for everyone to enjoy now and for years to come, The Silent Night is a perfect gift for employees, clients, friends and family.
DETAILS
Packaged in our signature grey gift box with a custom silver embossed grey band. This gift ships within 2-4 business days of ordering.
04 Cardamom Hot Chocolate w/ plaid wrap
05 Peppermint Chocolate S'mores
06 PF Candle Co Teakwood & Tobacco 7.2 oz candle
07 Harper Macaw Winter's Cheer Dark Chocolate Bar
08 Walnut Wooden Coaster Set by Make & Stow (Brandable)
09 Plaid Matchbox by GP Candle Co.
Take me home!