CUSTOMER SUCCESS STORIES
Kitting and Fulfillment Projects
Considering a gift fulfillment project? Want to learn more about how kitting and fulfillment works? You're in the right place!
Here are a few customer stories from past kitting and fulfillment projects we've worked on. From company milestone celebrations to employee holiday gifts, there are tons of different use cases for kitting and fulfillment — and we're always ready to help!
Gift Fulfillment for FlynnO'Hara
Their Products + Our Packaging
Founded in 1972, FlynnO'Hara is a family-owned-and-operated uniform company based in Philadelphia, PA. In celebration of the company's 50th anniversary, FlynnO'Hara wanted to send a special gift to their partner accounts — a high-quality insulated travel mug featuring their iconic logo. They had already found a vendor to order the mugs from, but when they realized they were ordering 1800 products but had no one to help package and ship them to all their clients and partners… they turned to us!
Our team worked one-on-one with the marketing department at FlynnO'Hara to find the perfect solution to fit their goals. First, we had the vendor send the branded mugs directly to our warehouse. Then, we sourced custom packaging that featured a special design for their 50th anniversary as well as a branded insert and custom brochure. Our fulfillment team took it from there: carefully packaging all 1800 mugs into their individual boxes, cushioning each one with crinkle paper, and adding in the custom inserts. After preparing each gift with shipping labels, we sent them out the door — and made sure all 1800 gifts safely arrived to each and every recipient!
Fulfillment for Clay Global Holiday Gifts
Their Products + New Products + Our Packaging
Clay Global, a UI/UX design agency based in San Francisco, came to us for a fulfillment project for their holiday gifts! The team at Clay was ready to toss in their hats (pun intended) after spending a bunch of time sourcing branded hats for their company holiday gifts. To save themselves the headache of all the logistics that go into gifting, they came to us instead.
Ideally, they wanted to offer two gift options to their 100 recipients — after all, it's hard to think of just ONE gift that will appeal to everyone! So, the team at Clay opted to use a Portal, aka our corporate gifting platform! A Portal is basically a custom landing page that is completely tailored to your brand (think: your company logo, messaging, and of course… custom gifts!)
So, our design team came up with two cohesive gift designs (both of which included the hats they had already purchased!) and sourced all the products and packaging needed. Then, all the team at Clay had to do was share their Portal link with their recipients — as each person visits the portal, they can choose their favorite gift, enter their shipping address, and that's it! Our team handles the rest: assembling, packaging, and shipping each gift to the proper recipient! It reality is as simple as that.
Trellis Employee Gifting Fulfillment
Their Products + New Products + Our Packaging
Trellis is a full-service e-commerce agency located just outside of Boston in Malden, MA. They reached out to us for help putting together last-minute holiday gifts for their team members. They wanted to send their employees some cozy swag items — they had already purchased 100 pairs of branded slides, but needed a fulfillment partner to help fill in the gaps.
So that's where we swooped in! We helped source the perfect pair of branded joggers (we made sure they were super cozy and soft!) to go along with their custom sandals (all they had to do was ship those to our warehouse!) We also arranged for custom branded packaging and a branded insert with holiday well wishes. Then, our fulfillment team got to work! They neatly packed up the joggers together with the sandals, added the branded packaging, and drop-shipped each gift to the recipients — all in time for the holidays!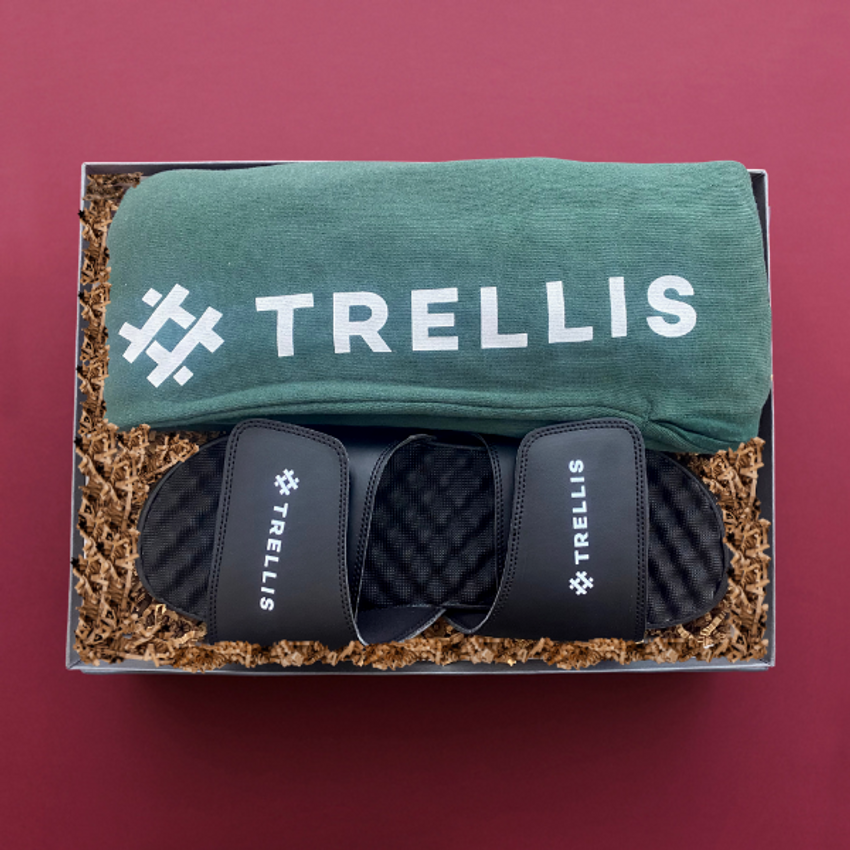 Teak & Twine was beyond responsive and accommodating as we rushed to assemble a year-end gift for our team members.
It arrived just in time for the holidays and looked fantastic, exceeding our expectations!
Ross Beyeler, Chief Operating Officer at Trellis
Kitting Project for Troutman Pepper Employee Gifts
Their Products + Our Packaging
Troutman Pepper is a national law firm with offices in over 20 cities throughout the US. We've had the pleasure of working with them on multiple gifting projects!
Last year, their internal team was working on putting together 600 holiday gifts for their employees, so they ordered a bunch of awesome company swag: custom jackets featuring their company logo, branded Yeti Rambler water bottles, and carabiner clips. But as they got deeper into this project, they realized they needed a little help. Between sizing the jackets, to bulk shipping to individual offices, to packaging the products themselves — it was A LOT of work.
Since they had worked with us on corporate gifting before, they reached out for help with this fulfillment project. We were happy to help! They had the suppliers ship their inventory directly to our warehouse. Then, we processed, assembled, and packaged all the gifts. We shipped them out all over, making this project a breeze for the Troutman Pepper team!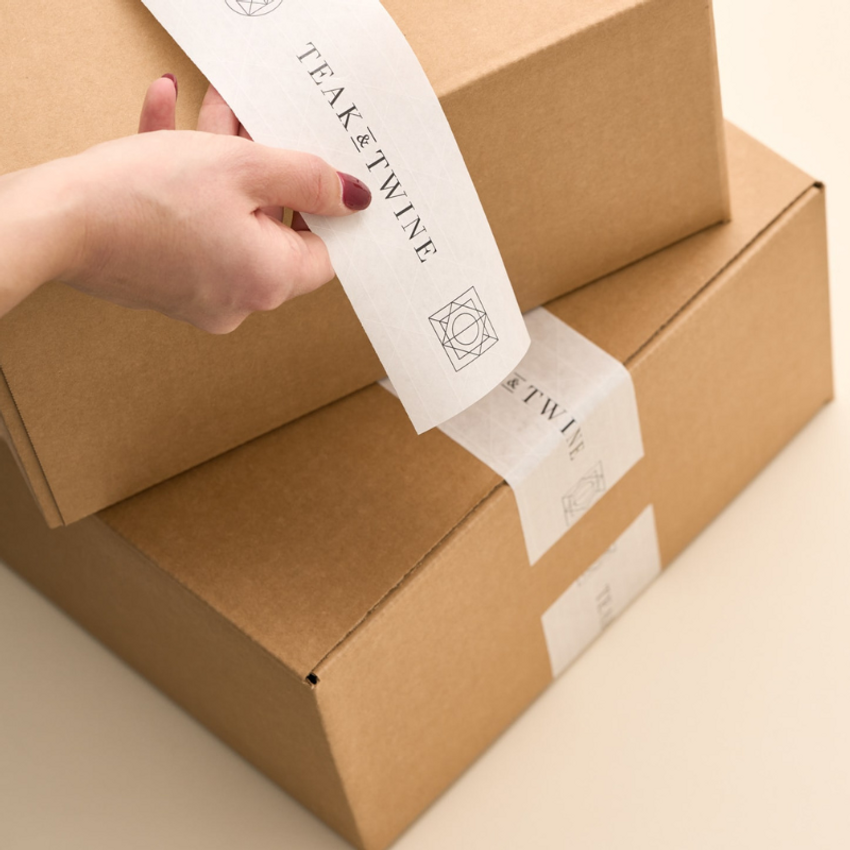 Kitting and Fulfillment Services
When it comes to shipping, assembly, storage, ghost fulfillment, and even Amazon FBA services— there's really nothing we can't do! No matter what you're sending (backpacks? puffy jackets? suitcases? you name it!) or where you're sending it, we'll come up with a solution for your project's specific needs.
Ready to get in touch with a Kitting & Fulfillment Specialist? Contact our team today!