Blog | Conferences & Events
4 Ways to Give Conference Gifts
Giving gifts? At a conference? GROUNDBREAKING.
Sure, handing out branded swag and gifts is nothing new — but what if we told you there are specific ways to get corporate gifting done right? After all, these gifts should be working for you, helping you to achieve your goals!
It's way too easy to get caught up in the conference swag noise — giving gifts just to give gifts, just because everyone else is, and doing it in the same way over and over again.
Not only is it important to think of alternatives to standard conference swag, but it's equally important to be strategic in your approach to conference gifts.
In this post, we're breaking down corporate gifting dos and donts how to avoid common swag mistakes. So keep reading for four different ways to give custom event gift baskets that pack a bigger punch!
1. Send Conference Gifts
Before
the Conference
Take a step back from the conference itself and put yourself in the shoes of the folks who are likely to attend. How can you make sure they're stopping by YOUR booth? How can you get them excited about your product? How can you incentivize them to attend the conference in the first place?
Consider sending a custom event gift basket BEFORE the conference!
That's right — instead of being passive, be proactive in your approach. Make them want to come to the conference with a unique corporate gift. Pique their interest before they even meet/see/talk to you! There are tons of different ways you could do this:
Create hype by giving them a gift with a sneak peek of your product
Get them excited about the event with a fun, on-theme gift like a branded hat or custom t-shirt
If they have to travel to attend, treat them to a travel-themed gift, like a custom tote bag or logo backpack, to make their journey feel more luxurious
Show love for the conference's host city by gifting items from local businesses (you could even give them a voucher to a local restaurant group to use while they're there!)
Provide them with items that they will use/enjoy during the conference, like a branded water bottle or branded notebook.
Need some ideas? Check out these examples from our past projects: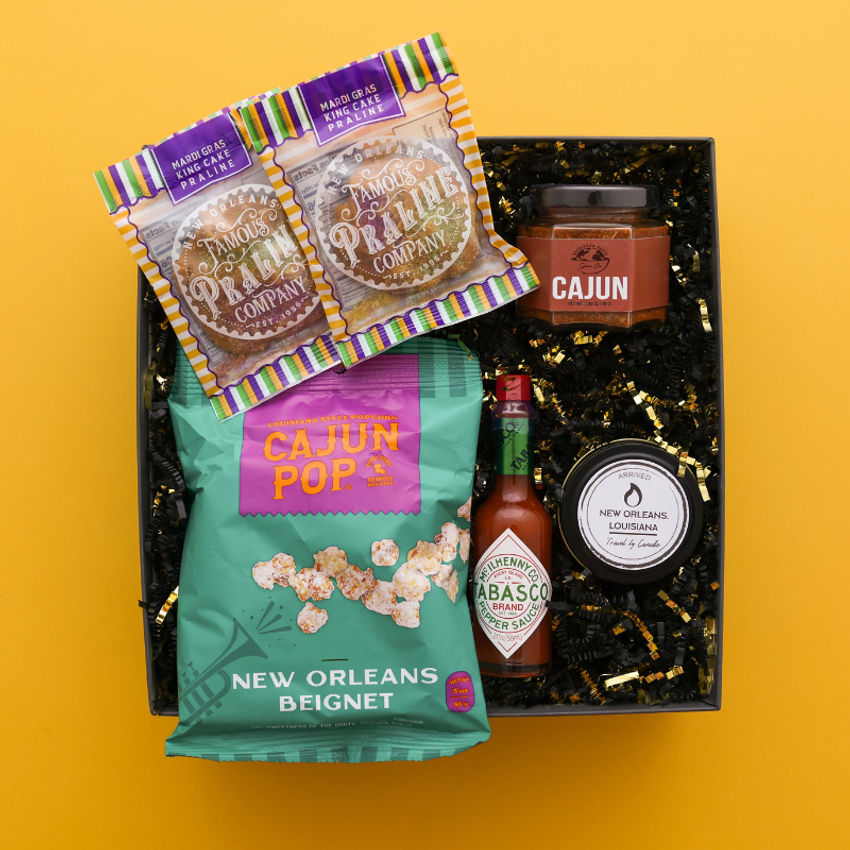 The SHRM Conference was set for New Orleans, so Paycor hyped up their prospects with custom event gift baskets inspired by the French Quarter! Getting these into people's hands BEFORE the conference was a brilliant way to entice attendees to drop by their booth.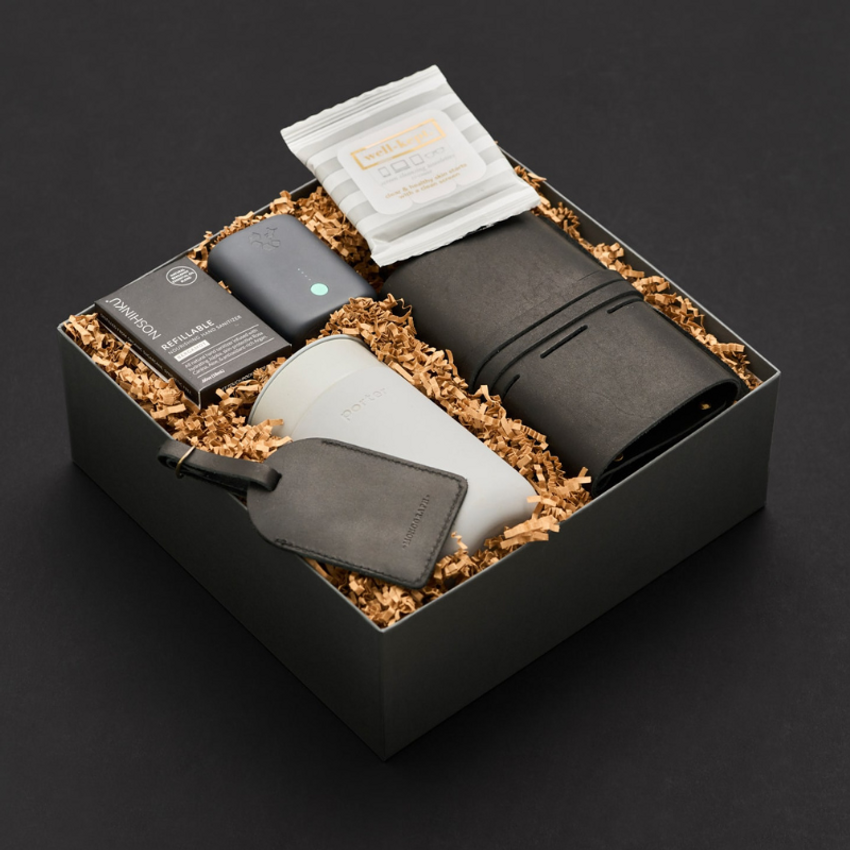 Are attendees traveling far and wide to attend the conference? These travel-themed event gifts are the perfect way to show them how much you appreciate them making the trip!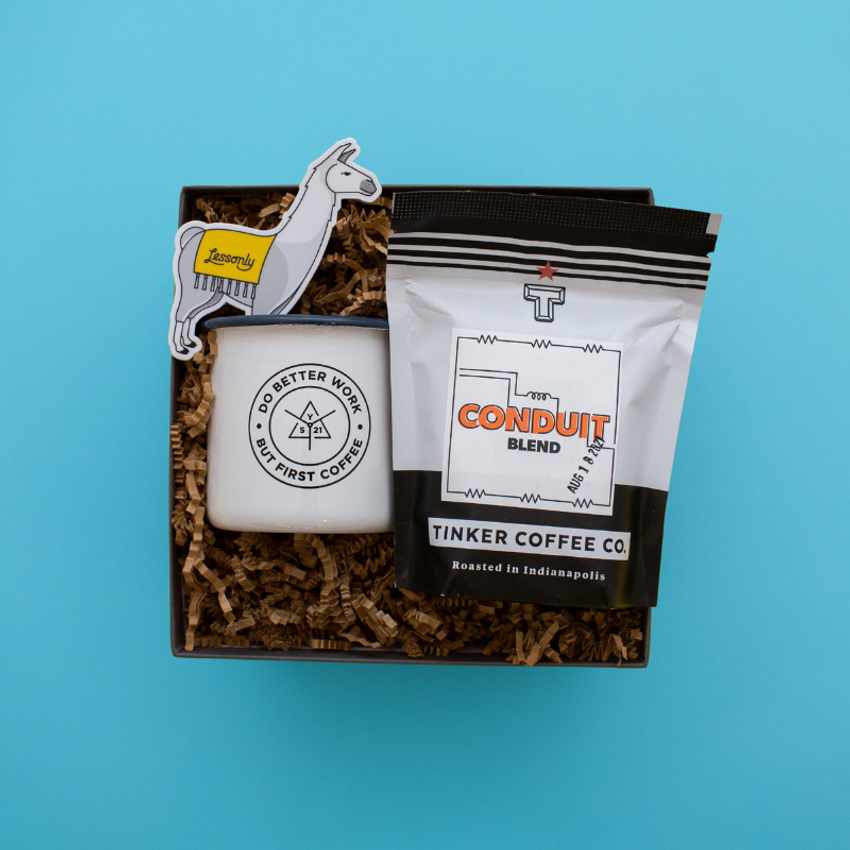 Lessonly created a *buzz* about their virtual conference with these coffee-themed gifts! To invite attendees, they enticed them with locally roasted coffee and a branded mug to enjoy a cup of coffee during the event!
2. Give Gifts During the Conference
Sometimes, it makes the most sense to give out gifts during the conference, like at your company booth or as a door gift for corporate events. Not only is it a thoughtful gesture, but it's a great way to make a lasting impression!
But there are definitely some corporate gifting dos and donts when it comes to giving gifts during the conference:
Do…
Opt for something lightweight and easy to carry — like a

custom tote bag!

Make sure your gift has snacks! With long days full of events and networking, people need to nosh!

Create a

trade show survival kit

and include things that are practical for conference attendees — think: pens,

branded notebooks

, and portable phone chargers.
Don't…
Give them something big/clunky/heavy that's a hassle to carry around all day long

Go too overboard with your company logo or promotional products. Instead, opt for tasteful

branded packaging

.
Planning to hand out gifts during the event? Here are some ideas for conference gifts for attendees: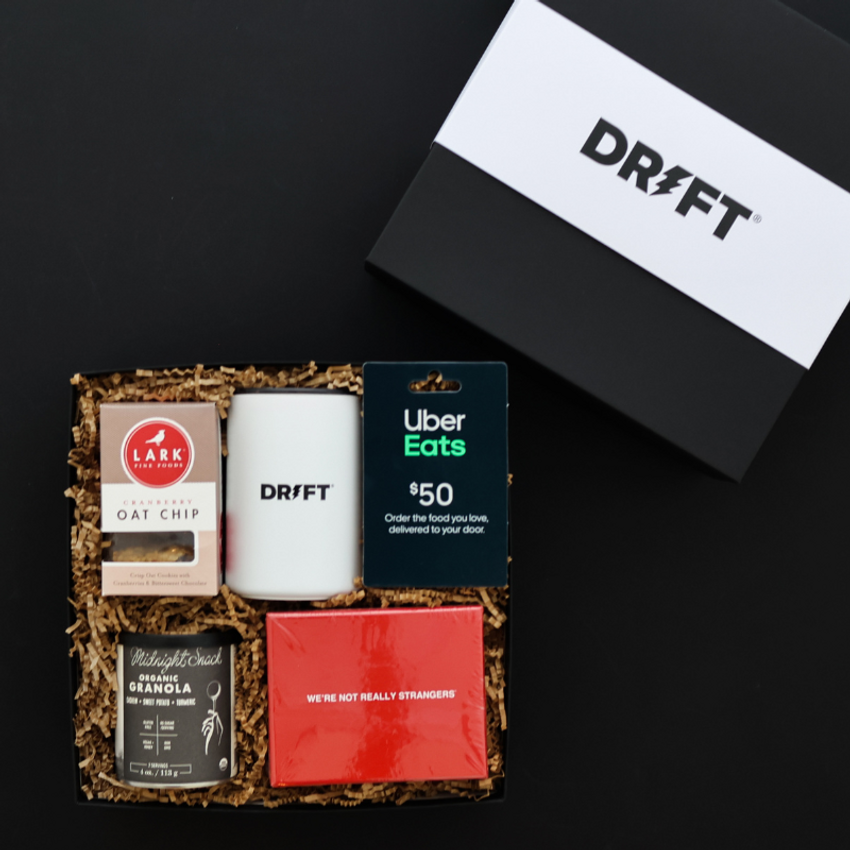 An insulated branded mug to refill all day, snacks to stay satisfied, an icebreaker game to play, AND an Uber Eats gift card to get food delivered to the hotel later!? Drift understood the assignment with their custom event gift basket!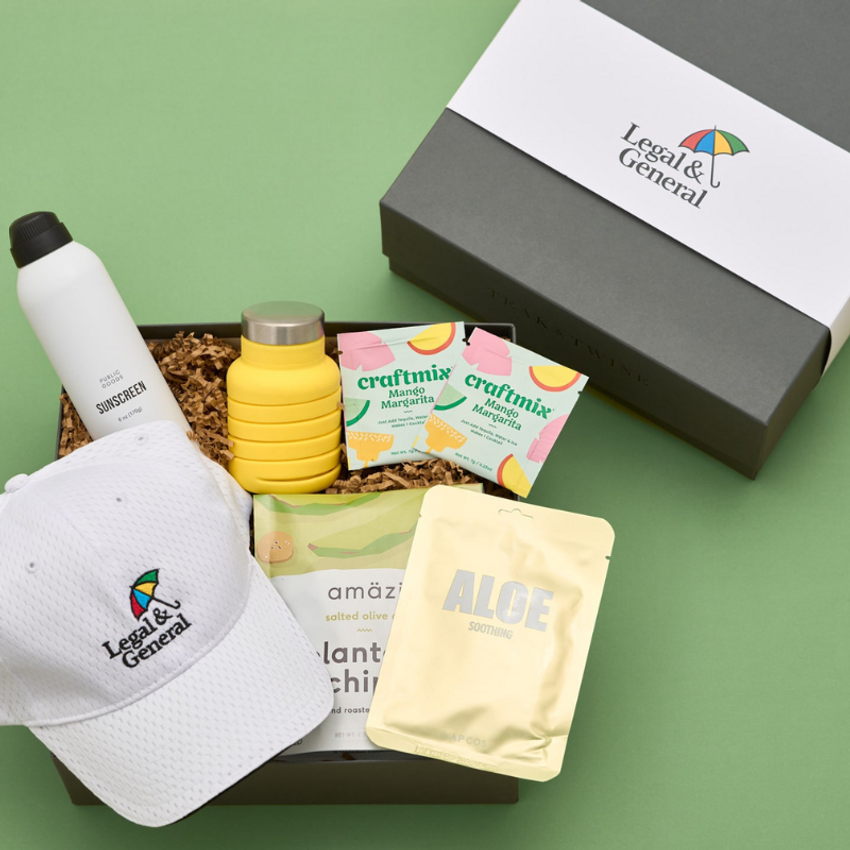 Hosting a conference at a sunny destination? Lucky you! Give conference attendees everything they need to make the most of their experience — cocktail mixers and plantain chips, branded sunglasses, sunscreen, a branded hat... someone tell me where this conference is, and I'll be there!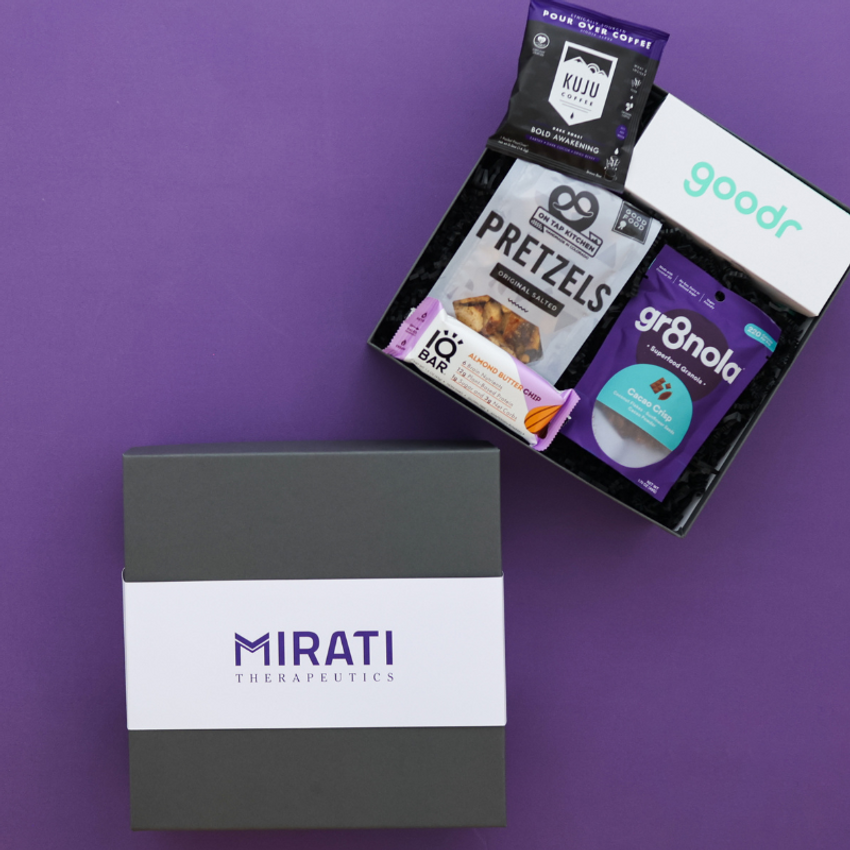 A foolproof gift for conference goers = snacks! We've found that delicious treats are the top requested items in corporate gift boxes. Not to mention, you'll help attendees avoid getting hangry — which is always a plus!
3. Send a Gift After the Conference
What better way to WOW a prospective customer than to surprise them with a corporate gift box when they're least expecting it — after the conference! This is a great opportunity to really stand out from the competition. Here are our top tips for this touch point:
Make the gift feel super personal by adding a note to thank them for stopping by your booth.

Use

corporate gifts

and

custom swag

as tools to provide more information about your business and products

Include an exclusive offer for your product if possible

Consider mixing

branded merch

from the event plus some fun non-branded keepsakes. You can use a

kitting and fulfillment

partner to do that!
You may be wondering, how are you supposed to get a corporate gift box in their hands after the conference? Great question! When they sign up to attend the event, make sure there's a field where they can input their address (either residential or business - leave it up to them!)
Or if you're limited to collecting that kind of information at your conference booth, that works too — simply set up an iPad where folks can "check in" and they can add the information then.
Here are some examples of great gifts to send AFTER the conference: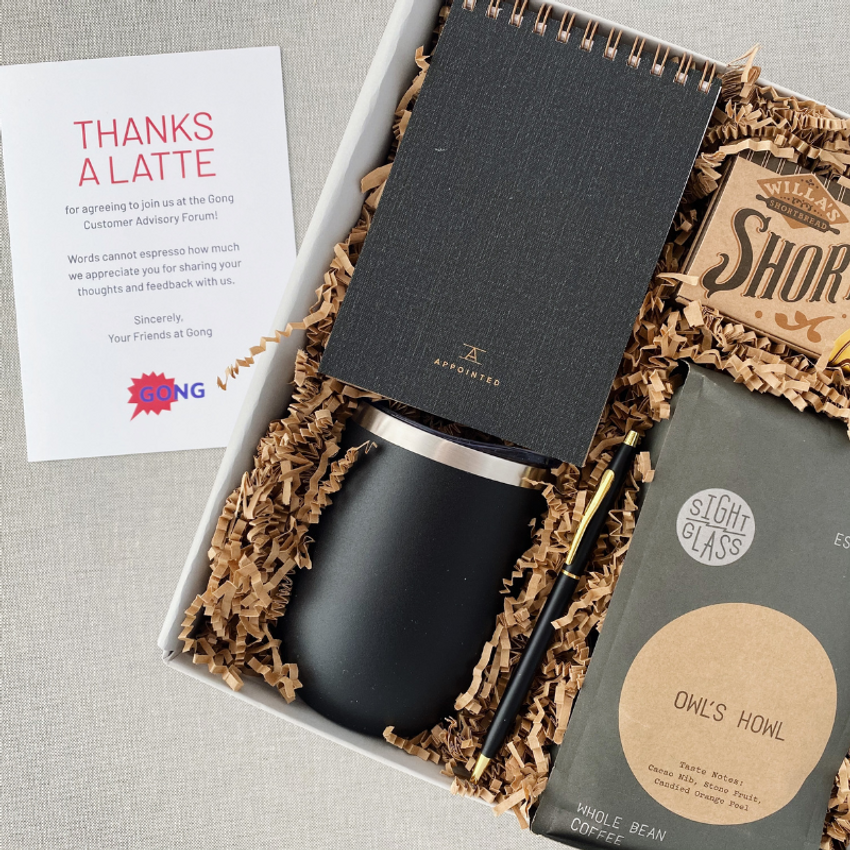 Thanks a latte! We loved these pun-tastic thank-you corporate gift boxes we designed for Gong. What better way to perk up your prospects than with a coffee-filled gift!?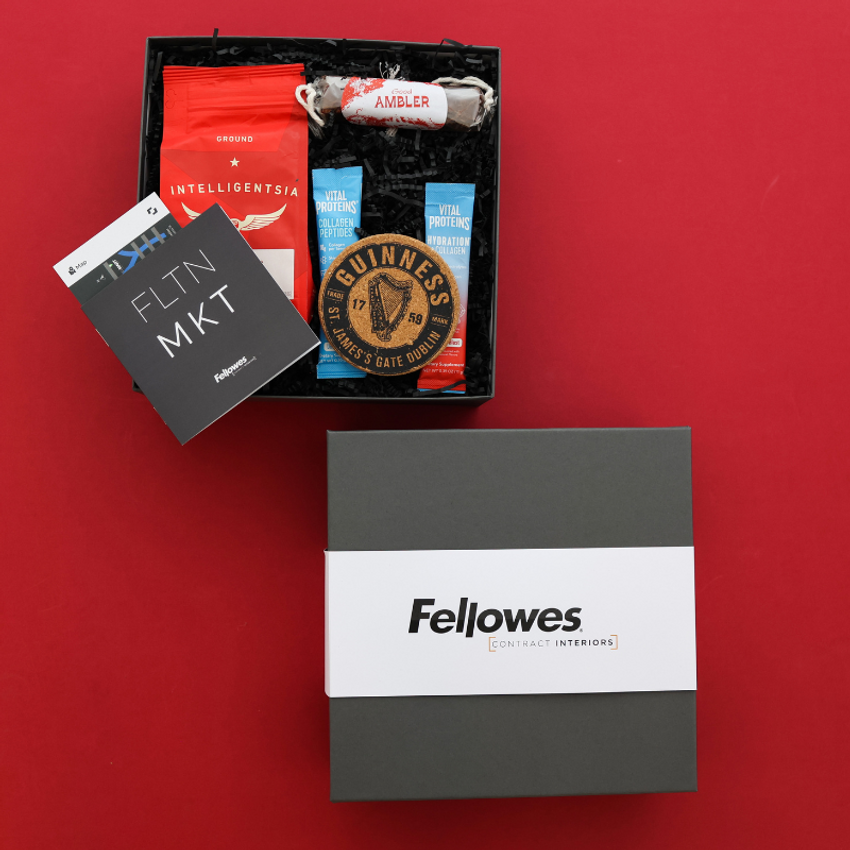 Follow up with a gift filled with items from your city's local businesses! Then, include a booklet or pamphlet to explain more about your company and products.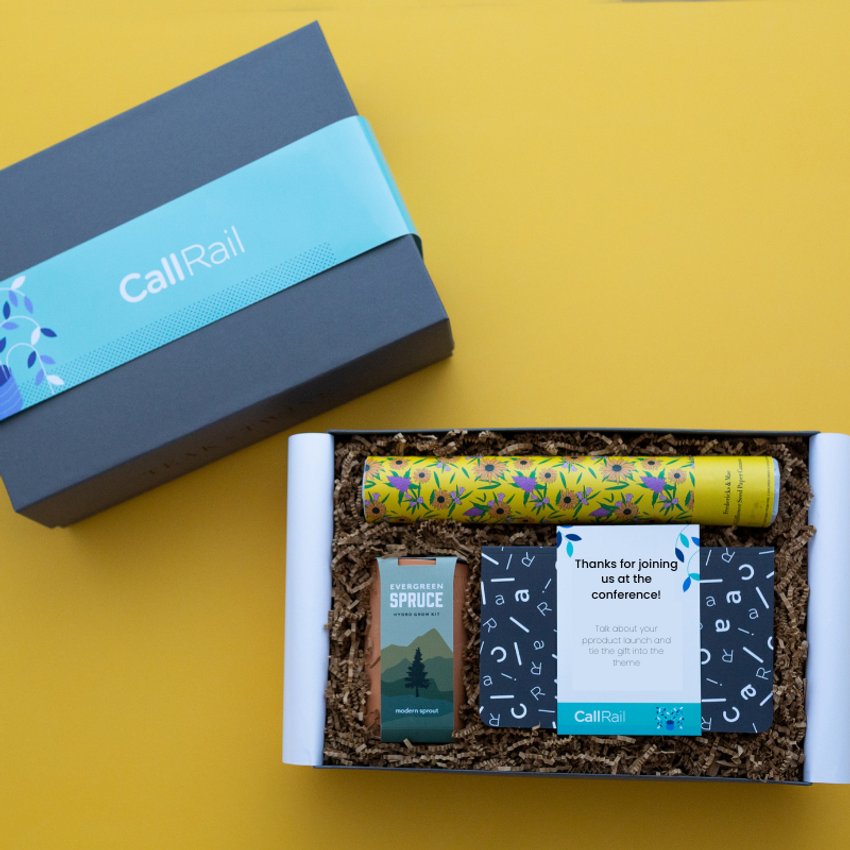 Inspire potential customers to grow with you! This plant-themed gift we designed for CallRail would make for the perfect post-conference corporate gift box.
4. Let Attendees Choose Their Own Gift
We know how much work goes into a successful conference. The planning, the logistics, the preparation — it's a lot! And that's without worrying about putting together conference swag boxes and gifts. But imagine a world in which:
Your company avoids overbuying a bunch of swag
You don't have to cart deal with shipping, storing, and carting around conference gifts
Attendees are hands-free during the conference, making their experience more enjoyable
You still get to WOW prospects with a stellar and unique corporate gift (but we handle all the logistics for you)
Swag waste has been officially reduced
Well, folks — no need for imagination — the future of gifting is here! Now, you can let attendees choose their own gift with our corporate gifting platform, which we call Gifting Portals.
💡Gifts in a Click: Our online Gifting Portals make it easy to send gifts and swag to your recipients! Want to see for yourself? Get a Demo
Here's how it works: At your conference or trade show booth, attendees simply scan a QR code that leads them to your company-branded Gifting Portal with selectable gifts. They choose their favorite gift, and it goes right to their door — all they do is enter their shipping address.
We handle the rest! It's truly a win-win for everyone!
Written by Torrance Hart. Updated Aug. 2023.