Customer Stories | Event Gifts
How Lessonly uses Teak & Twine for Conference Gifts
At Teak & Twine, we keep a running list of dream clients we would be thrilled to work with. After we heard Kyle Lacy on the DGMG podcast, we immediately added Lessonly by Seismic to the list! And...proceeded to reach out directly to see if we could help with gifts.
In the most llama-mazing timing, Lessonly was in the midst of planning for Yellowship – their annual Better Work conference – and needed some awesome custom event gift baskets for the occasion when we connected with their marketing team.
At the time, Lessonly planned to host a hybrid event for Yellowship 2021 – inviting people to attend both in person and also virtually. They looked to Teak & Twine to help reach their goal of increasing the number of virtual attendees and we couldn't wait to help dream up some event gift ideas to help bring more people to the conference! We recommended launching a teaser campaign to increase excitement and drive registration for virtual attendance.
To bring this campaign to life, we led the way on the strategy, gift design, and production of the custom event gift baskets and worked with our friends over at Postal.io to upload and send them through their automated gifting platform. Not only did we love helping a dream customer reach their goals, but it was wonderful to collaborate with a fellow gifting partner on this project as well.
The Lessonly Team created a physical invitation asking recipients to attend Yellowship 21. This was sent to Lessonly's top customers and prospects through a Postal MagicLink embedded into an email. In classic Lessonly style, this was no ordinary email – it was complete with emojis 🦙, ship references (Yellowship 😉), and plenty of fun copy. ✨
Once the invitation was received, the recipient had two different discount codes they could redeem, depending on if they planned to attend the conference in person or virtually. If the recipient preferred to attend virtually, the invitation teased that another special delivery would be on its way soon! We then shipped a custom corporate gift box, filled with fun items and branded products, to each virtual attendee who redeemed their code through the Postal platform.
Now, for the gifts themselves...
With its headquarters in Indianapolis, the Indy scene is very important to Lessonly and played a central role in the Yellowship 21 conference. The Lessonly team wanted to be sure virtual attendees did not miss out on all of the in person fun, so we designed corporate gift boxes to bring the Indy experience to them!
The gifts included a tastefully branded camp-style branded mug, the most delicious coffee from Tinker Coffee Co., a local Indianapolis coffee roaster, and fun Lessonly llama stickers. (Of course, right!? No Lessonly gift would be complete without a llama-themed item. 🦙) The final touch was a custom, Yellowship branded belly band that wrapped around the outside of the gift box. It's safe to say that this local Indy, coffee-themed gift had recipients buzzing about the event.
Dull conference swag? We think not!
Pro tip: If you're sending gifts for a virtual event, consider including branded headphones so your attendees can join the sessions in style!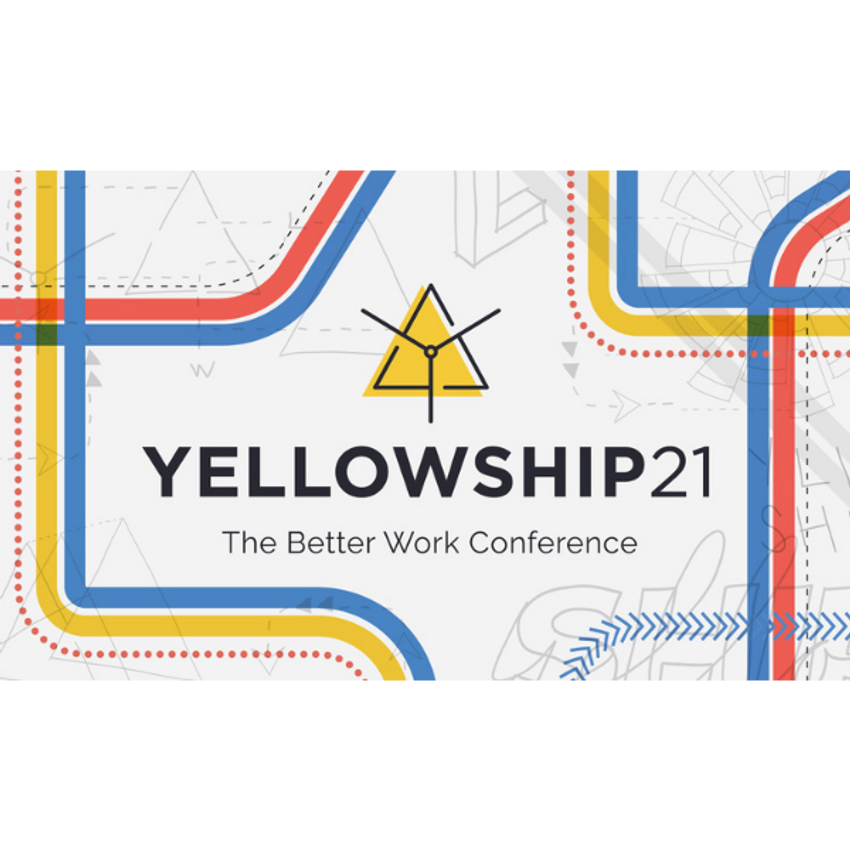 The results!?
Despite Lessonly needing to pivot to an entirely virtual conference, the turn-out was excellent. Over 1,000 people attended Yellowship 21 virtually! It was also important to Lessonly that every aspect of Yellowship tie into the Lessonly brand, reflect the company's values and show attendees how special they are to the company. These custom corporate gift boxes did just that!
Lessonly received phenomenal feedback from gift recipients. Many attendees were brand new to Lessonly and these custom event gift baskets served as a great introduction to not only the conference, but the Lessonly culture itself.
Written by Lisa Cox. Updated Aug. 2023.
As a corporate gifting partner, we work with customers like Lessonly on a wide variety of projects for corporate gift boxes, from custom client gifts and employee gift boxes to gifts for conferences, events, and more. Our favorite part? Becoming an extension of our customers' teams! This means we work alongside our customers to fully understand their unique goals and then develop one-of-a-kind gifting experiences that wow recipients AND achieve results.
We get it. Every customer is different and every gifting campaign is, too. When it comes to corporate gifting, it isn't one-size-fits-all – our team is here to help with every last strategic and creative detail!
Do you already use Postal AND love what you see here!? Contact us today or reach out to the Postal Concierge team and request to work with Teak & Twine.
We'll handle allll of the logistics, so you can send gifts seamlessly through the gifting platform you already know and love. We can't wait to hear about your next project!