Blog | Conferences & Events
Unique Trade Show Giveaway Ideas
Trade shows are awesome opportunities for businesses to show off their products, make connections, and attract new customers. But with so many companies competing for attention, it's crucial to stand out from the crowd. And that's where trade show giveaways come in!
Trade show giveaways are like little souvenirs of your brand that you give to visitors at your booth. They leave a lasting impression and keep your brand on their minds looong after the event is over!
In this blog post, we'll dive into the world of trade show giveaways, share corporate gifting dos and donts, and explore some unique ideas that'll make your brand shine.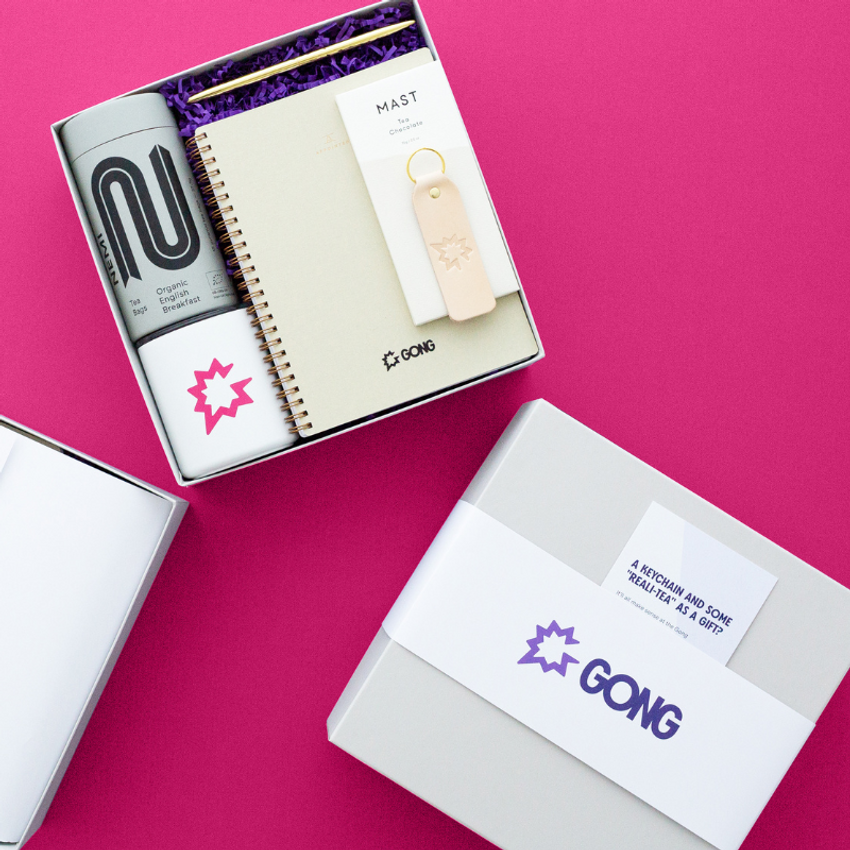 The Importance of Trade Show Giveaways
It's a common swag mistake to think of trade show giveaways as just logo-filled freebies. When done correctly, trade show gifts make smart marketing tools. In a sea of competitors, a well-thought-out giveaway can make a huge difference in grabbing people's attention and making a memorable impact.
When you offer something unique and desirable, it creates a positive association with your brand — leading to better brand recognition, customer loyalty, and even open up future business opportunities. Pretty cool, right?
Benefits of Unique Trade Show Giveaways
Unique trade show giveaways can be a game-changer for your brand! Here are some of the key benefits when you offer up something super unique at your next trade show:
Brand Recognition
When you give out something cool and special, attendees won't forget your brand. They'll remember the awesome experience they had at your booth, and that can lead to word-of-mouth referrals and potential new customers.
Increased Booth Traffic and Engagement
Unique giveaways act like magnets, drawing people to your booth. When they see others getting awesome stuff, they'll want to check out what you're offering too. That means more chances to connect with potential customers and show off your products or services.
Enhanced Brand Image
Stand out with top-notch giveaways that show you're all about quality and attention to detail. People will see your brand as excellent and thoughtful, leading to an enhanced perception of your brand!
Social Media Buzz
In the age of social media, cool trade show giveaways can go viral. People love sharing pics and posts about their unique items, giving your brand way more exposure. It's like free publicity that brings more people to your booth and potentially your business.
Lasting Impact
Unlike forgettable flyers, unique trade show freebies stick around. When people get something valuable and useful, they'll keep using it in their daily lives. Your brand stays on their minds long after the trade show ends, which boosts the chances of repeat business and referrals.
Unique Trade Show Giveaway Ideas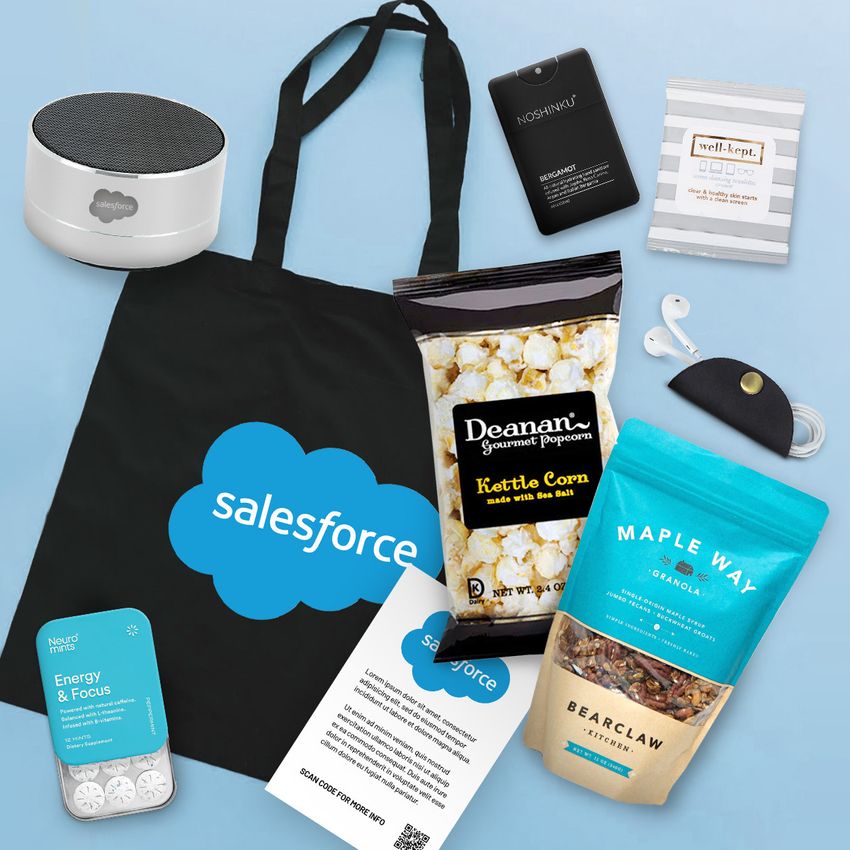 Tech Gadgets and Accessories
In this digital age, techy gifts are a big hit for trade shows and conference swag. Think about giving away cool tech gadgets and accessories that'll leave a lasting impression like…
Bluetooth speakers and

branded headphones

: Portable and versatile, speakers and headphones will have attendees jamming to their favorite tunes or boosting presentations with great audio. Make it a

branded speaker

by adding your company logo for a personalized touch!

USB drives: These practical goodies can store important files. Customize them with your logo and preload them with your awesome content.

Wireless chargers: Everyone loves these for their smartphones. Show you're all about convenience and give 'em a valuable item they'll use daily.
Practical Office Accessories
The truth is, people like gifts that include products that they actually use. When in doubt, a high-quality gift box filled with premium desktop accessories is the way to go! Just be sure to add an element that makes it feel premium and exclusive.
Branded notebooks

: There's nothing like a brand new notebook! Opt for a high-quality style from a local or small business, like

Appointed Co

. (our most popular notebooks for corporate gifts!) Customize it with your embossed logo, making it both functional and visually appealing.

Branded water bottles

: Hydration is key! Water bottles are actually pretty luxurious items nowadays, with insulated technologies to keep your water cold all day long. Add your company logo for a custom feel!
Stylish Branded Apparel
Your trade show giveaway items could include some cool company swag! Think things like…
Custom t-shirts

: Turn people into walking billboards for your brand with comfy and attractive shirts that rock your logo or message.

Branded hats

and caps: Protect from the sun in style with cool hats featuring embroidered logos or custom patterns.

Custom tote bags

and

logo backpacks

: Super handy for carrying stuff around the trade show floor. Get durable, high-quality bags with your branding.
Delicious Snacks & Drinks
Food & drinks are always a good idea! Provide your trade show attendees with some fuel like delightful snacks or a refreshing drink. Some popular options include…
Gourmet popcorn: The perfect trade show snack! It's quick, easy, and hits the spot!

Chocolate bars: Chocolate is a sweet and indulgent giveaway option that is sure to please attendees. Opt for high-quality chocolates in unique flavors or designs that reflect your brand. Consider custom packaging with your logo or a personalized message to add a special touch!

Seltzers: How about a refreshing seltzer as an option? They'll be sure to love a bubbly surprise!

Mini energy bars: Perfect for trade show attendees who are on the go and need a quick boost of energy. Pro-tip: provide bars that accommodate different dietary preferences, such as gluten-free or vegan options.
Local Products & Gifts
Skip the same-old swag and celebrate the host city in style! Surprise attendees with a gift box filled with products and treats from local businesses around where the trade show is held! It's a surefire way to win over some hearts — and support the small businesses in the area.
One of our favorite conference and event gifts was this custom corporate gift box we designed for the Paycor team to hand out at the SHRM Trade Show in New Orleans last year. You can bet folks were ready to hit Bourbon Street after nabbing this gift!
Written by Lisa Cox. Updated Aug. 2023.
Related Content
Creative Alternatives to Standard Conference Swag
The Ultimate Guide to Company Swag
4 Ways to Give Conference Swag