BLOG | HOLIDAY GIFTING
Worst Office Holiday Gifts and Common Mistakes to Avoid
In the spirit of the season, we're sharing some of the worst office holiday gifts ever! From employee gifts, to client gifts, to company party gifts, we've all gotten a few doozies.
Despite it being the most wonderful time of the year, it seems to be the worst time for workplace gifting debacles. Luckily, we've got a team of corporate gifting pros here to help! So after we divulge some of the worst holiday gifts ever, we'll share some of the most common holiday gifting mistakes — and give you expert tips on how to avoid them.
Ho ho ho-rrible Holiday Gifts
Remember the 1989 holiday movie classic, Christmas Vacation? (if you haven't seen it — queue it up for this December!) In one of the final scenes of the movie, the lead character finally receives his much-anticipated holiday gift from his boss. He excitedly tears into the gift only to realize… drumroll please… his boss gifted him a subscription to a jelly-of-the-month club. Womp, womp!
So we recently asked our followers on LinkedIn about the worst office gifts they've received for the holidays, and these were some of the highlights (err, lowlights!):
Not going to lie, these responses had us cracking up! Sure, there's something to be said for being memorable, but being remembered as the company that sent a 12-pound frozen hunk of meat probably wasn't what they were going for.
But it's the thought that counts, right? Well, sort of… While holiday gifts are not to be expected at the office, it certainly shows a level of thoughtfulness and appreciation. A recent study revealed that 4 out of 5 employees said receiving a holiday corporate gift from their employer would make them feel more appreciated and motivated at work.
Remember: the only thing worse than not giving gifts at all — is giving awful gifts.
Common Holiday Gifting Mistakes (and How to Avoid Them!)
Whether it's obviously a last-minute gift, a regifted gift, or a gift of leftover swag… it sounds like we've all received a fair share of doozies. But, after designing and shipping thousands of corporate gifts over the years, it's safe to say we've learned a thing or two about how to wow recipients!
We've also identified some of the most common mistakes when it comes to holiday corporate gifts. We're breaking down what they are, and giving you tips on how to avoid making those mistakes in the future.
Don't Start Too Late
I know thinking about office holiday gifts doesn't always make it to the top of your to-do list before December, but leaving it for the eleventh hour is a recipe for disaster! Impactful, memorable gifting takes time to execute well. We promise, your recipients can tell when a gift was thrown together at the last-minute.
So while you may not have even planned your Halloween costumes yet, October really is the best time to select and order your holiday gifts. We all know how crazy Q4 is, so getting ahead of the game by checking "office holiday gifts" off your list! Between a reeling supply chain and inflation, starting on your gifts early is more important now than ever!
Don't Go Overboard with the Company Logo
Think about a gift that you would like to receive from your boss or someone else you work with. What does it look like? Is it full of branded tchotchkes and trinkets? I'm guessing probably not! You wouldn't be alone in your answer, either—according to a recent business gifting study, 75% of respondents said super branded gifts don't feel special.
We're all for including some branded elements in custom holiday gift boxes, but we find the gifts that receive the best responses connect with recipients in a thoughtful way. Rather than slapping your logo on every single item, think about how you can be intentional with your branding and try to gift some non-branded items your recipients will enjoy! Remember, the best holiday gifts are the gifts that people actually want to keep.
Don't Forget to Tell a Cohesive Story
Giving gifts that have no real meaning or thought put into them is a missed opportunity to engage with clients and employees. Too often, businesses waste time and money by sending random gifts for the sake of it (or because they feel obligated during the holiday season!)
Instead, try sending a gift that represents the company in a meaningful way and tells a cohesive story. In our experience, gifts that demonstrate company values and are relevant to the recipients are the ones that are talked about for many holiday seasons to come. Need some inspo? Check out some of our favorite past holiday gift boxes.
Don't Be Afraid to Have Fun
Another common mistake: assuming business gifts = boring gifts!
Think of corporate holiday gifts as a chance to show off your company culture and celebrate the end of the year with your recipients — and don't be afraid to have a little fun with it! Let your company's unique characteristics, quirks and sense of humor shine through, and your recipients will surely thank you for a gift that stands out from the crowd!
Corporate Holiday Gift Ideas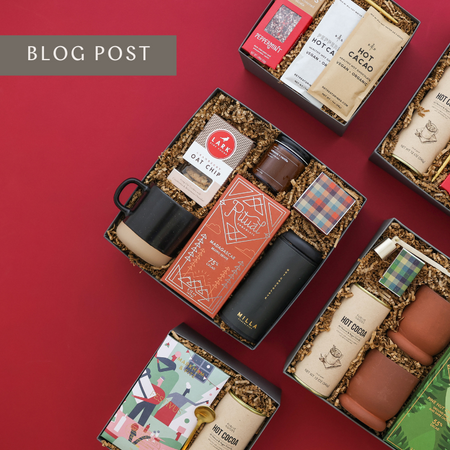 Say goodbye to the worst office holiday gifts ever! We're got tons of awesome gift ideas that your clients and employees are sure to love this holiday season!
CORPORATE HOLIDAY GIFT IDEAS
Holiday 2022 Corporate Catalog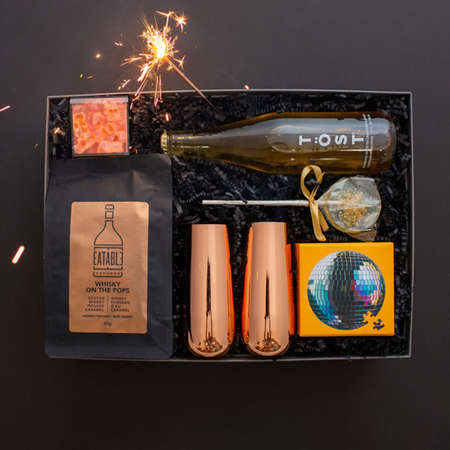 Interested in high-quality custom gifts for your clients or employees this holiday season? Check out the Corporate Catalog to see our holiday collection and learn what it's like working with our team!
VIEW THE CORPORATE CATALOG