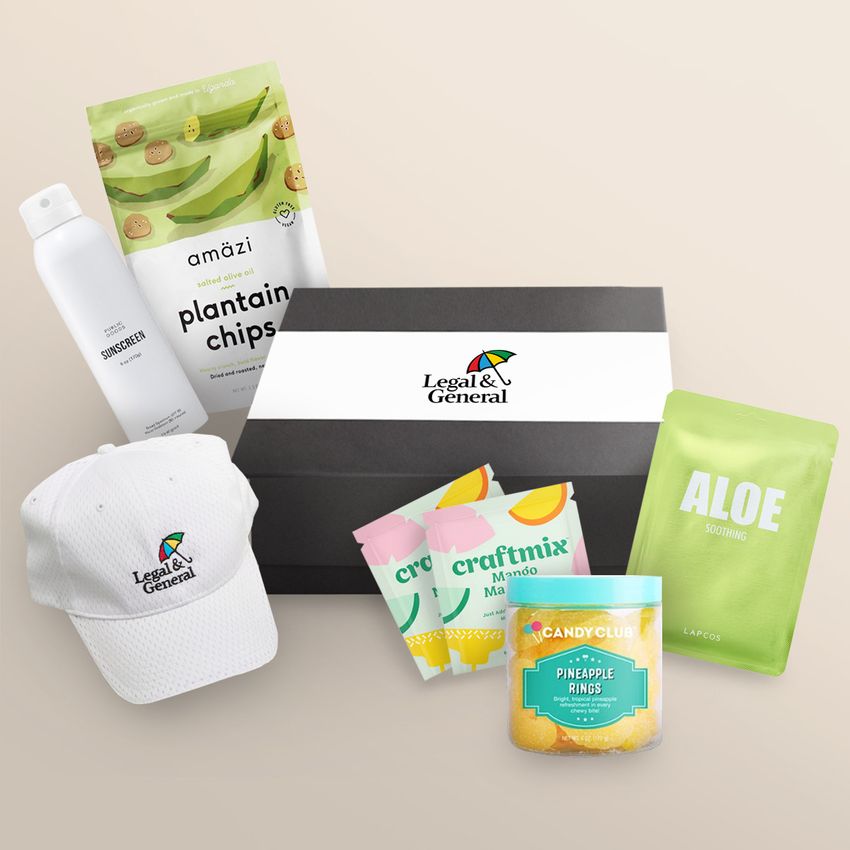 What's A Fundraiser Without Great Door Prizes!?
When you work with Teak & Twine, you'll have a loyal sidekick by your side to handle all of your door prize needs. We're talking about a dedicated team member who will tailor each package to your exact needs and handle ALL the details.
100% about your brand. We design high-quality kits with custom packaging and source awesome products that perfectly represent your brand.
We're logistics pros. After shipping hundreds of thousands of corporate gifts over the years, we've mastered it all: product sourcing, branded packaging, shipping, and fulfillment. So let us handle the heavy-lifting!
Customer service is our top priority. Robots may be taking over the world, but we're all about providing one-on-one customer service here at Teak & Twine (which hasn't gone unnoticed by our fans!)
Why include company swag in your door prizes?
50%
swag is 50% more effective when it's memorable
72%
say the quality of a swag impacts their impression of the brand
85%
of swag recipients did business with the company who gave them a gift
How It Works
Our Custom Promotional Gift Box Process
1. Premium Branded Packaging and Inserts
Our designer will bring your vision to life. We can add your company logo to a custom packaging design that is 100% unique and perfectly represents your brand.
2. Mix and Match Your Swag with Our Vendors
You can fill your premium swag kits with your own branded products, source new products, or mix and match! Just send your swag to our warehouse and we'll kit everything into the perfect swag box.
3. Pick from Flexible Delivery and Storage Options
We'll pack and ship all boxes. Simple as that! If you need a long-term solution, we also offer storage options or can set up a company store landing page (aka Portals, our gifting platform) to make the whole process easy.
You Name It, We've Made It!
Custom Packages for All Kinds of Occasions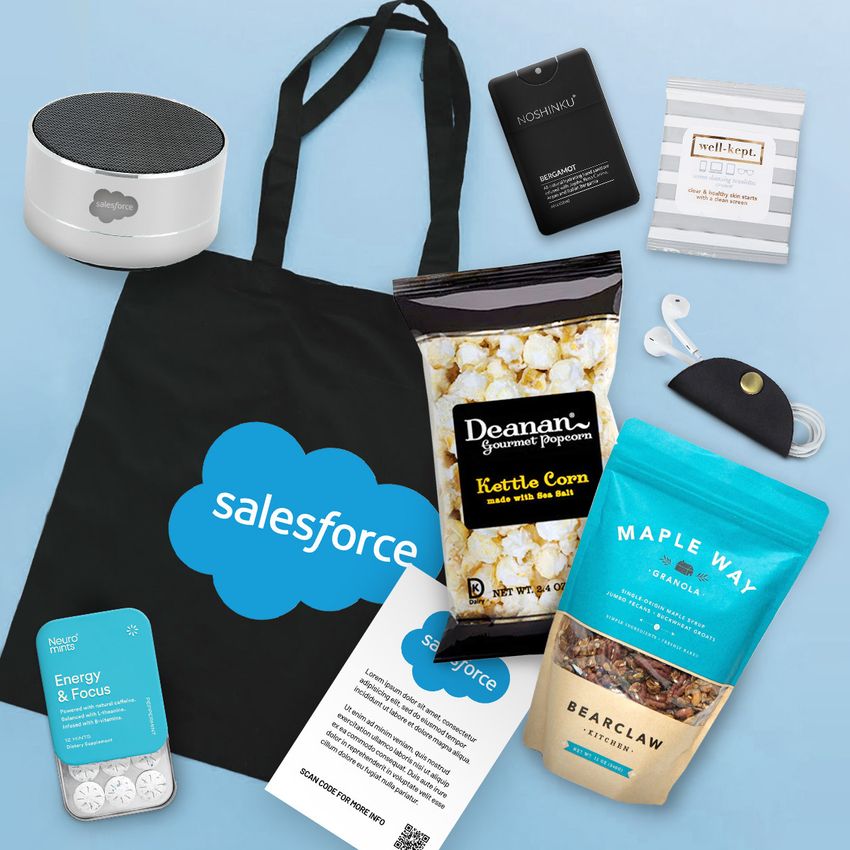 Custom Swag Bags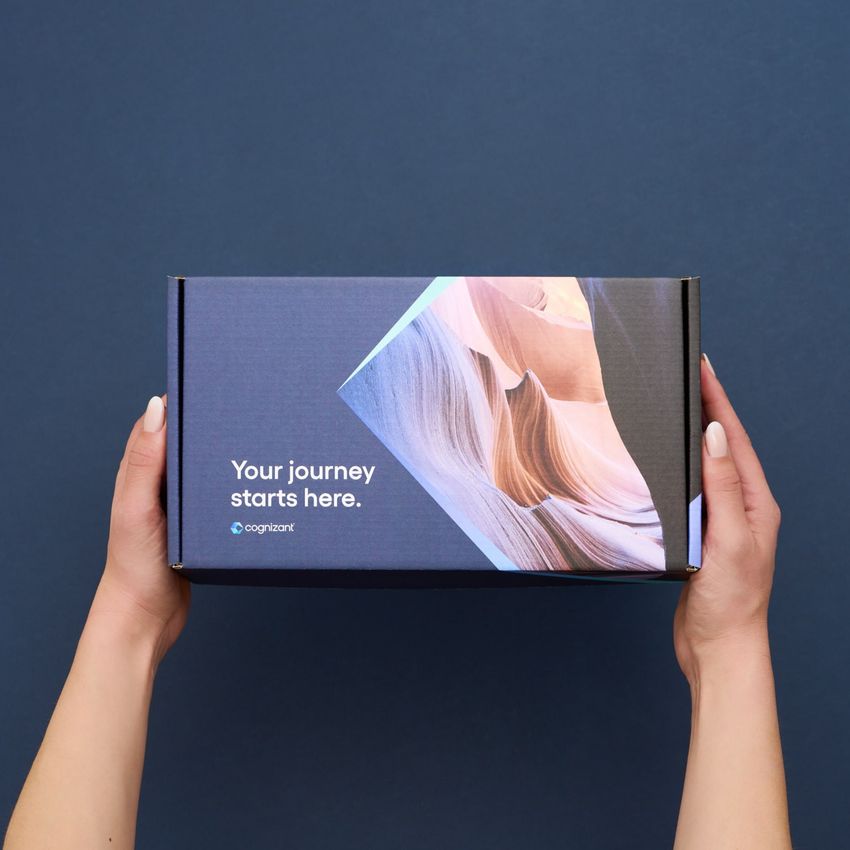 Company Swag Boxes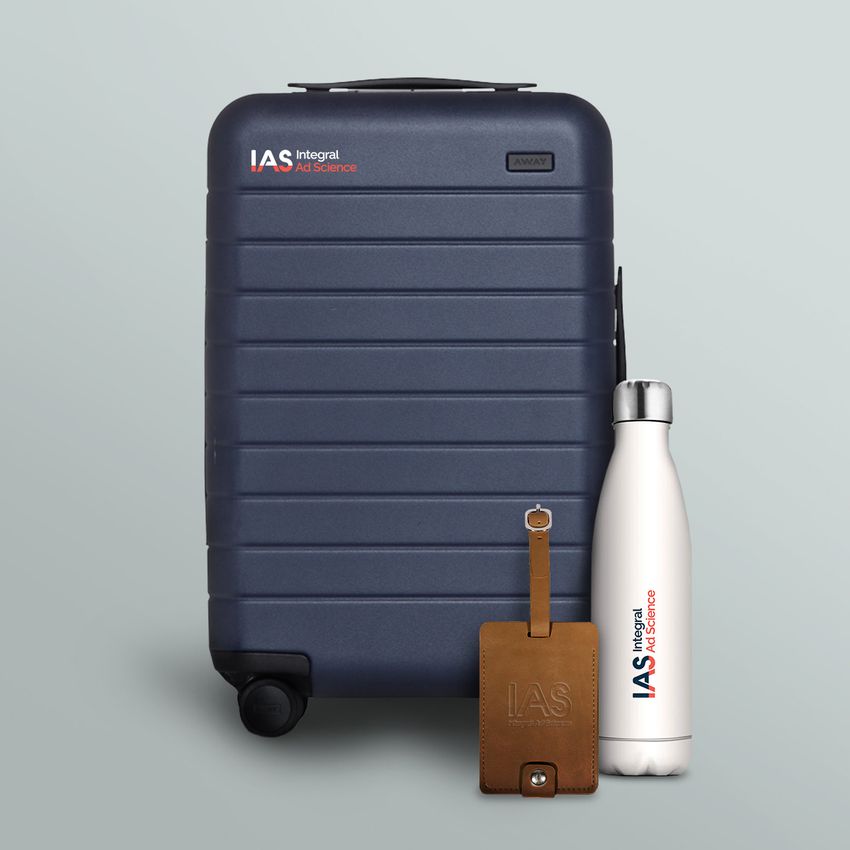 Special Event Gifts
Our Kits Aren't Just for Door Prizes! They can be for...
✓ABM and direct mail
✓Meetings and tradeshows
✓Company or team milestones
Want a Custom Quote for Your Project? Get in Touch!
Talk to our team to talk about your swag needs. For projects of 40+ gifts, fill out the form below and we'll be in touch within one business day (usually sooner!) to get started. For gift quantities under 40, shop here! And if you can't wait to chat, give us a call at 571-347-7582.
Custom Packages for Door Prizes
Frequently Asked Questions
Tell me more about a custom swag box!

Our custom swag boxes are curated gifts designed to represent a company. These promotional swag packages typically feature products branded with a company logo and are sent to create a memorable experience for the recipient as well as promote the business it is representing. A swag box can contain all kinds of products — from useful office and tech gadgets to snacks or even quirky items, there are tons of options!
I need dazzling ideas to help light up our fundraising event. What gifts should I get for door prizes?

Choosing door prizes is like finding the right people for your fundraising committee - recommendations are a must and we are here to help! You could do custom blankets and custom logo candles for a warm and cozy themed door prize. Or you could add branded sunglasses and a custom sweatshirt or pullover to help your attendees who may have discovered the 'fun' in fundraiser. If that's too many decisions to make, don't worry, we'll help you pick! You just name a theme or idea, and we'll curate the perfect gift box to fit your goal.
Can Teak & Twine design fully custom swag boxes for my fundraiser?

Yes, we can! Our team can provide branded packaging options, branded products with your company logo, branded printed materials — whatever you need! Then, we'll package your swag boxes in our fulfillment center and ship them wherever you need!
We already have our own company swag items — can Teak & Twine just package and ship them for us?

Yes! You can send us any swag or promotional products that you already have, and we'll package them up in our fulfillment center for you! Plus, we have tons of packaging options and branding opportunities, so we'll find the perfect solution for your specific needs, no matter what!
We want to combine our company swag with other items for the perfect door prizes — can you source additional products for us?

Yes! We have long-standing relationships with a variety of wonderful vendors and small businesses from whom we can source products (from notebooks to mugs and everything in between!). Then, our fulfillment team can package them along with your swag.
We have the packaging and products, but not the bandwidth or capacity to kit! Do you offer kitting services?

Yes! We offer kitting and fulfillment services for all kinds of projects. We're happy to take any swag, packaging, or branded materials off your hands and handle all the kitting, assembly, fulfillment — you name it!
Does Teak & Twine offer drop shipping?

Yes, we do! We can ship directly to your recipients or send boxes in bulk to multiple locations.
I already know your kits are going to be a hit at our fundraiser! Can you store extra packages after our event and send them out over time?

Yes! We offer storage solutions for an additional cost and can even get you set up with your very own company store landing page (aka our corporate gifting platform) to make sending swag boxes easy and seamless.
What if we don't have addresses for our recipients?

We got you! Our Portals (aka our corporate gifting platform) actually come in handy for that, too! Your recipients can use the online Portal to log in, select a swag box, and enter their shipping info - that's it! to make sending swag boxes easy. Recipients will simply log in, select a swag box, and enter their shipping information - that's it Our goal is to make sending swag boxes easy, always.
What is the minimum order quantity?

For custom swag boxes, the minimum order quantity starts at 40 boxes.
What is the timeline and turnaround time?

Don't panic!! While our average turnaround time can be from 2 weeks and on (depending on the products and size of projects), our team can work miracles! If you have a target turnaround time, contact our team, and we'll see what solutions we may have for you.
How much do your custom packages cost?

The price for a custom package depends on quantity, product selection, and level of customization. Contact us and get a quote for your project!
Are you integrated with other gifting platforms?

Yes! Sendoso, Reachdesk, Postal.io, Giftagram, Alyce, and CorporateGift.com are all gifting platforms that we have collaborated with - but if you're looking for something different, feel free to connect with one of our Account Managers who can design a custom gift just for you AND send it through your preferred platform!
Ready for Your Best Fundraiser Ever?!