The Watermelon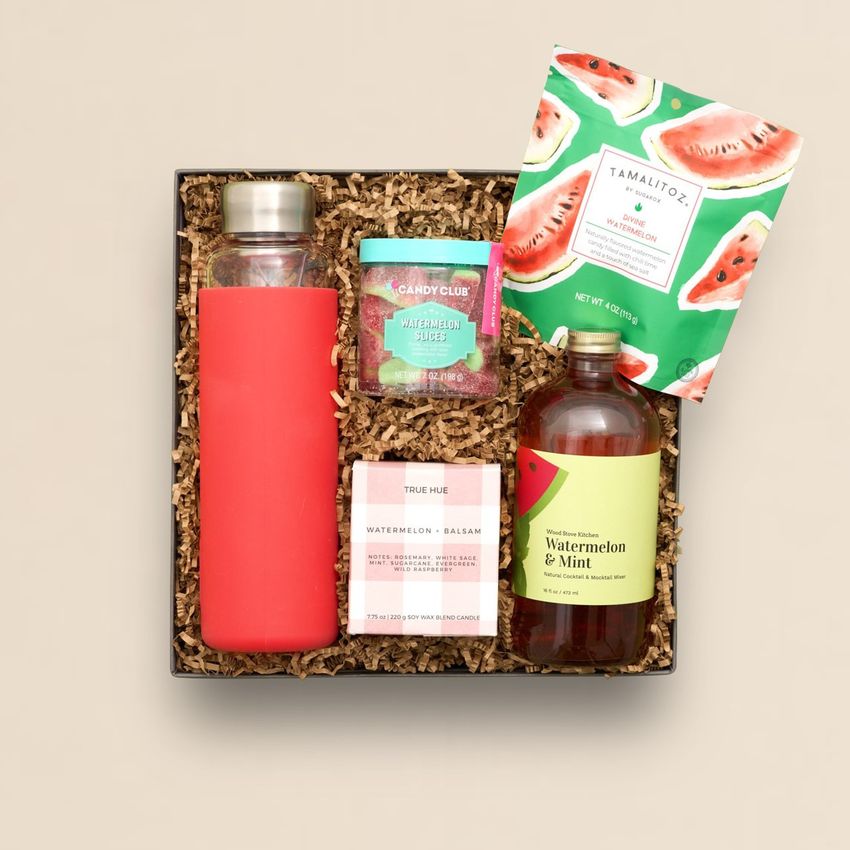 Description
Looking for the perfect summer gift?! Look no further! This fun and refreshing gift will bring a smile to anyone's face with its bright and cheerful design, and sweet, summery contents. The Watermelon gift is full of fun treats like watermelon gummies, the perfect summer scented candle, and watermelon & mint cocktail mixer. Whether you're sending The Watermelon to a friend, family member, or coworker, this gift is the perfect way to spread a little sunshine!
Gift Box Contents
Insulated water bottle by Black & Blum
Watermelon gummies by Candy Club
Hand poured watermelon Candle
Watermelon tamalitoz by Sugarox
Watermelon & mint cocktail mixer by Wood Stove Kitchen
This gift is packaged in our signature gift box (10") with an embossed Teak & Twine band.
Shipping
Gifts ship within 1-3 business days, with expedited options available at checkout. All costs will be calculated during the checkout process. Read full shipping and returns details here.
01 Glass Water Bottle in Coral by Black+Blum
02 Watermelon Slices by Candy Club
03 Divine Watermelon Tamalitoz Candy by Sugarox
04 Watermelon & Mint Cocktail Mixer by Wood Stove Kitchen
Take me home!
Bulk and Corporate Gifting Options
Looking for an unforgettable corporate gift? We offer a wide variety of corporate gifting support capabilities! Our gifting pros are full of ideas and ready to deliver a one-of-a-kind experience for your clients or employees.
Your dedicated Account Manager can start from scratch to create a custom gift or take an existing gift like this one and make swaps like adding a branded product. Have your own swag or products to include in the gift—no problem! We have an entire logistics team specialized in our kitting and fulfillment services that can assemble and ship all gifts to your recipients.