Blog | Client Gifting
9 Tips for Client Gifting
All successful businesses understand one very important truth: clients are the real MVPs. Whether you're a seasoned professional or a bright-eyed entrepreneur, your clients are the driving force behind your success. It might sound cliché, but it's a fundamental truth.
That's why building and nurturing relationships with clients should always be a top priority. And one of the most useful ways to engage with your clients and create meaningful connections is through client gifting!
In the business world, a little bit of thoughtfulness goes a looong way! Especially nowadays — after all, your customers have never had as many service options as they do now, literally in the palm of their hand. Now more than ever, it's important to invest in tools and practices that can help you stand out in a crowd of competitors, build meaningful relationships, and keep your clients coming back for more.
So if you're curious about leveling up your client relationships, you're in the right place! In this blog post, we'll help you master the art of client gifting. First, we'll go over some of the basics, like why client gifting is important and some guidelines on what makes a good client gift. Then, we'll dive into our expert tips for corporate gifting dos and donts with some solid examples, too. So, let's get into it!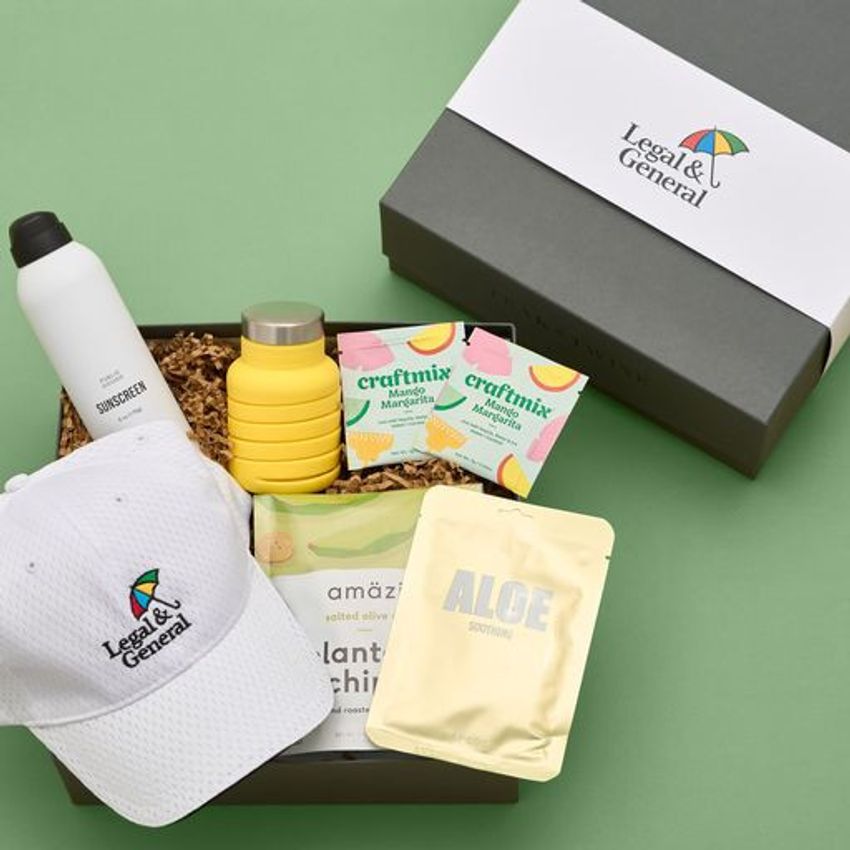 What is Client Gifting?
Client gifting is the practice of giving thoughtful and meaningful gifts to your valued clients as a way to express gratitude, strengthen relationships, and ultimately, boost business growth.
It goes beyond the simple act of giving and becomes a strategic tool for building loyalty, generating referrals, and enhancing your brand reputation.
Why is Client Gifting Important?
Client gifting is majorly important — not only in relationship building, but in overall business success. In such a competitive market where clients have more choices than ever before, adding a personal touch can really make your business stand out. When you show your clients that you really appreciate their partnership and care about how happy they are, you can form connections that go beyond just business transactions.
Giving gifts to your clients doesn't just help you build strong relationships, it also directly impacts your business growth. Happy clients who feel valued are more likely to stick around, spread the word about your services, and give you awesome reviews. This kind of word-of-mouth marketing can seriously open up new business opportunities and make your revenue grow.
What are the benefits of client gifting?
---
What Makes a Good Client Gift?
So, what makes a GOOD client gift? As a corporate gifting company, this is one of the questions we get asked most frequently. And with good reason! When it comes to client gifting, you want to make sure you get it right. But before we jump into what products make up a good client gift, let's think about the psychology of gift-giving and how certain emotions can play into what takes a client gift to the next level:
Personalization
Giving a more thoughtful, personalized gift demonstrates that understand your client's preferences, interests, and needs. This shows that you value your client as an individual, not just as a business contact, helping build a sense of connection and appreciation.
Surprise and Delight
Sweeten your client gifting strategy by using the element of surprise! Surprises trigger positive emotions like joy and excitement in our brains, so try giving your client a gift when they least expect it! These warm and fuzzy feelings are likely to become associated with you and your business, enhancing the client's perception of your brand.
Emotional Impact
Identify products, traditions, or holidays that are meaningful to your clients. Then, give them a thoughtful gift that has been designed with that in mind! This can evoke powerful emotions such as nostalgia, warmth, and happiness, which can create a deep emotional connection between you and your client, fostering loyalty and a sense of belonging.
Second, it's important to take sociocultural considerations into account when thinking about what makes a good client gift. Here are some things to think about:
Cultural Sensitivity
Don't forget that cultures have different norms and values when it comes to gifts, especially in the business world! So be sure to educate yourself on any cultural differences and traditions so you can avoid offending anyone by mistake!
Symbolism
Think about the message that your gift is conveying to your recipient. You want to make sure it is symbolic of a positive and appropriate business relationship that aligns with your company's values.
Think Locally
Consider giving gifts with a nod to your client's local culture to show your respect and interest in their personal background. This adds a personal, emotional touch to client gifting.
Environmental Responsibility
In today's environmentally conscious world, eco-friendly gifts or sustainable packaging are a great way to show your commitment to sustainable practices.
Best Practices in Client Gifting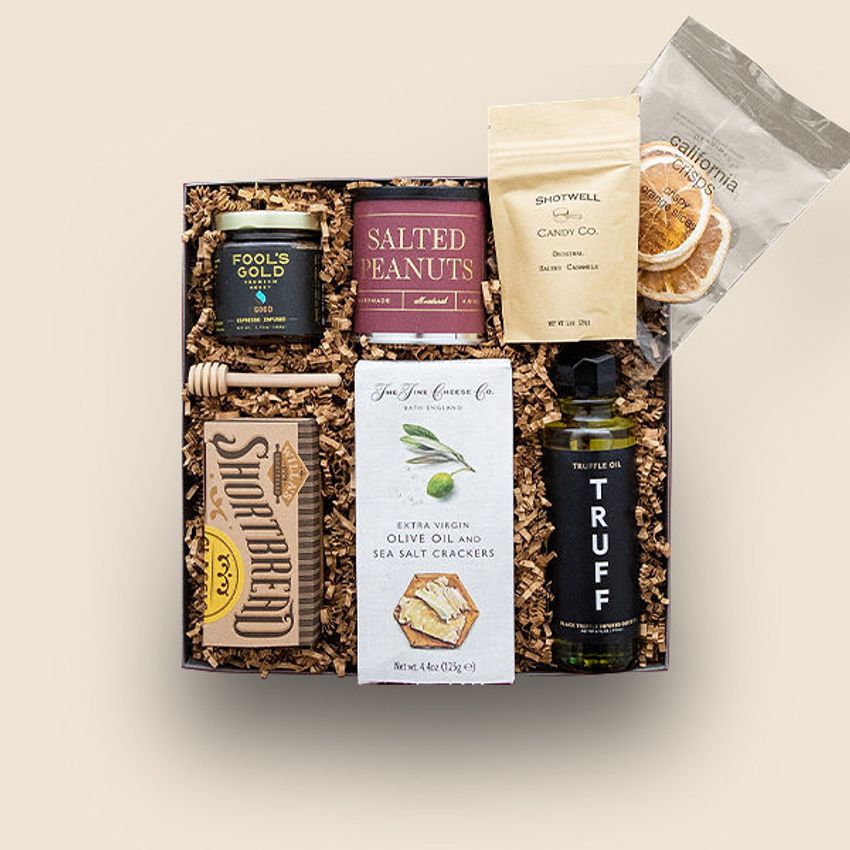 Tip #1: Include Food or Drinks
Did you know gifts that include food & snacks are favored 46% more than other gifts? It's true! Think about it: there's nothing better than opening up a custom client gift box and indulging in an unexpected treat!
That's why we always recommend including at least one item your recipient can eat or drink right away. Cookies, chocolate bars, granola, coffee, and candy are among the most popular items. But no matter what, you really can't go wrong with food – after all, it's the way to anyone's heart!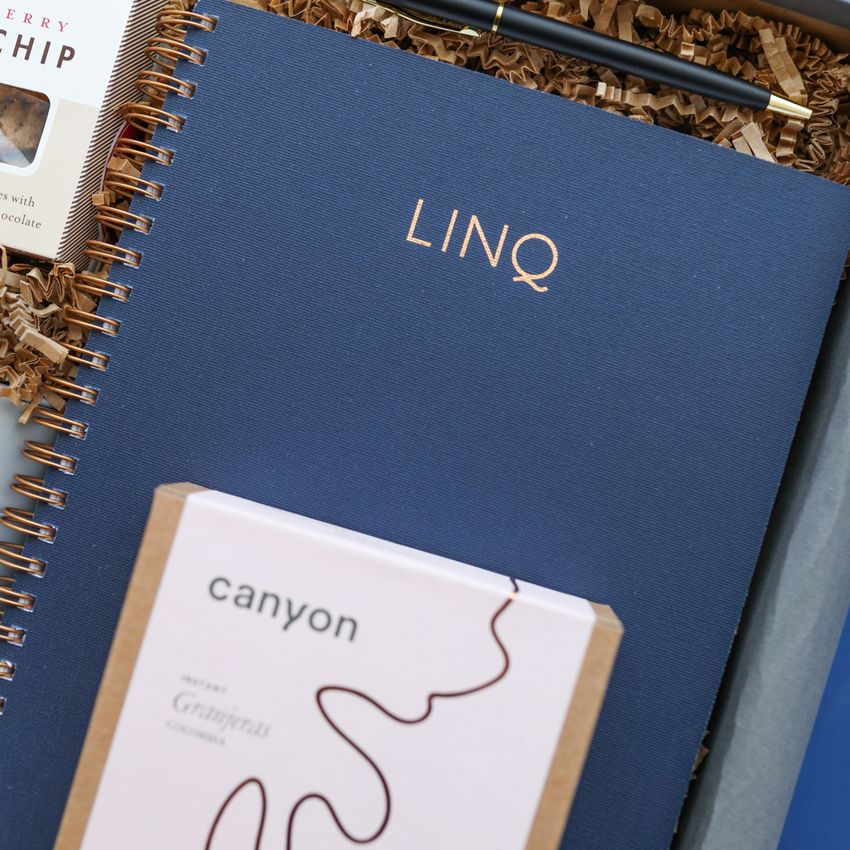 Tip #2: Give Useful, Practical Products
You can NEVER go wrong with a gift that's actually useful to your client. So when in doubt, go for something practical that will help enhance their daily routine, like a high-quality branded notebook or branded headphones!
Customize it with your embossed logo, making it both functional and visually appealing. Other popular products that are super useful are branded mugs and branded tumblers to use their morning coffee.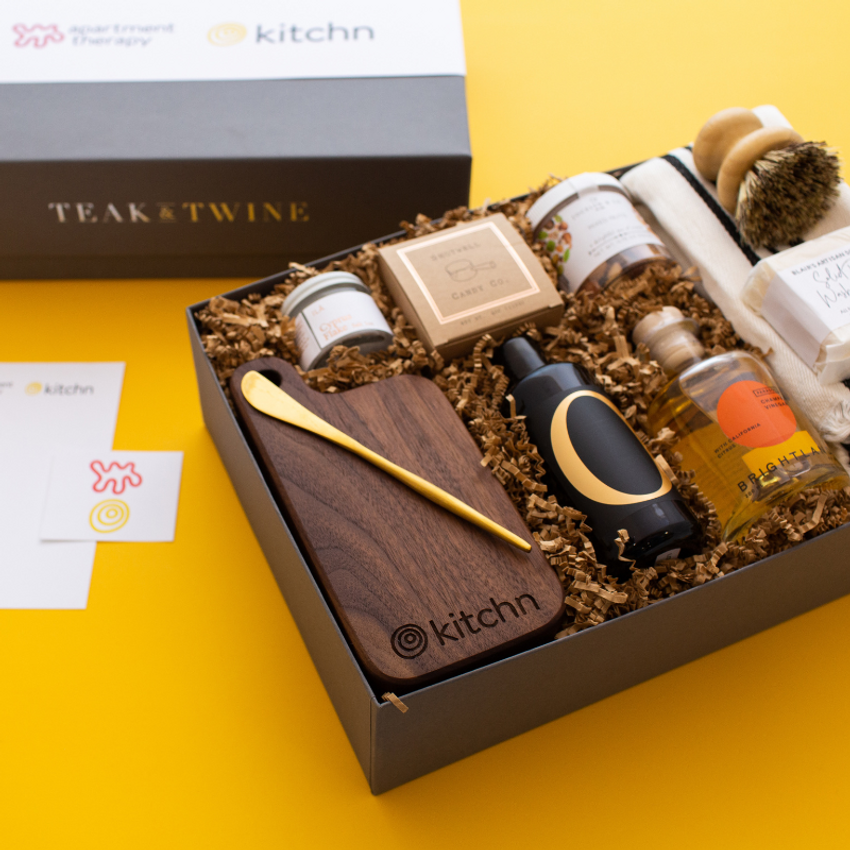 Tip #3: Include a Keepsake
Give a client gift that keeps on giving! You want to make sure there's something that the recipient can keep loooong after the snacks have been eaten and the packaging has been tossed away. Stay top of mind by including a keepsake — think things like branded water bottles, branded mugs, branded headphones, or even a gorgeous wooden logo cutting board.
Tech products are also a popular option and make great gifts for software engineers, gifts for computer engineers, and more. Consider adding items like branded speakers and wireless chargers to your corporate gift box.
Not only are these items practical and useful for the recipient, but they tend to be of high quality, making the gift more valuable to the recipient. And every time they use these items, they will be reminded of you – how's that for staying top of mind!?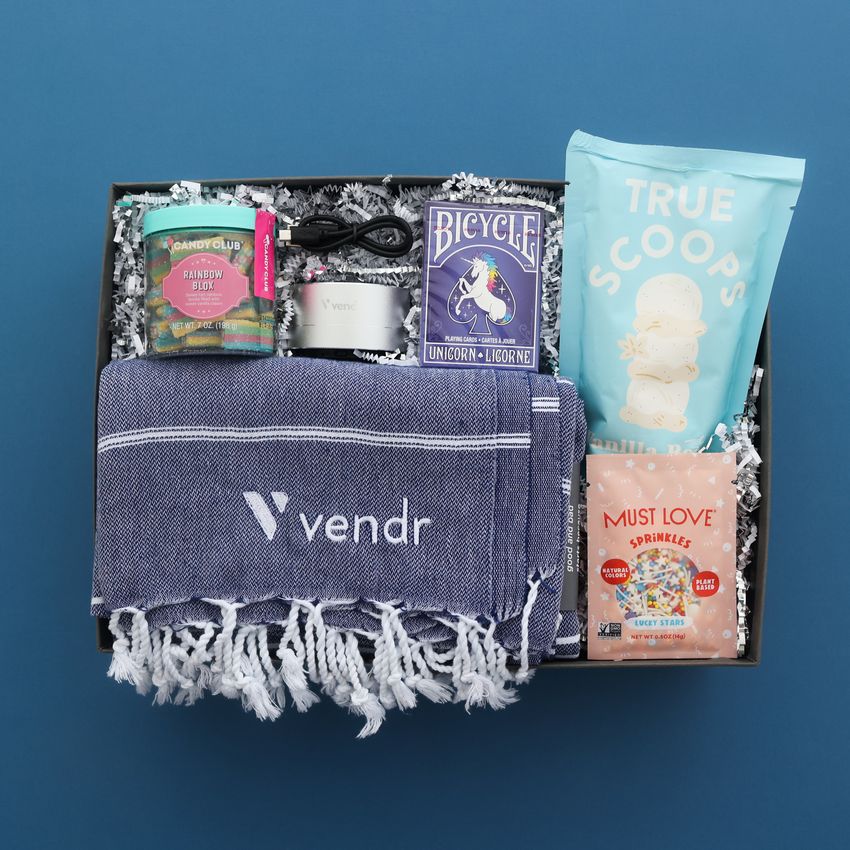 Tip #4: Be Thoughtful with Branding
Speaking of all these branded products, it would be remiss not to mention that it's really important to be thoughtful with branding when it comes to client gifting. Yes, branded products are great for brand recognition and memory, but you don't want to overdo it. Adding a logo to every product in the gift box is a common swag mistake.
A client gift should feel different than company swag — so here's our two cents on branding client gifts: try to stick to just 1 or 2 branded products to make sure you maintain an element of professionalism and luxury.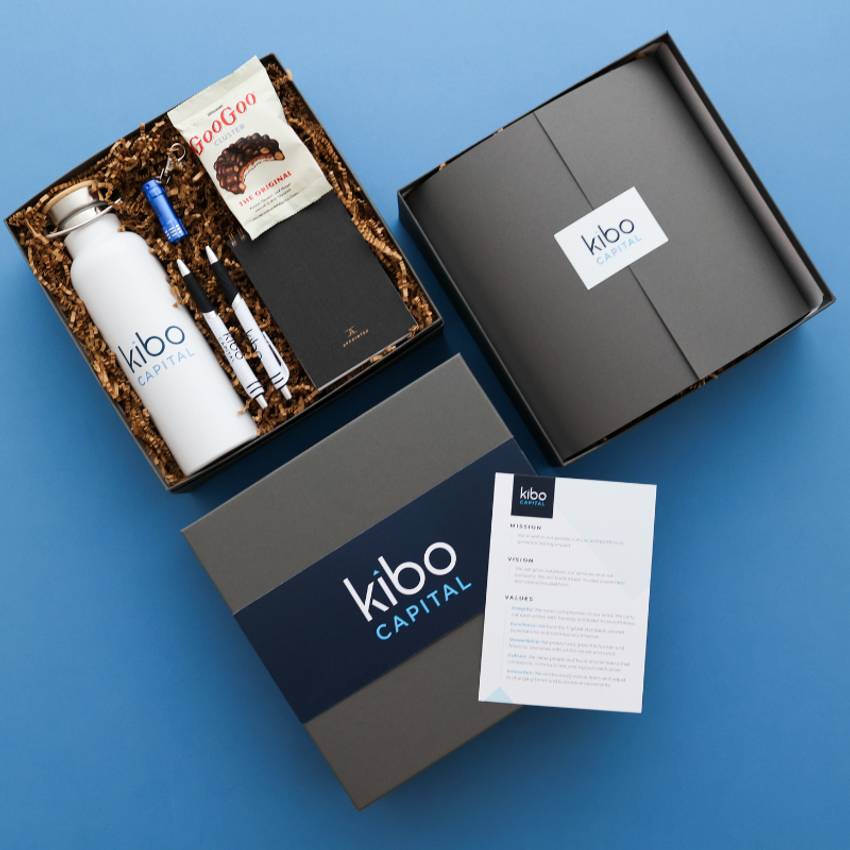 Tip #5: Don't Skimp on Exterior Packaging
Think of the exterior packaging as the "first impression" for your client — it can make or break your gift! The initial unboxing is a crucial part of your client's corporate gifting experience, so you want to make sure the exterior of the gift is professional and intentional.
This is where you definitely want to include your brand elements — the exterior packaging is an opportunity to let your brand shine and show off your attention to detail before the client even gets to the inside of the gift! Check out some of our favorite examples of custom branded packaging.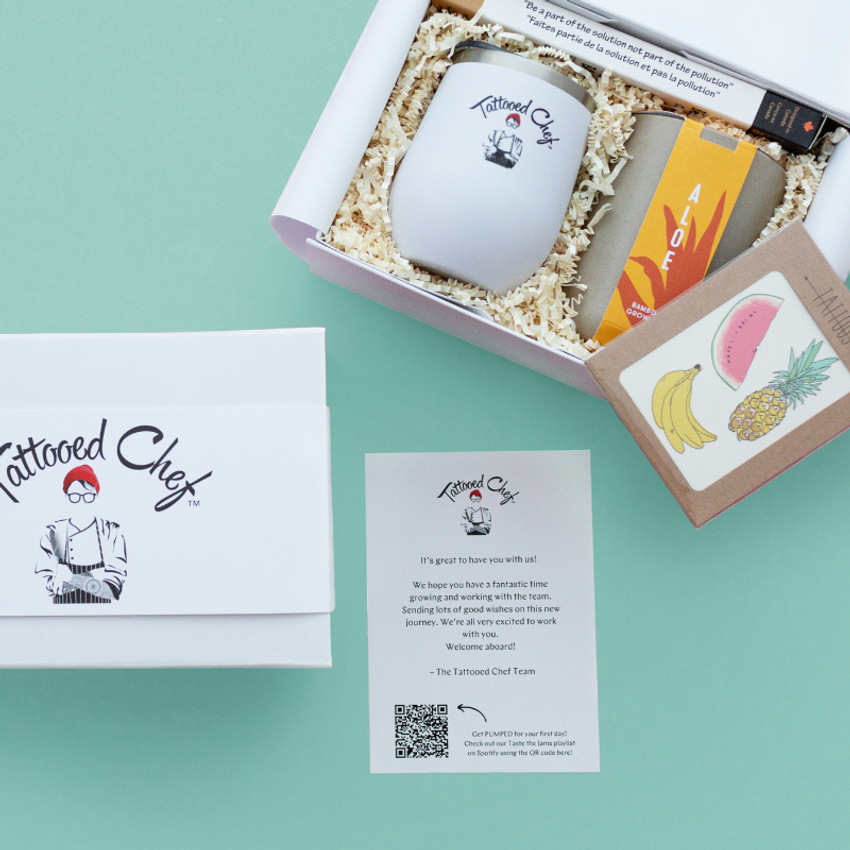 Tip #6: Add a Personal Touch
Including a card insert with a thoughtful message is ALWAYS a good idea! Use this as an opportunity to make a connection with your client — and don't be afraid to go beyond the basics!
Consider including a short note about why your company chose these specific products, share the stories behind the product makers, or even incorporate a QR code that links to your website — or better yet, links to a video of you so you can personally convey your message.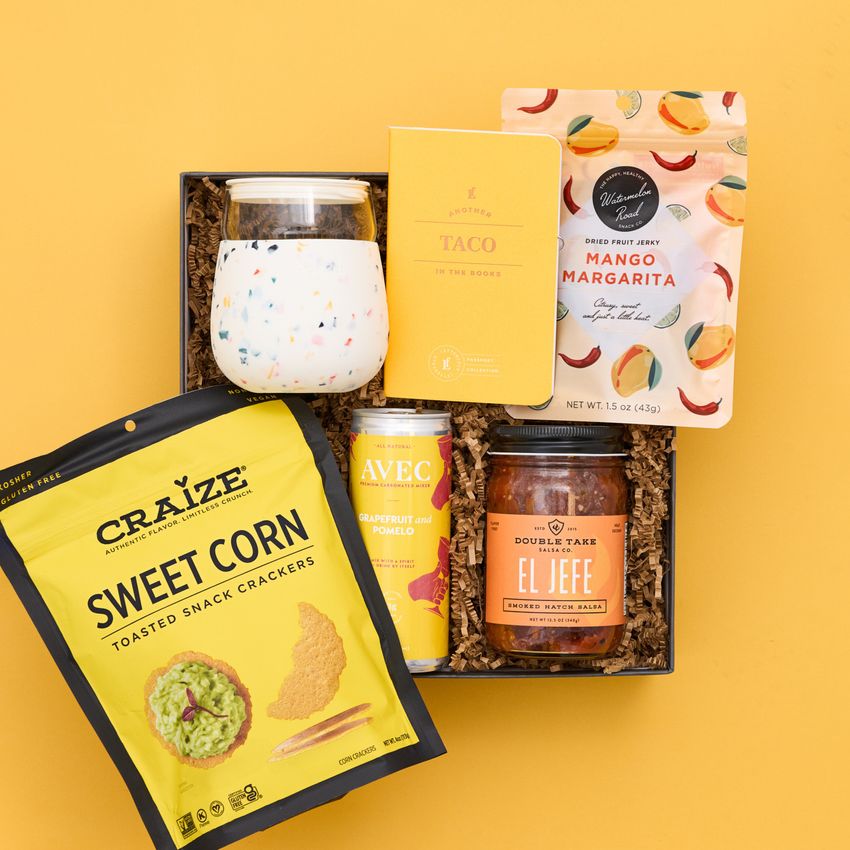 Tip #7: Gift Outside of the Holiday Season
Yes, the holiday season is prime for gift-giving, but don't only default to giving your client holiday gifts! While we love a good Christmas gift, we actually find that gifting OUTSIDE of the holiday season is super impactful!
Need some ideas? Well lucky for you — we've got a lot of 'em!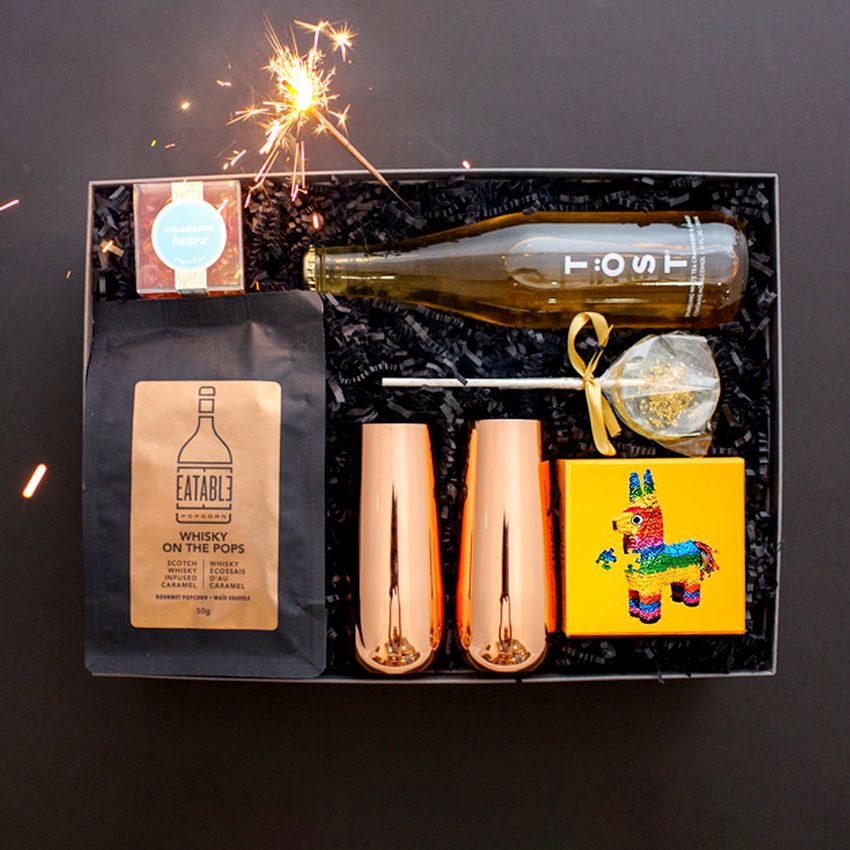 Tip #8: Gift Throughout the Client Journey
It's true what they say: timing is everything! And timing can turn a good gift into a GREAT one. Take the overall customer journey into consideration and think about some ways to incorporate gifting into their overall experience.
Here are some ideas on when to show your clients a little extra love:
Beginning a New Client Relationship: You want to start things off on the right foot, of course! If you didn't already dish out prospecting gifts, a client onboarding gift is a great way to welcome your new client and make a great first impression!

Celebrate Milestones: When your client hits a big achievement or has a special moment in their life or business, that's the perfect time to show you care. A thoughtful gift can show your support and appreciation.

Anniversaries and contract renewals: Remember those important dates like contract renewals or work anniversaries — they're a great opportunity to show appreciation for your client's continued partnership!
Tip #9: Send Gifts to Your Past Clients
Seriously — your past clients are often your warmest leads, and gifts are a great tool to help make sure you don't miss out on low-hanging fruit!
Written by Molly Ledwith. Updated Sept. 2023.
Gift Sets and Corporate Options
There are endless options for celebrating the season in style! Check out the full collection of holiday gift sets for a Christmas gift or a glitzy gift perfect for ringing in the New Year.
And if you're looking for bulk options for employees or clients, learn more about our corporate gifting capabilities. Our team of gifting pros will curate a custom gift for your company or event. Picture unique products with branded packaging and even branded swag your recipients will love!