Blog | Company Swag
Common Swag Mistakes and How to Avoid Them
We'll give it to you straight: promotional swag is one of the most effective ways to build brand awareness, enhance company culture, and create a sense of loyalty among employees and customers. But if you've been unimpressed with swag in the past, you're certainly not the only one!
Swag sometimes gets a bad rap because companies tend to overlook a key aspect of giving out branded products: it's not just about slapping your company logo on an item; it's about crafting a tangible connection that bridges the gap between your brand and its recipients. It's about creating a touchpoint that lingers in the minds of those who encounter it, driving brand recall and even loyalty. Sure, swag might seem like a simple gesture — but its impact can be far-reaching.
As seasoned pros in swag curation and corporate gifting, we understand the importance of swag done right. We've helped thousands of companies take their company swag to the next level — and we've learned A LOT along the way.
In this blog post, we're sharing some of the most common swag mistakes companies make and, more importantly, giving our expert insight on how to avoid them. We'll provide you with practical tips and actionable advice, so you can navigate the world of swag and branded products with confidence! We'll wrap things up with a few real-life examples of successful swag sends we've designed for companies in the past, too. Whether you're a seasoned swag specialist or a total newbie, you don't want to miss this!
The Most Common Swag Mistakes
The road to a successful swag is filled with pitfalls — from misaligned messaging to uninspired design, it's not so easy to navigate!
And listen, no one is perfect. Mistakes happen! Despite their best intentions, companies often fall prey to these common swag mistakes. But, lucky you! We're giving you the rundown on what these common slip-ups are, plus actionable tips for how to avoid them.
Choosing Irrelevant Swag for Your Audience
Sending out promotional swag and branded products is great for all kinds of occasions: employee onboarding, celebrating success at work, trade show giveaways and events — the list goes on!
BUT that doesn't mean swag is a one-size-fits-all solution. Think about it: the promotional swag products you gift to your VIP customers shouldn't be the same as the swag you're offering to employee in your company swag store! So, how do you know what cool company swag means for your customers versus your employees? This is where understanding your audience enters the chat.
One of the most common swag mistakes companies make is not taking the time to learn about their audience's demographics, interests, and needs — or just completely ignoring those factors altogether! But that's a biiiig no-no. Without that research and understanding, companies end up giving out swag items that their audience finds irrelevant, offensive, or just plain strange.
How to Avoid this Common Swag Mistake:
Consider your goals
What is the goal behind your swag campaign? Is it to build brand awareness, show client appreciation, or boost employee engagement? The choices you make here can be the difference between a successful swag story and one that's, well, not so swag-a-licious.
Dive into market research
Take the time to understand your audience's likes, dislikes, and preferences. Age, gender, location – all those personal deets are worth considering!
Settling for Low-Quality Swag Items
Okay, you did the research and you understand your target audience. Good job! Now, you're ready to make your swag selection. There are SO many branded products to choose from — this can be one of the most exciting parts of company swag! But, it can also be overwhelming. And this is where our next common swag mistake comes in: companies often default to generic or low-quality swag items. Womp, womp.
Listen, we understand that it's tempting to choose cheap swag items to save costs. But, if we're being honest, it usually backfires! Cheap and low-quality swag items can suggest your company doesn't value quality — or the recipient — very highly. Yikes.
How to Avoid this Common Swag Mistake:
Get practical
You don't have to break the bank in order to offer high-quality swag that reflects your brand's value and professionalism. Instead, opt for branded products that recipients will find useful in their everyday lives (think: branded notebooks, branded water bottles, or custom tote bags)
Stay relevant
Avoid offering swag products that might appear to be nothing more than random tchotchkes you had piling up in your company swag closet. Instead, offer branded products that go along with the reason behind your swag campaign. For example, if you're handing out swag at a seaside company retreat, opt for a branded hat or logo sunglasses they can rock while they're there!
Get Your Swag on With Teak & Twine


Poorly Designed Swag
Now that you've chosen your awesome swag products, you're faced with yet another decision: customization and design! With so many customization options and design features for companies to consider, this is a time when another common swag mistake occurs: Your company opts for swag that is poorly designed.
Whether your swag has been branded with an overcomplicated design or message, or your company swag just doesn't represent your brand in a consistent way, poorly designed swag totally defeats the purpose.
How to Avoid this Common Swag Mistake:
Keep it simple
Instead of crowding your company swag with complicated designs or messages, opt for a more simple design so that your company logo and/or message can stand out. Go for high-contrast colors and make sure the font is easy to read from a distance. After all, you want to get as many eyeballs on your company name as you can!
Make sure it's on-brand
The design of your swag should reflect your company's personality and overall brand image. Be consistent with color schemes, graphics and design across your company swag items and branded packaging in order to make a lasting impression.
Poor Brand Strategy
Speaking of branding… let's talk brand strategy! Your brand strategy is your company's North Star — it guides every decision. So if that strategy isn't incorporated into your company swag, things start to go off track.
This common swag slip-up can happen if you're giving out swag items that have zero connection to your products, services, or overall brand. This can be confusing for your recipients and have way less impact!
How to Avoid this Common Swag Mistake:
Tell a story
People love stories, and your brand has one to tell! Choose branded products that align with your company core values, mission, and overall vibe. Remember, swag isn't just stuff – it's a chance to tell your brand's story in a tangible, memorable way.
Provide value
If the swag you're giving out doesn't serve a purpose, it will most likely end up in the trash (sad, but true!) Swag is most effective when it's part of a larger strategy, so opt for useful products that provide value to the recipient while also showcasing your services, which will help create positive associations with your brand.
Get Your Swag on With Teak & Twine
Swag Examples & Success Stories
Navigating the world of swag demands a certain finesse – after all, it's not just about slapping a logo on an item and calling it a day. It's about creating connections that last!
To inspire you, here are some of our favorite custom swag boxes that we've designed for our corporate clients.
Swag for New Employees
Vendr welcomes their new hires in style with tastefully branded custom swag boxes filled with all the essentials for their first-day on the job!
With smart office accessories like a branded notebook and insulated coffee mug, plus snacks and some other special treats — what a way to make new employees feel like a part of the team from day one!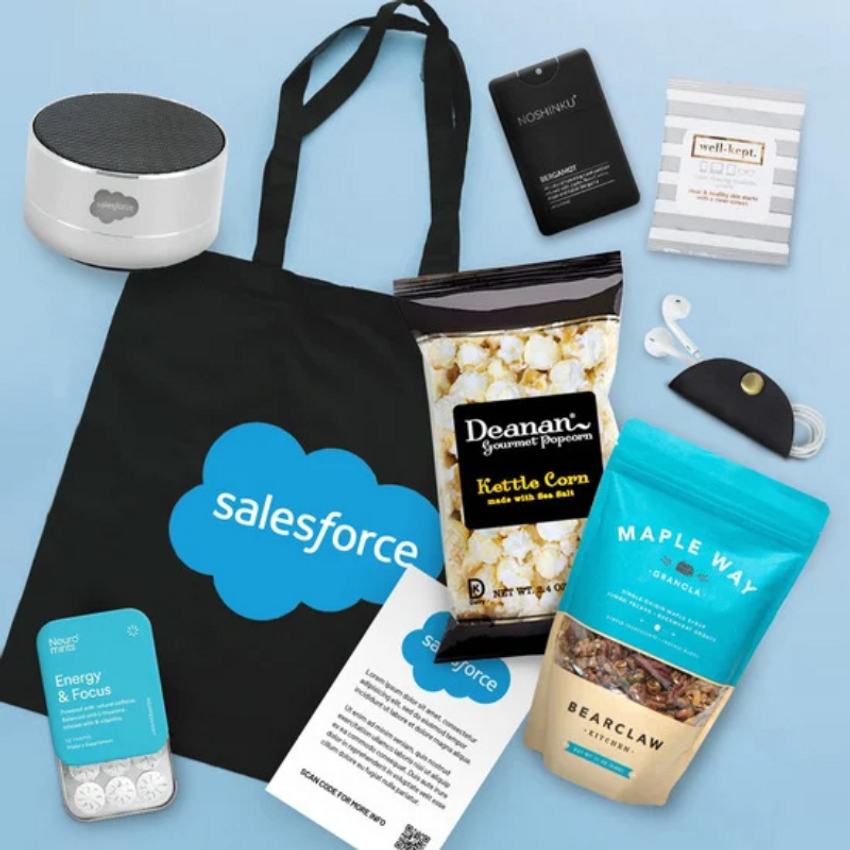 Conference Swag Bags
Wondering how to spice up your next conference? Take a note from Salesforce! These custom swag bags were filled with all the essentials for trade show survival kits: gourmet popcorn, granola, breath mints that boost energy and focus, and hand sanitizer by Noshinku. And it gets better — we also included a premium branded speaker, headphones, a leather cord wrap, and tech wipes. Talk about the perfect swag for SaaS employees!
Pro-tip: include a custom card insert with the conference schedule, or even add a QR code that links to your company swag store or any other resources you may want to share!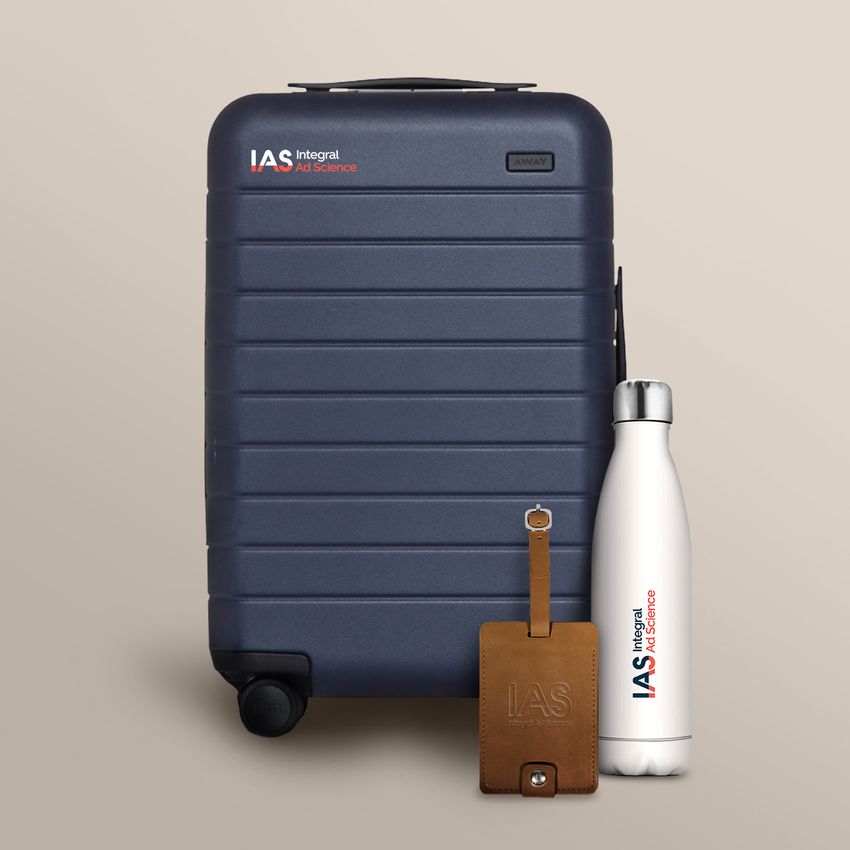 Luxury Swag
Who said swag can't be luxurious?! Luxury corporate gifts are our thing, and premium branded swag for SaaS employees is no different!
Check out these luxury branded products we put together for the folks over at IAS — featuring a branded Away suitcase, a premium branded water bottle, and a gorgeous custom luggage tag — looks like the perfect way to thank your employees for traveling all over on behalf of your company, if you ask us!
Plus, it doesn't hurt that employees will be strolling through the airport with the company logo on their carry-on for everyone to see.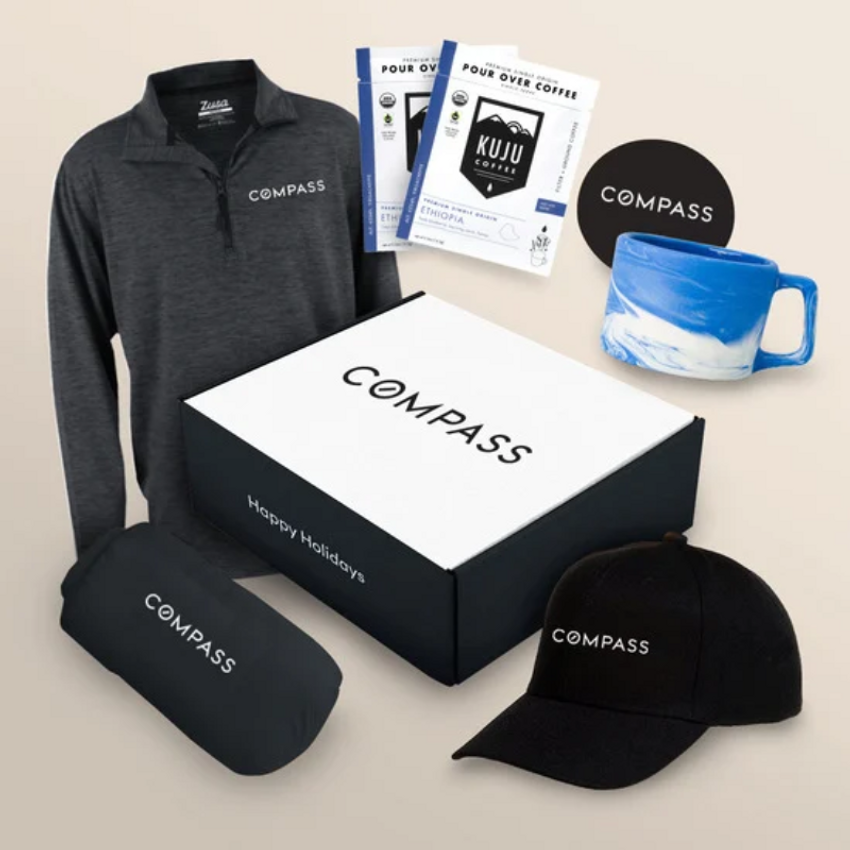 Stylish Swag
Dress to impress with stylish branded apparel for your company swag! From branded hats and caps to custom hoodies and sweatpants, the options are truly endless.
Here's a great example of some stylish swag we designed for the team over at Compass. With an embroidered pullover, a custom hat, and even a branded hammock (yes, really!) — this gift was perfect for their company retreat in the great outdoors!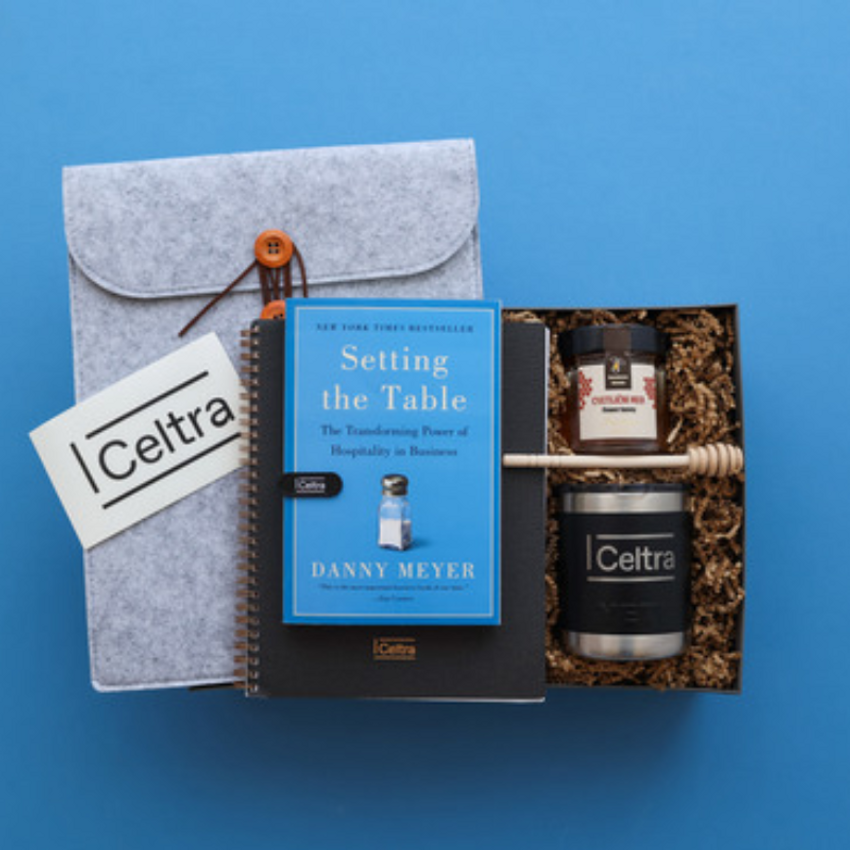 Employee Appeciation Swag
Employee Appreciation Day is a top-notch opportunity to let your team know how much you value their hard work — and Celtra was sure not to miss this chance!
To celebrate the occasion, Celtra gifted their employees these custom swag boxes filled with cool office accessories like a branded notebook by Appointed Co., a company pocket folder, and a high-quality branded mug sporting the Celtra logo — perfect for their morning coffee! Complete with a book, a jar of Slovenian honey (a nod to the founder's home country) and a honey dipper, these custom swag boxes were a super special way to increase loyalty and boost employee engagement.
Related Content
The Ultimate Guide to Company Swag
Why You Need a Company Swag Store
Alternatives to Standard Conference Swag