Blog | Client Gifting
Client Appreciation Gifts: Everything You Need to Know
In today's world, it's easy to get caught up in the hustle and bustle of the everyday grind. While our offices, work schedules, and businesses may look super different than even just a couple of years ago, there's one thing that hasn't changed: the importance of nurturing client relationships.
Studies consistently show that keeping existing clients is more cost-effective than finding new ones. That's where client appreciation comes in. By going the extra mile for customers, companies can create a positive and unforgettable experience for their clients. And when clients feel valued, they're more likely to stick around — and recommend your business to others!
One of the best ways to show your clients how much you care? Client appreciation gifts, of course!
Keep reading to learn more about client appreciation gifts and corporate gifting dos and donts.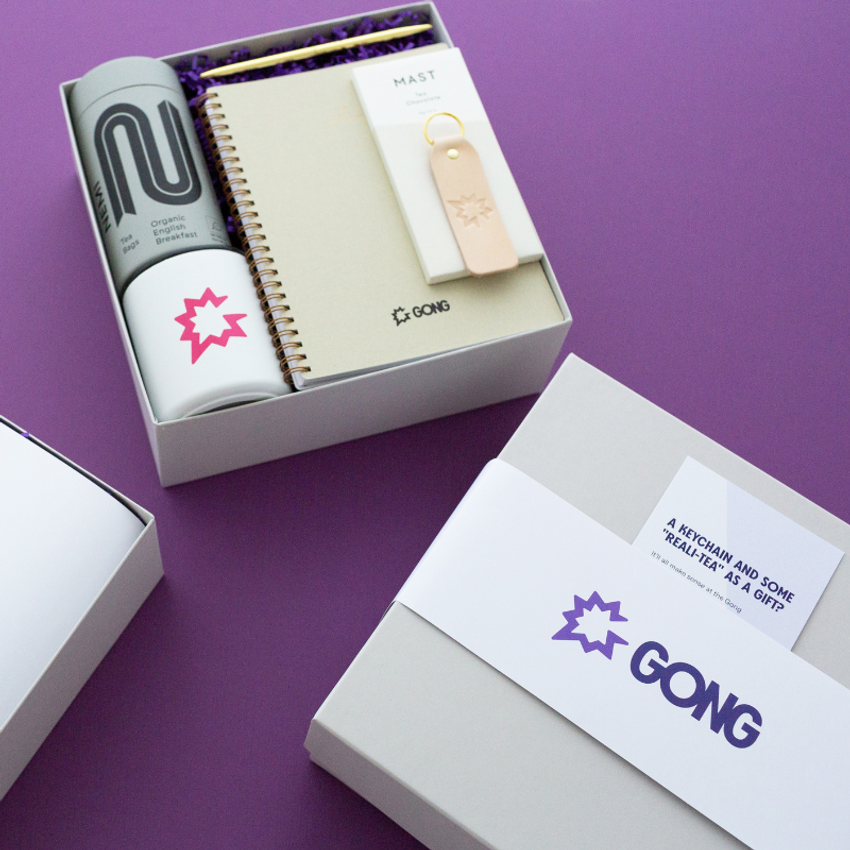 What Are Client Appreciation Gifts?
Client appreciation gifts serve as a tangible expression of gratitude. They're so much more than just a thank-you — they're tokens of appreciation that show how much you value your clients' partnership and support.
Client appreciation gifts come in all shapes and sizes — from personalized items to practical products like branded sunglasses, luxury gifts like branded headphones, or even delicious treats. The purpose? To create a memorable experience and strengthen the bond between you and your clients. And it doesn't hurt that they often act as a reminder of your brand, keeping your business top of mind!
The Benefits of Giving Client Appreciation Gifts
When it comes to best business practices, using gifts to express appreciation to clients is a really smart move. After all, humans are hardwired to respond positively to gifts — it's all in the psychology of gift-giving! Giving client appreciation gifts comes with a bunch of perks for your business. Here are some of the key benefits of client gifting:
Increased Customer Retention
When you show gratitude, you improve customer retention. When clients feel valued, they're more likely to stick around — and recommend your business to others!
Unbreakable Customer Loyalty
Thoughtful and personalized gifts build a deeper connection with your brand. This loyalty makes clients less likely to ditch you for your competitors and more likely to spread the word about your business.
Brand Awareness
Client appreciation gifts let you showcase your brand's values, personality, and commitment to customer satisfaction. Choose high-quality gifts, and you'll make a great impression.
More Referrals
Provide your clients with an excellent gifting experience and watch as they become your biggest fans! They'll rave about your customer service to friends, family, and colleagues, opening the door to new business opportunities.
Types of Client Appreciation Gifts
---
Things to Consider when Choosing Client Appreciation Gifts
Picking the perfect client appreciation gifts is no joke. You gotta put some thought into it, so you end up giving something they'll actually love and appreciate — after all, you want this to leave a lasting impression! Here are some corporate gifting dos and donts when you're on the hunt for client appreciation gifts:
Your Relationship with the Client
The nature of your relationship and level of familiarity with your client plays a significant role in selecting appropriate gifts. So think about it: How well do you know these folks? If you've been working together for ages, you've probably got a good sense of what they're into. Take time to make personal connections so that you can find something that really suits their style.
Your Client's Interests
Take into account your client's personal tastes, hobbies, and interests. Are they a wine connoisseur, a tech enthusiast, or an avid traveler? Tailor the gift to their specific preferences to show that you value their individuality.
Company Culture and Values
Consider your client's company culture and values. Think about where your client is based, what industry they're in, and their company's overall vibes to gain some valuable insight into what may be appropriate or appreciated. You want to give a gift that aligns with their business and leaves a positive impression.
Past Interactions and Feedback
Take a trip down memory lane and think about all the past conversations you've had with your client. Have they mentioned any specific preferences or interests? Try incorporating some of those little details into their gift — they'll be seriously impressed with your thoughtfulness.
Gift-Giving Occasions and Timing
It's true what they say: timing is everything! And timing can turn a good gift into a GREAT one. Here are some good occasions and times to show your clients some extra love:
Celebrate Milestones: When your client hits a big achievement or has a special moment in their life or business, that's the perfect time to show you care. A thoughtful gift can show your support and appreciation.

Get Festive: the holiday season is prime for gift-giving! Spread some joy and gratitude during those special times. Pick

holiday gifts

that will make 'em feel warm and fuzzy.

Anniversaries and contract renewals: Remember those important dates like contract renewals or work anniversaries — they're a great opportunity to show appreciation for your client's continued partnership!
Cultural Considerations
It's important to be mindful about your client's culture to make sure your gesture is thoughtful and respectful. Consider their cultural norms and customs — what may be acceptable in one culture could be offensive in another. So avoid anything that may inadvertently cause discomfort or be considered inappropriate.


Creative Client Appreciation Gift Ideas
Choosing the right client appreciation gift can be a creative and enjoyable process. By thinking outside the box and considering unique and personalized options, businesses can make a lasting impression on their clients. Let's explore some creative ideas for client appreciation gifts that are sure to delight and leave a lasting impact: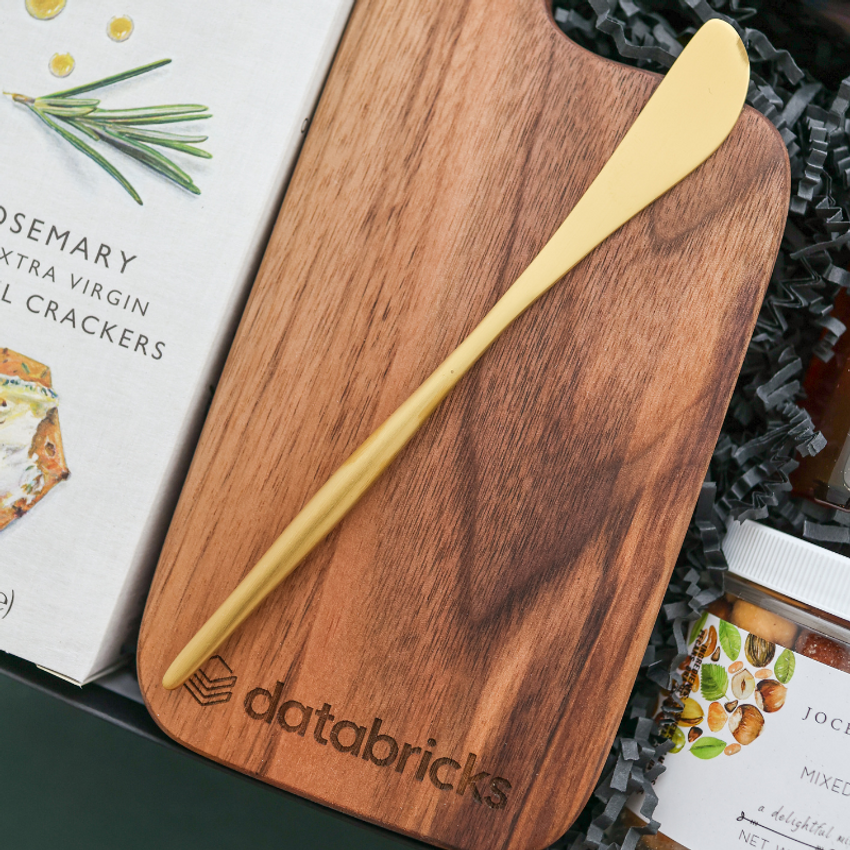 1. Personalized Gift Ideas
Including personalized items adds a special touch that shows your clients you've put thought and effort into selecting something unique for them. Consider options like…
A branded cutting board featuring their name or logo

A high-quality notebook embossed with their initials

Or, simply include a handwritten note in whichever gift you choose — sometimes, this is all it takes to make a client gift feel extra special!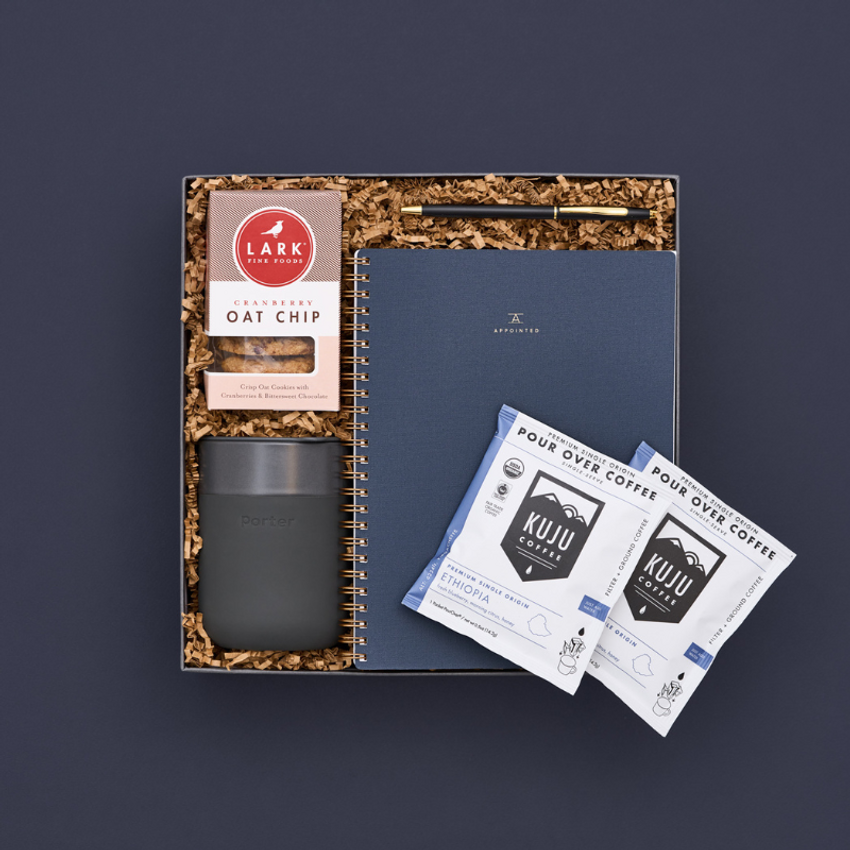 2. Practical and Useful Gift Ideas
When in doubt, give your client something that is practical that they will actually use. A gift that is full of useful products that will make their day easier shows you understands your client's needs and value their day-to-day experiences. Think things like…
One of our most popular gift boxes, The Home Office (pictured here) makes for the perfect client appreciation gift – cookies, coffee, a travel mug, a notebook, and a pen — all the essentials for a productive workday!

Another great idea is a high-quality insulated water bottle. After all, hydration is key!

Tech gadgets are always a good idea — phone chargers,

branded headphones

, speakers… you can't go wrong!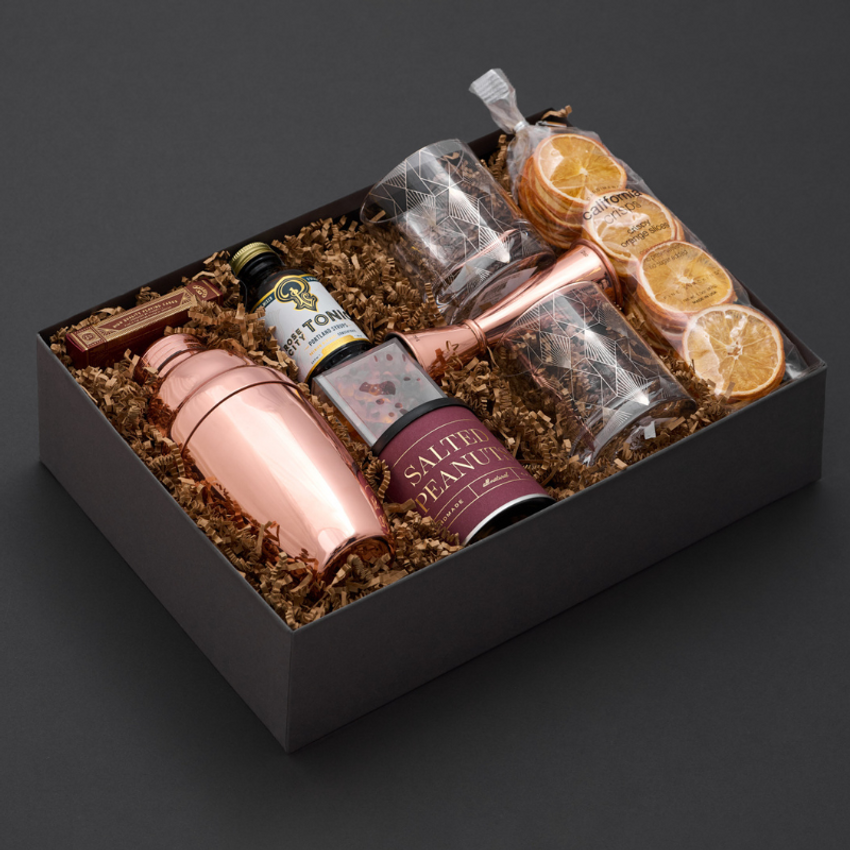 3. Luxury Gift Ideas
Looking to WOW your client with something extra luxurious? Luxury gifts are our specialty — and here are some luxury client appreciation gifts to consider:
Stock their bar cart with a high-end cocktail themed gift, like The Cocktail gift box (pictured here!) Not only is this gift beautiful, but it exudes class and luxury.

Luxurious spa gifts make for wonderful client appreciation gifts — include items like scented candles, bath salts, and other self-care products.

For a more traditional luxury client gift, The Executive is the way to go. This sleek, monochromatic gift is filled with high-end desk accessories that will are sure to impress.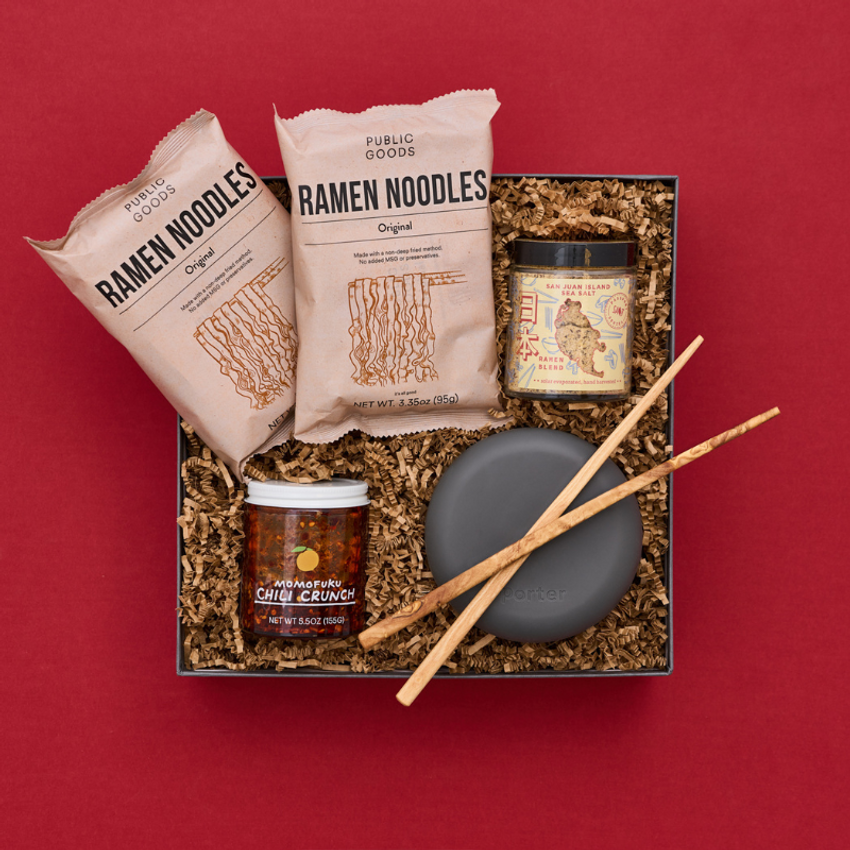 4. Edible and Gourmet Gift Ideas
Edible and gourmet client appreciation gifts are always a crowd-pleaser! Whether you simply indulge your client with lots of delicious snacks or provide a delightful culinary experience for the aspiring chef, there are tons of ways to gift when it comes to food! Here are some of our favorite ideas:
Surprise them with an out-of-the-box idea like

The Ramen

(pictured here!). This gift is unexpected, fun, and full of flavor!

Go for a classic culinary experience and provide some cooking essentials like olive oil, a cutting board, a cheese knife, and more. Check out our best-sellers like

The Gourmet

and

The Foodie

for some inspiration!

Send a snack-filled gift like

The Sweet & Salty

to satisfy their cravings!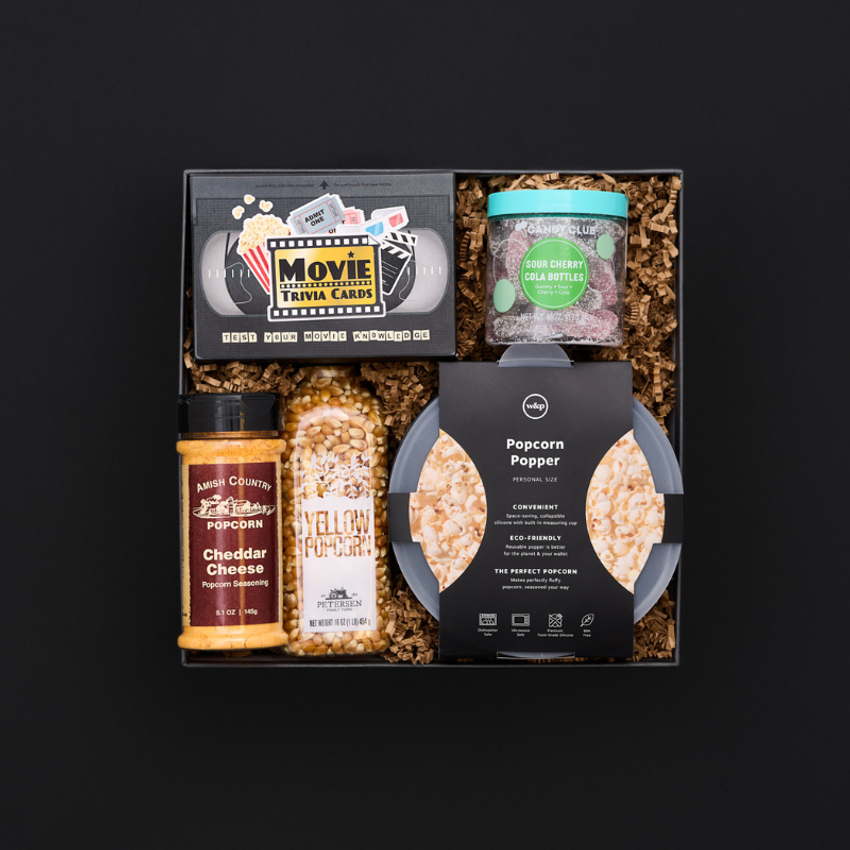 5. Experience Gift Ideas
Delight your client with a gift that is designed around a fun activity that they can enjoy with others and create lasting memories. Some fun ideas are…
The Movie Night gift box (pictured here!) is a fun way to treat your client to the *perfect* night in! With gourmet popcorn, cheddar cheese topping, movie trivia, and more, it's the perfect way to get your client to sit back, relax, and enjoy.

Does your client love to golf? A golf-themed gift is the way to go! Include a towel, a couple of golf balls, and some snacks — they'll be thanking you next time they shoot low!

For your client who is all about family fun, send them something they can enjoy with the whole family, like

The Game Night!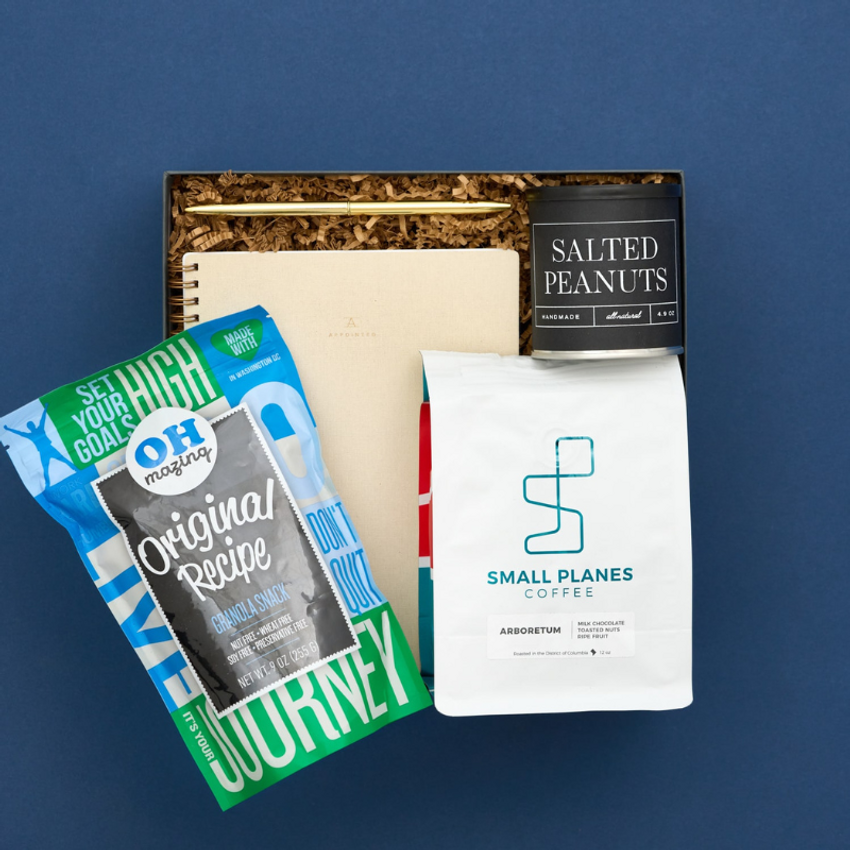 6. Local Gift Ideas
Go the extra mile to research local businesses around where your client lives or works. Then, you can curate the perfect gift filled with local goodies that your client is sure to enjoy! Here are some things you could include:
A bag of coffee from their local coffee shop

A snack like cookies, chocolate, pretzels, or biscotti from a local bakery or store

A candle, soap, or other handmade product from a local maker
Our Corporate Catalog features a collection of local gifts, like The Washington, DC (pictured here!), but our team is always happy to help create custom corporate gifts with products sourced from local businesses.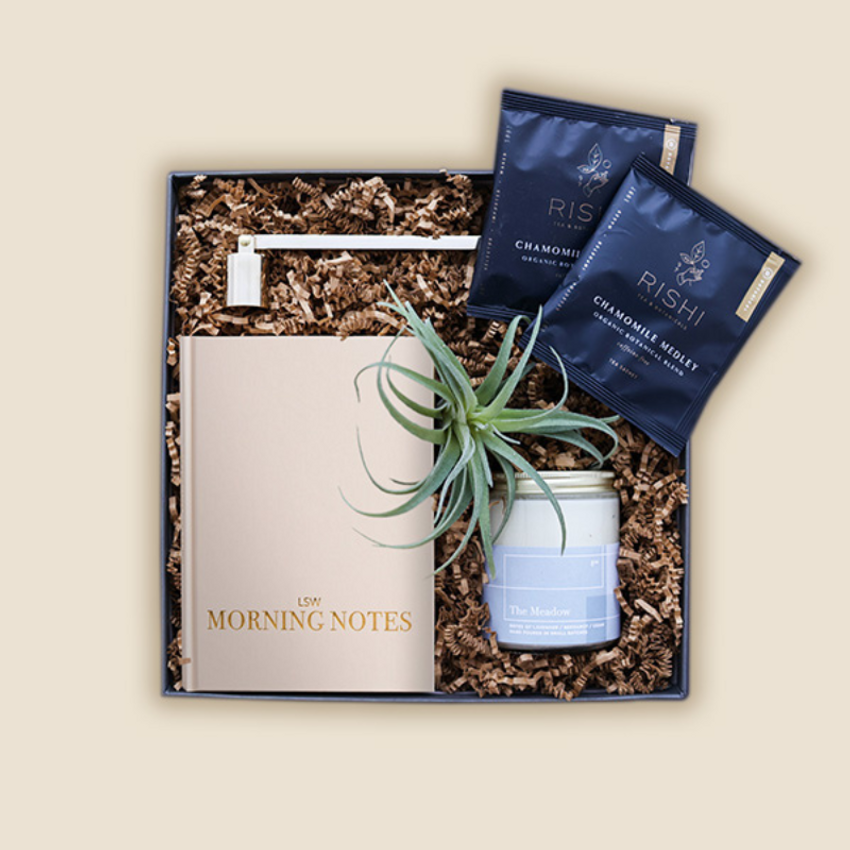 7. Self-Care Gift Ideas
Self-care and wellness are some of the most popular gifting trends right now, and for good reason — we could all use a little more rest & relaxation! Treat your clients to a moment of peace and tranquility with a thoughtful gift designed to inspire self-care. Think things like…
A

wellness gift

like

The Mindful Moment

(pictured here!). With personal affirmation cards, a soothing candle, and calming tea, this gift will help your client stay centered and present throughout the day.

Give the gift of a spa day without having to leave the comfort of their home! Delight your clients with luxe products like scented bath salts, high-quality skincare, and artisanal soaps. Discover our

collection of Spa Gifts

for more inspiration!

Is your client a meditation lover or wellness guru? Look no further than

The Peace of Mind

, designed to inspire peace and daily mindfulness.
Best Practices for Giving Client Appreciation Gifts
Giving client appreciation gifts is not just about what you give, but how you give it! Here are some best practices to remember next time you're planning to dish out some sweet gifts to clients:
Be Timely and Plan Ahead
If you want your gift to pack a punch, then you need to have a plan! Make sure the gift arrives in a timely manner, especially for special occasions and important milestones. Plan ahead to factor in time for customization and delivery — that way, the gift won't lose its impact.
Consistency is Key
When it comes to client gifting, it's important to be consistent! Don't just do it once and forget about it — instead, consider implementing a regular client appreciation program! You could even use our corporate gifting platform for ongoing gift sends. This way, you can nurture your client relationships beyond transactional interactions and show them you're in it for the long haul!
Keep it Personal
Not only should the gift itself feel personal and relevant to the client, but it's also important to include a personal touch — like a handwritten note to express your appreciation! Be specific about how their support has made a real impact on your business. They'll know it's coming straight from the heart!
Packaging & Presentation
Don't skimp on packaging! This is one of our top client gifting tips for a reason — it can make or break your client gifting experience! Think of the exterior packaging as the "first impression" for your client. It should reflect the value and thoughtfulness of the gift, so you'll want to opt for high-quality materials or even custom branded packaging, which is a great opportunity to show off your brand!
Don't Forget to Follow Up
Don't just drop the gift and run — be sure to keep the good vibes going! Stay in touch with clients by reaching out regularly, shooting them updates, or even toss in some special offers here and there. It's alllll about maintaining a strong connection — that way, they'll be sure to remember your awesome gift.
Written by Torrance Hart. Updated Aug. 2023.
Related Content
5 Tips to Nail Client Gifts
Luxury Corporate Gift Ideas for VIPs
What Makes a GOOD Corporate Gift?