BLOG | CLIENT GIFTING
5 Tips to Nail Client Gifts
Thinking about sending gifts to your clients, but don't know where to start? Learn these 5 quick, easy tips so you can nail the client gifting game! When it comes to giving gifts to your clients, you want to make sure you're getting it right. After all, client relationships are one of the most crucial components to running a successful business! The more you invest in nurturing your client relationships, the more likely your clients will become repeat customers, expand the scope of their projects, and score you that referral!
Gifts are a great way to enhance your overall client experience — not only will they make your client feel all warm and fuzzy, they're an opportunity to show off your company's core values and keep you top of mind throughout the client journey!
But deciding when and what to give your client isn't always so obvious. Luckily, we're here to guide you. Let's break it down:
What makes a good client gift?
It can be overwhelming to decide where to begin when it comes to custom client gifts or to come up with corporate holiday gift ideas — so we've outlined 5 elements to consider when it comes to putting together a gift your clients will love:
#1 The Product Trifecta
#2 Thoughtful Branding
#3 Exterior Packaging
#4 A Personal Touch
#5 Perfect Timing
#1 The Product Trifecta
To really knock your clients' socks off, we recommend following what we call "the product trifecta." The idea is that your gift includes the following products:
One item the recipient can eat or drink right away

One item that is practical and useful

One item that they can keep forever
These three elements are the recipe for a perfect client gift or corporate holiday gifts! Everyone loves getting something to enjoy as soon as they open their gift - which is why cookies, candy, or coffee are great options to include. Then, incorporate something practical that everyone could use — think notebooks or candles! Lastly, include something that they can keep forever. We recommend waterbottles, mugs, or even a cutting board!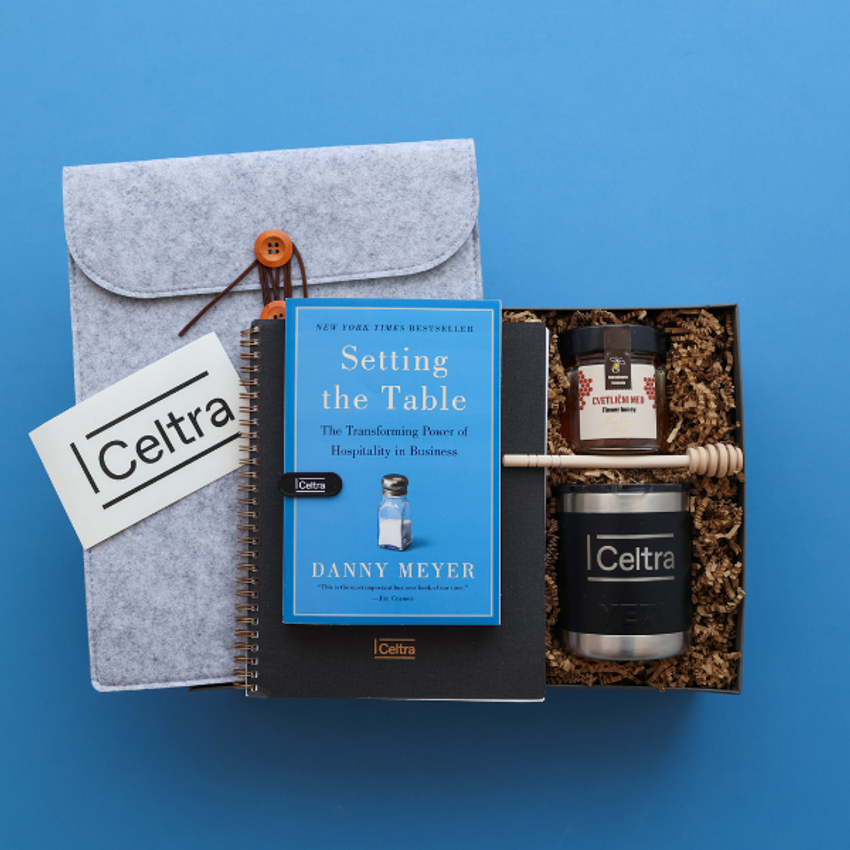 #2 Thoughtful Branding
To brand or not to brand... that is the question! Our customers are always asking about branding best practices. And honestly, it depends! But when it comes to custom client gifts, here's our general rule of thumb: if you're interested in adding your logo to the products within the gift, go for it! But, we suggest sticking to just 1 or 2 products — you don't want to go too overboard, otherwise, it starts to feel like an employee "swag" gift. But definitely include custom branded elements on the exterior of the gift. Which brings us to our next point...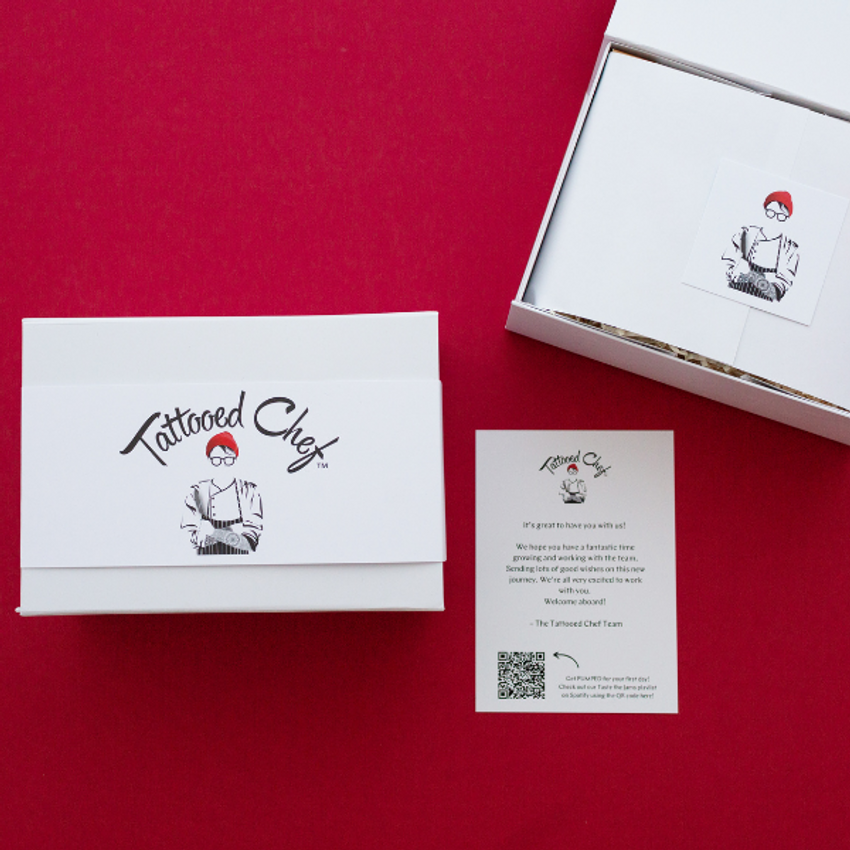 #3 Exterior Packaging
Think of the exterior packaging as the "first impression" for your client — it can make or break your gift! The initial unboxing is a crucial part of your client's gifting experience, so you want to make sure the exterior of the gift is professional and intentional. This is where you definitely want to include your brand elements — the exterior packaging is an opportunity to let your brand shine and show off your attention to detail before the client even gets to the inside of the gift! Check out some of our favorite examples of custom branded packaging.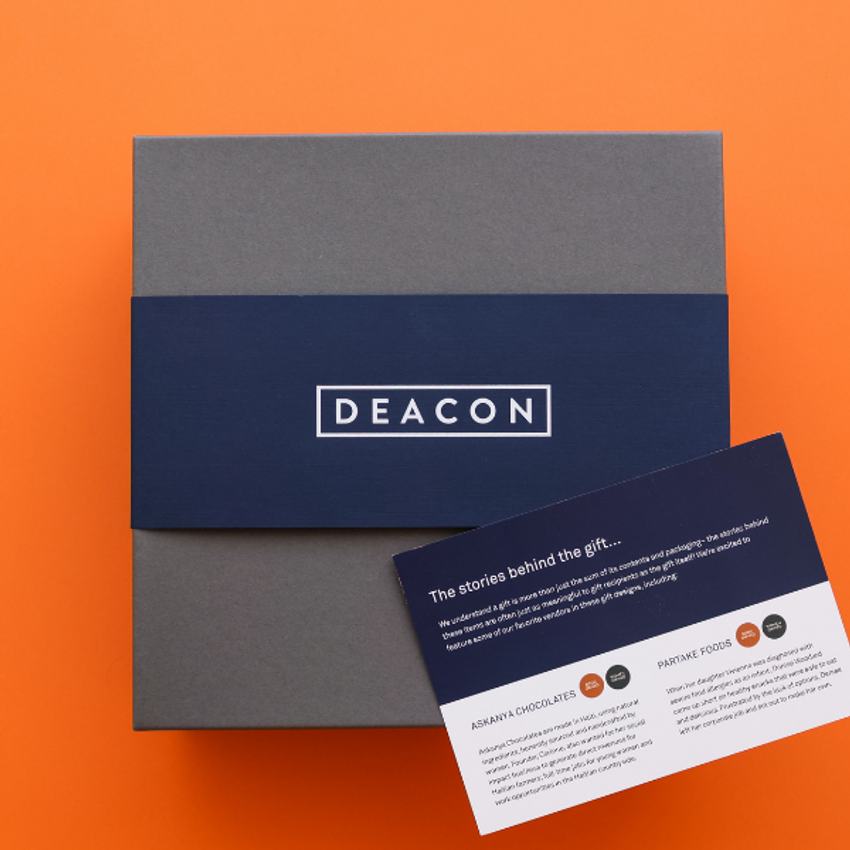 #4 A Personal Touch
Including a card insert with a thoughtful message is ALWAYS a good idea! Use this as an opportunity to make a connection with your client — and don't be afraid to go beyond the basics! Consider including a short note about why your company chose these specific products, share the stories behind the product makers, or even incorporate a QR code that links to your website — or better yet, links to a video of you so you can personally convey your message.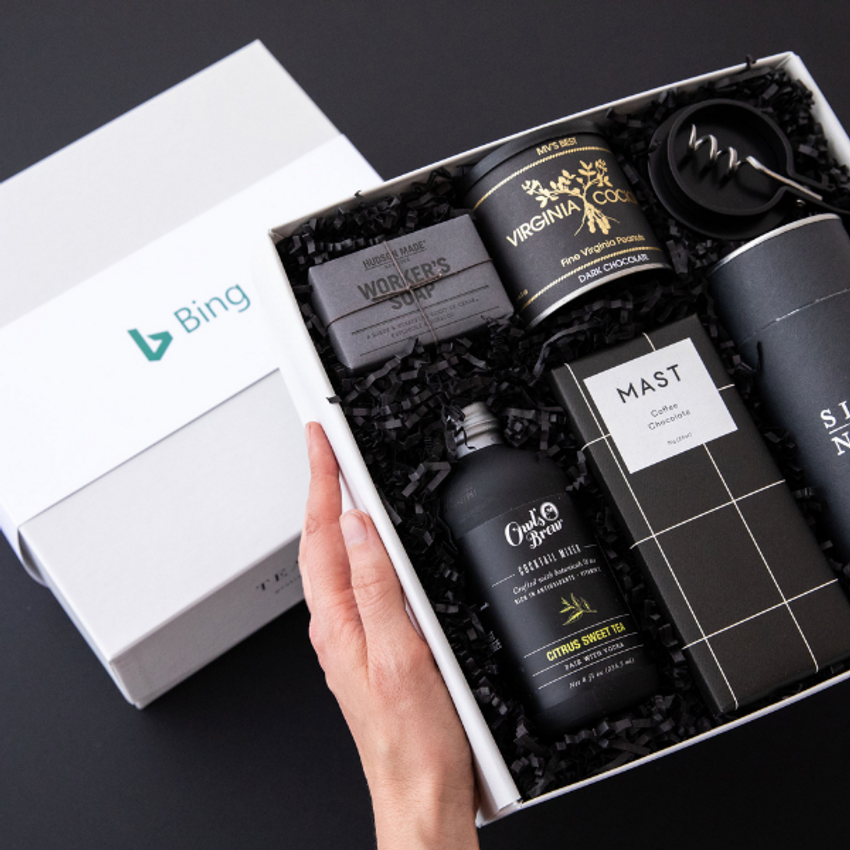 #5 Perfect Timing
It's true what they say: timing is everything. So, when is the right time to give your client a gift!?
There are lots of opportunities for gifting throughout the client journey: prospecting, welcome gifts, onboarding gifts, nurturing, holiday, or professional (or personal!) milestones. But we'll let you in on some insider tips when it comes to timing your gifts:
A lot of companies default to sending

corporate holiday gifts

to their clients only during the holiday season. While we love a good Christmas gift, we actually find that

gifting OUTSIDE of the holiday season

is super impactful! Check out these

summer corporate gift ideas

to send in June, July, and August. And lest we forget,

spring is ripe with corporate gift ideas

, too.

Gift your past clients. Seriously — your past clients are often your warmest leads, and gifts are a great tool to help make sure you don't miss out on low-hanging fruit!
BEST SELLERS
Shop Gifts for Clients
Need a one-off gift for your favorite client? We've got juuuust the thing. Check out our most popular client gifts all year round!
Didn't find what you're looking for?
Shop
All
Gift Boxes
Need a gift for a client ASAP? Shop our collection of ready-to-ship gifts!
SHOP ALL GIFTS
Client Gift Ideas & Examples
Looking for client gift ideas? Take a peek at these real-life examples!
READ MORE
Connect with Our Team
Interested in getting started on your client gifting project? Our Account Managers are here to help!
CONTACT US