BLOG | GIFTING INSPIRATION
Spring Corporate
Gift Ideas for Clients and Employees
Spring is (finally) in the air, and we're here for it! The days are getting longer. The flowers are starting to bloom. And one of our favorite times of the year is upon us: the Q2 holiday season! (Cue the record scratch.)
Wait. What? No need for a vision check — you read that right!
Who said the "holiday season" could be only at the year's end? March, April and May are brimming with reasons to celebrate — and with lesser-known holidays perfect for gift-giving. Our customers regularly tell us that the corporate gifts they send outside the traditional holiday season often leave a more lasting impact.
After all, sending a gift when a recipient least expects it is a surefire way to surprise and delight! What's more, one study shows business gift recipients feel more connected to senders after receiving gifts. And the degree of connectedness they felt increased when the gifts were memorable. Well, memorable gifts are 100% our specialty.
So let's show your gift recipients some love! From the classic to the quirky, here are some of our favorite spring gift ideas for employees and clients!
Spring 2023
Spring Gift Ideas for March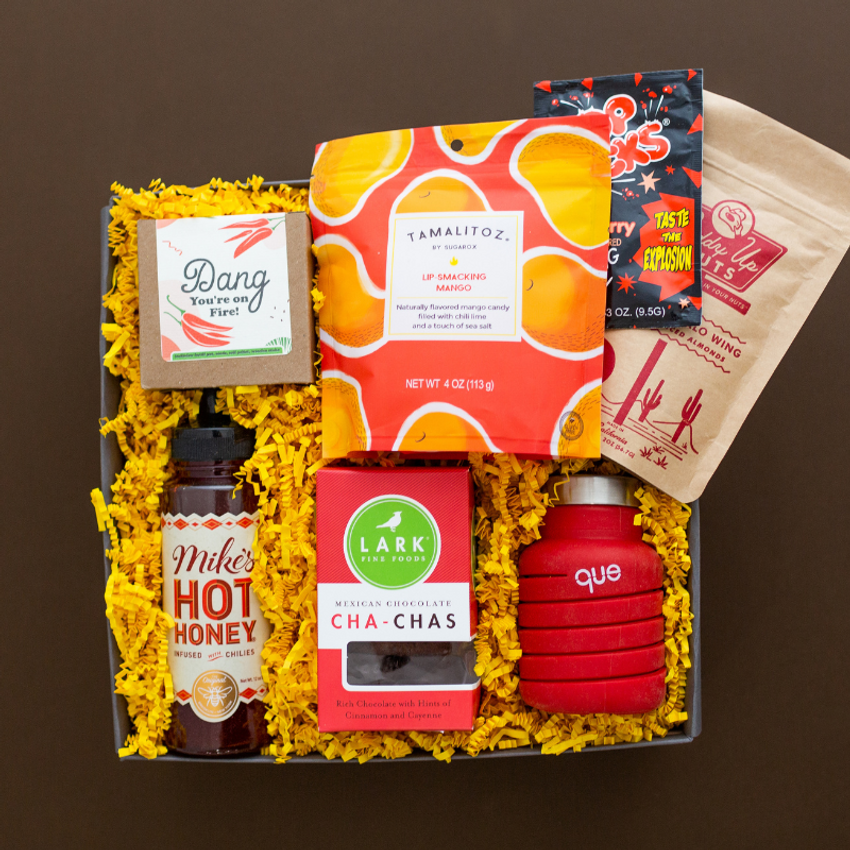 Employee Appreciation Day Gift
Employee Appreciation Day is on Friday, March 4 this year— and it's a top-notch opportunity to let your team know how much you value their hard work.
With that in mind, let them know they're on FIRE this year with a spicy-hot gift!
We're coming in hot with this gift box:
Chili-lime and mango candies by Tamalitoz

Pop Rocks popping candy packet

A bottle of Mike's Hot Honey

A growable praise "Dang, You're on Fire!" plant kit

A collapsible Que water bottle

Spicy nuts by Giddy Up nuts

Mexican Spice Cha Cha cookies by Lark Fine Foods
You can be sure your employees will never forget a nifty gift like this with such a cheeky theme! But if you need employee gifts in a pinch, shop our collection of ready-to-ship employee gifts!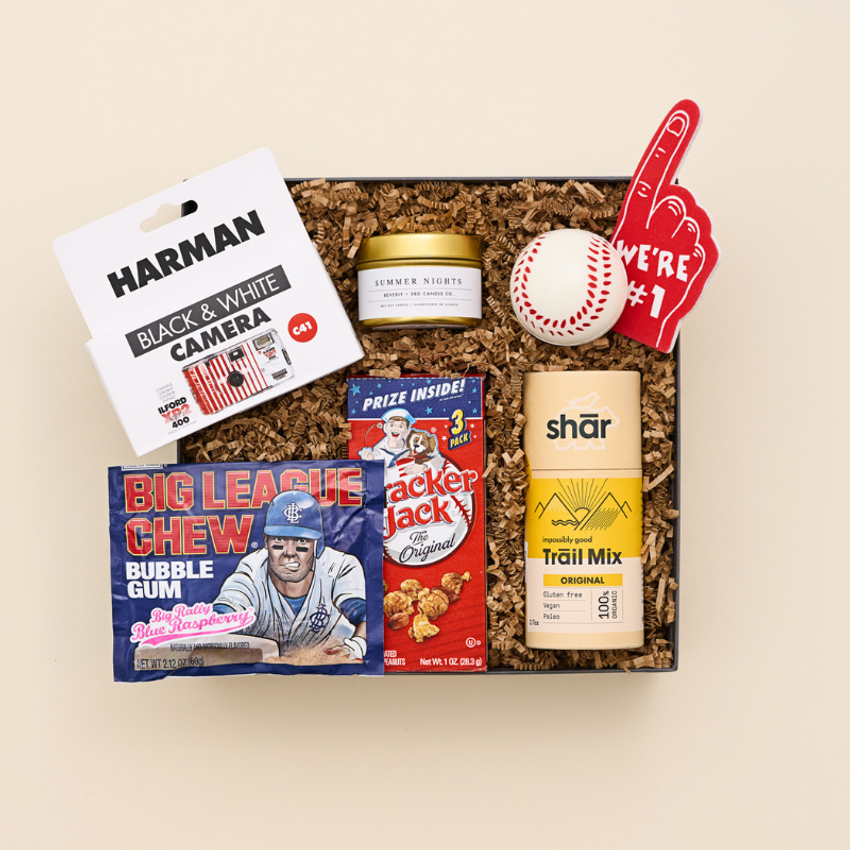 Baseball Themed Gift
Celebrate MLB Opening Day with a baseball-themed gift!
The season kicks off on March 30 this year, which is a perfect excuse to treat clients to a fun gift featuring America's Pastime. After all, what better way to connect and engage with your customers than by rooting on their home team?!
We've done tons of custom corporate gifts featuring baseball themes in the past (you can catch some of them in our photo gallery of past projects). In fact, this theme was requested so often we designed the one pictured here for our Corporate Catalog!
The Home Run gift box is our idea of the perfect game day, complete with:
A disposable camera to capture all the fun
A Summer Nights scented candle
Big League Chew, of course!
A squishy baseball
A foam finger!
Trail mix
Packets of Cracker Jacks
Your recipients will be game-day-ready with this gift!
Spring Gift Ideas for April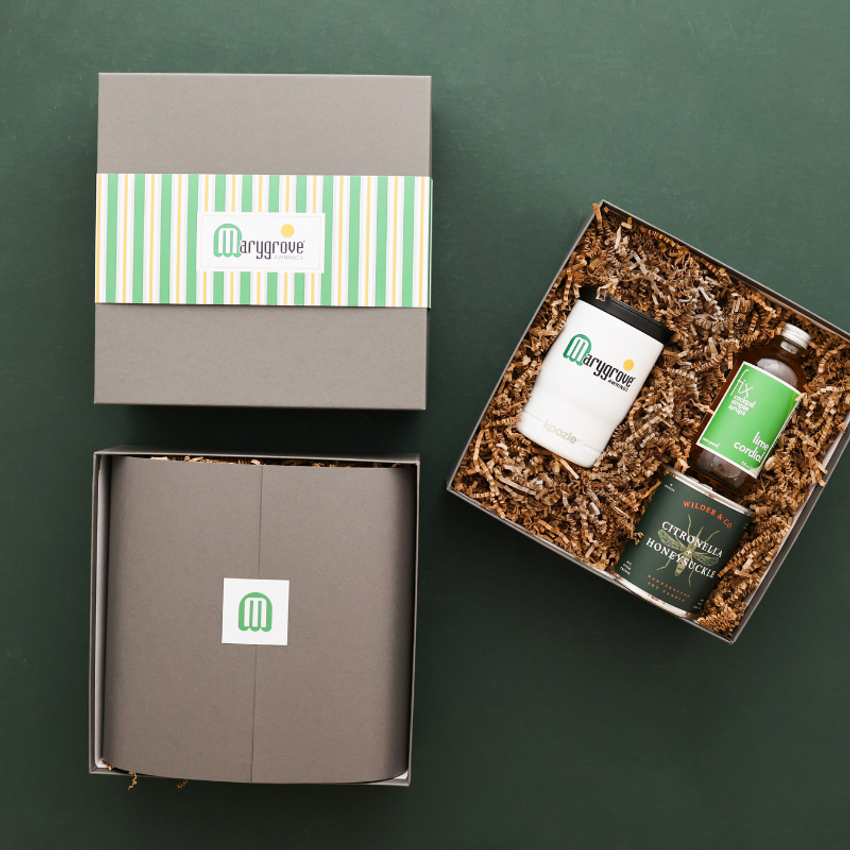 Client Appreciation Day Gift
Think about the last time someone went the extra mile to thank you. It might've been a simple phone call, a shout-out during a meeting, or even a handwritten note. How did it make you feel?
We bet you grinned from ear to ear and felt all those cozy-warm fuzzies. Eh? Are we right?
Client Appreciation Day is the ideal opportunity to pass on that feeling and show customers just how grateful you are for their partnership! This holiday usually falls sometime in mid to late April, so a fresh spring gift design is a great idea!
Unsure where to start? Get inspired by this fun, seasonal gift we designed for the folks over at Marygrove Awnings.
Following tips straight from our client gifting guide, here's what we packed in this gift set:
Custom branded tumbler

Lime cordial for spring cocktails

A citronella + honeysuckle candle
Complete with custom packaging and a thoughtful note, this was the perfect way for Marygrove Awnings to show their clients how much they appreciate them!
Need gifts for your clients in a pinch? Shop our collection of ready-to-ship client gifts!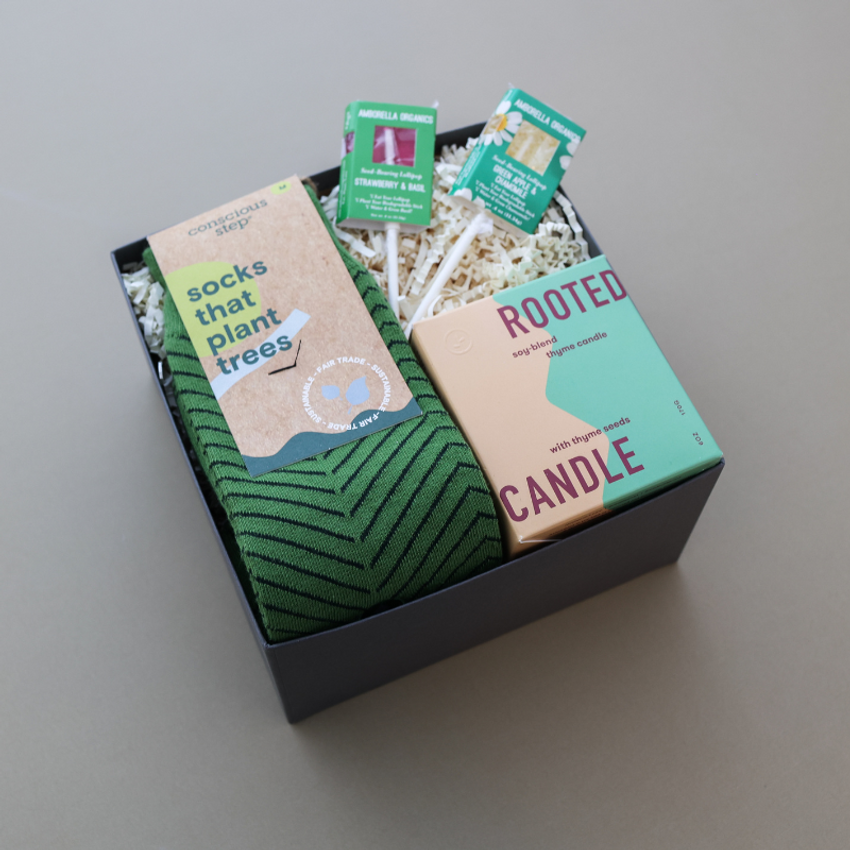 Gifts to Celebrate Earth Day
Loving our planet never goes out of fashion.
We hear from clients all the time about some pretty extraordinary initiatives they're undertaking to go green and pursue eco-friendly business practices. If that's you too, Earth Day may feel like a perfectly natural holiday to build a gifting campaign around!
One of our team's top tips for what makes a good corporate gift is to tell a cohesive, genuine story. And Earth Day is such a great opportunity for that! Your gifts could promote all manner of methods to better Mother Earth:
Practicing recycling

Reducing single-use plastics in day-to-day life

Encouraging recipients to simply get in touch with nature
And we practice what we preach. We work with a wide variety of vendors with aligned values — and have had the opportunity to make some really wonderful Earth Day gifts in the past!
This particular one includes:
Sustainably sourced and ethically made socks by Conscious Step, which donates a portion of every purchase to nonprofits to better the planet.

A Rooted Candle by Modern Sprout, with a ceramic candle vessel that transforms into a planter after the flame burns down (It even comes with seeds so you can reuse the planter to grow herbs and flowers!)

Two seed-bearing lollipops from Amborella Organics (After you finish the lollipop, you can plant the biodegradable stick in soil, cover with a layer of topsoil, water daily and grow an herb or flower.)
Sending Earth Day gifts is also a great way to engage in a larger conversation! You can spark talk about conservation, eco-friendly goals, company culture and more.
Do you have an awesome video about how you're celebrating Earth Day? Would you like recipients to check out your latest sustainability report? Are you eager to spur an online dialogue about going green? That's no problem. Work with our team to get custom gifts and we'll integrate these elements into your gifts for an interactive gifting experience!
Spring Corporate Gift Ideas for May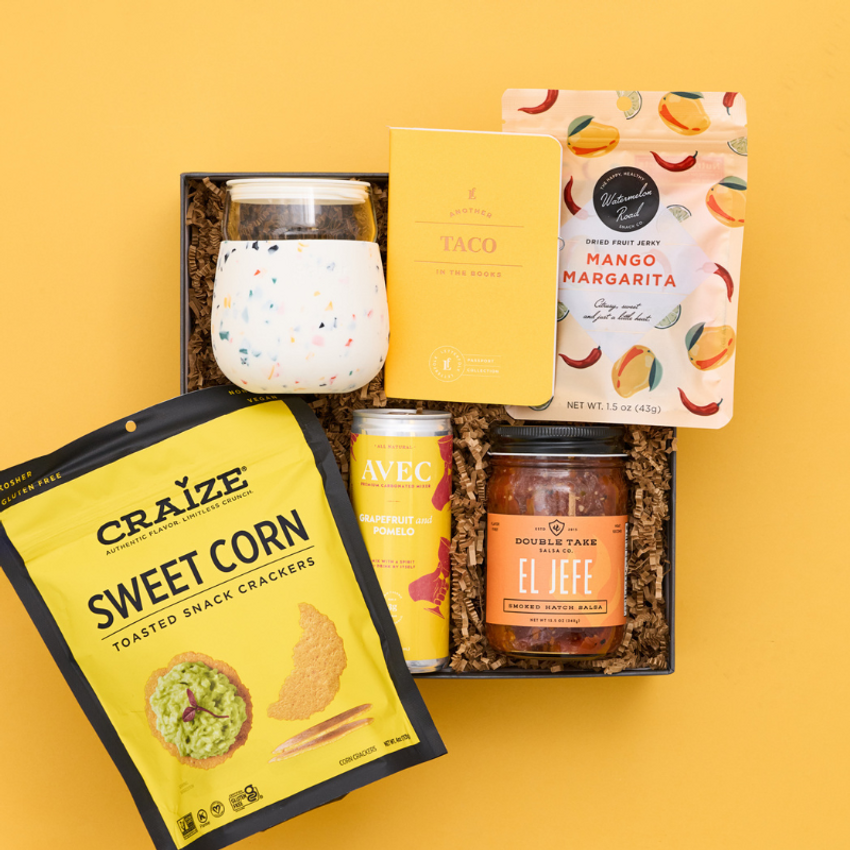 Cinco De Mayo Gift Box
Did somebody say fiesta?!
Celebrate Cinco de Mayo and honor Mexican culture with a fun, fiesta-themed gift!
Whether you go fully custom or pick this gift from our Corporate Catalog, we'd love to help you celebrate in style! This gift, appropriately named The Fiesta, features some of our all-time favorite products like:
A glass mug by W&P Design
Toasted corn chips by Craize
A "Taco Passport" by Letterfolk — to record all your favorite taquerias!
Carbonated grapefruit mixer by Avec Drinks
Mango Margarita dried fruit jerky by Watermelon Road Snack Co.
Small batch salsa by Double Take Salsa Co.
This gift is guaranteed to make recipients salsa their way to a good time!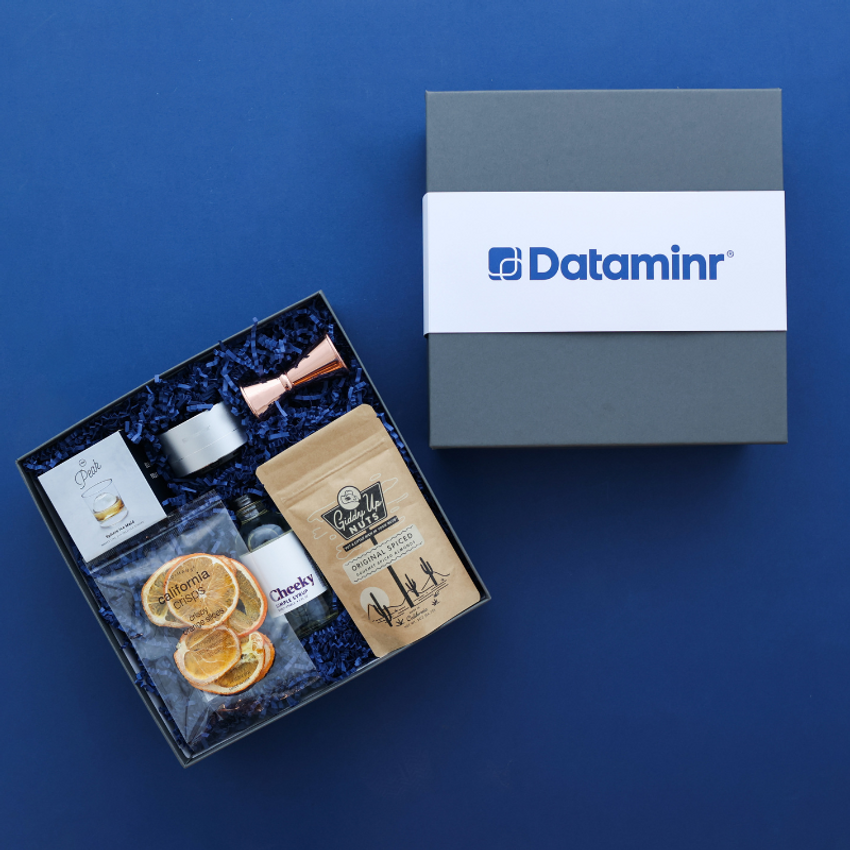 Cocktail Themed Gift
Did you know World Cocktail Day is celebrated on May 13? Well, now you do! Grab a glass and raise a toast to this spirited holiday!
Mull over any recent milestones:
Did your team just polish off a big project?

Is your customer celebrating a big win?

Do you want to just grab a virtual cocktail with colleagues you never get to see in person?
Clients come to us for cocktail (and mocktail — we're flexible) gifts all year long. Without a doubt, this tasty theme is one of our most popular requests. Welp, the people have spoken. They love a good cocktail gift!
Whether you have a thirst for mojitos, margaritas or Manhattans, our team can create the perfect gift box. In fact, it'll leave your recipients wanting to raise a glass in your honor!
Pro tip: Let us help you design a recipe card for your cocktail of choice! That way, your recipients can mix up the tastiest beverage together to accompany their gift.
Get Custom Gifts with Teak & Twine