BLOG | GIFTING INSPIRATION
Fun Corporate Gift Ideas to Send this Summer
Stay top of mind with these fun corporate gift ideas that are perfect for summer! As if this sunshiney season isn't reason enough to celebrate, summertime offers up some of the BEST holidays in honor of our favorite sweet treats. We're talking donuts and ice cream and watermelon! Don't mind us… we'll just be over here indulging all summer long. But we'd hate to be the only ones!
Summer is the perfect time to connect with teams and clients in a creative and colorful way. In a recent study of business gift recipients, 77% of participants say business gifts make them feel appreciated. We're pretty sure nothing says "thanks for being awesome" or "we appreciate you" better than a thoughtfully curated gift box full of unexpected fun! (And if you hold a summer event, please forget the same-old conference swag.)
No need to drive yourself crazy looking for a seasonally-appropriate gift - we put together a list of some of our favorite summer corporate gift ideas that are perfect for June, July, and August! Sure, some of them are a little "outside of the box," but who says business gifting has to be boring?!
Ready to raise a rootbeer float (or a watermelon margarita) to your favorite clients or employees this summer? Let's dive in!
Joy-Filled Gift Ideas for June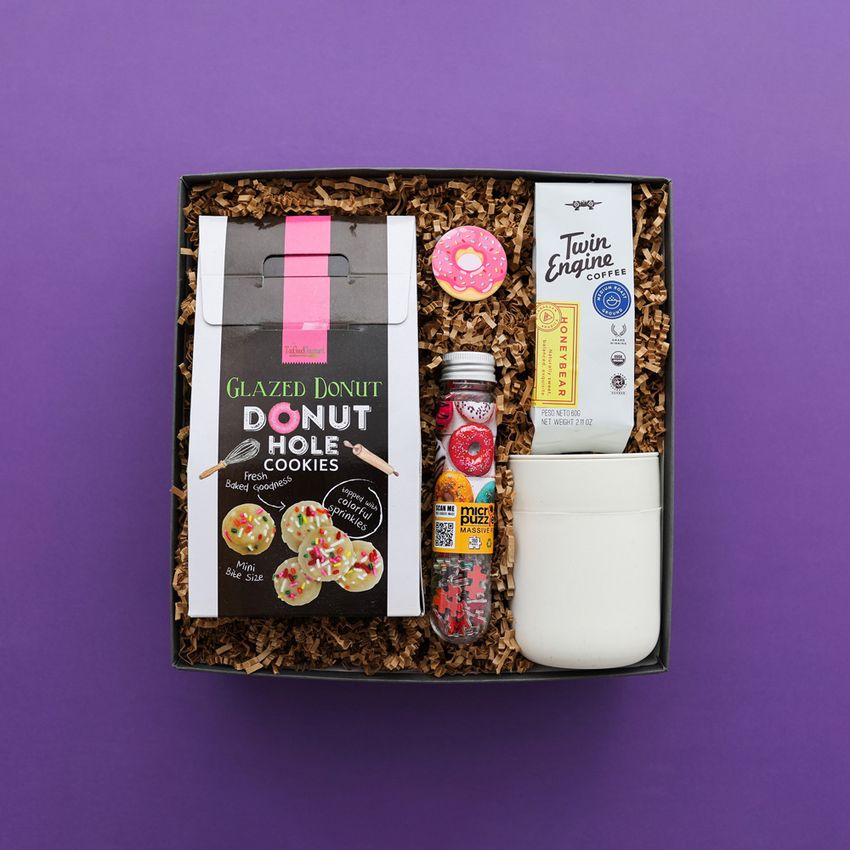 June 3: National Donut Day 🍩
We're alllll about this day that celebrates everyone's favorite breakfast treat! I mean, who wouldn't love to receive a donut-themed gift box?!
We may be partial to a classic glazed donut around here, but if jelly-filled dipped in chocolate with sprinkles on top is your thing, go for it!... And then, let us help you treat your team or clients to a donut-themed gift that will leave them thinking you're the best gift-giver around!
Want a peek at our secret recipe for the best donut-themed gifts? We start with some donut hole cookies and a cup of coffee for dunking, of course! Then, add in a donut puzzle and donut pop-socket for a sprinkle of delightful fun. Definitely do-nut forget about this sweet holiday!
June 18: World Juggling Day 🤹‍♂️
World Juggling Day is the perfect holiday to send a gift to the people who are juggling it all! Let's be honest: isn't that everyone these days?!
Of all of the holidays to celebrate during the summer months, World Juggling Day might just be the most obscure… which is also why it might just be our favorite corporate gift idea! From our experience, the most unexpected occasions for gift-giving are the ones that end up making the biggest impact—especially when they are as FUN as World Juggling Day!
It's the perfect opportunity to inspire childlike fun, laughter, and distraction from the everyday grind. We can hear your recipients' oooohs and ahhhhs and belly laughs from here, as they try their hand at an old circus trick! Plus, who will ever forget opening such a clever and unique gift?!
You're sure to receive the BEST responses from your recipients. We just wonder who will enjoy this gifting experience the most, you or your recipients? It's a toss-up!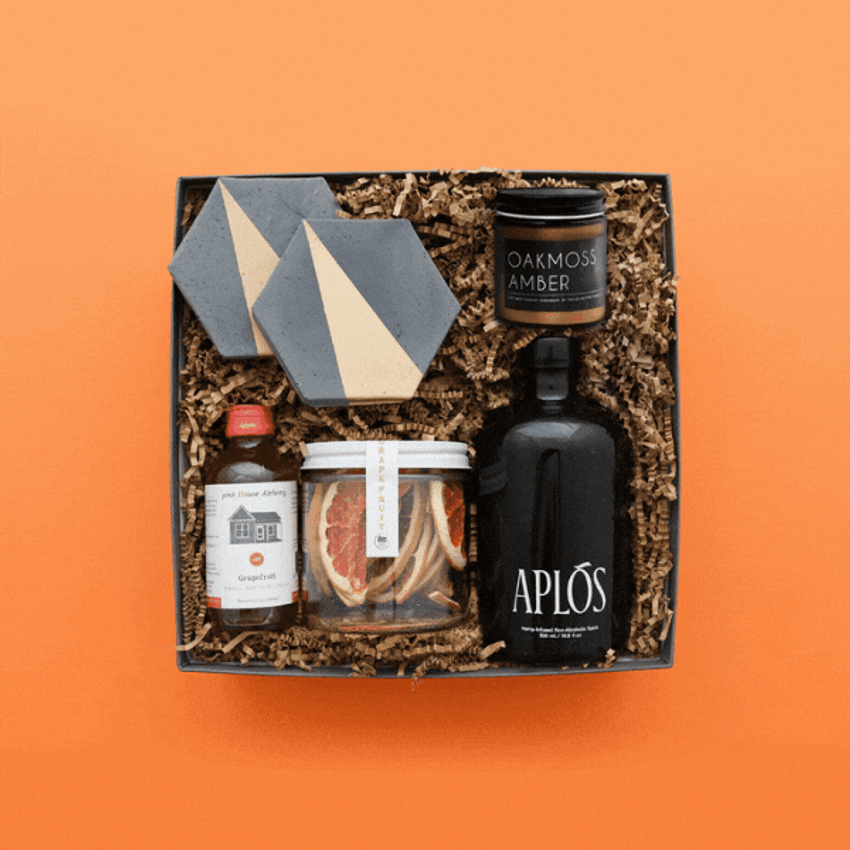 Celebrate Pride Month 🏳️‍🌈
LGBTQ+ pride is celebrated every year during the month of June. This year, we celebrated by launching our own Pride Collection, which features beautifully curated gifts with 100% of the products sourced from LGBTQ+ makers. Supporting great small businesses is really important to us here at Teak & Twine, so finding more ways to support LGBTQ+ makers was a big goal for us this year.
Pride Month is a great opportunity for companies to show their support and inclusion of the LGBTQ+ community, especially in the workplace. It's been such a popular request from our clients that we added all of our Pride gifts to our Corporate Catalog!
Looking to shop from the collection?
The Perfect Gift to Cool Down in July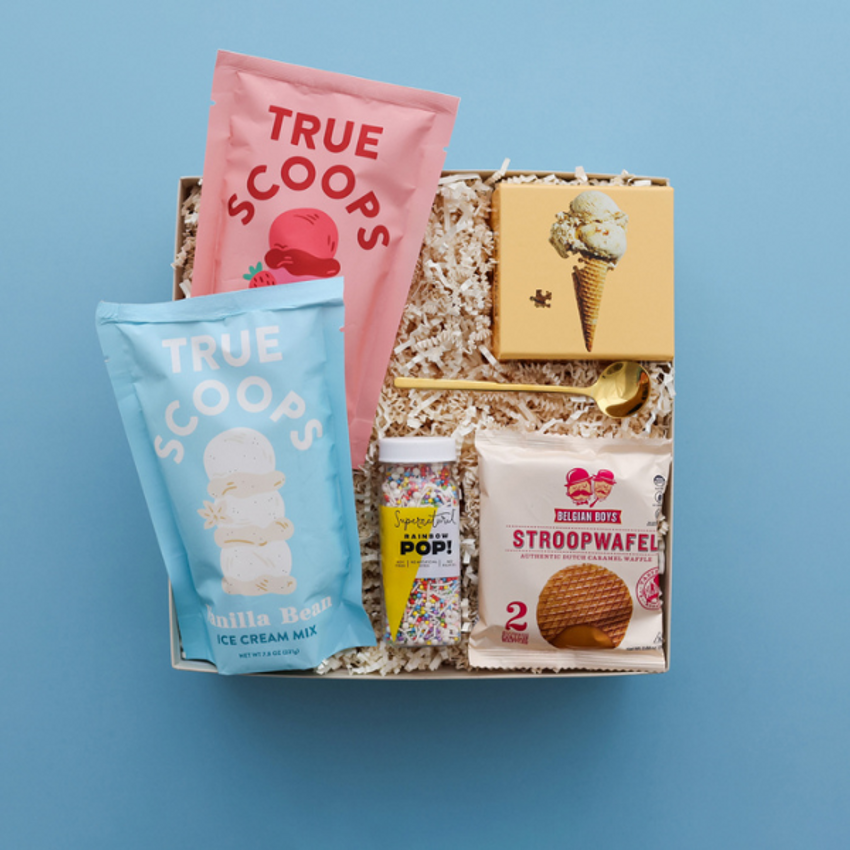 July 17: National Ice Cream Day 🍦
Nothing screams summer louder than a big bowl of ice cream. So, what better excuse to send a summertime gift than National Ice Cream Day?! Sprinkle in a little bit of fun for your employees by hosting an ice cream social, or surprise your clients with this perfect summertime treat to enjoy in their own backyard!
Whether you prefer a classic strawberry cone or a sundae with allllll the fixings, one scoop or two (or three, or four!), our team can help you dish out the perfect ice cream-themed gift box that will surprise and delight your recipients this summer.
Pro tip: We could always add a custom ice cream scoop with your company logo to a gift like this. Talk about a great way to stay top of mind with your recipients as they dig into fresh pints all summer long!
Shop this gift!
A Juicy Gift Idea for August
August 3: National Watermelon Day 🍉
Let's be honest, things can get prettttty quiet around the office and in your inbox in August. All the more reason to take a chance to really stand out with a thoughtful gift!
One of our favorite summer holiday gifts is for National Watermelon Day! If your recipients are anything like us and enjoy watermelon for breakfast, lunch, and dinner during the summer, there's no way they won't love a watermelon-themed gift box!
From delicious cocktails and candies to silly socks and bright water bottles, National Watermelon Day is ripe with opportunities for a fun and refreshing late-summer gifting campaign.
When was the last time you received a gift in August? If we had to guess, we'd say never. One of our favorite tips on what makes a good corporate gift is to think outside of the holidays because it's the PERFECT time to create a super-memorable gifting experience. Your recipients may be expecting to receive a gift from you during November or December, but you'll knock their (watermelon) socks off with such a novel surprise in August.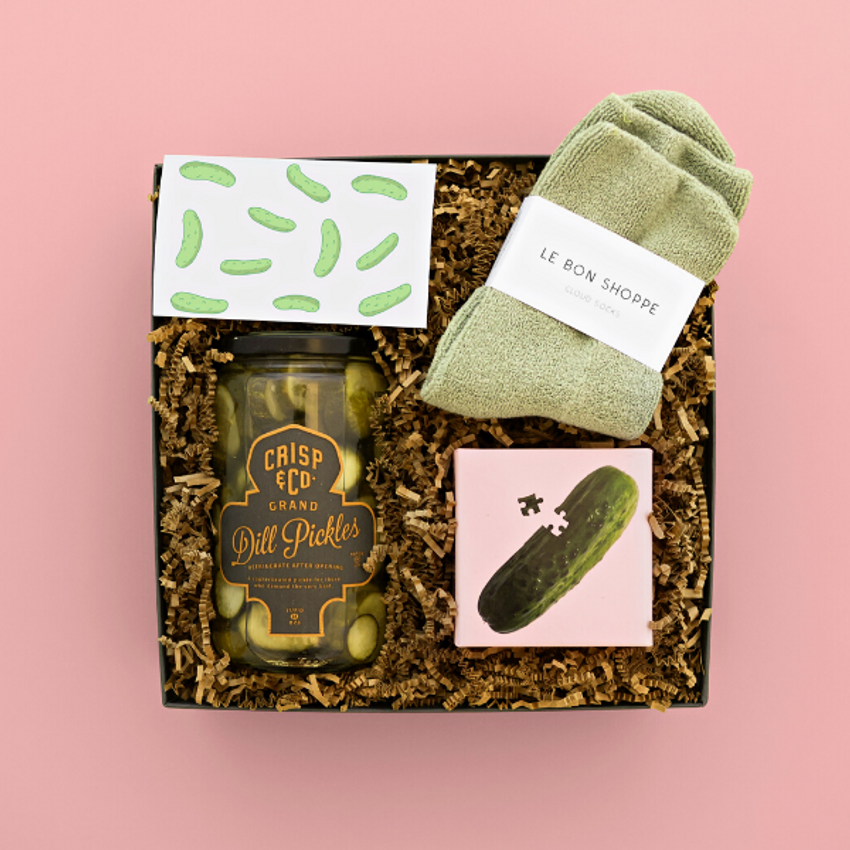 In a Pickle? 🥒
While this gift idea isn't tied to a holiday (and isn't even just for summer!), we loved it tooooo much not to share. And let's face it: we've all found ourselves in a pickle at some point in the past couple of years!
Maybe your team recently helped you out of a pickle. Or perhaps you want to thank clients for their patience while you were in a pickle. Either way, this gift idea is a playful way to acknowledge that we all find ourselves in difficult situations sometimes!
So why not thank your employees or clients with a pickle-themed gift? Start with your favorite jar of pickles, add in a fun pickle puzzle (try saying that three times fast!), and top it off with some quirky pickle stickers!
This is a great gift that's sure to evoke a laugh AND leave a lasting impression. It's a little sweet, a little salty, and loads of fun!
LET'S WRAP IT UP
Summertime Gifts are Always a Good Idea
We love helping our clients kick butt all year long! That's why so many of our customers come to us for help combatting the summertime lull.
A fun gifting campaign is a surefire way to stay top of mind over the course of June, July, and August - making your clients much more likely to reach out when it's back-to-business in the fall.
A Little Bit About Teak & Twine
We're a team of gifting pros dedicated to thoughtfully designed gifts for all kinds of occasions and celebrations!
Our curated gift boxes are filled with high-quality products from tons of small businesses and are packaged to perfection! Looking for a gift to send right away? Shop from our ready-to-ship collection, or design your own gift.
Need custom corporate gift boxes or corporate holiday gifts for a conference, event, or marketing campaign? Searching for unique gifts for your clients, executives, or employees? You've come to the right place! From product sourcing to custom branded packaging to shipping and fulfillment, we do it ALL.
To get started on your next gifting project, click below to connect with a member of our team!
Related Content
Popular Gifting Trends for 2023
35 Unique Corporate Gift Ideas
Creative Gifts for Corporate Events