Blog | Corporate Gifting
The 3 Greatest Corporate Gift Sends of All Time
For nearly a decade, we've been sending corporate gifts and swag on behalf of hundreds of amazing companies like Salesforce, Google, and The New York Times. We're proud to have been a part of soooo many awesome gifting campaigns — and now, we're going to tell you about our top three most successful gift sends of ALL TIME.
In this blog post, we're getting into the nitty-gritty details of why these three corporate gift sends were particularly unique and successful. Not only did these gifting experiences spread joy and gratitude, but they helped our clients achieve their goals and leave a lasting impression.
So, if you want to learn all the insider secrets of the greatest corporate gift sends, keep on reading! And hey, maybe you'll get some inspiration for your next gifting campaign!
Custom Swag for New Hire Kits
When we think of our greatest corporate gift sends ever, Cognizant is one of the first that comes to mind. A renowned tech and consulting company, Cognizant came to us in search of a corporate gifting company to partner with to help them send swag and gifts to thousands of employees throughout the year — and we were happy to help!
First up on the agenda was to help them send 5,000 custom swag boxes to their new hires. Working closely with the onboarding team at Cognizant, we understood their three key requirements in order for this gifting partnership to be successful: 1) ordering in bulk, 2) a seamless shipping experience, and 3) branded packaging. Check out the video below to hear all about it!
So, here's how we made it happen! First, we offered Cognizant a monthly storage plan for their gift fulfillment needs. By choosing this option, they were able to order their entire annual quantity of inventory upfront. Ordering in bulk not only helped them cut costs on order minimums, but also made it possible for our fulfillment team to have their gifts ready to go whenever Cognizant needed them.
Next, our operations team was dedicated to making this a seamless shipping experience for the folks over at Cognizant. They began a super simple process where Cognizant simply provided a weekly CSV with all their new hire information. From there, our team handled the entire process, from order fulfillment to tracking and delivery. This means that the team at Cognizant could focus on the employee experience while we handled alllll the logistics on our end. Who knew corporate gifting could be so easy?!
Lastly, we understood how important high-quality branded packaging was to Cognizant. They really wanted these gifts to make their new hires feel excited and proud to be joining their company. Since custom branded packaging is totally our thing, we were happy to work closely with their team to come up with a killer custom packaging suite featuring their company logo, colors, and messaging.
We're allll about that WOW-factor and making a truly memorable unboxing experience for recipients — especially for new hires! Not only do these gifts make a positive first impression, but they also foster a true sense of belonging.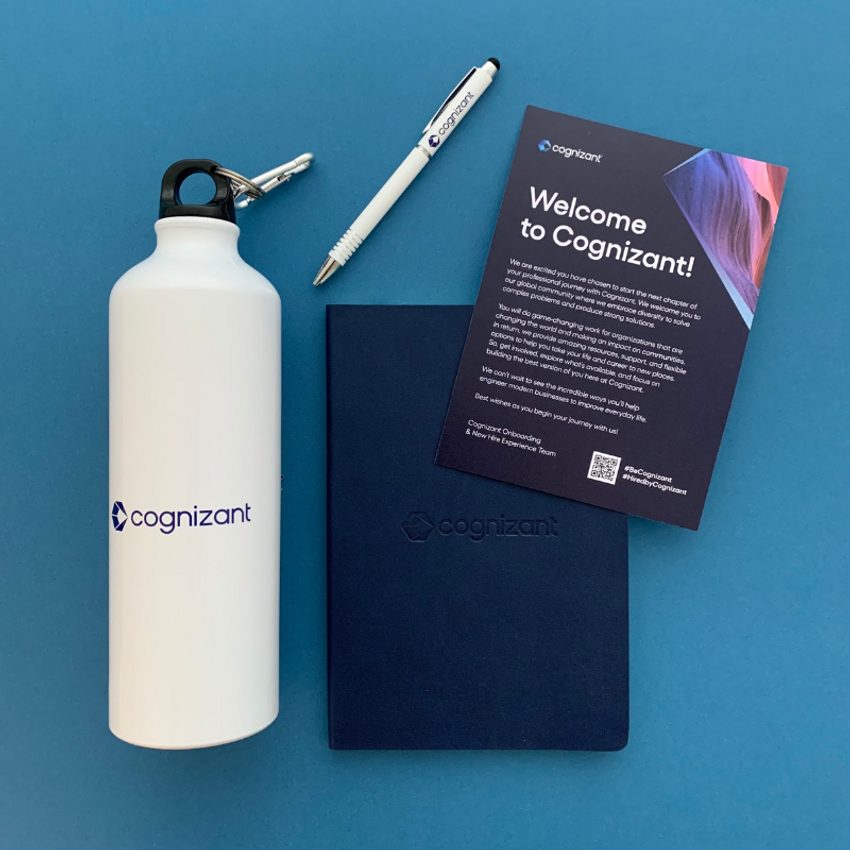 New Hire Swag for Tech Employees
CLIENT: Cognizant
OCCASION: Employee Onboarding
RECIPIENTS: New hires
QUANTITY: 5,000+ swag packs
DATE: Ongoing
CLIENT'S KEY REQUIREMENTS: ✓Ordering in bulk ✓Seamless shipping ✓Branded packaging
Fast forward to now, and it's been over a year since we started working with Cognizant. It's true what they say — time flies when you're having fun! This gifting campaign has been hugely successful, and is still ongoing — we're proud to have sent thousands of gifts on their behalf.
So, what's the secret? How did this end up becoming one of our greatest corporate gift sends of all time? It all comes down to how easy we made this process for Cognizant. Employee gifts shouldn't feel like a chore, but without the right corporate gifting partner, it definitely can feel that way! Our team is dedicated to making Cognizant's new hire swag campaign a hassle-free experience from start to finish. Communication is seamless, the logistics are taken care of, and our team continues to promptly fulfill their gifts on a weekly basis. It's a win-win!
Fun and Unique Employee Gifts
The next company gift send that comes to mind is a super fun project we did with Vendr, a super successful SaaS company that is absolutely crushing it!
They got in touch with us after hitting a HUGE company milestone — they closed their Series B funding round with $150 million and a $1B valuation, achieving "unicorn status" as a startup.
Naturally, they were in need of some unicorn-themed gifts to celebrate! So, we were ready to help the Vendr team really bring the fun. They needed 250 gifts to send to their employees located all over, and they had three non-negotiables for this gifting campaign: 1) they wanted the gifts to be unique, memorable, and on-brand 2) they needed all of the gifts to be sent at the same time so all 250 employees could celebrate that milestone together, even though they are remote and 3) they needed one-on-one support for the design process to be easy and seamless. Get even more details in the video below!
So here's how it went down: first things first, this gift design was a crucial aspect of making sure this was a success. Working closely with the Vendr team, we understood the importance of maintaining their brand identity while also creating a magical gifting experience that their employees would never forget. Our team sourced branded products and other unicorn-inspired items to surprise and delight the Vendr team. We also designed custom branded packaging to create a cohesive, on-brand experience.
Next up: shipping gifts. It's true what they say, timing is everything. Vendr wanted to be sure their employees could share in this celebration together. After all, it's super important to maintain employee engagement, especially when employees are remote. Our fulfillment team coordinated a meticulous delivery process that made it possible for all Vendr employees ton receive their gifts on time, created a synchronized celebration across the company. Needless to say, their company Slack channel was blowing up with pictures of their surprise unicorn gifts!
Lastly, we are alllll about that good, old-fashioned customer support. We pride ourselves in our customer service that is all about one-on-one communication so that every gifting experience is seamless from start to finish. Vendr worked with Kris, their dedicated Account Manager, every step of the way to bring their unique vision to life. The result? One of the greatest corporate gift sends of all time! These gifts were so unique, so unforgettable — in fact, Vendr says that even over a year later, their team is still talking about these unicorn gifts!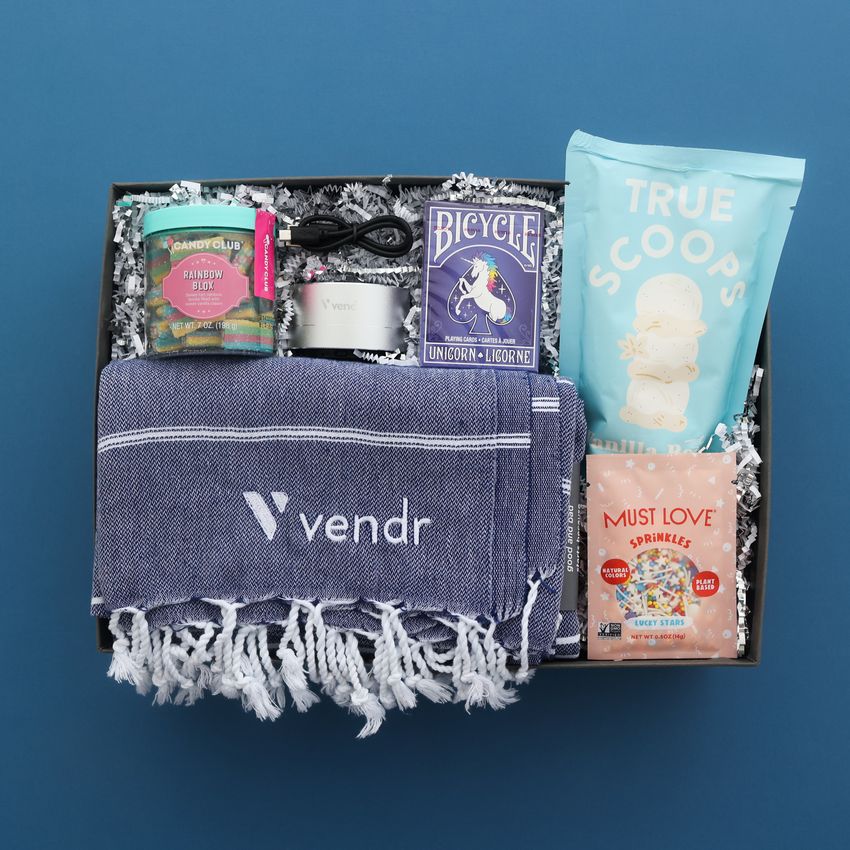 Celebrating a Company Milestone with Employee Gifts
CLIENT: Vendr
OCCASION: Funding Round Celebration
RECIPIENTS: Employees
QUANTITY: 250 custom gift boxes
DATE: June 2022
CLIENT'S KEY REQUIREMENTS: ✓Unicorn-themed gifts ✓Meticulous delivery ✓One-on-one support
We loved this project because it was all about celebrating success at work, improving employee engagement, and, most importantly, having fun! Not only were these unicorn-themed employee gifts clever and unique, but they also fostered a sense of community and pride in their company. This shared experience leads to conversations, connections, and camaraderie — it's something that the Vendr team will never forget (and neither will we!)
Tech Options to Easily Send Gifts
Our last honorable mention goes to Zendesk, the leading customer service software company. We've had the privilege of working with Zendesk on dozens of gifting campaigns over the years. But one of our most successful gifting sends of all time was for one of their recent company events!
Zendesk was gearing up for a major product launch event, and they needed registration gifts that would create some hype for their customers. They wanted more than just cool company swag; they wanted show-stopping keepsakes that would build anticipation and make a lasting impression. They had three key requirements for this to be a success: 1) they wanted fun celebration gifts that would create hype for their launch, 2) they needed an easy way to collect recipient addresses, and 3) they needed a quick fulfillment and shipping process in order to get these gifts sent out in time for their event!
Here's how it went! First things first, we needed a gift that brought the fun — but we didn't have a lot of time to source products and build a fully custom gift. Luckily, we had juuuust the thing available in our Corporate Catalog: The Toast, one of our all-time bestsellers! The ultimate celebration gift, this luxury corporate gift is perfect for creating excitement and building anticipation among Zendesk's customers. Plus, it's filled with high-quality keepsakes that they can actually use and enjoy! Of course, we topped it off with branded packaging and a custom card insert to build the hype around the product launch.
So, how about that pesky address collection? Well, our Gifting Portals make it easy to send gifts even when you don't have your recipients' address organized in a CSV file. Instead of having to track down hundreds of addresses, we simply created a custom Gifting Portal for Zendesk to share with their customers via email. All they have to do is click the link and enter their shipping details — we handle the rest! This was SO quick and easy that we actually saw the Gifting Portal sell out not once, but twice in the same day! It's safe to say Zendesk's mission to create a buzz about their event was a success!
Lastly, it was super important to the team at Zendesk that these gifts were ready to be shipped out right away so that their customers could receive them before the product launch. Working on a quick turnaround time, our fulfillment center was prepped and ready to assemble, process, and ship hundreds of gifts for Zendesk. Easy-peasy!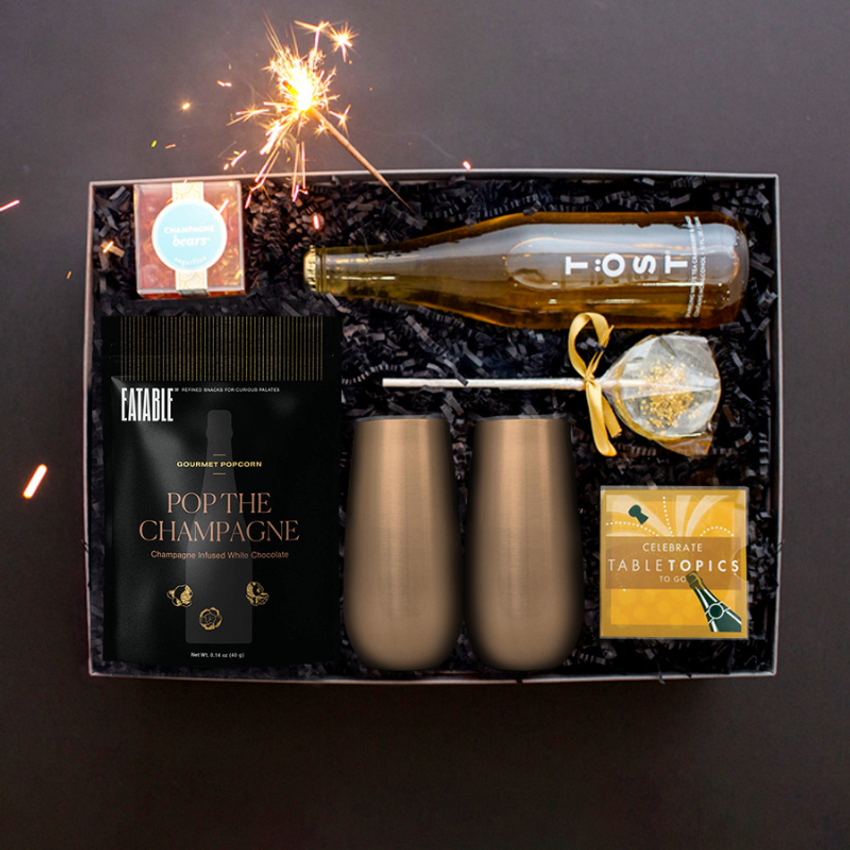 Event Gifts for Product Launch
CLIENT: Zendesk
OCCASION: Product Launch Event
RECIPIENTS: Customers
QUANTITY: 500 custom gifts
DATE: April 2023
CLIENT'S KEY REQUIREMENTS: ✓Help with address collection! ✓Quick fulfillment and shipping ✓A celebratory gift everyone will love
So, we've walked you through some of the greatest corporate gift sends of all time! Let's be real — it's all about creating those unforgettable moments. These stories aren't just about handing out stuff; they're about making connections, creating memories, and making gifting a breeze for everyone!
From Cognizant's new hire swag, to unicorn-themed gifts with Vendr, to tech solutions with Zendesk — we keep things easy-peasy for everyone. No fuss, just clear communication, smooth logistics, and really awesome gifts that people love!
As you gear up for your own corporate gifting journey, remember it's all about those personal touches, staying true to your brand, and keeping things running like a well-oiled machine. Your next gifting campaign can be just as awesome — contact our team and let's make it happen!
Here's to your next corporate gift send, and may it be your greatest one yet!
Written by Torrance Hart. Oct. 2023.
What Makes a Good Corporate Gift?
Why You Need a Company Swag Store
Gift Ideas for Corporate Events