BLOG | EMPLOYEE GIFTING
Awesome Employee Gift Ideas for 2022
Is your team the best around? Heck yeah they are!
First of all, they've got you. And since you've made your way to this blog post, that probably means you're doing some research into getting some gifts for your employees. So you're already cooler than a lotttt of other bosses. Just sayin'.
Second, your team is totally killing it — and that deserves to be celebrated!
But before you start planning a pizza party, we wanted to let you in on a little secret: your employees do not want a pizza party. It's true. They also don't want a "swag bag" full of branded stuff leftover from that 2020 conference that never happened. Sorry, not sorry.
So, what DO employees want?
We're so glad you asked! We're sharing a few of our favorite employee gift ideas that we've brought to life for tons of awesome companies looking for ways to show their team appreciation in a unique, thoughtful way.
Check out these employee gift ideas, learn why employee gifting is important (and what's in it for you), and get expert tips on employee gifting "do's and don'ts." Ready? Let's jump in! 👇
9 Awesome Employee Gift Ideas
Get inspired for your next employee gifting project with these fun, unique gift ideas!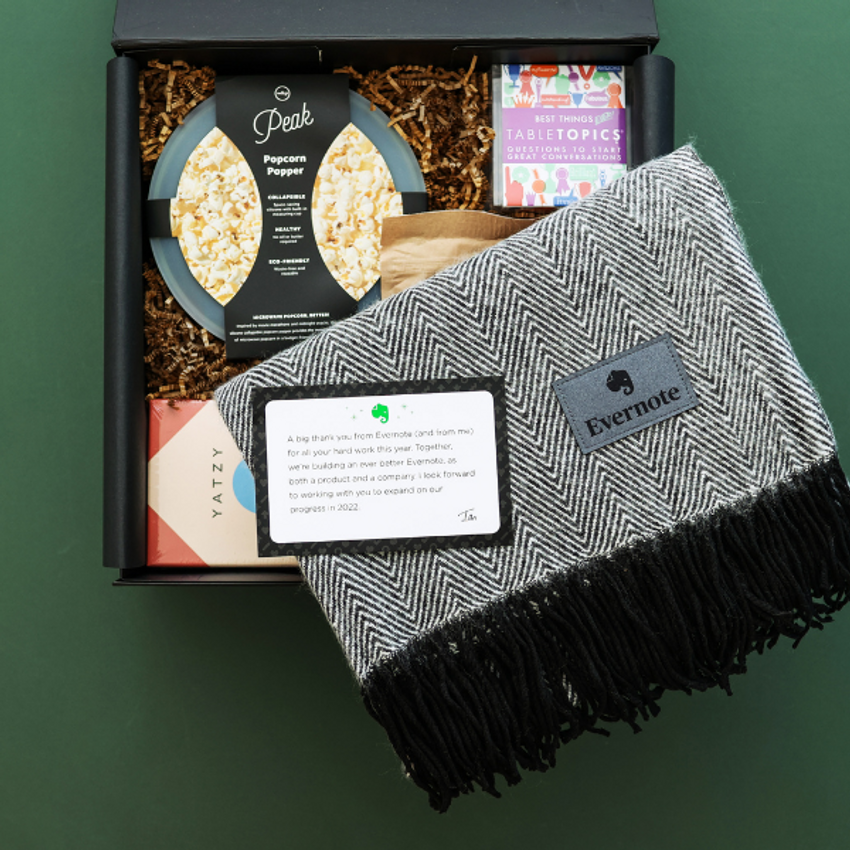 Gift Idea #1: Movie Night
Holiday Gifts for Evernote
We loved creating these awesome corporate holiday gifts for Evernote's employees this past Christmas! They wanted alllll the cozy vibes so we designed this fun gift filled with everything you need for a perfect winter night in: Table Topics, a popcorn kit, Yatzy, and a lush herringbone blanket featuring the Evernote logo. Complete with a branded insert including warm wishes from the CEO, this is one of our FAVORITE corporate holiday gift ideas!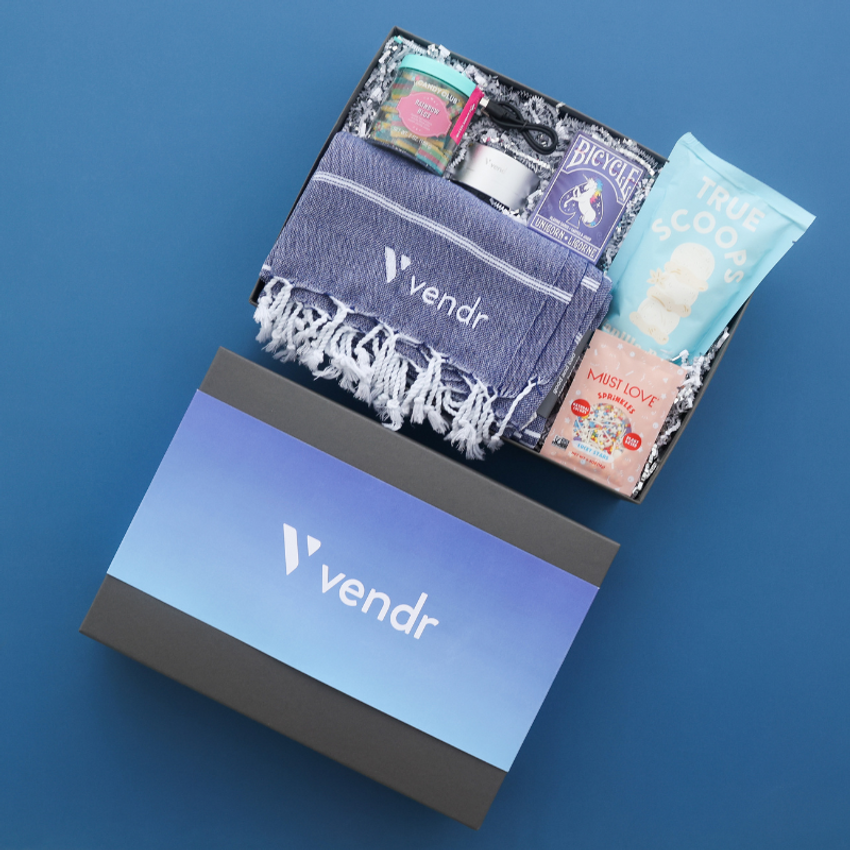 Gift Idea #2: Magic
Magical Unicorn Gifts for Vendr
Vendr, a SaaS company based in Boston, MA recently achieved unicorn status with their $150 million Series B funding round and reaching a $1 billion valuation! 🎉
Naturally, the Vendr team needed unicorn-themed gifts for the occasion! And when they approached us with this whimsical project in mind, we could hardly wait to bring these gifts to life. What better way to celebrate such a magical achievement with your employees than with gifts that are totally out of this world!?
But hey, maybe unicorn-themed gifts aren't really your thing. That's cool! Just keep in mind that no theme is out of reach — and our team would love to help bring your gifts to life! Learn more about what it's like working with us.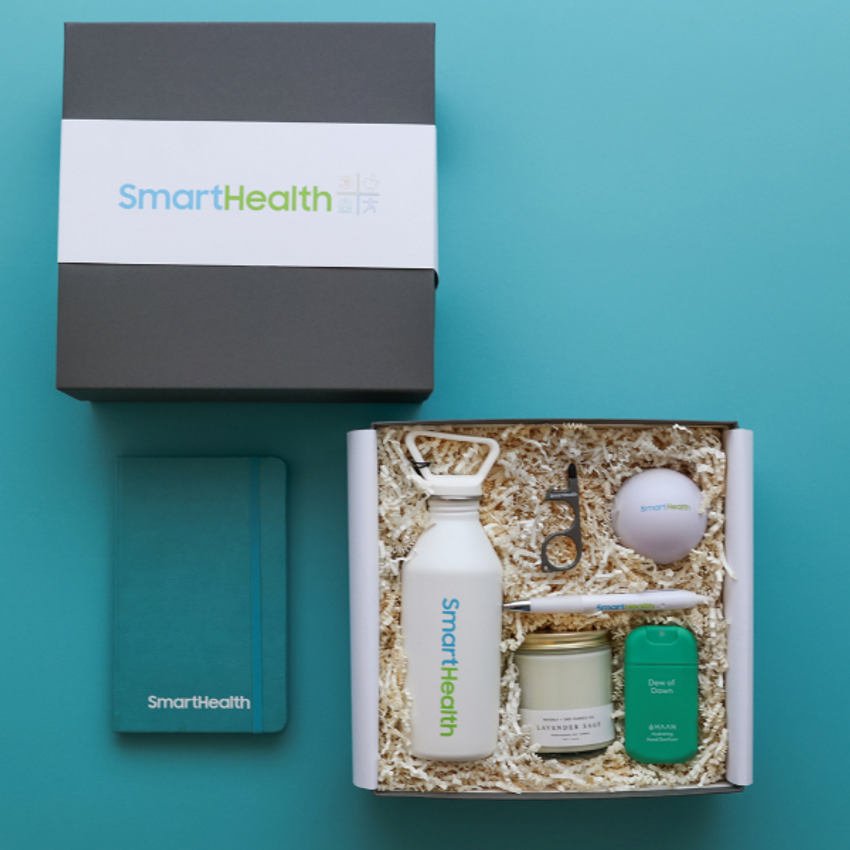 Gift Idea #3: Self-Care
Employee Wellness Gifts for Samsung
Samsung believes their employees' health and well-being are crucial to the company's overall success. They have a top-rated employee benefits program, SmartHealth, which offers comprehensive healthcare, flexible schedules to maintain work-life balance, financial wellness plans, and generous family-first benefits.
One of the most popular gift box trends right now, wellness-themed gifts seemed like an obvious choice! So our team created these beautiful wellness gifts for Samsung's team members to help promote interest and employee engagement in the SmartHealth program. The gifts included items like a custom journal, a branded Miir water bottle, a candle by Beverly & 3rd, and a few other items to inspire mindfulness.
Looking for something similar?
SHOP THE WELLNESS GIFT BOX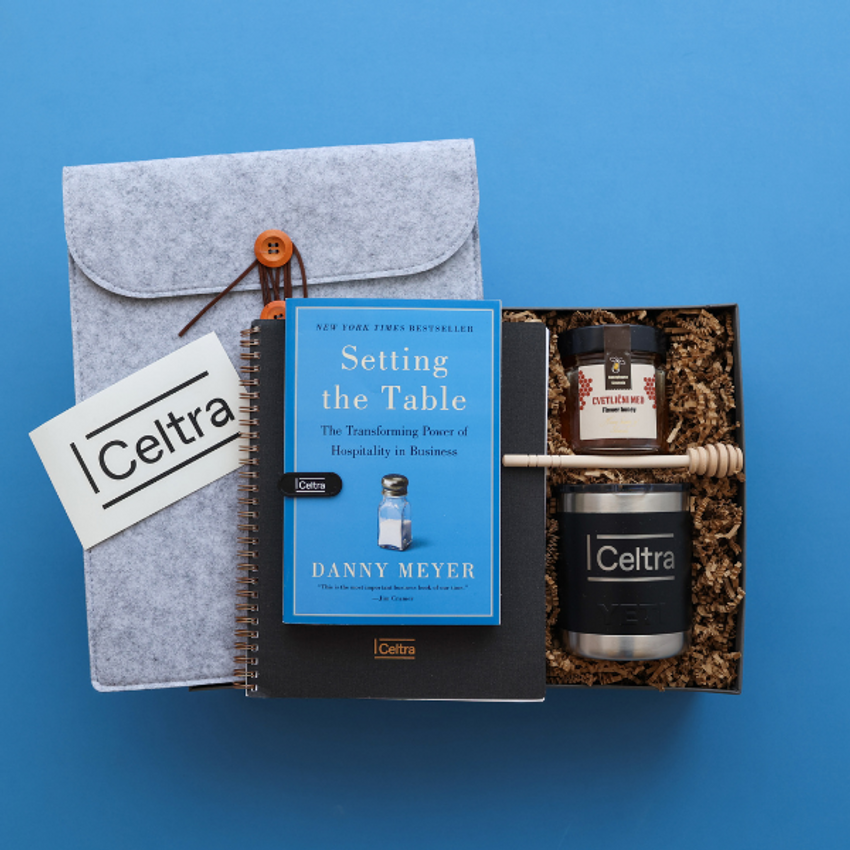 Gift Idea #4: Welcome Gifts
New Hire Gifts for Celtra
Celtra is a tech company that specializes in creative automation for advertising and marketing. They have a fast-growing team and we were thrilled to help them create the ultimate new hire gift box!
This stunning gift features office essentials like a custom notebook by Appointed Co. and a branded pocket folder, plus a few other great products like a Yeti mug featuring the Celtra logo and a jar of Slovenian honey (a nod to the founder's home country!) with a honey dipper. They also included Setting the Table by Danny Meyer, an excellent book featuring life and business lessons from a hospitality perspective.
Imagine receiving right before you started at a new company - pretttty cool, right?!
Looking for custom gifts for your employees?
We're here to help! Connect with our team to receive a custom proposal for your gifting project.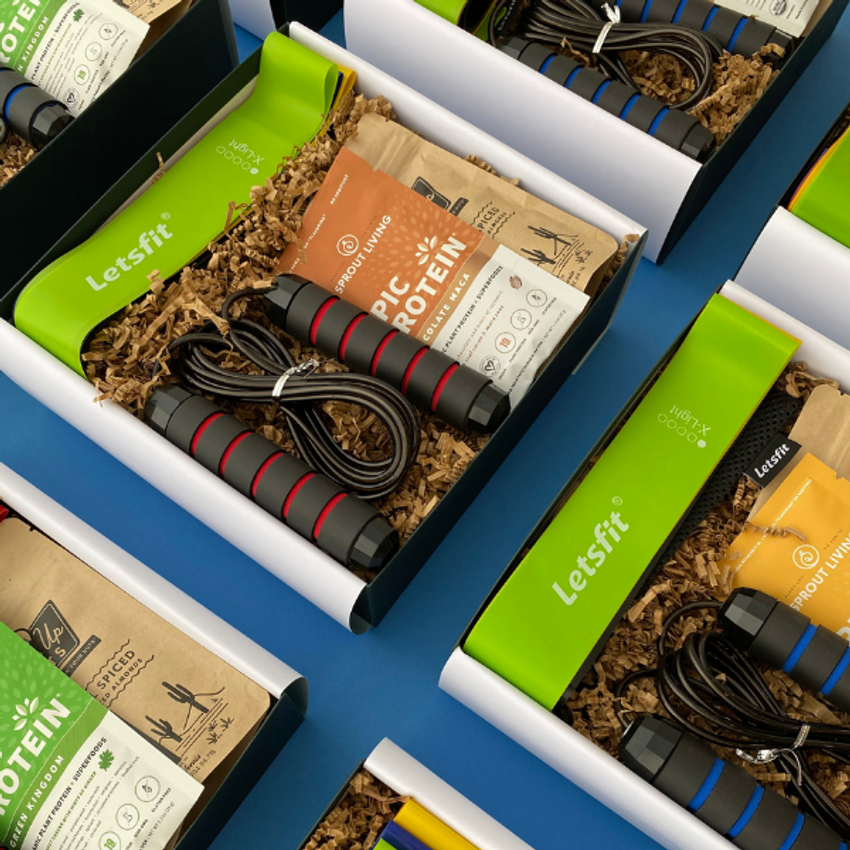 Gift Idea #5: Fitness
Team-Building Workout Kits for Zendesk
We've helped Zendesk with lots of fun gifting projects over the years, but we especially loved putting our creative muscles to work when Zendesk came to us to create a fun wellness kit for one of their teams that was planning a group workout event. The goal: create an experience employees would enjoy and that would stand out as a memorable team-building event.
No sweat! We designed a gift that this team could use during and after their heart-pumping activity. We didn't receive photo evidence, but we heard our Zendesk friends had a blast working out together and then refueling with some protein-packed snacks!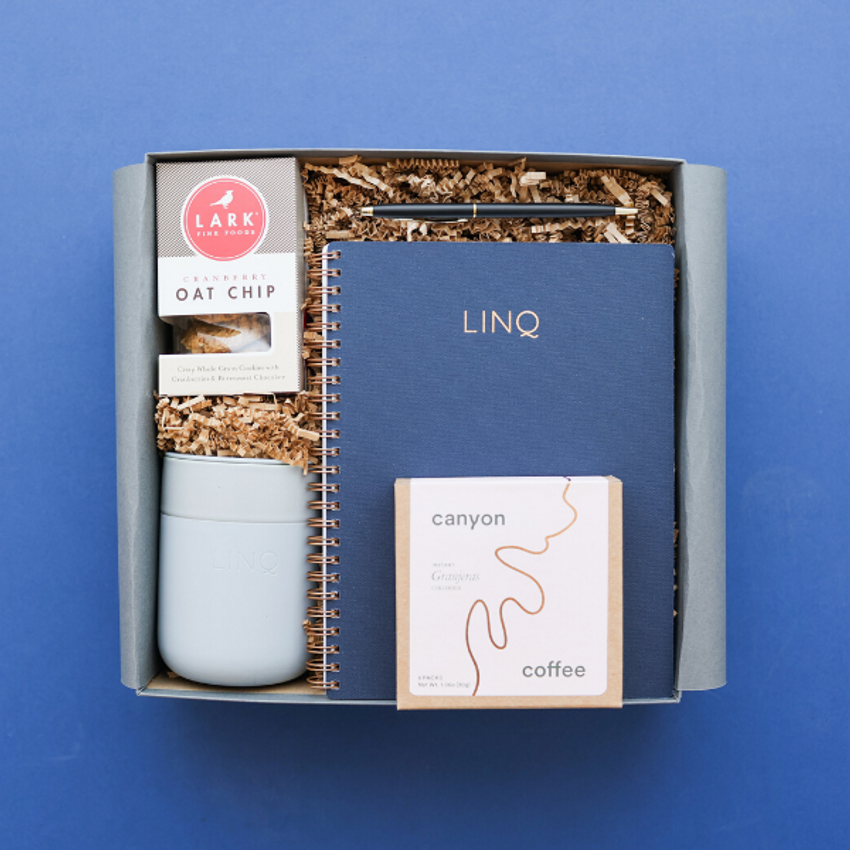 Gift Idea #6: Office Gifts
Office-Themed Holiday Gifts for LINQ
LINQ is a tech company offering a suite of tools built to increase the efficiency and effectiveness of K-12 district operations and communications. They came to us looking for holiday corporate gifts filled with useful products for their hardworking employees! They chose this design directly from our Corporate Catalog, but added a few branded elements to make the gift feel extra personal.
Want a version of this to send today? We've created The Home Office gift full of the top favorite office essentials, and it's ready to ship when you are!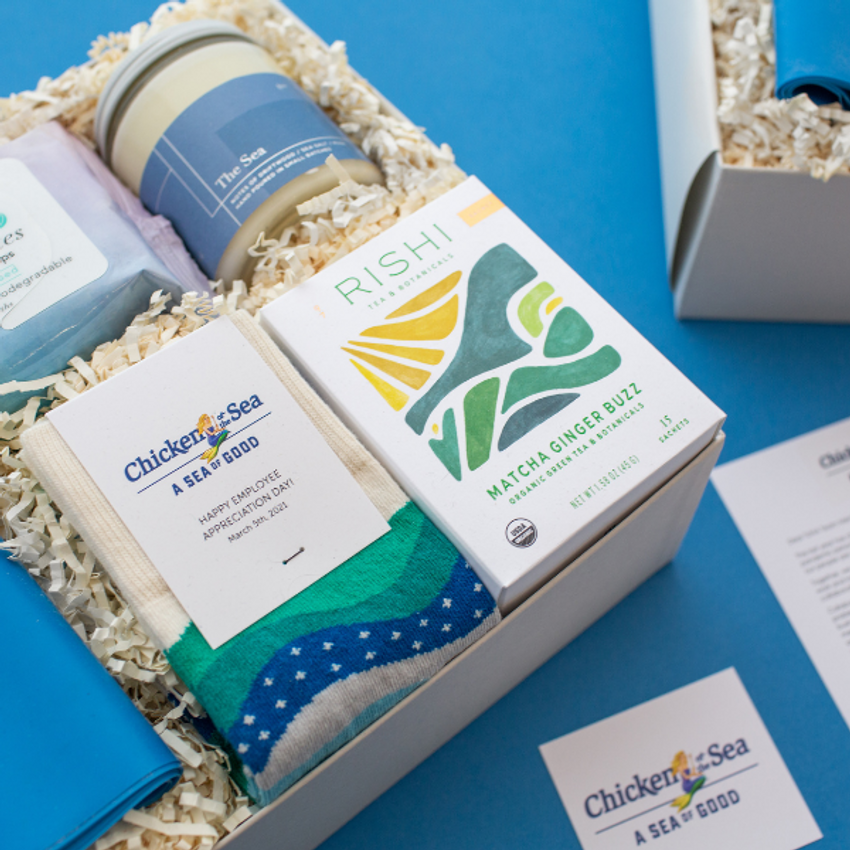 Gift Idea #7: Employee Appreciation Day
Self-Care Gifts for Chicken of the Sea
In March, we created hundreds of nautical-themed gifts for Chicken of the Sea's employees in honor of Employee Appreciation Day! These sea blue gifts were super on-brand and included a variety of products to instill a sense of calm and encourage self-care among their employees. Cozy branded socks, a box of Rishi tea, a Teak & Twine signature Sea Salt candle... I feel zen just looking at these gifts!
Check out The Wellness Gift for a fun version thats available to send out to employees today!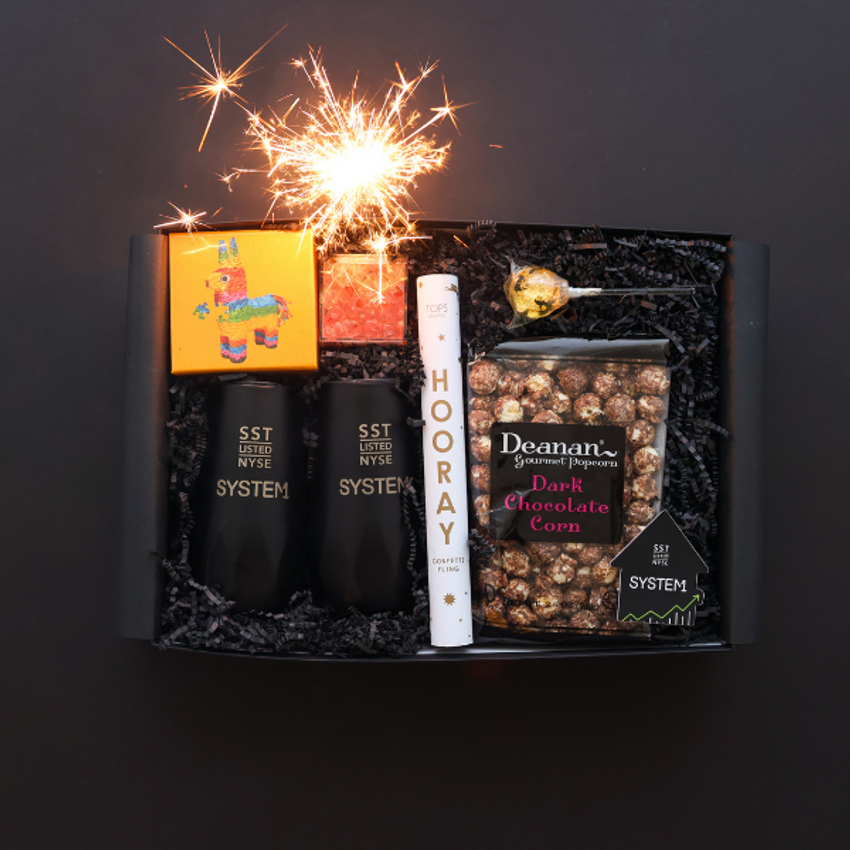 Gift Idea #8: Celebration Gifts
IPO Celebration Gifts for System1
System1, a global marketing tech company, went public on the NYSE at the beginning of 2022! 🎉 In preparation for their IPO, System1 reached out to us for celebration gifts to send to their employees. With a team of over 300 people working all over the world, we were so excited to create a gift designed to help employees celebrate together, even when they're miles apart! With custom Champagne branded flutes, a pinata puzzle, sparklers and more, this gift is party perfect!!!
Looking for something similar?
SHOP THE TOAST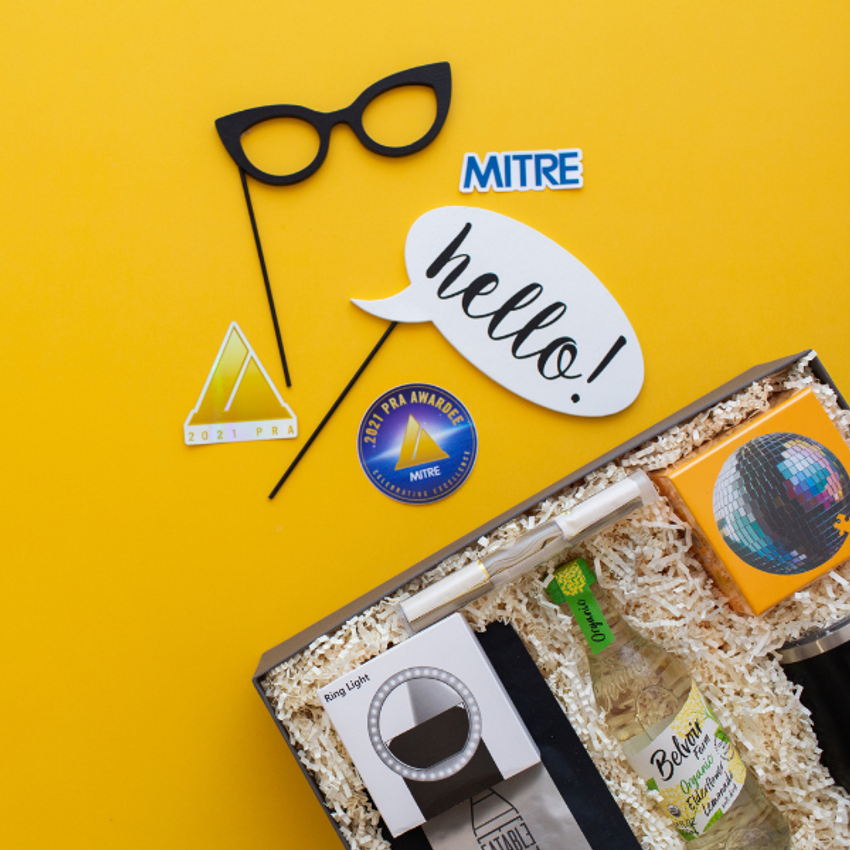 Gift Idea #9: Virtual Photobooth
Awards Ceremony Gifts for MITRE
MITRE is a not-for-profit organization that operates federally funded research and development centers to assist the US government with scientific research, development, and systems engineering.
Every year, they host an awesome employee awards ceremony called The Program Recognition Awards. The event was held virtually this year, so the MITRE team was looking for a way to get employees excited about the Awards and to make sure it was super interactive.
We love helping our clients come up with the perfect gifting solutions, so our team was pretttty jazzed when they went for our virtual photo booth suggestion! We went all out to make this gift feel celebratory and fun: the gift included a disco puzzle, silly photo booth props, a selfie light, confetti, and more.
Why is Employee Gifting Important in 2022?
First and foremost, employee gifting is an important part of creating a culture of appreciation and recognition. When people feel valued and appreciated for their work, levels of employee engagement, loyalty, and productivity skyrocket. But how often do you show your employees that you appreciate all of their hard work?
The truth is that employees oftentimes don't feel valued and appreciated. This is hard for many leaders to wrap their heads around because it feels so obvious. But since there's usually one boss to multiple employees, it can be really hard for people to feel recognized for their efforts — especially when things get busy! Yes, employees understand they aren't going to get a pat on the back every time they hit a goal (and they shouldn't — after all, it is their job). But we all know the happy feeling we get when someone goes out of their way to recognize our hard work!
With so many of us now working fully remote or in hybrid office models, expressing appreciation to employees has gotten even more complicated! Without a shared office environment, all of those little "nice work" remarks and "good job!" moments are way less frequent than before. Gifts are a great way to bridge this gap because they can recreate that "pat on the back" feeling when your boss mentions your work during a big meeting, and reinforce a sense of belonging and camaraderie that you feel when your team hits a big goal. And as we all know, experiences like these really matter!
HOT TAKE: Employee gifts are a great investment.
I know what you're thinking and tbh, you're not wrong — we're a corporate gifting company so, fine, we're biased!
BUT, hear us out: studies show that companies that invest in employee recognition efforts achieve 4x annual revenue than their competitors. Why? It's a no-brainer: when people feel valued and appreciated at work, levels of employee engagement, loyalty, and productivity skyrocket. That means less turnover, saving businesses millions of dollars in hiring costs.
A little employee appreciation goes a long way! The numbers don't lie:
81%
employees feel appreciated when they receive gifts from employers
41%
of employees say gifts positively influence their opinion of their employer
64%
of employees would stay at their company longer if their leaders showed more appreciation
Employee Gifting Do's & Don'ts
DO...
Create a gift that is cohesive, relevant and tells a story

Show off your company culture by highlighting your core values

Add a personal touch, like a thoughtful note or a QR code that takes employees to a personal video from the CEO (or you!)

Have fun with it!
DON'T...
Default to boring swag (here are some

unique corporate gift ideas

that might help!)

Go overboard with your logo! A tasteful branded touch will do the trick.

Assume "one size fits all" — gifts should be gender neutral and inclusive

Skimp on packaging and presentation
WRAPPING IT UP
Employee Gifting in 2022
Did I just hear someone say "BEST BOSS EVER"?
Not only will your team be totally obsessed with you, but gifting your employees is proven to bring companies stronger business results. That's because gifts are an extremely effective tool to motivate your team and enhance your company culture -- they help you show (not just tell!) your team how much you appreciate them. After all, gift-giving is a tradition as old as time — they just make people feel good! Going out of your way to put together a gift for employees represents a level of care and attention that can really make a difference in workplace satisfaction. Remember: happy employees means happy customers, which means more money. And you'll make people feel good too, which is always a plus!
Popular Gift Box Trends
Get insight into the latest gifting trends to make sure you're choosing gifts that are on-trend for your team and employees.
READ NOW
25 Unique Corporate Gift Ideas
Who knew corporate gifts could be so FUN?! Check out our round-up of 25 unique gift ideas that are ANYTHING but boring!
READ NOW
Employee Gifts for Warner Music Group
Check out this case study to learn how Warner Music Group uses Teak & Twine for thousands of employee holiday gifts.
READ NOW