Blog | Corporate Gifting
Corporate Holiday Gift Ideas For Clients
Looking for unique holiday gift ideas for your extra special clients? Or maybe you're looking for Christmas gift ideas for coworkers?
Good news: You're in the right place! Not to toot our own horn, but we're the MVPs of corporate gifting (toot, toot!). And the holiday season is our Superbowl!
In this post, we're sharing the very best holiday gift ideas for clients, colleagues, or whoever else you may be shopping for around the office. So throw on your favorite Christmas playlist, grab a cup of hot cocoa, and get ready to check "holiday gift ideas" off of your to-do list!
Fun and Festive Holiday Gift Ideas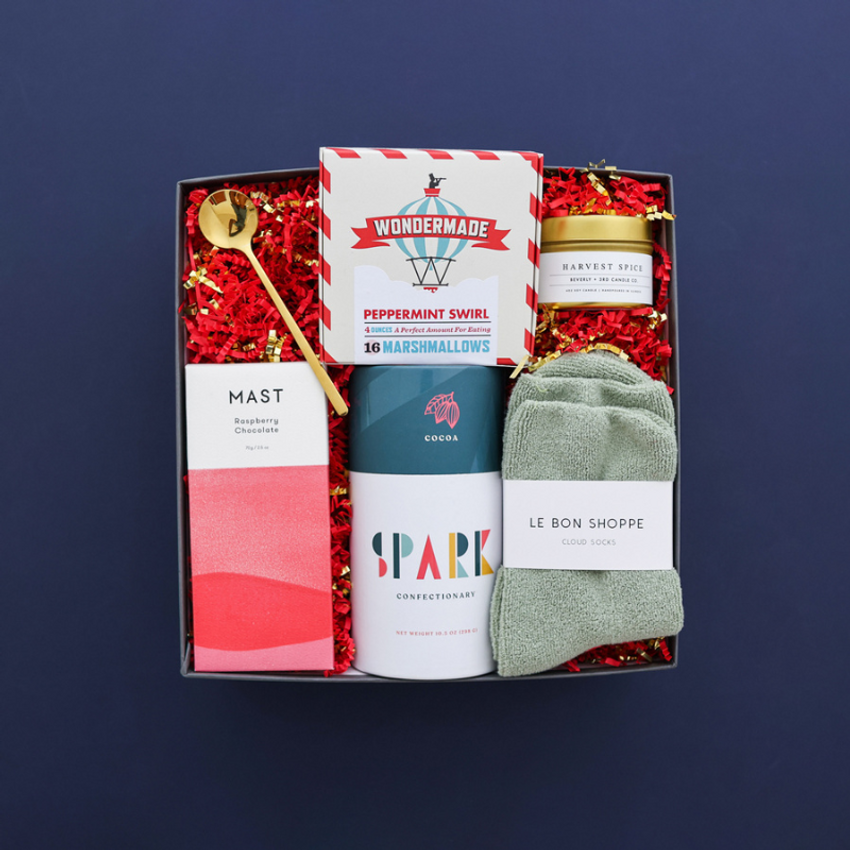 1. The Tinsel Gift Box
Get ready to dazzle your clients this holiday season with The Tinsel!
One of our newest designs, this gift is catching A LOT of attention — and with good reason! The Tinsel really has it all, from sweet treats to a seasonal candle to cozy socks. To top it all off, the eye-catching design and fun color scheme makes for a gift that your recipients will *never* forget.
Nothing says "Happy Holidays" quite like The Tinsel!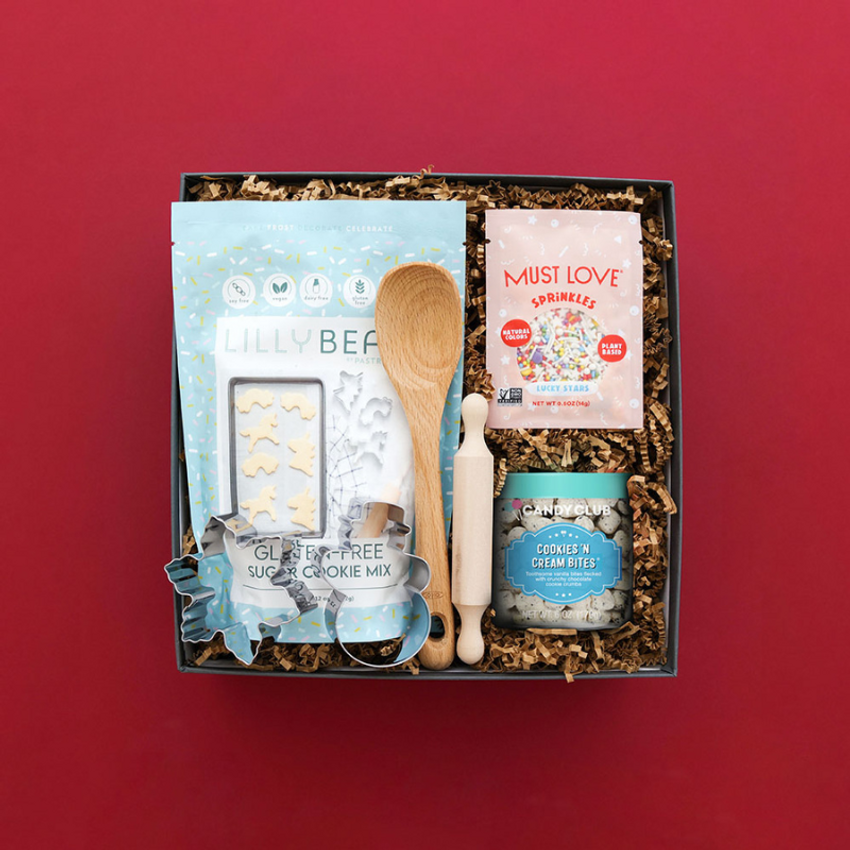 2. The Holiday Cookies Gift Box
Sprinkle in a measure of fun with this extra-sweet experiential gift box!
Complete with all the ingredients and tools you need to bake a delicious (and allergy friendly!) batch of sugar cookies, this gift is something your clients or coworkers can enjoy with their whole family.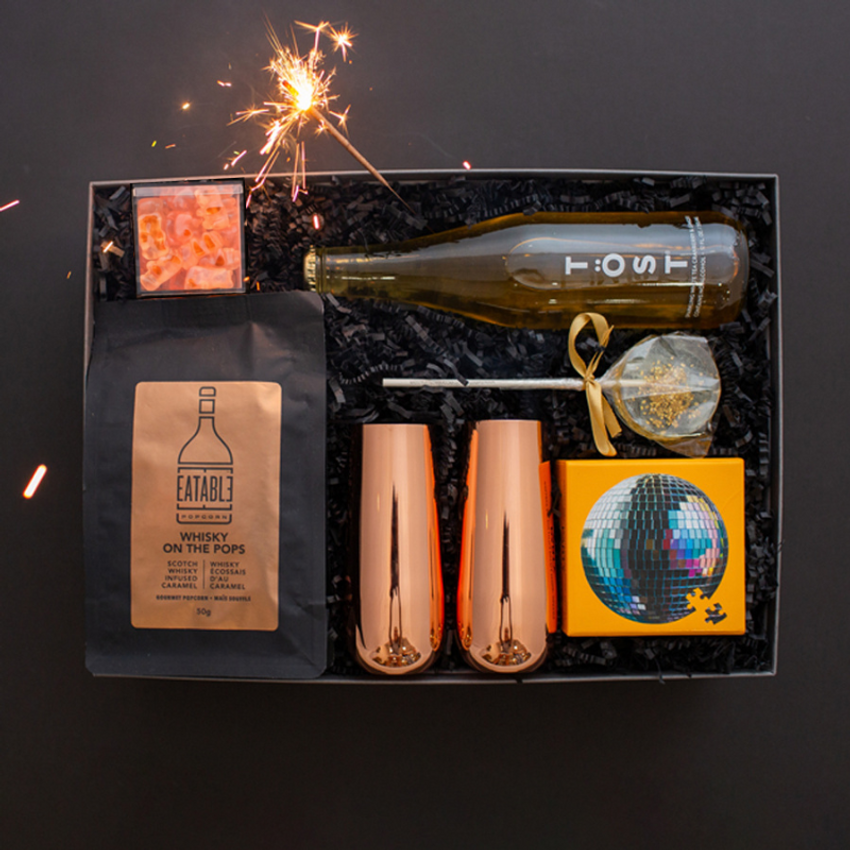 3. The Toast Gift Box
Sparkle and shine this holiday season with The Toast!
While it's one of our most popular gifts for year-round celebrations, The Toast just hits different during the holiday season! This celebratory gift box makes it easy to toast to your boss or wish your clients a happy new year.
Filled with luxurious items like a bottle of TOST sparkling tea, a pair of copper champagne flutes, sparklers and more, this gift is guaranteed to WOW your recipients!
Christmas Gift Ideas for Coworkers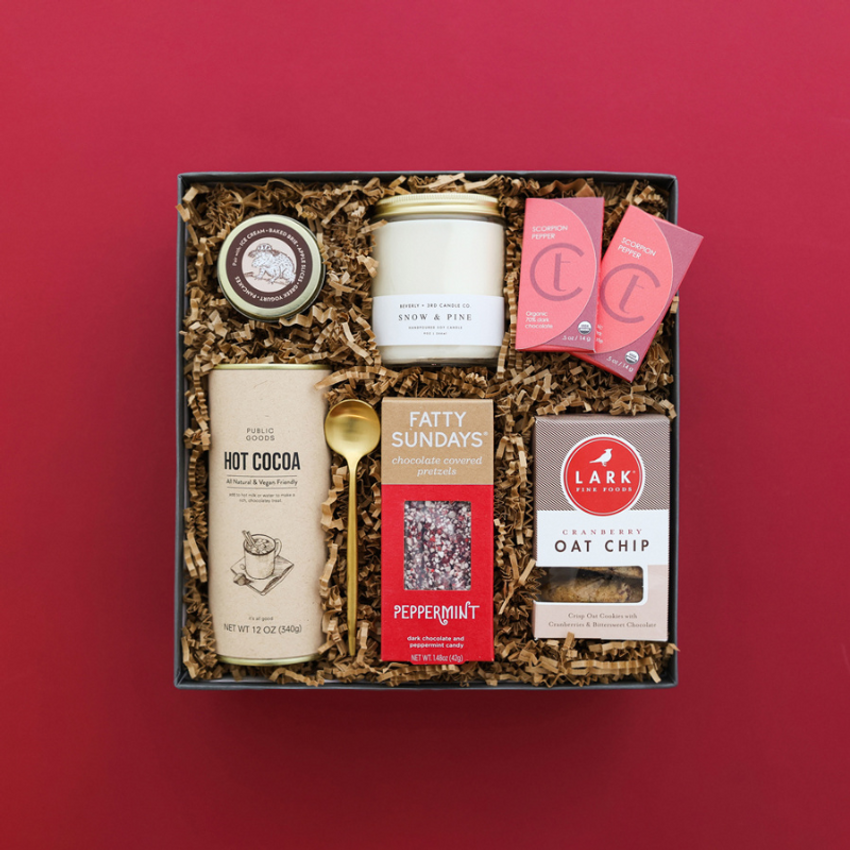 4. The Holiday Gift Box
Bold, bright, and beautiful, you simply can't go wrong with The Holiday!
Not only does it include sweet treats like Cinnamon Caramel Sauce by Fat Toad Farm and perfectly-packaged products like Hot Cocoa Mix by Public Goods, but it also includes a chic brass mixing spoon and a Snow & Pine Candle by Beverly + 3rd Candle.
This gift has a little something for everyone, making it a timeless gift that is sure to surprise and delight any of your colleagues!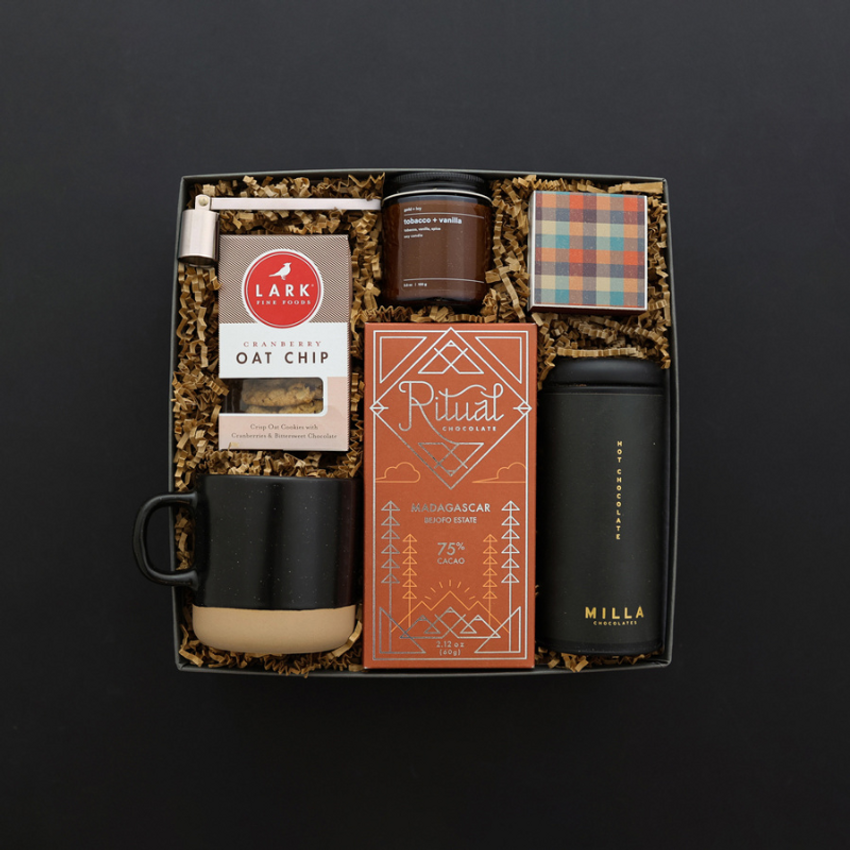 5. The Hot Chocolate Gift Box
A fan favorite and best-seller, The Hot Chocolate gift box is *THE* quintessential holiday gift.
Coming in hot with a fresh new design for the 2022 holiday season, our latest version of The Hot Chocolate includes high quality products like gourmet drinking chocolate by Milla Chocolatier paired with a ceramic black coffee mug, a tobacco and vanilla candle by Gold + Ivy complete with plaid matches and a brass candle snuffer, plus other delightful treats like a Ritual chocolate bar.
This gift truly has something everyone will love, making it the perfect Christmas gift idea for colleagues!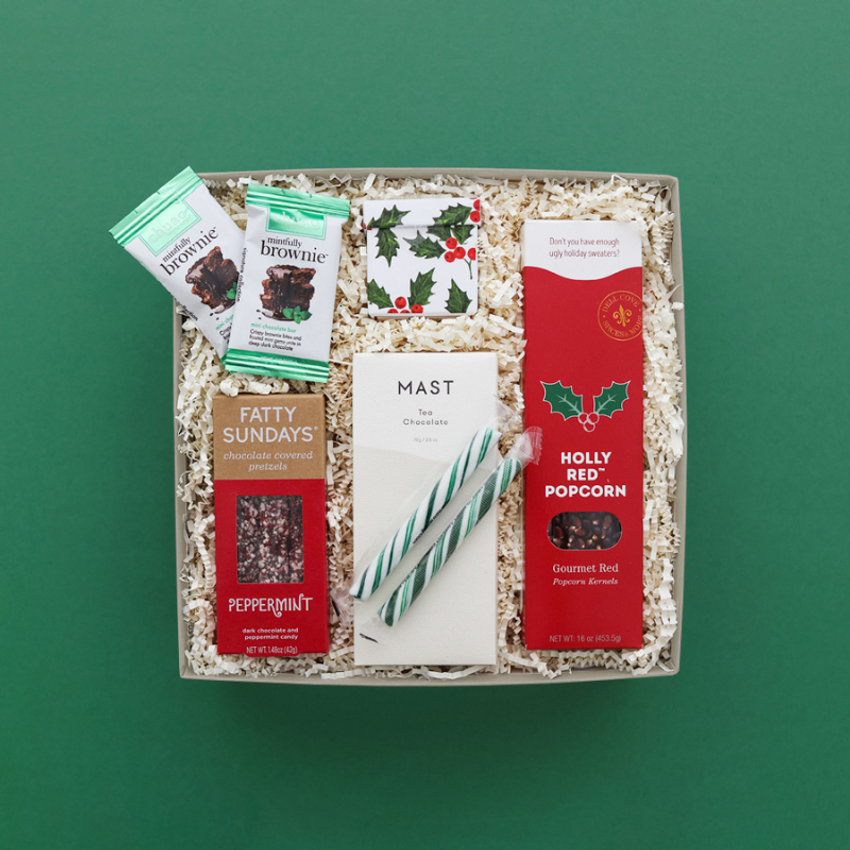 6. The Holly Gift Box
In case you couldn't tell, our design team channeled their inner Buddy the Elf to create this super special gift!
Featuring a bright, red-and-green color scheme, The Holly has an unmistakable holiday flare. We filled this gift with the most festive and delicious treats we could find, making sure to include Buddy's favorite food groups — "candy, candy canes, candy corns and syrup!"
Anyone who receives this gift is sure to have a holly, jolly Christmas!
The Teak & Twine Corporate Gifting Catalog
Learn all about custom corporate gifts with Teak & Twine! From classic designs to fully custom gifting experiences, our team will work 1-on-1 with you to create an unforgettable holiday season!
Non-Traditional Holiday Gift Ideas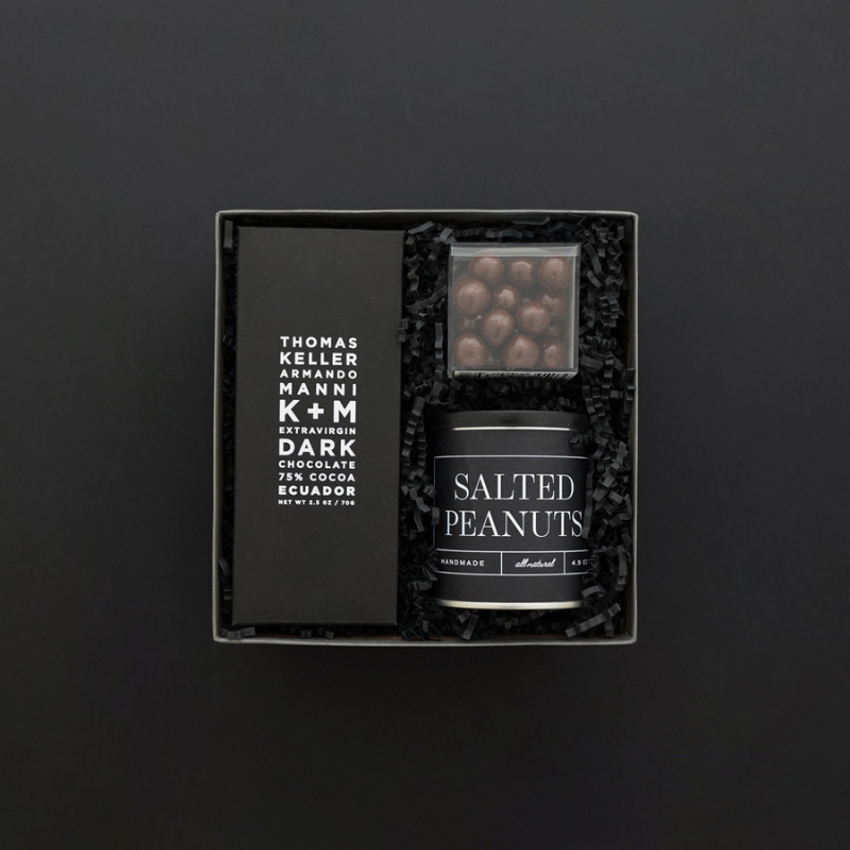 7. The Black Tie Gift Box
Would you look at this handsome gift!
Bet you didn't expect an all-black gift box to feel so PERFECT for the holidays, right? Time and time again, The Black Tie is a fan-favorite during the holidays — it's smooth, simple, and oh-so-chic! So for those of you who believe less is more, look no further than The Black Tie this holiday season.
P.S. Love this gift? Imagine it with your company's logo on a black gift box sleeve and a sleek card insert with a simple holiday greeting. Sounds pretttttty perfect, right? Check out our branded packaging gallery to discover all the possibilities!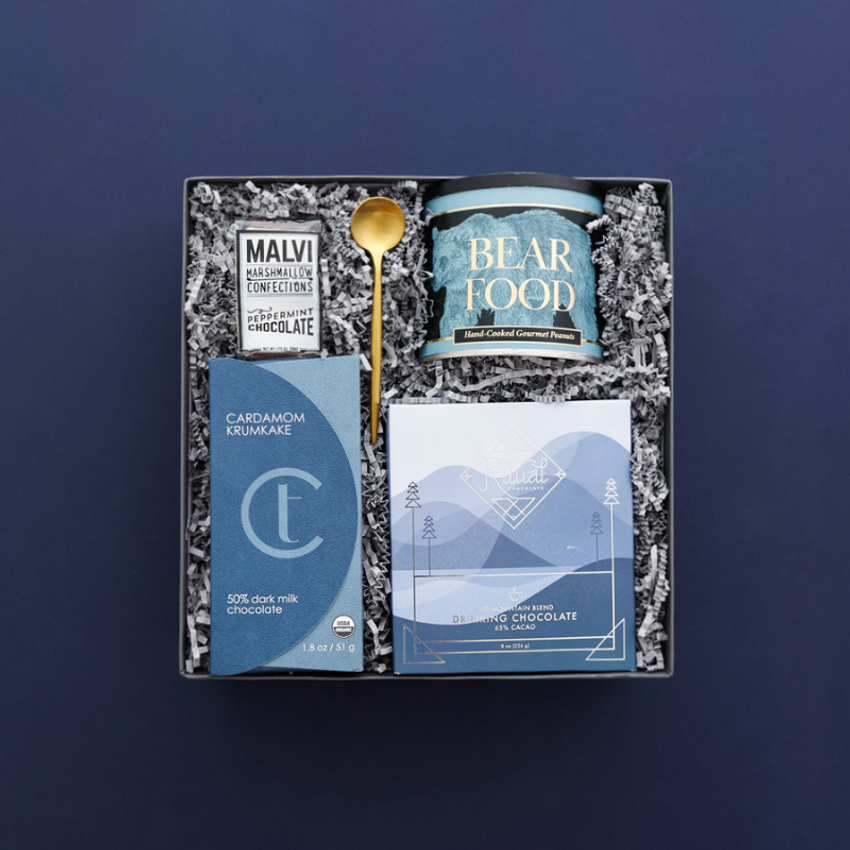 8. The Silver Frost Gift Box
This thoughtful gift will instantly transport your recipients to a cozy lodge on a snow-capped mountain!
The Silver Frost is the perfect option to send to those who celebrate other wintertime holidays, like Hanukkah and Kwanzaa! This gift is a celebration of winter with its cool blue palette, alpine vibes, and artisanal treats.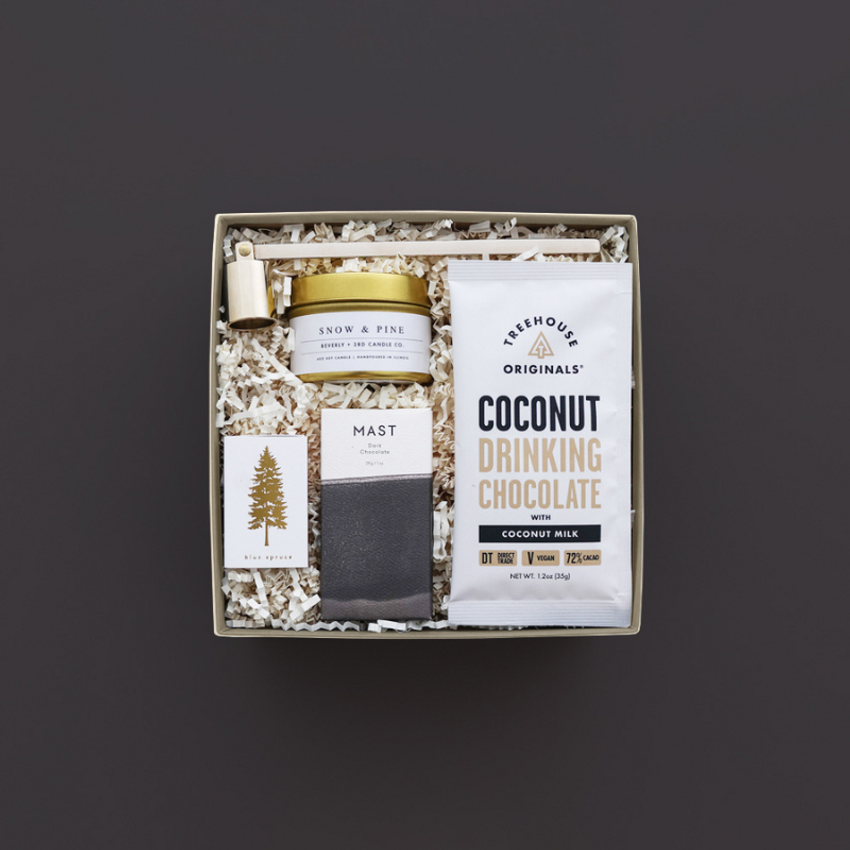 9. The Winter Cheer Gift Box
Classic and cozy, with all the makings of a great client gift, we have a hunch The Winter Cheer may just become a new best-seller this holiday season!
We can't get enough of its winter essentials like Coconut Drinking Chocolate by Treehouse Originals and a Snow & Pine Candle by our friends over at Beverly + 3rd Candle Co. And our customers have been loving the sleek white and gold color palette!
Company Holiday Party Gift Ideas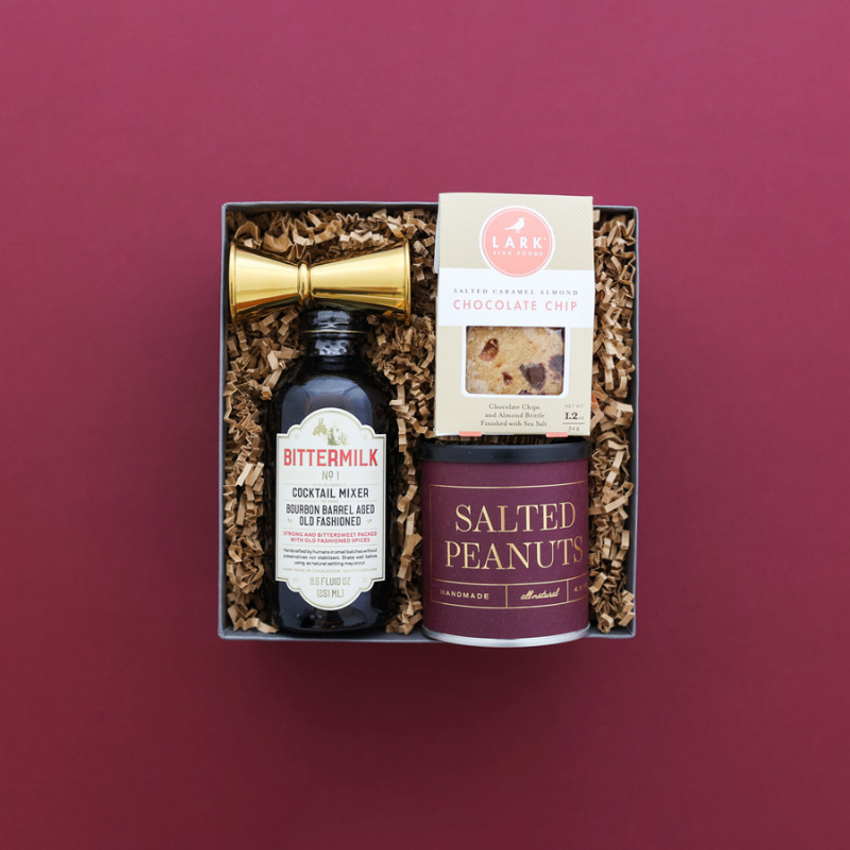 10. The Happy Hour Gift Box
Raise a toast to your team this holiday season with The Happy Hour!
Whether your recipients prefer a cocktail or a mocktail, they'll be able to mix up a mouthwatering Old Fashioned drink with this gift. But what's happy hour without tasty bar snacks? We've included a couple of sweet and savory munchies to round out this much-loved gift!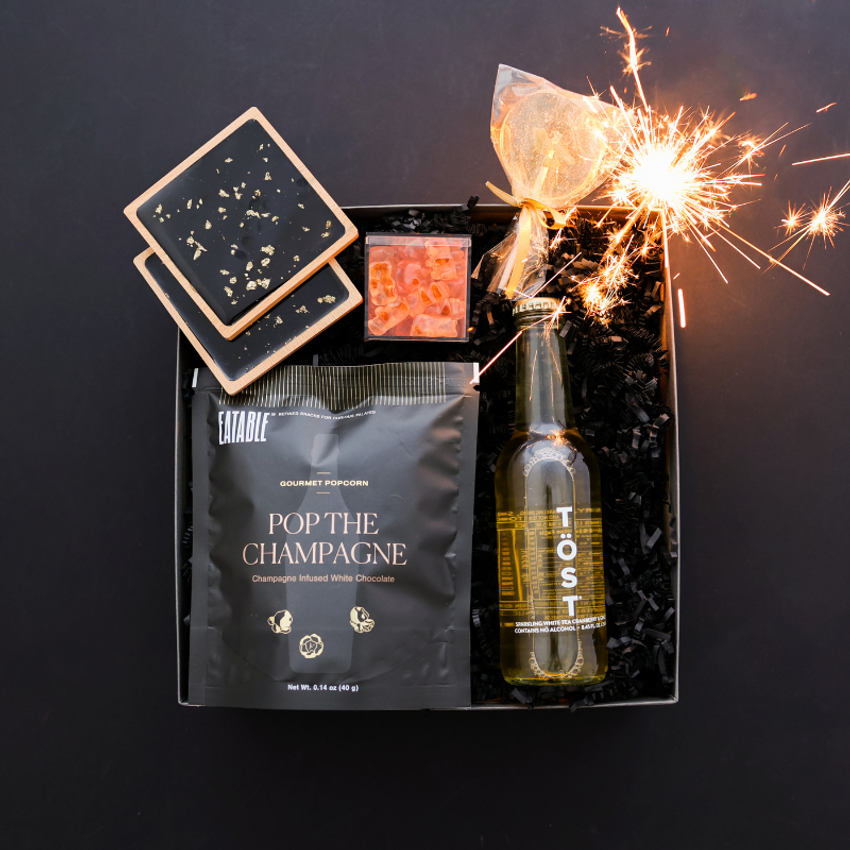 11. The Cheers Gift Box
Did your coworkers absolutely crush it this year? Pop some bubbly and celebrate their achievements with The Cheers!
Full of champagne treats and celebratory fun (Yes! That's a real sparkler!), The Cheers is the perfect gift to party all night long with your work besties!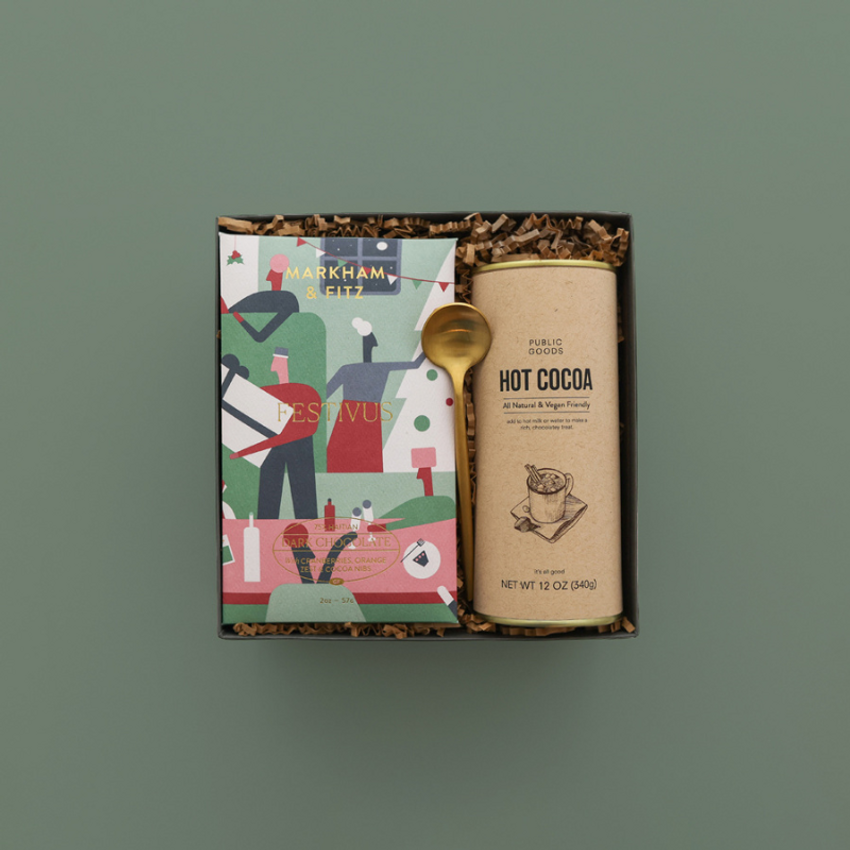 12. The Festivus Gift Box
This small gift has BIG style!
The Festivus makes for the perfect parting gift for your clients or employees at this year's company holiday party (and for those remote workers — they can use our corporate gifting platform to get their gift delivered straight to their door!)
Add custom branded packaging and a note with warm holiday wishes and you've got the perfect little holiday gift your recipients are sure to enjoy!
Best Holiday Gift Ideas for Clients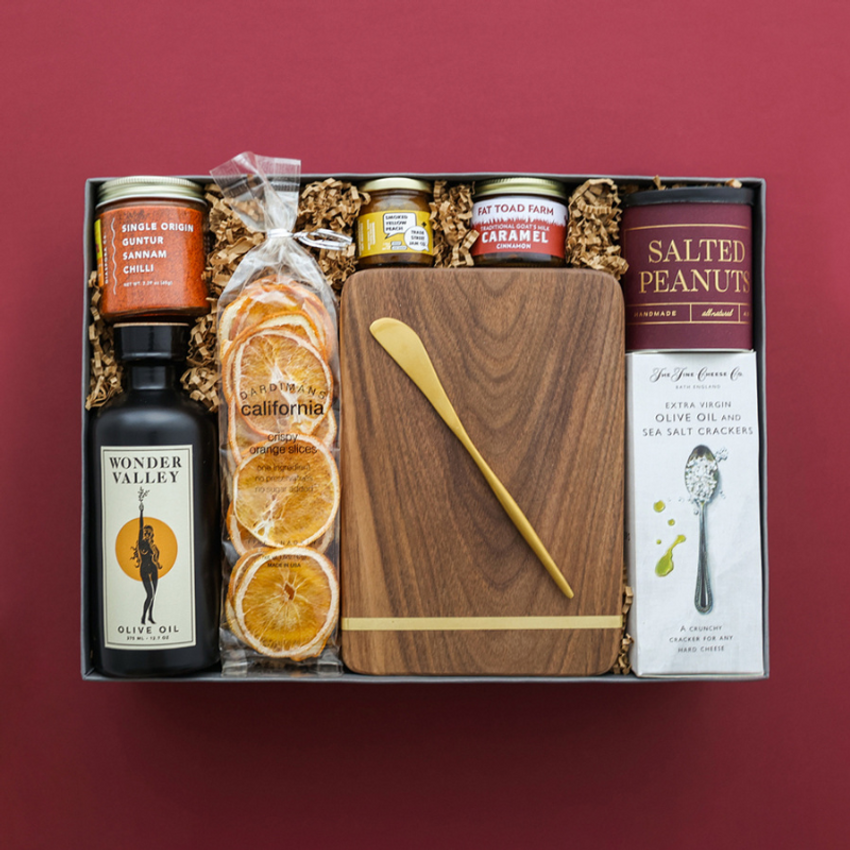 13. The Gourmet Gift Box
This gift will have your recipients saying things like "Oui, Chef!" in no time!
The Gourmet is all about bold flavors paired with BIG style. With elegant kitchen accessories like a wooden cutting board and brass cheese knife, tasty treats like peanuts and sea salt crackers, plus cooking essentials like organic olive oil, smoked peach jam and a chili spice blend, this gift is sure to impress your clients — even if they're the most discerning of foodies!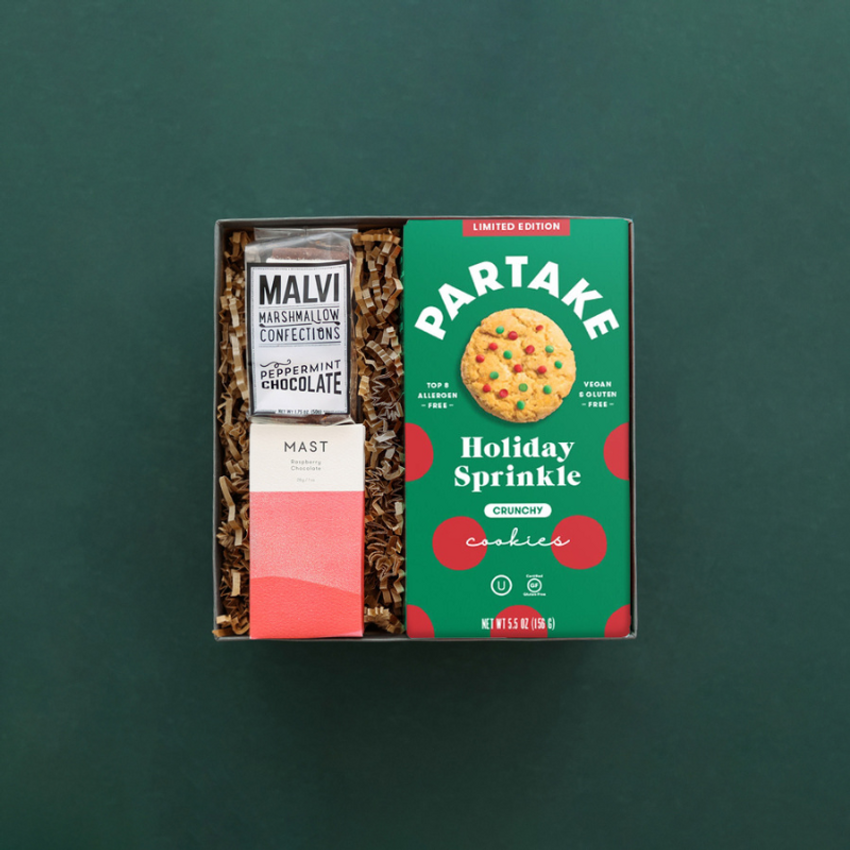 14. The Holiday Treats Gift Box
We fa-la-la-la-love The Holiday Treats gift box!
With Holiday Sprinkle Cookies by Partake, Peppermint-Chocolate Marshmallows by Malvi and a mini Raspberry Chocolate Bar by Mast Brothers, this gift is the ultimate sugar-rush.
Packed to perfection, this gift features a fun color scheme that is sure to get everyone in the holiday spirit!
15. The Sweet and Salty Gift Box
This small but mighty gift is one of our best-sellers year in and year out!
It's no surprise, since The Sweet and Salty has something to suit every palate, including our all-time favorite cookies by Willa's Shortbread, Salted Peanuts by Hope and Harmony Farm and a jar of Fat Toad Farm Caramel Sauce (drizzle it on ice cream, dip apple slices… or simply eat it by the spoonful!)
Let's be real, you can never go wrong with food gifts!
Unique Holiday Gift Ideas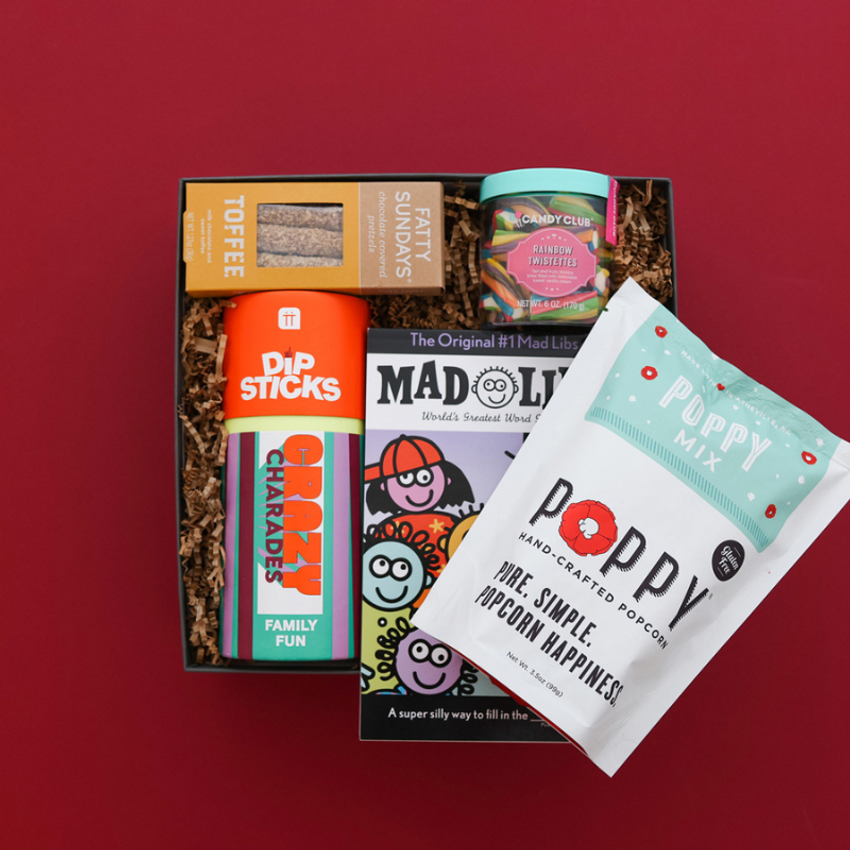 16. The Game Night Gift Box
Tee up an evening of family fun with this colorful and lively gift! Featuring a game of crazy charades, mad libs, and treats that take some of our childhood favorites to the next level, The Game Night is sure to deliver belly laughs and lasting memories.
Pro-tip: This gift box is the perfect holiday gift idea for clients who have little ones or are extra family oriented!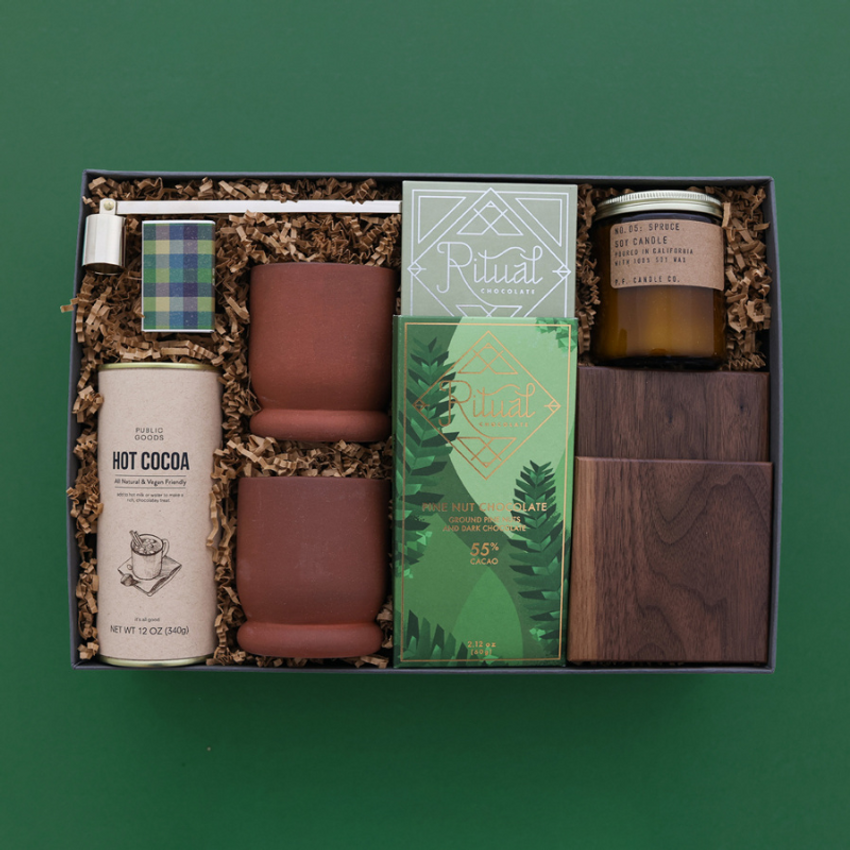 17. The Cabin Gift Box
Anyone else dreaming of a snowy getaway in the mountains? With earthy hues and woodsy vibes, The Cabin is as close as you can get to the real deal!
This unexpected design makes for the *perfect* wintertime gift! The Cabin includes high quality items like handcrafted ceramic mugs by Hawkins New York, wooden coasters by Make & Stow, not one but TWO chocolate bars by Ritual, and a Spruce scented candle by PF Candle Co. (with a plaid box of matches and a gold candle snuffer, of course!)
This might just be our coziest gift ever!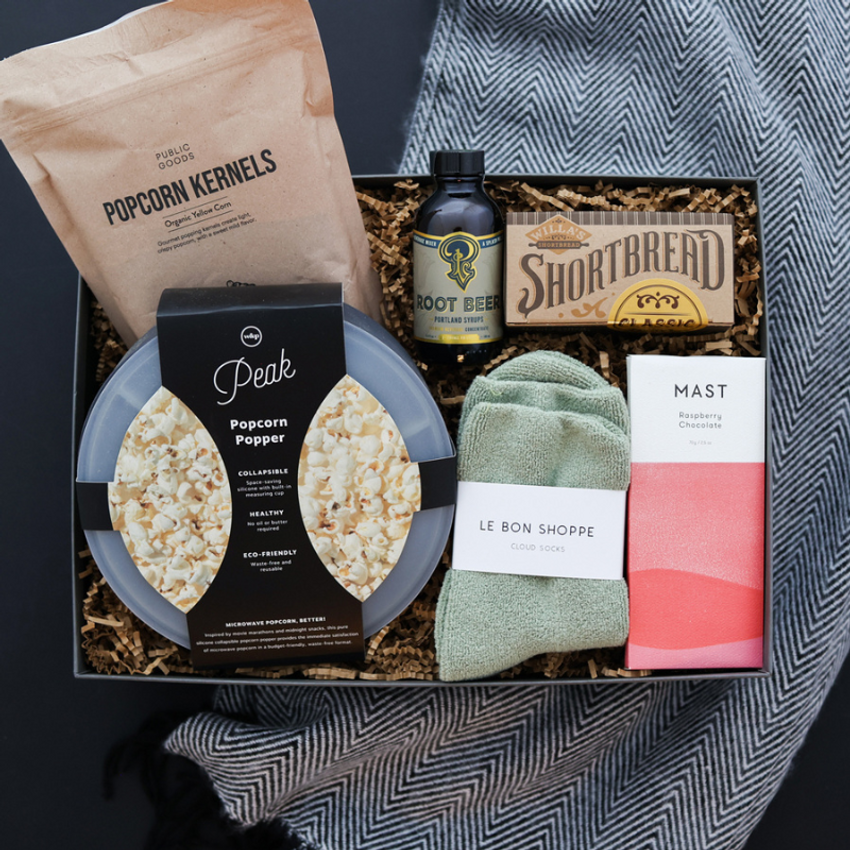 18. The Movie Night
Here at Teak & Twine, we're all about gifts that are filled with more than just "stuff." Creating experiences through gifts is our thing!
That's why The Movie Night is at the TOP of our list for Santa this year. This cozy gift is filled with all the essentials for a perfect night in: gourmet popcorn, a popcorn popper, cookies, chocolate AND cozy socks! Want to add a blanket for good measure? We can do that, too!
Talk about the perfect Christmas gift idea for coworkers!
Get Custom Holiday Gifts with Teak & Twine
We specialize in custom corporate gifts that will make your brand look its best — especially during the holidays! Learn how our team can help dazzle your clients and employees this holiday season.